On Nov. 1 we crossed the border between Bolivia and Chile, after visiting the Salar de Uyuni. Our first stop in Chile was San Pedro de Atacama, a town in the middle of the Atacama desert. We stayed here for about 6 days, exploring the desert and the cosy town which makes you feel like you're walking in a Western movie set.
Valle de la Luna
One of the biggest highlights in the San Pedro area, is the Valle de la Luna. We expected it to look a bit like the Bolivian Valle de la Luna close to La Paz, but this one was quite different. We booked a tour through White and Green International Travel for 14.000 Chilean pesos per person (€18).
Most tours to Valle de la Luna actually only leave around 4 PM because they offer the possibility of watching the sun set in this beautiful park. When we gathered in front of the office at 3.45, we realised we were the only Gringo's who had booked this tour. We had forgotten to specify that we wanted an English tour instead of a Spanish one… We were already thinking about how this would spoil our experience, when another Gringo couple boarded the bus and our guide suddenly switched to English. Thank God!
De Valle de la Luna is located about 13 km outside of San Pedro de Atacama. Our first stop during the tour was actually not inside the park. The van drove us to the top of a cliff so we got to see the Moon Valley from up high. After some interesting information from the guide (e.g. it rains like only 3 days a year in San Pedro de Atacama and NASA has tested their Mars rover here), we finally got to enter the park. Here we had to pay another 3000 pesos.
Cave exploring
Our first stop inside the park was the "Caverna". Since we were a group of at least 20 people, and the Valle de la Luna is an extremely touristic spot, it took quite some time to explore this cave. We often had to queue and wait for people to make their way through the cave, which is partly completely covered and partly half open. For some parts you had to get on all fours to keep on moving, which was definitely not ideal for someone like Simen!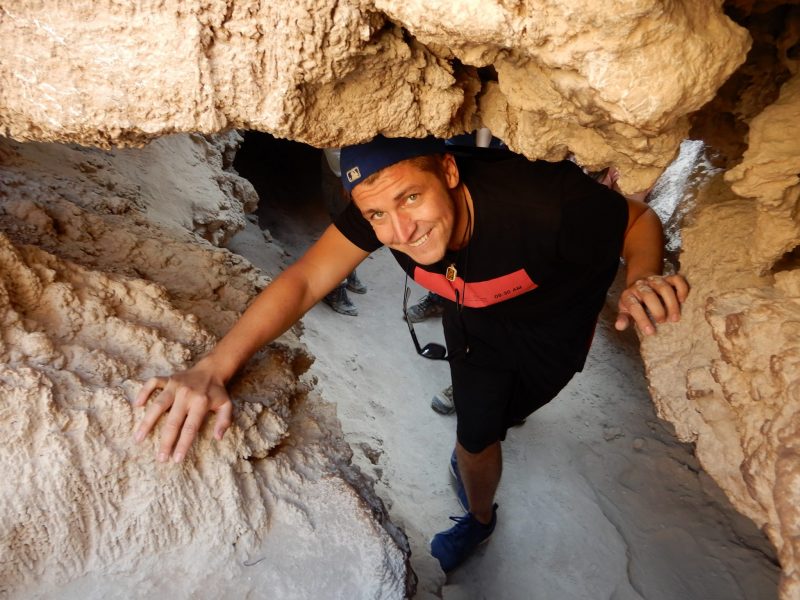 Despite the sometimes uncomfortable terrain, the cave was actually our most favourite part of the tour. It took us about 45 to explore the cave, after which we made our way to some interesting rock formations.
The three praying women
Apparently when the Belgian priest Gustave Le Paige laid eyes on this rock formation, he saw 3 women praying. With some imagination (or well, a lot), we managed to somewhat identify 3 "women praying". The ones on the left and right are praying on their knees, the middle one is standing with her hands raised to the sky. As you'll see on the picture below, it's really not that easy to identify these 3 women:
Sunset
After making one more stop at the "Amphitheatre", it was time to hike to the spot where we were going to watch the sunset. We hiked for about 10-15 minutes before we reached the crest where hundreds of people had already gathered. It almost felt like all of San Pedro de Atacama had decided to watch the sunset here.
We walked for a bit longer to find a spot that wasn't as crowded, and sat down to enjoy the sunset. To be fair, we liked the sunset we'd seen in Salar de Uyuni a lot better. While that one offered tons of beautiful colours, this one was a bit bland as far as sunsets go. After the sun set, it got very cold in the Valle de la Luna and we made our way back to the van. The whole tour lasted about 4 hours, and we were back in San Pedro by 8.30.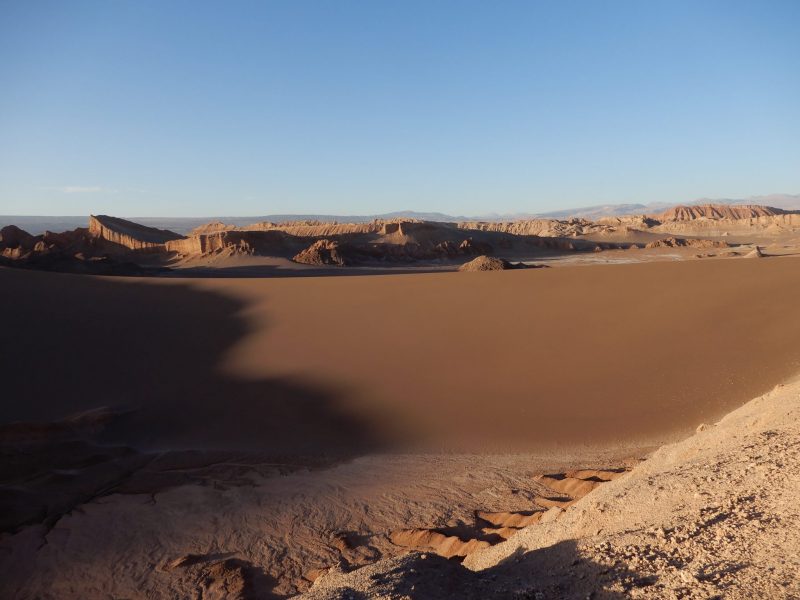 Stargazing Tour
While walking around in San Pedro de Atacama, a lot of tour companies offered a "stargazing tour". This sparked our interest, and this time we booked a tour through Andes Travel for 15.000 pesos (€19.50). We had the option to start the tour at 8 PM or 10 PM, we chose to start the tour at 8. After a 10 minute drive, we arrived at the observatory where we'd be spending the next 2 hours.
We were divided into 2 groups: a Spanish speaking and an English speaking group. We were paired up with people from Israel and Germany. Unfortunately, the instructors didn't speak English that well, so it was sometimes a bit hard to follow, especially when it comes to a difficult topic like astronomy. We did however get to see some amazing things through the telescopes! The first thing we got to see was Saturn. Neither of us expected to see Saturn's rings, but once we glanced through the telescope, we could clearly distinguish its rings. We were both super impressed and excited!
Saturn wasn't the only planet we got to see, we also saw Mars! Mars surprisingly looked quite a lot like the moon through the telescope (not as red as we expected). Afterwards we got the chance to see the Milky Way and a black hole! We also got to take this incredibly cool picture for 2000 pesos (€2.60):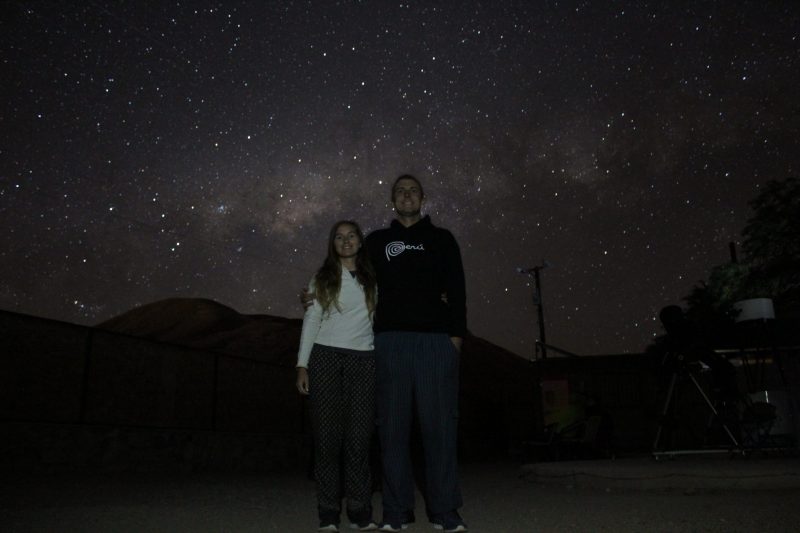 Laguna Cejar
Before leaving San Pedro, we decided we wanted to do one more tour. Quite a lot of the tours offered the same views and highlights as the Salar de Uyuni tour, so we wanted to do something different. After doing some research, we stumbled upon the Laguna Cejar. This lake is so salty, you float when you try to swim in it (just like the Dead Sea). Since we had never experienced floating in a lake before, we opted for this tour. Because we were very happy with Andes Travels, we also booked this tour with them for 10.000 pesos per person (€13).
We were told to bring our swimwear, towels, tons of sunscreen and water. We gathered at their office at 2.50, together with about 10-15 other people. This time we were actually the only Gringo's. While the guide explained the plan for the day in Spanish, I picked up something about paying an entrance fee. I glanced over to Simen and said: "Do we have to pay for something extra?" Simen, being virtually fluent in Spanish, shook his head and said everything should be covered. It was not…
Hidden fees
Once the guide switched to English, she told us we had to pay 2 more entrance fees. Price tag? 17.000 pesos per person! This was almost double the price we had paid at the agency. Since all ATM's in Chile charge about €7-9 extra just to withdraw money, we had decided to not use too much cash anymore. This meant we only had about 5000 pesos on us. Clearly, we didn't have enough money to pay for the entrance tickets…
When the guide came over to collect our money, we told her we weren't aware of these extra charges. "Oh, then you have a problem. You will have to stay in the bus." We were pissed… Maybe they could've shared this vital piece of information before we got on the bus and drove away from all ATM's in the area. We were already preparing ourselves for having to stay in the van for 4 hours while everyone else went swimming and exploring. Luckily for us, the bus driver was willing to pay our tickets for us until we'd get to an ATM.
"Swimming" in Laguna Cejar
After getting changed and taking a quick shower, we made our way over to the Laguna Cejar. We were expecting the lake to be warm since we were in the middle of the desert and it was extremely warm out. However, once we got in the water, we were shivering (or at least, I was). It was incredibly cold!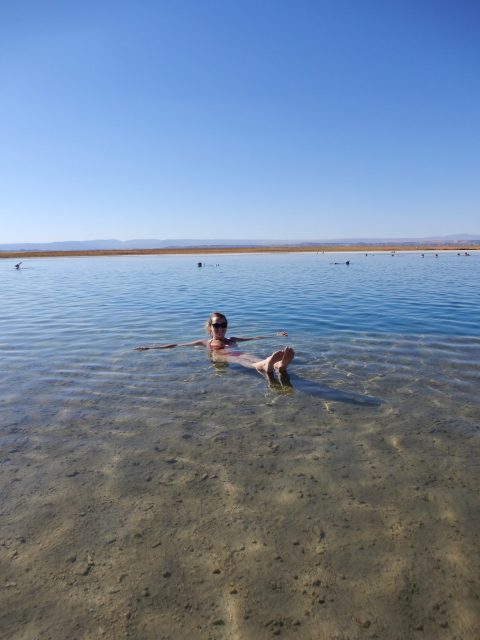 The floating feeling was really cool. We stayed in the water for about 20 minutes before exploring the other lakes and getting back in the van. We still had 2 more stops: ojos del salar and watching the sunset.
Ojos del Salar
After another 20 minute drive, we arrived at the Ojos del Salar. This stop was extremely underwhelming. It was basically 2 holes in the ground which were filled with water. If you wanted, you could swim here. However, our guide told us that a couple of years ago, a car fell into the water. They were unable to lift it out the water for about a year, which meant the fish which lived in this small lake had all died. The water was also completely contaminated… I can imagine nicer spots to swim than this one… However, this didn't stop some other people who immediately jumped in.
Sunset
We continued driving for another 10 minutes until we reached the spot where we'd watch the sunset. This sunset, unlike the one in Valle de la Luna, was definitely worth seeing. We stopped at this beautiful salt lake, with volcanoes in the background. The sky had coloured pink-ish, which gave us the opportunity to take some beautiful pictures.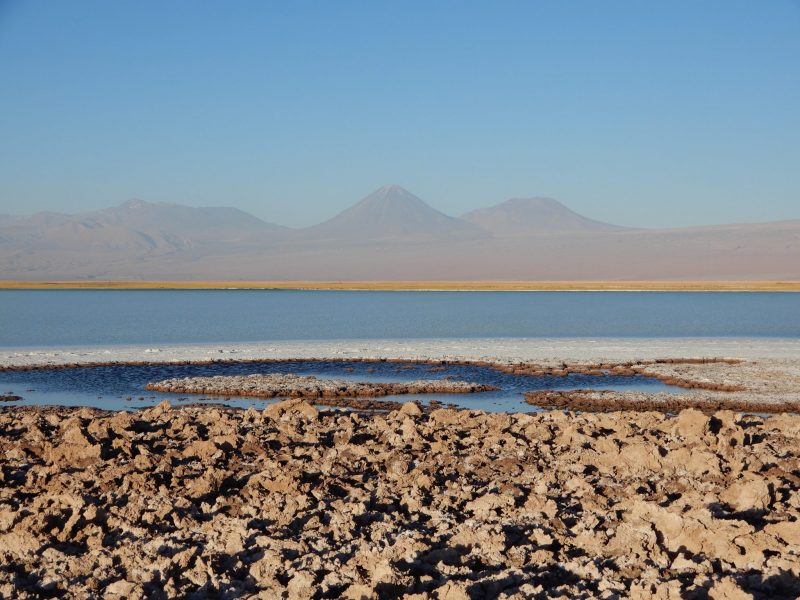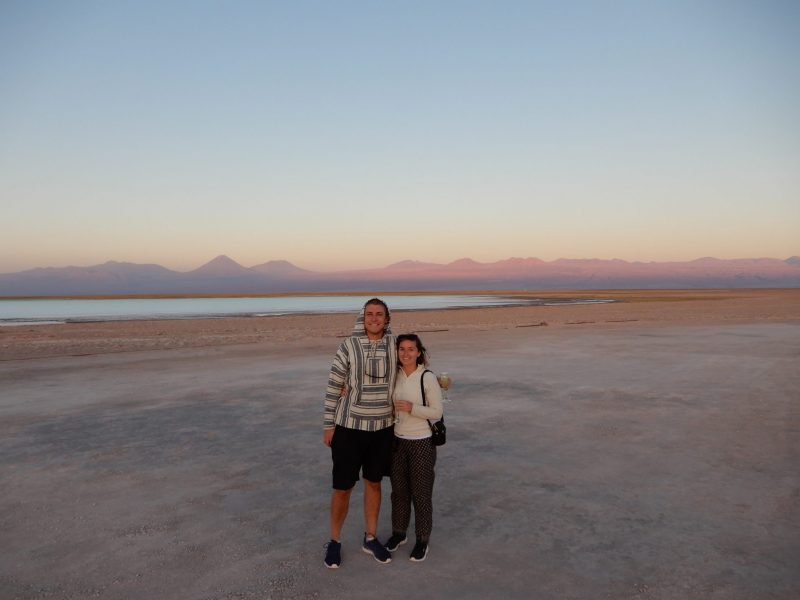 In my next blog I will write more about our stay in Santiago!