After an 8 hour bus ride from Sucre, we finally arrived in Uyuni. From the minute we entered the "city", it was clear it was only built for touristic purposes. Simen called it "God forsaken", while I preferred the word "soulless". It's a city of about 30.000 inhabitants, in the middle of the desert. It's not cosy at all and there is literally nothing happening there. Luckily, we were only planning on staying there for 1 day before leaving on the Salar de Uyuni tour.
Salar de Uyuni: 3D/2N
Several people had warned us about the Salar de Uyuni tour. We heard stories about some tour companies driving way too fast or using cars which were in questionable condition. We had even heard about some drivers driving while being intoxicated! In order to avoid that, we opted for a very reputable company, Red Planet. The tickets were a bit on the expensive side (€210), but we wanted to make sure we wouldn't get involved in any kind of accidents.
We chose the 3 days – 2 nights tour, which would take us to the Salt Flats, the Laguna Colorada, the Stone Tree, and tons of other beautiful highlights.
There were about 20 people leaving on the 30th of October. We were divided into 4 cars, one guide per 2 cars. We got paired up with a very nice couple from Germany and Switzerland and a very friendly German guy travelling by himself.
Day 1: Train Junkyard, Salt Production and Salt Flats
The first stop of our tour was the "Train junkyard". Just outside of Uyuni, dozens of steam trains are scattered around. Because of the wind they are completely rusty. Most of them are also covered in graffiti. Almost immediately everyone was climbing on top of them, taking tons of pictures and selfies. Simen seemed to be the only one who didn't get the appeal of the train junkyard. While everyone else channelled their inner child, Simen sat down staring at his phone haha.

I walked around for a bit, admiring the old trains. According to our guide, Butch Cassidy and the Sundance Kid had even been on these particular trains!
After the train junkyard, we were on our way to the salt flats. Before entering them, we first stopped at a salt production company where we got to learn more about how salt is produced and where we also had lunch.
Finally on our way to the Salt Flats
After lunch, it was finally time to enter the Salt Flats. It really feels like you've arrived on a new planet. The salt flats stretch as far as the eyes can see! During our first stop on the Salt Flats, we got the opportunity to take tons of pictures and buy some extra props, which we could use for playing with perspectives later on.

Simen decided to buy a couple of beer bottles, but didn't realise he was being robbed by the cashier! The beer bottles cost 30 bolivianos. Simen thought he gave the cashier 2 notes of 20, but he accidentally gave a 100 note and a 20 note, because they look very similar. I, however, had seen that he had handed her a 100 note. The cashier only gave him 10 bolivianos back, and when I pointed out that he had given her 120 bolivianos, she pretended to have received two 20 notes. Because of our broken Spanish, we couldn't properly explain what had happened, so we left. However, after counting his money, we realised he did in fact hand her a 100 note… So we went back, tried to explain, but once again, she pretended we had given her 40 instead of 120… There was no way she was going to give the 100 bill back.
So, with 2 very expensive beer bottles, we continued our journey on the Salt Flats. During the next stop, we finally got to take those pictures you see on Instagram!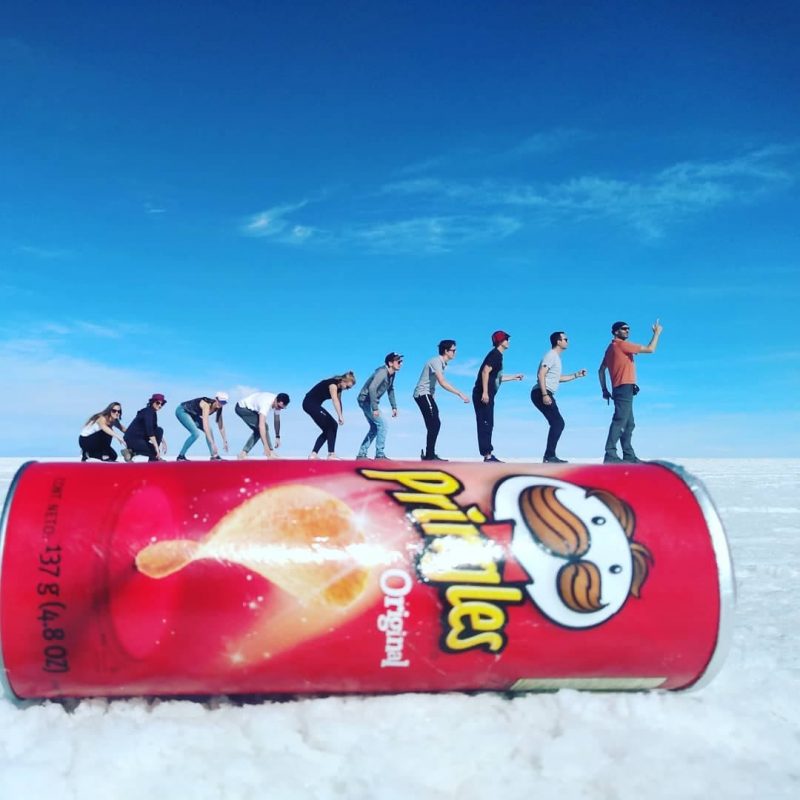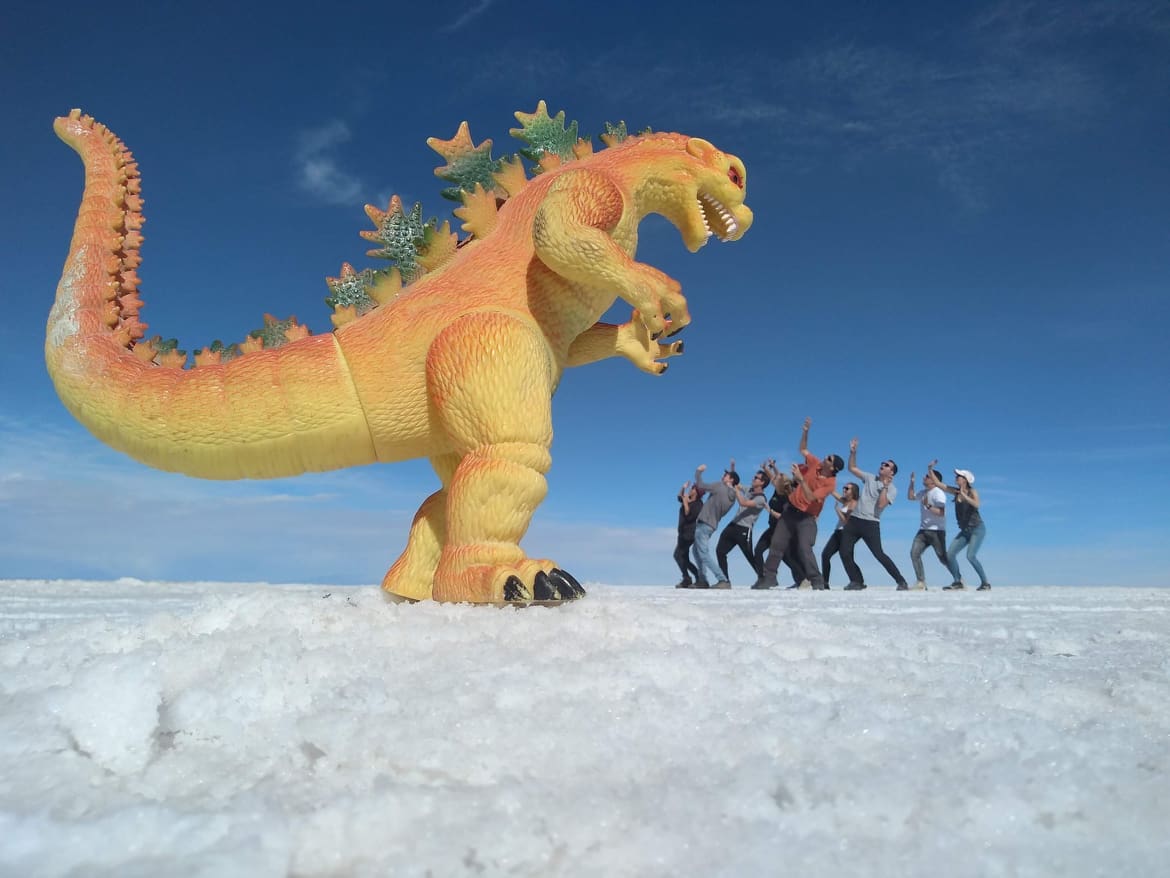 Playing with perspectives
Firstly, our guide wanted to take tons of group pictures. We took several pretending to be chased by a dinosaur, we also recreated the human evolution picture on top of a Pringles can, and shot several videos.
Afterwards, we got to take personal pictures which was really cool! Once we tried to take these pictures ourselves, we realised it wasn't as easy as it looked. We tried to take several more, but failed every time! Luckily the guide came back to help us, so we got the opportunity of taking a couple more cool pictures.
Cactus island
The next stop was a hike through Incahuasi Island, an island in the middle of the salt flats full of cactai. The hike took us about 45 minutes and was absolutely breathtaking! The seemingly endless salt flats with beautiful mountains in the background… It was gorgeous!
The last stop of the day was watching the sunset, before heading to our hotel. The hotel was entirely made out of salt, which was really cool! Here we also got the chance to shower (no possibility of showering during day 2). We went to bed feeling very happy and satisfied with what we saw and did today. We were ready for day 2!
Day 2: Volcanoes, gorgeous lakes and flamingo's!
On day 2 we were ready to start our day at 7 AM. The first stop of the day was a beautiful lake with a volcano in the background. This area of Bolivia is full of volcanoes, some of which are still active from time to time.


Afterwards, we got the chance of seeing llama's from up close. We stopped at a beautiful green field full of llama's, which weren't that afraid of humans. That way, we got to take a lot of pictures from very close by.


During the 2nd day we did and saw a lot of different things, so I will let the pictures do the talking. We stopped at the Stone Tree, the Laguna Colorada, geysers and tons of beautiful lakes:

Day 3: Desierto de Salvador Dali and Laguna verde
Day 3 of our Salar de Uyuni tour was a very short one, since half of the group was going back to Uyuni, about 8 hours away. The first stop of our last day, was the Salvador Dali desert. Fun fact: Dali doesn't have anything to do with this desert (he never visited the place). The name was given by visitors who saw the desert and were reminded of Dali's paintings.

Afterwards we headed towards the last stop of the day where the groups split up into people going to Chile and people going back to Uyuni.
The last stop was Laguna Verde, or the Green Lagoon. However, when we were there the lagoon wasn't as green as expected because there wasn't enough wind. After some last group pictures, we all said our goodbyes and we continued our way to our next country: Chile!
Border crossing Bolivia to Chile (Hito Cajon)
At 9 we left Salar de Uyuni and made our way to the border crossing at Hito Cajon. When we reached the border, our guide got our exit stamps for us, which was really nice. We hopped on a bus and were now on the way to Chile. About 10 minutes later we arrived at the Chilean entry station. The bus driver warned us it was going to take a very long time because the crossing the border with Chile is very "sloooooooow", as he said. There were about 10 minivans ahead of us, and according to him it would take 15 minutes per van. This meant we were going to be here for a while…
The driver also handed us some papers to fill in for customs. If you have any kind of fruit, vegetable, animal product or artisanal product, you have to declare it. There were quite a lot of rules and no one seemed to know what they were and weren't allowed to bring into the country.
After almost 2 hours of waiting it was finally our turn. We were first sent into a separate office to get our passport stamped, before being sent to customs to check all our belongings. I was lucky as they didn't check every single pocket in my backpack and I was allowed to enter Chile after only a 2 minute search.
In my next blog I'll write about our stay in San Pedro de Atacama.