Sucre is Bolivia's official capital and is an extremely charming city. We really enjoyed our time in Sucre, even though we were staying in the most horrible hostel ever. Sucre is also known as "La Ciudad blanca", or the White City because of its white houses. We mainly explored the city centre and went to the "Dino Park", or Parque Cretacico.
La Ciudad Blanca
During our first day in Sucre, we decided to do a city walk to see all of the city's highlights. We thought this city walk was going to take us all day, but in reality it only took us a couple of hours, since we didn't realise most of the highlights were centred around the main square (Plaza 25 de Mayo). We walked past the Metropolitan Cathedral of Sucre, the Government and the House of Freedom where the constitution was written and the Bolivian republic was founded.
We also walked up to La Recoleta from where we got a beautiful view all over Sucre.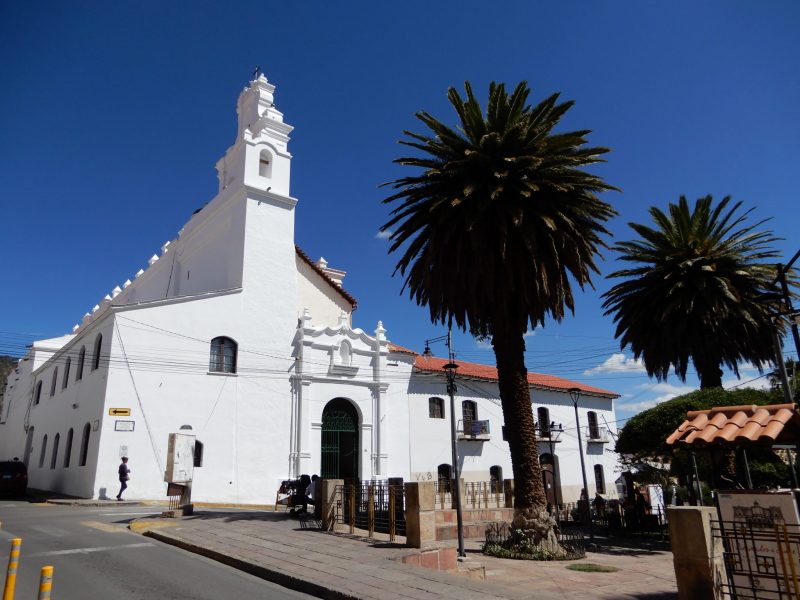 Parque Cretacico
During our second day in Sucre, we went to the Parque Cretacico. Since we didn't want to pay €180+ for a tour to Toro Toro National Park in Cochabamba, Parque Cretacico was a good alternative to see dinosaur footprints. This park is home to more than 5000 dinosaur footprints!
We took the Dino Bus from Plaza 25 de Mayo (in front of the Metropolitan Cathedral, it has pictures of dinosaurs on it, you can't miss it). A return ticket only cost us 15 bolivianos, or about €1.75. In about 20 minutes we arrived at the entrance of the park, where we bought an entrance ticket and a photographer's permit (you can't take pictures without the photographer's permit). This cost us 35 bolivianos, or about €4.40.
We first went on a tour through the museum where we learnt more about the various types of dinosaur footprints. Afterwards we were led through the park where we could see life size replica's of the dinosaurs.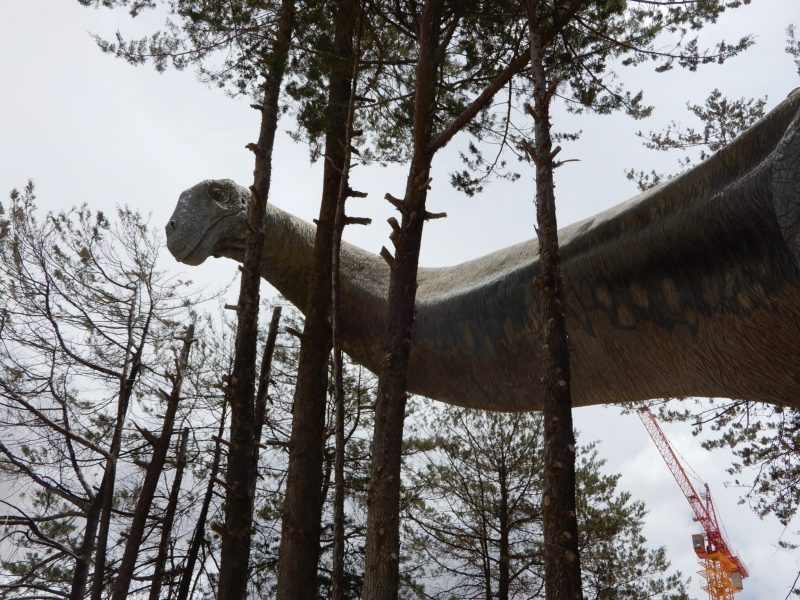 Tour to the dinosaur footprints
Despite various warnings at the entrance of the park, saying you can't go on the tour to the footprints if you're wearing sandals, no one stopped us. However, it's still probably best to visit the park wearing solid footwear.
The tour takes about 45 minutes, during which you have to descend towards the imprints, and you get to walk past them and admire them from up close. You're not allowed to touch them, but I thought it was still pretty cool to see them from this close.
The footprints were left in a very steep wall of 80 metres high and 1200 metres long. They date back to 200 million years ago and there are footprints of 8 different types of dinosaurs.
No tour to the Maragua Crater
We had also signed up for a 2-day tour to the Maragua Crater, supposedly formed by a meteorite. We signed up with Condor Trekkers to leave on a Friday, but were told we couldn't leave that day unless more people signed up. They were going to keep us up to date in case someone else signed up for the 2-day tour leaving on Friday.
We didn't hear from them at all, so we didn't go on the tour. In hindsight, this was probably a good thing because it rained a lot during the weekend we were supposed to go on the tour. Since it didn't seem like the weather was going to pick up any time soon, we decided to take the bus to Uyuni instead.
Interesting bus ride to Uyuni
Our bus tickets cost around €9 each, and the whole journey took 8 hours. There was no toilet on the bus, but we were told we'd be stopping 3 times on the way to Uyuni. No problem, we thought. In reality this meant: the bus stopped to let people off in Potosi and some other cities, but there were no toilets to be found. Also, we had barely brought any food with us, since we expected to be able to buy food on the way during the stops.
The bus only stopped once on the way to Uyuni at the most disgusting restaurant we've ever seen. The place was infested with flies and the toilets were absolutely disgusting… Some passengers opted for peeing in the wild instead. Since we couldn't find a place to buy water at Sucre bus terminal, we only had 1 litre with us for a whole day. Once again, we assumed we could buy it at this restaurant, but they didn't sell any water… The only thing we could get were 2L bottles of coke or apple juice, or beer. We've learnt our lesson the hard way!
In my next blog I will write about the highlight of our stay in Bolivia: Salar de Uyuni! This could, however, take a little while because internet in Chile is pretty unforgiving… I hope to post more soon!