After a 4 hour bus ride from Copacabana, we finally arrived in La Paz. By the time I went to bed, I was luckily feeling better. However, the next morning Simen was feeling awful. He also got food poisoning… To make matters worse, we both also got an allergic reaction to something and Simen struggled with his stomach the entire stay in La Paz (about 9 days). A couple of doctor's visits and bad weather meant that we couldn't do everything we wanted to do in La Paz, such as the Death Road. Read more about everything we did do in Bolivia's administrative capital.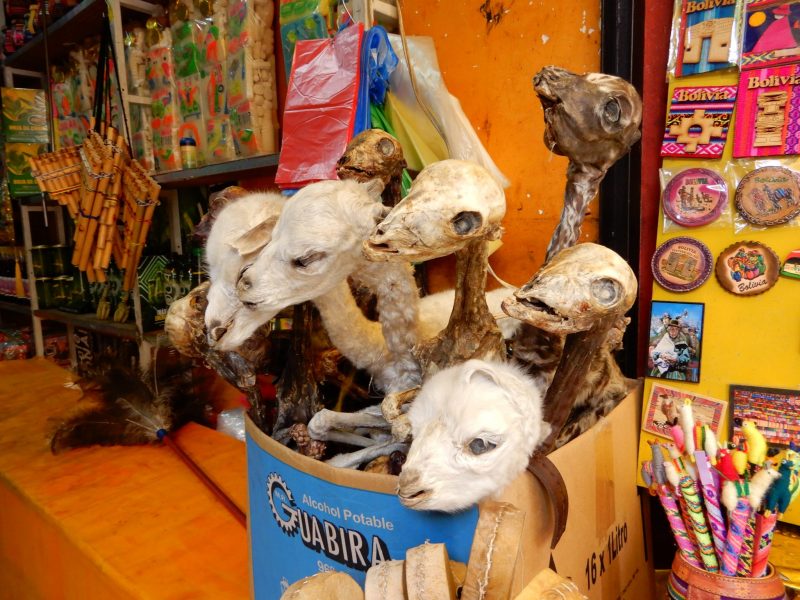 The Witches' market
As I mentioned above, Simen was sick during our first day in La Paz. This meant that we spent most of the day inside our room. Luckily, he felt a bit better on our second day so we decided to explore downtown La Paz a bit. We were staying in the most touristic area of La Paz, so everything was relatively close by. Our first stop: the Witches' market.
Every blog and travel guide mentioned we should visit the Witches' Market, where they sell all kinds of spices, weird "potions" and dead llama's… Luckily for us, the market was located 1 street behind our hotel. We walked through Linares street and spotted a couple of the dead llama fetuses in about 3 small shops. This couldn't really be the Witches' Market, could it? We walked around the block and couldn't really spot the actual market and had to ask for help. Turns out, we had actually already been at the Witches' Market. It was just that tiny!
Don't expect a massive market selling tons of weird things, it's literally about 10 shops. We went inside and saw they sold things like love potions, llama fetuses and skeletons (which according to Bolivians bring luck and keep bad spirits away). It was pretty interesting to see, but we both expected a market that was much bigger.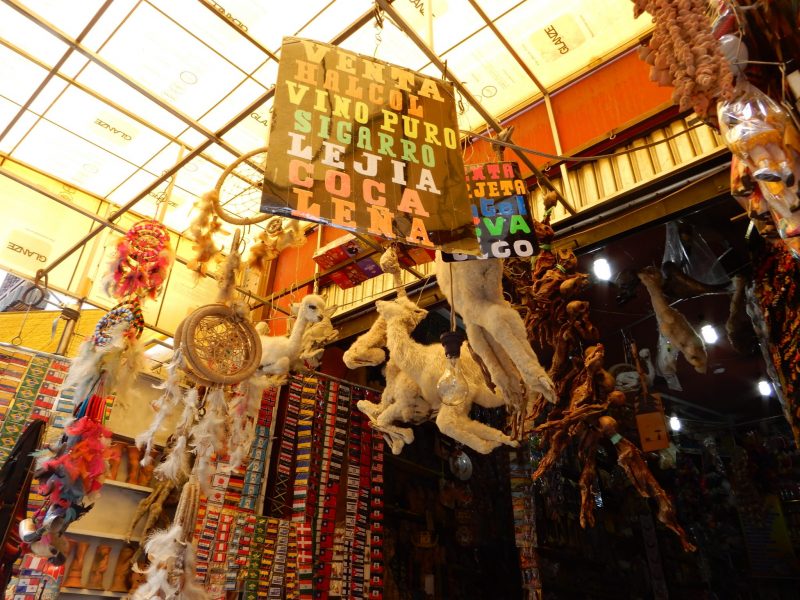 Calle Jaén
After the Witches' Market we made our way over to Calle Jaén, known as the most picturesque street in La Paz. It's quite a small street, but it has tons of colourful houses on both sides which makes it very cosy. We didn't spend that much time in Calle Jaén because it wasn't that big. We took some pictures, had a drink and started walking downwards again.
The next day Simen's stomach was upset again, so we decided to stay in the hostel for most of the day. The next day I woke up with chest pains… I waited for about a day, hoping the pain would go away, but when it didn't I decided to go to the doctor. Turns out I had an allergic reaction to something… After five days of medication I luckily felt better again.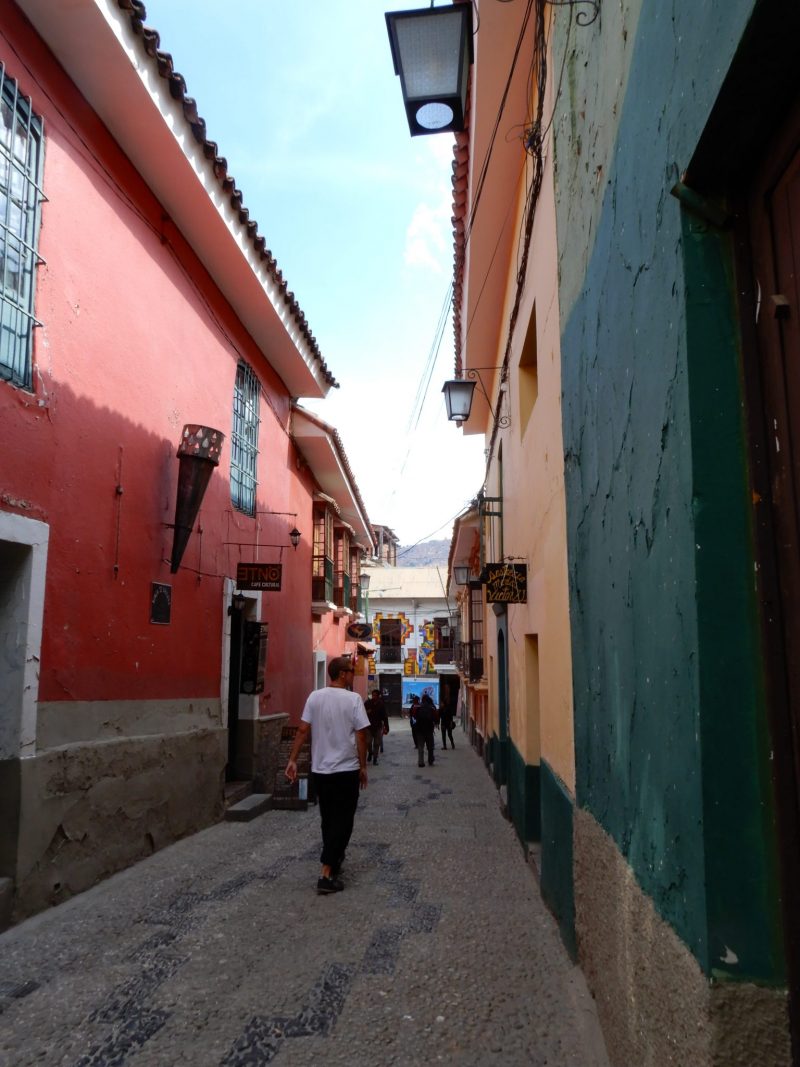 Mi Teleférico
Getting around in La Paz is quite easy thanks to the "Mi Teleférico". The teleferico has 8 lines which are all connected and make it easy to go from one side of the city to the next. We decided to try out a couple of the lines. The nicest one was the Yellow Line/Green Line which goes from El Alto to Irpavi. It's not only a very practical way to get around, it also gives you beautiful views of the city. It rained during most of our stay in La Paz, so we decided to try out the cable cars during one of the only mornings the sky was blue and there was no rain. As you can see, it still looks quite cloudy in our pictures…
The Teleférico is also very cheap, it only costs 3 bolivianos for 1 trip! It's a very nice way to get a better idea of how massive La Paz actually is.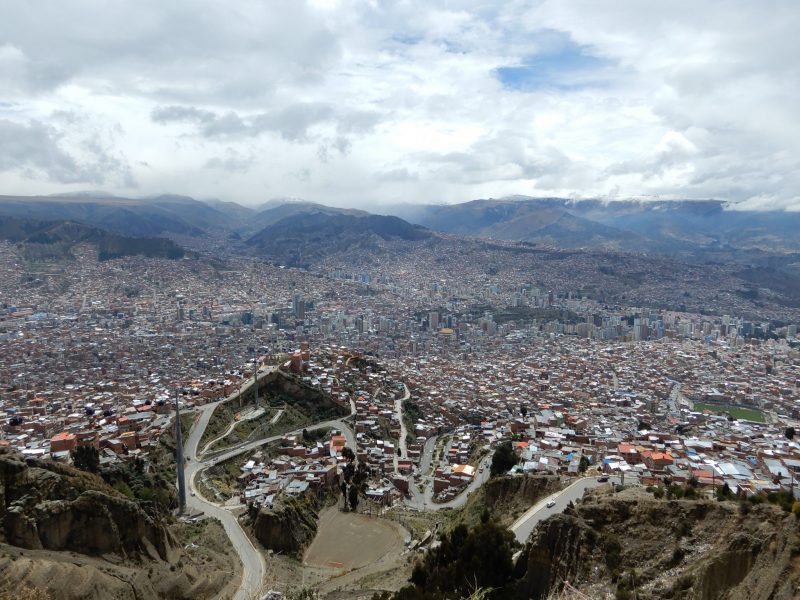 Valle de la Luna
The next day, we were once again "blessed" with okay weather in the morning, so we decided to go to the Valle de la Luna. The Moon Valley is located only 9 km away from La Paz. We took a taxi there for about 40 bolivianos (€5). It's actually not a Valley, but more a canyon filled with spires. The spires reminded me a bit of Bryce National Park in the US. It really felt like arriving on a different planet.
Entrance tickets only cost us 16 bolivianos (not even €2!). Once you enter you can choose between a 45 min loop through the valley or a 15 min loop. We decided to do both. The landscape was very spectacular and peculiar and offered us a lot of opportunities for cool pictures.
Since we only spent about 1 hour walking through the Moon Valley, it's a park you can visit when you're short on time.
Cholita Wrestling
We were a bit short on time because we had booked tickets for the Cholita Wrestling in the afternoon. Cholita's are indigenous women dressed in about 10 skirts and wearing high hats. Every Thursday and Sunday at 5 PM, they fight each other in an arena in El Alto. Tickets cost us about 10 dollar per person and included transportation, a bag of popcorn, a coke, a souvenir and 2 bathroom breaks.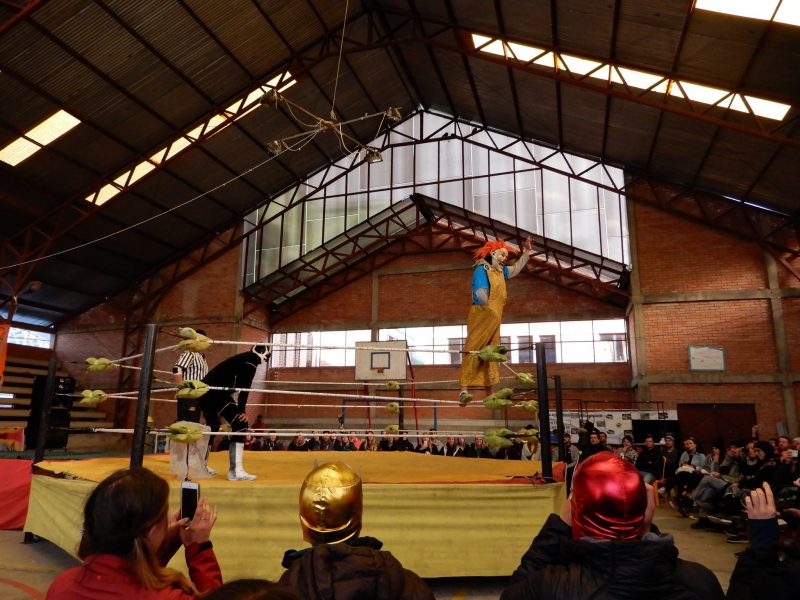 At 5 sharp, the show started with 3 men fighting each other. Two were dressed up as flies and one as the creepiest clown I've ever seen… Afterwards it was time for the Cholita's to fight each other. The whole show took about 2 hours and we saw 6 fights. It was very clear all of this was staged, but it was still fun to watch. What makes it fun is that the audience (which also consists of locals), started engaging with the fighters. Popcorn is thrown around, people get sprayed with water and coke, old ladies in the audience hit the fighters. It's all very good fun!
However, 2 hours was a bit long and after a while we got a bit tired of it. A lot of the fights were similar. For me personally, 3-4 fights were enough. But it's definitely a fun way to pass time, so I would recommend going if you're in La Paz.
Another doctor's visit…
In the meantime we had been in La Paz for more than a week and Simen was still struggling with his stomach. After a lot of nagging, he finally agreed to go to the doctor. We went back to the Clinica Alemana (where I went) because the doctors actually speak English there which made it a lot easier to explain what was going on.
After several tests, it was clear he was suffering from gastroenteritis. He had to take medication for 5 days, take probiotics and stick to a very limiting diet for 5 days. No cheese, no pork, no grease, no alcohol, no coffee, etc. Anyone who knows Simen, knows this definitely wasn't easy for him!
Next stop: Cochabamba
After 9 days it was time to leave La Paz. Unfortunately we didn't manage to do the death road due to, well, illness and bad weather. Also, it was a lot more expensive than expected. Tour companies charged in between 80 and 130 dollars for one day!
After La Paz we took the night bus to Cochabamba where we stayed for 3 days. But more about that in the next blog post!