On Friday October 5th we left Peru behind and travelled to our 5th country: Bolivia. Our first destination in Bolivia was Copacabana – a small town located on the shore of Titicaca Lake. It's also the gateway to Isla del Sol, the place the Inca's believed to be the birthplace of the Sun. Our plan was to stay in Copacabana for 2 days and then go to Isla del Sol for another two.
Exploring Copacabana
The drive from Puno to the Bolivian border took about 2.5 hours. Luckily, the border crossing went smooth-sailing, and we arrived around 1 PM in Copacabana. We decided to spend 2 days in this small town with only about 6000 inhabitants. We stayed in a very nice hostel on the outskirts of Copacabana where we got to play with a very cute puppy and a baby llama! Adorable!
During our first day in Copacabana we decided to mainly stay in the hostel and explore the city centre a little bit. The shoreline is very cosy with tons of "hipster" bars with rooftops and beer gardens overlooking Titicaca Lake. We decided to go for a couple of drinks here, enjoying the beautiful view over the lake. During our second day, I hiked up to the Cerro Calvario from where you get a beautiful view over Copacabana and Titicaca Lake. Simen decided to stay in the hostel because he wasn't feeling that well. The hike up to the Cerro Calvario took about 45 minutes, and was actually quite strenuous. I had to stop several times to catch my breath. Was I really that out of shape so shortly after Salkantay? Then I realised that Cerro Calvario is located at around 4000 metres, which is pretty damn high up. No wonder I was out of breath!
Once I reached the top, I got to see an amazing view all over Copacabana. From here I could also see a big part of Lake Titicaca, which was absolutely breathtaking! The 45 minute hike was definitely worth it.
Trip to Isla del Sol
On Sunday we took the Peru Hop boat (1.5 hours) to Isla del Sol where we were going to spend the night. We were the only people who were planning on spending the night, while the rest of the boat opted for just the 1 hour hike across the island before heading back. We were staying in Yumani, about 1h away from where the boat dropped us off. The terraced landscape next to the crystal clear water makes the island so beautiful!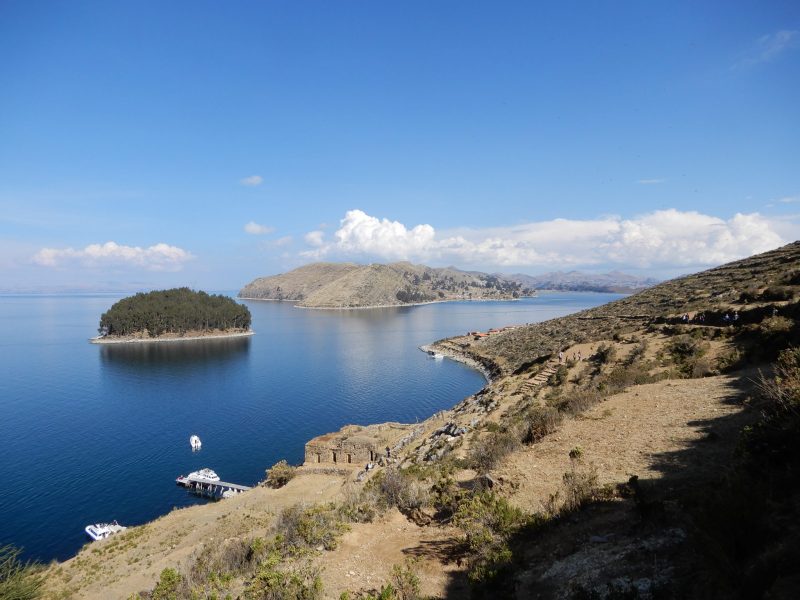 After we dropped our bags off at the hostel, we decided to explore the island a bit more. We mainly stayed within the Yumani community, but got to see more of the south-west side of the island, which is also beautiful. Here you can find tons of restaurants and bars overlooking the water and the western part of Isla del Sol. We immediately sat down at one of these bars (Restaurante Pachamama) with beautiful views, until it started to rain. We decided to stay here for dinner as well (which turned out to be a mistake). After dinner we headed back to the hostel to get some rest since we wanted to do some hiking the day after.
Struck by food poisoning
The next morning I already woke up at 6 AM, feeling dreadful… My belly was twisting and turning and I could only lie down in one position: on my back. Clearly, something was wrong with my pasta from last night. The minute Simen woke up, he could tell I wasn't feeling well at all. To make matters worse, we didn't have a private bathroom (even though the room was advertised as such…) and we had to share the bathroom with about 15 people… I was so nauseous I tried to continue sleeping with a plastic bag in my hands. It didn't take long before I had to use it… I felt absolutely horrible and couldn't eat at all. The prospect of hiking the island didn't sound too appealing…
We tried to wait it out, and left the hostel at around 10 AM to do some exploring. I felt a little bit better as we went to one of the viewpoints on the island. I was walking very slowly and generally progressing excruciatingly slow. After a while we decided to sit down at one of the bars from last night to get some rest and maybe get some food in. I ate one small slice of pizza, and felt a little bit better. My stomach didn't feel too upset anymore and I seemingly had managed to keep the food in. We left the lunch place to go back to the hostel (I didn't feel up for walking more). After about 10 minutes I had to stop again because I needed to throw up again (Simen's note: in someones garden. Haha). Great.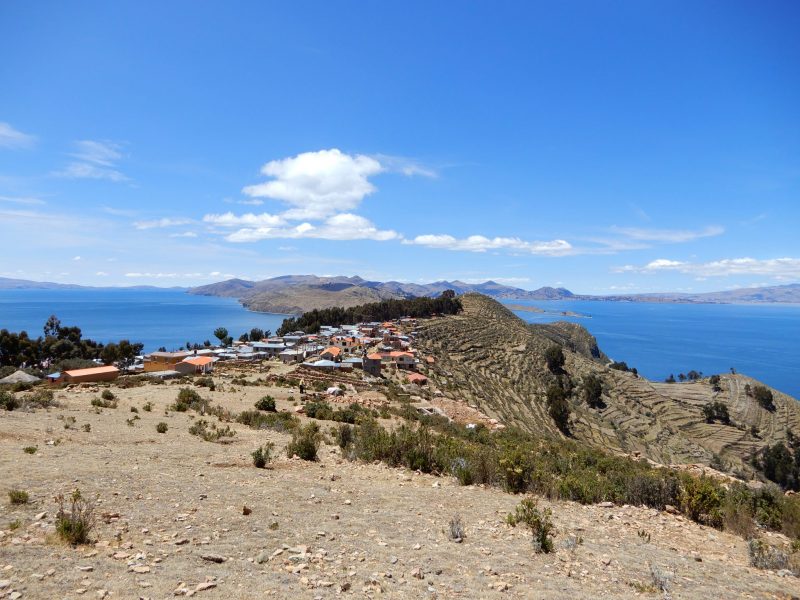 I wanted nothing more than to lie down in bed, but we had already checked out and we had a 1.5 hour boat ride and a 4 hour bus ride waiting for us. Delightful!
Trip to La Paz
We were spending basically 6 hours "in transit", which for me meant 6 hours in "my zone". I didn't want to talk or move, and basically spent 6 hours staring into nothingness. It was the only thing that kept me from throwing up in the boat or on the bus. Luckily by the time we entered La Paz, my stomach started to feel a bit more normal again.
Unfortunately, the food poisoning put quite a damper on our trip to Isla del Sol. We didn't get to explore or hike as much as we wanted. Luckily for us, the part we did see of the island was so beautiful! I would definitely recommend going there if you have the chance because it's breathtaking. Also, stay the night. If you're travelling with Peru Hop you only get 45 min to 1 hour on the island which is really not enough.
In my next post I will talk about our time in La Paz. Spoiler alert: I wasn't the only one who got food poisoning…