After our 5-day stay in Bariloche, we made our way to the Iguazu Waterfalls. Since Iguazu is located on the complete opposite side of Argentina, and we had enough of long bus rides, we decided to fly there. We scheduled a very short visit to Iguazu, we arrived on the 22nd and flew back to Buenos Aires on the 24th.
From Puerto Iguazu to Iguazu National Park
We stayed in Puerto Iguazu, about 30 minutes drive away from the Iguazu Waterfalls. From the bus station in Puerto Iguazu, you can take several buses heading towards the park (usually indicated as Cataratas). We paid €3 p.p. one way.
After 30 minutes, we finally arrived at the park entrance. Here we had to queue for a while to get a ticket (€16.50 p.p.). It was very obvious that the Iguazu Waterfalls are an extremely popular tourist destination.
After purchasing our ticket and entering the park, we had to wait for one of the trains which was going to bring us to the central station of the park. Yes, there are trains driving you around, this shows you how touristic it is.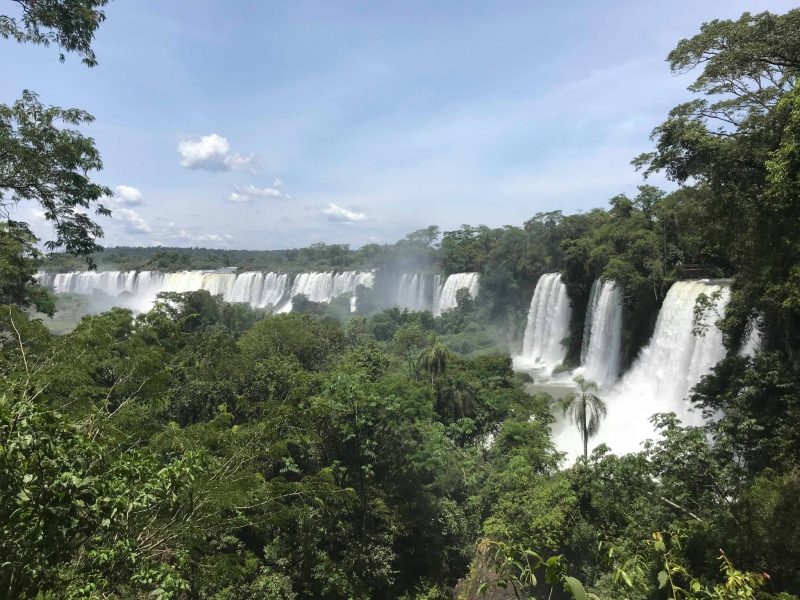 Lots of waiting and queueing
Once we arrived at the central station, we had to queue again. This time to get a ticket to the Devil's throat station. Devil's Throat is where you get to see the biggest waterfall from close by. Once you get a ticket to the Devil's throat station, you have to queue again. The trains leave every 15 minutes, but we ended up waiting for almost an hour before our train left.
However, as is quite common in South-America, nothing is really indicated. We saw tons of other gringo's, looking confused, trying to figure out this very inefficient system. By now we had been in the park for almost 2 hours and we hadn't even seen any water yet! Visiting the Iguazu Waterfalls requires lots and lots of patience and waiting in the scorching heat while cute coati's try to steal your food.
Devil's Throat
Around 11 AM, we were finally on our way to the Devil's Throat station. From here you have to walk about 1 km to get to the waterfall. You're walking on suspension bridges hanging over the river. Once we reached the Devil's Throat, we had to fight for about 10 cm of space to take a picture and/or a video. It was basically impossible to get a picture by yourself, it was way too crowded.
Since we wanted to get a picture of us and the waterfall, we decided to pay for a professional photograph (€8). The photographers have a small stand on the bridge, which makes it seem as if you're the only one visiting. In reality, it's crazy crowded and you don't really get to see that much of the waterfalls… When you do though, it's super impressive! I've never seen a waterfall this big.
Superior and inferior trail
After spending about 20 minutes at Devil's throat, we decided to walk back to the station. Once again, we had to queue for a new ticket to get on one of the next trains which would take us to the central station. This time we only had to wait for about 30 minutes.
Once we reached the Central Station, we decided to hike two of the trails: the superior and inferior one. If you do these hikes you can either see the waterfalls from above (superior) or from below (inferior).
Superior trail
The first hike we did was the superior one. This one took about 1.5 hours and took us all the way up to the waterfalls. We stopped a lot to take pictures because it was super impressive.
Inferior trail
After a quick stop to have lunch, we continued hiking towards the inferior trail. As I mentioned before, this trail takes you to ground level so you get to see the waterfalls from below.
This trail took about 1.5 hours as well but can take up to 2 hours if you take the long trail. Since it started to rain while we were on the inferior trail, we decided to cut it a bit short and only did the 1.5 hour loop.
The waterfalls are super impressive from all sides. In my opinion, the inferior trail gives you the best views on all of them, but both trails are a very good option to get close by.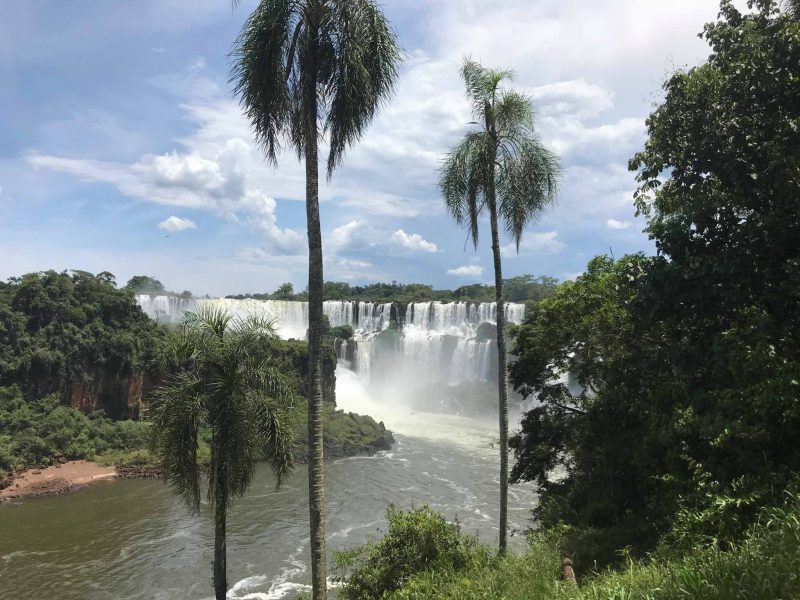 Extra option to see the Iguazu Waterfalls: boat ride
For those who have lots of money, a boat ride is also an option. These boats bring you very close to the waterfalls. We had considered it, based on the prices we had seen online: €10-25 (depending on how bad the recession was).
However, when we entered the park, we realised the prices had gone up to €50 p.p. Argentinian recession strikes again… Since some people online had said that even €10 was a bit steep for this 20 min. boat ride, we were really not willing to pay €50.
We're not quite sure you'd see that much more from the boat than you do from the suspension bridges and the trails. If you take the superior or inferior trail, you already get very close to the waterfalls. In my opinion, there isn't really any point in doing the boat ride.
On the way back, we decided to just walk back to the entrance of the park, otherwise we had to queue for another ticket and another train. The walk back to the entrance took only about 15-20 minutes, so it was definitely very doable.
Next stop: Buenos Aires
Our stop in Iguazu was very short and a bit on the expensive side, but we were both very happy we made the detour. The waterfalls are so impressive and should be on the bucket list of anyone visiting Argentina. You won't be disappointed!