Our next stop after El Chaltén was San Carlos de Bariloche. Unfortunately, these 2 cities are about 1500 km away from each other, which meant we had to choose between a very expensive flight (€300 p.p.) and a 24-hour bus ride… We chose the latter. Even though taking the bus from El Chaltén to Bariloche was a lot cheaper than flying, we regretted our decision many times. Want to know why? Keep on reading!
Which company?
There are 2 companies which offer the route El Chaltén to Bariloche: Chaltén Travel and Taqsa Marga.
Chaltén Travel offers the route in two legs: the first bus takes you up to Los Antiguos (10 hour travel time). Here you have to change buses and take the bus to Bariloche (12 hour travel time).
Taqsa Marga offers the 24 hour bus ride in one go. However, we had read that this bus had broken down before and the 24 hour ride had turned into a 30+ one. Since we didn't want to risk being on the bus even longer, we decided to go for El Chaltén Travel.
Our tickets were very expensive: €90 per person. It's very obvious Argentina is in a recession, since all the prices are extortionately high… Compared to 2016-2017, the prices have increased tenfold!
First bus: Chaltén to Los Antiguos
Good start: 30 min delay
Our bus to Los Antiguos was scheduled to leave Chaltén at 9 PM. Since we didn't want to risk missing the bus, we had dinner at the bus station. At exactly 9 PM, we were waiting outside the bus, ready to start the long journey. The bus arrived at around 8.50, but it took until 9.25 for the bus driver to open the luggage compartment. As is pretty typical in South-America, we didn't get any info as to why the bus was 30 minutes delayed. At 9.35 we were finally on our way.
This bus would take 10 hours to get to Los Antiguos. The bus was not really equipped for a night journey, since it was a normal day bus. The seats didn't really recline, it wasn't a double-decker, and there wasn't much space. It almost felt like a bus you'd take to go on excursions, not a night bus at all. We weren't quite happy about that, especially Simen with his long legs. But we decided to make the most of it. We got relatively comfortable and at around 11 PM I tried to get some sleep.
At around 11.45 however, the bus suddenly stopped. Simen and I exchanged worried looks. Hopefully there was nothing wrong with the bus… When the driver turned off the engine, we both said: "Uh oh, that can't be good." Unfortunately for us, it wasn't good at all.
Bus troubles
Once again, there was zero information from the bus drivers. We only picked up on what was happening because other people asked for info. Apparently, the clutch of the bus was broken. This meant they could switch on the engine but not actually start driving…
As if that wasn't bad enough, we were in the middle of nowhere without any cellphone reception! Luckily, one of the bus drivers had brought a satellite phone. The plan was to try to reach someone in Chaltén, and ask them to send a bus from El Calafate. This would take at least 4 hours… Then we realised we were in for a very, very long night.
Unfortunately for us, this satellite phone didn't seem to work. We had no means to get in touch with anyone while we were stranded in the middle of nowhere at midnight. At some point another bus drove past us, which ironically was the Taqsa Marga bus also going to Bariloche. They picked up our bus driver and decided to drive him to the nearest town, from where he could call the Chaltén office and ask for a bus to pick us up.
New bus arrived, but alas to no avail
Since we realised this was going to take a while, everyone went back to sleep. At around 2.45 I woke up because an empty bus had arrived. I woke Simen up saying that our bus had arrived. The bus was empty and had parked next to us, this had to be our bus right?
Wrong again. This bus turned around and parked on the other side of the road. Everyone was now complaining because we were still not getting any info from the drivers and we had now been stranded for more than 3 hours. After a while, people started to fall asleep again.
Finally on our way to Los Antiguos
The bus driver woke us up at around 6 AM. The empty bus was still standing on the side of the road. We didn't understand, there had been an empty bus right next to us, but we weren't allowed to get on?
Suddenly, a bus showed up coming from the other direction. This bus was already full of people, who now all had to get off and get on the empty bus which had been waiting next to us for 3 hours. We were sent on the bus which had just arrived.
What was the point of that bus arriving at 2.45? No one knows. Why couldn't we get on that bus and continue our journey and thus only lose 3 hours instead of 6? No one knows.
Everyone was grumpy because our 24 hour bus ride had now turned into a 30 hour one… At 6.30 we were finally on our way to Los Antiguos.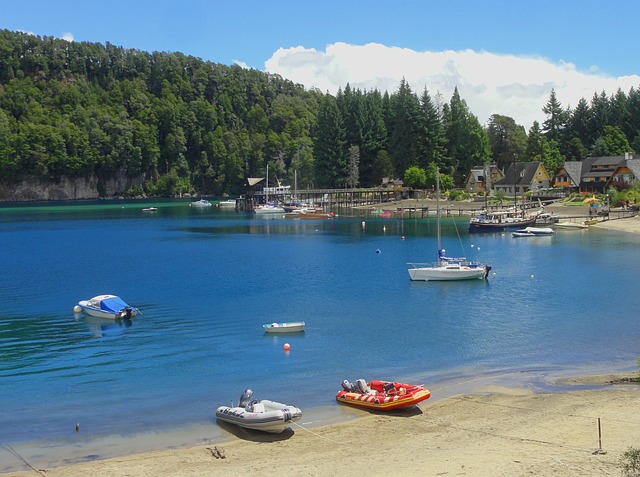 Second bus: Los Antiguos to Bariloche
The bus from Los Antiguos was scheduled to leave at 7 AM. Since we had only gotten on our new bus at 6 AM, we were all 100% sure we were going to be stranded in Los Antiguos. No way they'd wait for 6 hours for us, right?
This was the first time that day we were lucky, because the bus did actually wait for us! At 12 PM we finally arrived in Los Antiguos, and managed to get on the new bus to Bariloche. By now we had been travelling for 15 hours, and we still had a 12 hour bus ride to go…
Luckily, the second bus ride was very uneventful. Our bus driver wanted to make up for the delay and actually managed to get us to Bariloche faster than expected. Everyone on the bus was calling their hostel/hotel to inform them we'd be arriving after midnight and not at 5 PM as expected. However, we managed to arrive at 10.30 PM, which was a big relief because this meant we were still able to check in at our hotel.
Flying is a better option
After this "adventure", we both said we really wished we had flown to Bariloche. This bus ride was a total disaster. We would advise anyone who's not sure what to do, to take the plane. However, we would recommend booking your tickets well in advance so you don't have to pay €300 p.p.
Bariloche is totally worth the hassle of getting there. It's such a gorgeous place and the Seven Lakes route and Circuito Chico are so beautiful! We didn't regret our visit to Bariloche at all.