Easter Island is officially part of Chile, and is located in the middle of the pacific ocean. It's one of the most remote places on the planet. Mainland Chile is more than 3500 km away, while Tahiti is more than 4000 km away. Ever since I was a little girl, I was always fascinated by the Easter Island statues, or the moai. When deciding where to go on our RTW-trip, Easter Island was high up on both our bucket lists. On the 13th of December we flew from Santiago to Hanga Roa, Easter Island.
We booked a room at Hotel Atavai for 6 nights, to make sure we'd have enough time on the island. We took things quite slow, so this was definitely enough time to explore Easter Island. The island is not that big, but too big to get around easily by bike or on foot. Therefore we decided to rent a scooter for one day (25.000 pesos-€31) and a car for one day (35.000 pesos-€44). During the other days we mainly explored Hanga Roa and the surrounding historical sites on foot.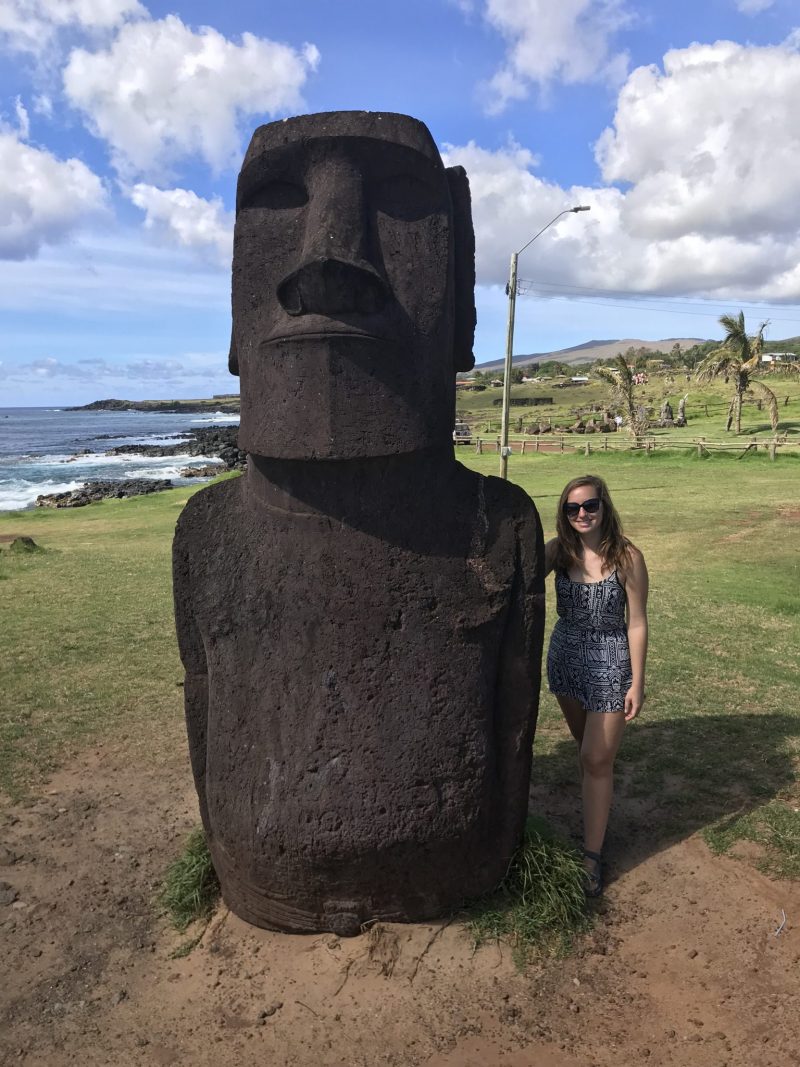 Day 1: Hanga Roa, Tahai and Hanga Kio'e
On our first day on Easter island, we decided to stay in the vicinity of Hanga Roa, the only town on the island. We walked along the coastline towards the Tahai and Hanga Kio'e sites. Here we already spotted our first moai of the trip. Easter Island is a lovely island which kind of looked like an exotic version of Scotland.
The coastline is beautiful and the moai make it even more special and impressive. They are very big and look even cooler in real life! We walked for about 1.5 – 2h and bumped into several moai sites, one of which had 4 moai standing next to each other, overlooking the island. Tahai is a very beautiful and impressive site!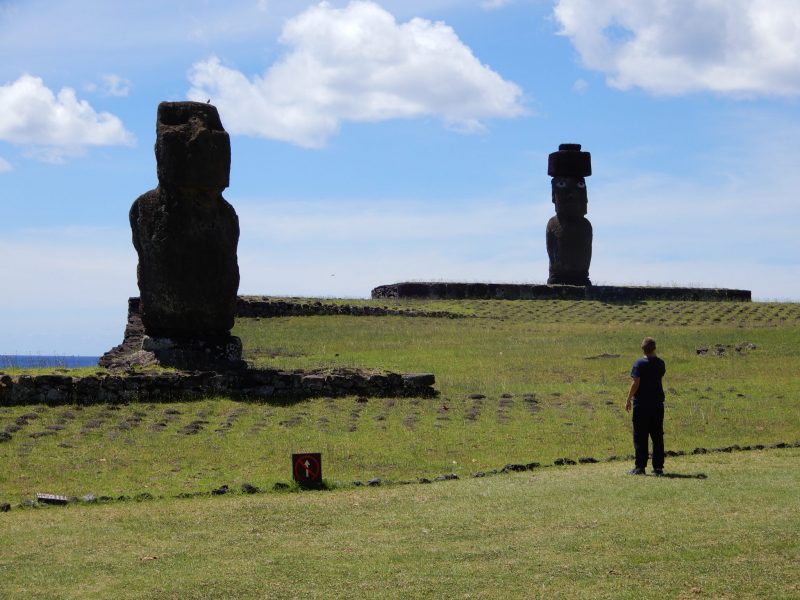 Day 2: Vinapu, Vaihu/Hanga Te'e, Akanhanga and Tongariki
On our second day, we decided to rent a scooter to explore the island a bit more. We left Hanga Roa at around 1 PM and were on our way to the first historic site: Vinapu. This site is located in the south-west of the island and can be reached easily by car/scooter/bike from Hanga Roa (it's only about a 10 min drive). Here we had to show our entrance ticket (54.000 pesos) to Rapa Nui National Park for the first time. Be aware that you'll have to show it at almost every station, before being able to enter the sites.
Vinapu didn't really have any standing moai, we saw a couple which had been toppled and were now facing the ground. After exploring Vinapu for about 10 minutes, we decided to continue driving along the east coast of the island. The road is extremely scenic and takes you past several moai sites. The only "downside" of this part of the island, is that basically all moai have been toppled. There were only a couple which were still upright.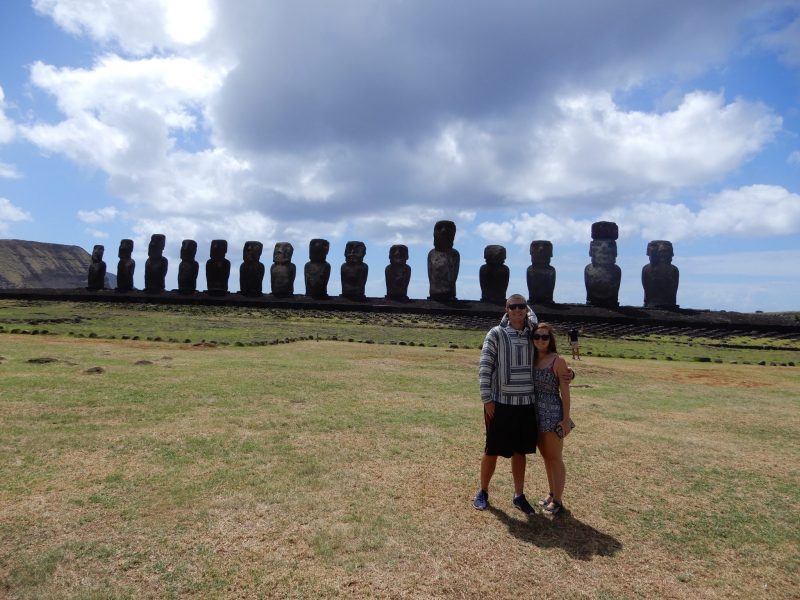 Our last stop that day was Tongariki. This is still one of my favourite spots on the whole island. During our 6 day stay, we came back to Tongariki 3 times. Here you can find 15 moai standing upright, next to each other, with the gorgeous blue pacific ocean in the background. This is also the ideal spot for watching the sunrise. We came back a couple of days later to witness one of the nicest sunrises we've ever seen.
Day 3: Orongo and Rano Kau
On day 3, we decided to go for a hike. We left from Hanga Roa to hike up to the Rano Kau crater. This is about 7 km away from Hanga Roa and takes about 2-2.5 hours (one way). The first 3.5 km we walked along the coastline, where we saw some more moai. The last 3.5 km we hiked up the Te Ara o te Ao trail which took us through the forest, all the way up to the Rano Kau crater and Orongo Village.
Orongo is a ceremonial village, where an annual race to the neighbouring island Motu Nui was held. This took place in the 18th and 19th century when the inhabitants of Easter Island started a new religion (known as the "Birdman" cult). Every year the most important men of the island participated in a race to catch the first sooty tern egg from Motu Nui. This meant they had to climb down the steep cliffs of Easter Island, swim in shark-infested waters, get the first stern egg, and swim and climb their way up to Orongo again… A lot of men participating died during these annual races.
You can still visit the village to this day, however your Rapa Nui ticket only grants you entry to Orongo once.
Day 4: Ahu Akivi, Anakena & Ahu Nau Nau and Rano Raraku
Ahu Akivi
On day four we rented a car, since it's the ideal way to get around the island. Our first stop of the day was Ahu Akivi, another moai site with 7 statues. Despite the fact that we had already seen tons of moai by then, we were still in awe of these impressive statues. It's so crazy to think these were made 500-800 years ago!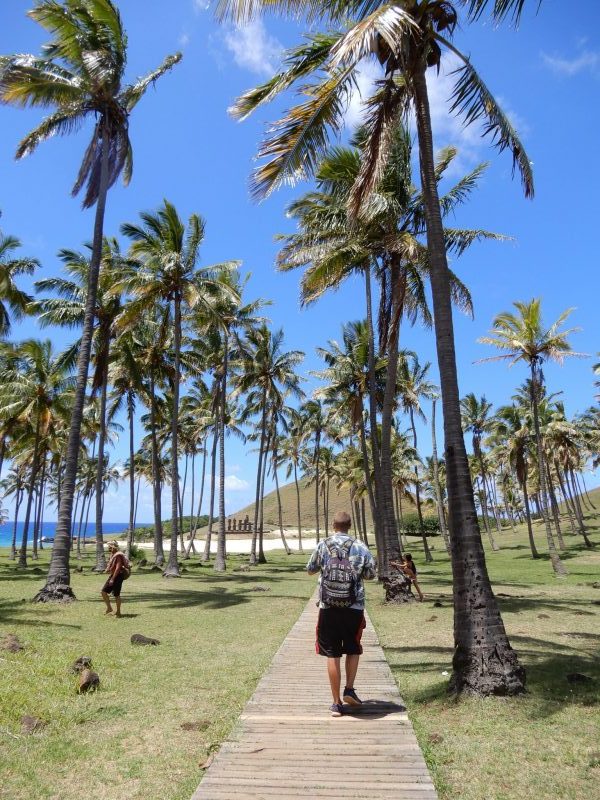 Anakena Beach & Ahu Nau Nau
After Ahu Akivi, we drove to Easter Island's only beach: Anakena Beach. The minute we arrived, it felt like we had arrived on a tropical island. The beach is covered in palm trees and the water is crystal clear. When we were in Cuba, we both said that Varadero beach was the nicest beach we'd ever seen. That was true until we laid eyes on Anakena beach. It's absolutely spectacular! Plus, here you can also find more moai, this site is called Ahu Nau Nau. It makes the beach even more beautiful…
We went for a quick dip, we didn't want to leave Easter Island without crossing "swimming in Easter Island" of the bucket list! Afterwards we continued onwards towards Rano Raraku.
Rano Raraku
This was easily the highlight of our Easter Island trip. You can only enter this site once, but it's so worth it! This is where the inhabitants carved out and sculpted all the moai. In total there are almost 1000 statues! In Rano Raraku there are about 397 of them. Most of them are standing upright, but some are still attached to the rocks. To us, it almost felt like a theme park full of moai. We were blown away by this historical site. Wandering through this site almost felt magical. It was especially cool to see the unfinished statues which were even longer than the ones which were standing upright. One of them was about 20 metres tall (the tallest moai on the island is 10 metres).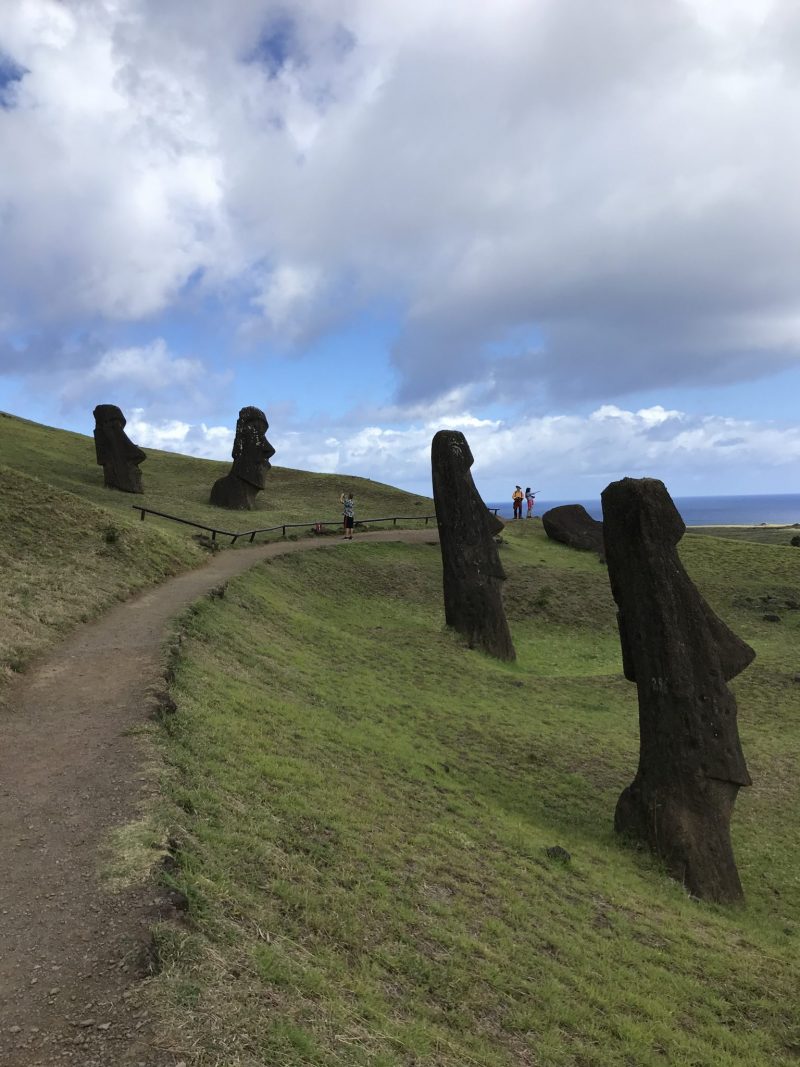 We were very happy we had saved the best for last and would advise anyone who's going to Easter Island to visit Rano Raraku last. We felt like anything else would pale in comparison.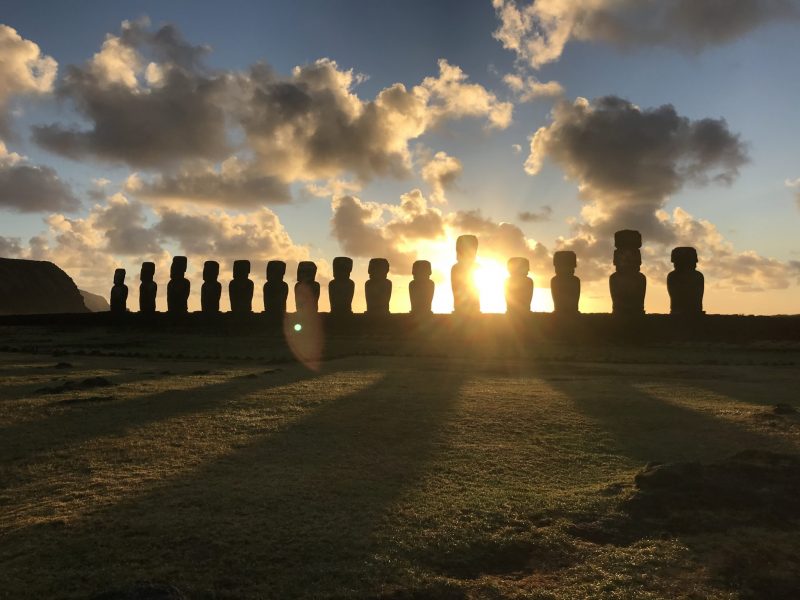 Day 5: Sunset at Tongariki
On our last day we decided to take advantage of still having a rental car and drove out at 6.30 to see the sunrise at Tongariki. Most tour companies offer this trip, but it can be quite expensive. When we arrived at 7.10, there were already tons of people waiting to catch a glimpse of this magical sunrise.
At 7.17, the sun started to rise, and it truly was spectacular. It was amazing to see the beautiful colours lighting up the moai. We watched the sunrise for about 20 minutes, and realised why all companies offer this tour. It was so beautiful! I hate waking up early, but this sunrise was totally worth it. If you're ever in Easter Island, you have to go witness it yourself.
As you can probably tell, we had an amazing time in Easter Island. The island is gorgeous and the moai give it a magical feeling. We're even considering ranking Easter Island as number 1 of everything we've seen and done so far!