After our 5 day trip to Valparaiso, we travelled to Mendoza, Argentina. We crossed the border at Los Libertadores, which was a very easy and straightforward border crossing. We didn't have to fill in any forms or documents and didn't have to declare any items (unlike crossing the border to Chile). The only thing we had to do was, show our passports and give them the address of our Airbnb. After checking our bags, we were granted entrance in the 7th country on our trip.
Our first destination in Argentina was Mendoza. This city is known for its wine-making, and is considered one of the 9 Great Wine Capitals. The inhabitants of Mendoza refer to their city as the "International Wine Capital of the World". Very modest, those Mendocino's.
The city is part of the Argentina Wine Route and is home to hundreds of different wineries. The ideal destination for Simen!
Tierras Altas Wine Tour
It comes as no surprise, that we took advantage of this opportunity and went for a wine tour. These wine tours are quite expensive, prices vary between €100 – 400, which was a bit out of our budgets. Usually these tours come with a very fancy dinner, which racks up the price a lot. Since we both didn't feel like paying that much for a wine tour, we decided to go for one of the cheapest options possible (€7 pp).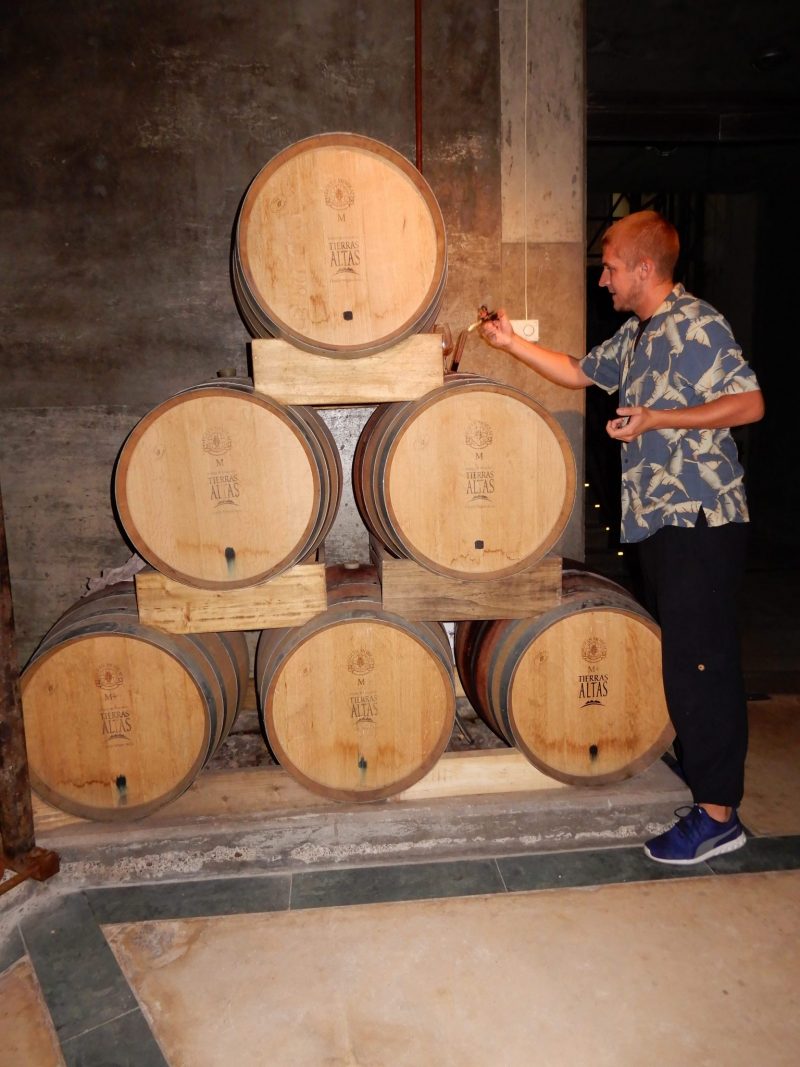 We took a taxi to Tierras Altas winery, about 15 minutes away from downtown Mendoza. Here we got a 2 hour long wine tour where they taught us about the different stages of the wine-making process. We got to taste the wine at these various different stages, which was quite interesting (and very bitter, in my opinion). They also taught us how to tell what type of wine it is (colour, smell, taste, etc.). Since I'm not a big fan of wine, I thought this tour wasn't really going to be that interesting. However, it was actually a lot more interesting and fun than I expected. For Simen it was twice as fun, since he got to finish all my wine!
Mendoza Bus Tour
Like many big cities, Mendoza also has a bus tour which takes you to all the highlights of the city. We took this bus tour for €10 per person. On the way we drove through Mendoza city centre, made our way to a massive city park, saw one of the World Cup football stadiums and drove to Cerro de la Gloria (a hill which boasts beautiful views over Mendoza). The whole trip took around 2 hours and was a nice way to kill some time. The tour through the city itself wasn't that spectacular, but it was nice to see some more of Mendoza's surroundings. Especially the drive through the park and Cerro de la Gloria was very nice.
We did feel like this tour was a bit overpriced and also not very well organised. Foreigners got headphones to listen to English commentary, which was completely out of sync with the Spanish commentary. At times we had no idea what they were talking about or what we were supposed to be seeing.
Acuario and Serpentario
While we were waiting for the weather to clear up, we decided to go to the aquarium (€1.5) and serpentarium (€2.5). The aquarium was quite small and didn't have that many interesting fish. However, it is the home of "Jorge", one of the biggest sea turtles I've ever seen. He was definitely the highlight of the aquarium!
Afterwards, we decided to go to the serpentarium as well (just across the street from the aquarium). We were greeted by this sign: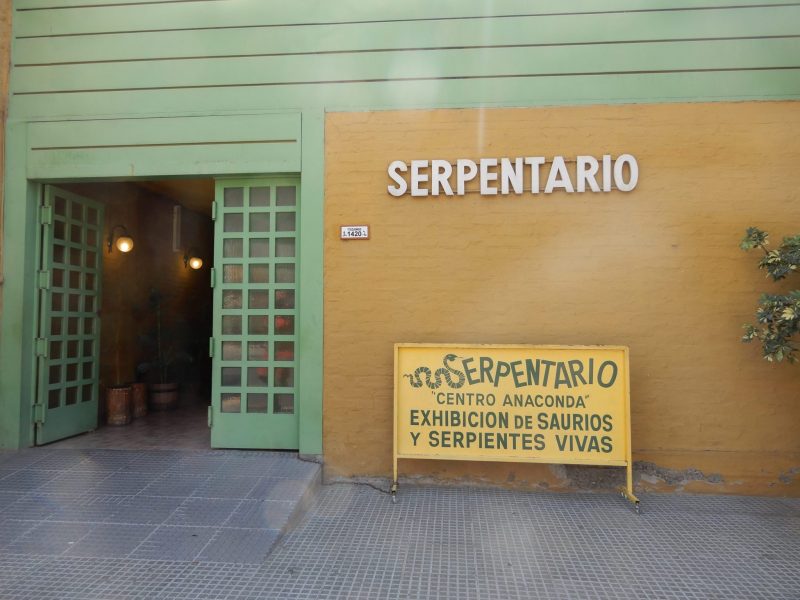 The second Simen laid eyes on the word "Anaconda", he wanted to go inside immediately. We were lucky to have the whole serpentarium to ourselves, which meant we got to explore and admire the snakes for as long as we wanted. The first snakes we saw were boa's. Since we both hadn't really been to a serpentarium before, we were already impressed by the size of these boa's. However they are considered "smaller" snakes compared to other ones. We clearly had no idea what was waiting for us!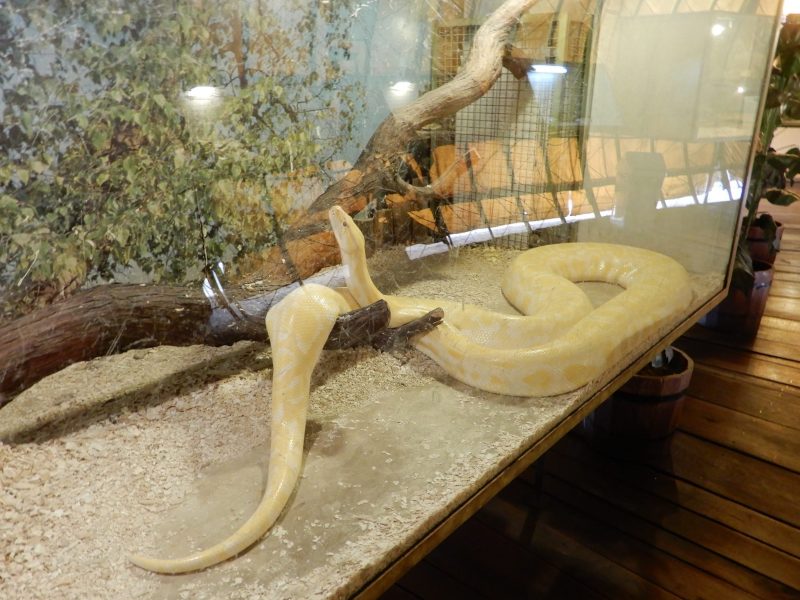 Once we saw how massive the pythons were, we both got a bit uneasy and uncomfortable. The only thing separating us from these gigantic snakes, was a small cage and some glass… At some point we heard a very weird and unknown sound and both our "fight or flight" responses kicked in. We quickly had look at the other snakes and made our way out of the serpentarium. I must admit I was quite happy to be far away from all those dangerous snakes…
Altas Montanas tour
Argentina is home to the highest mountain on earth, outside of Asia: Aconcagua Mountain. Since I like hiking, I really wanted to see this mountain from closer by. Unfortunately, the weather forecast in Argentina isn't that reliable… During our 3 first days in Mendoza, it was supposed to rain so I didn't want to book a tour. I opted for another day when it was supposed to be nice weather. Boy did I regret that…
We booked the Altas Montanas tour for €35. This tour was going to take us to the Andes and Aconcagua Mountain. When we left, the weather was still quite nice. Our first stop was a beautiful lake with gorgeous views on the high mountains. However, once we continued the tour, it started raining cats and dogs. The temperatures also plummeted and our guide didn't think it would be a good idea to go on our 1 hour hike in Aconcagua National Park. The mountain was completely covered in clouds.
The guide decided to skip this stop and go for lunch early. When we arrived at the lunch stop, we were caught in a snowstorm. A snowstorm! In the middle of Summer! It was clear this was very exceptional since the Argentinians started clapping and taking lots of pictures and videos. Just our luck… I'm never trusting the Argentinian forecast again.
Cordoba
After several days in Mendoza, we decided to take the bus to Cordoba. We still had some days to fill and stayed here for about 4 nights. Cordoba is a much bigger city than Mendoza, and has some very nice squares and churches. There weren't many options for sightseeing, so I won't go into more detail.
In my next blog I will write about our 6-day stay on Easter Island!