We spent the Christmas period in the coastal city of Puerto Montt. In accordance with Norwegian Christmas traditions, we took 3 days off to celebrate. During the other days, we explored the beautiful area surrounding Puerto Montt. For two of those days, we rented a car for a very reasonable price (20.000 pesos or €25 per day). During our stay, we visited the beautiful Swiss-German like town Puerto Varas, the Osorno Volcano, the Petrohue Waterfalls and Chiloé Island.
Puerto Varas
Puerto Varas is a town founded by German settlers in 1853. Its German origins are very visible in the architecture, which made me feel like I was walking around in a European Alpine town. It's located on the shore of Llanquihue Lake and overlooks the Osorno and Calbuco volcanoes which makes it extremely picturesque. During our stay in Puerto Montt, we visited Puerto Varas several times, just because it's a lot more charming than Puerto Montt.
Puerto Montt and Puerto Varas are very well connected, there are shuttle buses which constantly drive between the two cities for only 900 pesos (€1.20) one way.
Unfortunately, due to a very unfortunate accident involving a falling laptop and a broken SD-card, I don't have many pictures of Puerto Varas…
Petrohue Waterfalls
Our first stop during our road trip around Lake Llanquihue were the Petrohue Waterfalls. These waterfalls are located 55 km from Puerto Varas and are a very popular tourist destination.
We paid 4000 pesos (€5) entrance fee before hiking up to the waterfalls. The walk only takes about 5-10 minutes.
The Petrohue waterfalls are very impressive because of their location. They are located at the bottom of the Osorno Volcano, which makes them very spectacular and picturesque. We spent about 15 minutes walking around and admiring the beautiful view.
You can also walk up to the "Los enamorados", or the "Lovers Lagoon", which is a small creek. On the way there you get to admire the waterfalls a bit more, however, we did feel that this creek wasn't all that spectacular.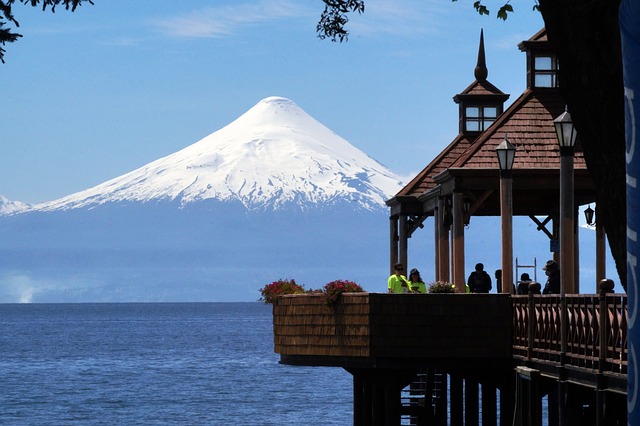 Osorno Volcano
After our stop at the Petrohue waterfalls, we drove up to the Osorno Volcano. It is possible to hike up this volcano, but we decided not to do that since we were in Puerto Montt during a spell of bad weather.
The drive to Osorno took about 30 minutes and was very scenic. At a certain point, you get a spectacular view over Lake Llanquihue. Unfortunately for us, it started raining when we reached the ski station. From here we could take a ski lift higher up the mountain, but the bad weather and the high cost of the lift (12.000 pesos or €15) made us drive back down almost immediately.
However, the view from up there is beautiful and I can imagine it is even more amazing on a sunny day!
Chiloé Island
The last excursion we took while visiting Puerto Montt was a day trip to Chiloé. This is one of the larger islands in Chile and is located around 80 km from Puerto Montt. It took us 1.5 hours to get to the city of Ancud (driving + a 20-minute ferry).
Penguin spotting
After a quick lunch in Ancud, we drove towards Puñihuil to go penguin spotting! This was the main reason for me to visit the island, so I was very excited. We paid 7000 pesos per person (around €10) for a 30-minute boat ride. The boat ride took us to 3 different islands which were inhabited by dozens of penguins.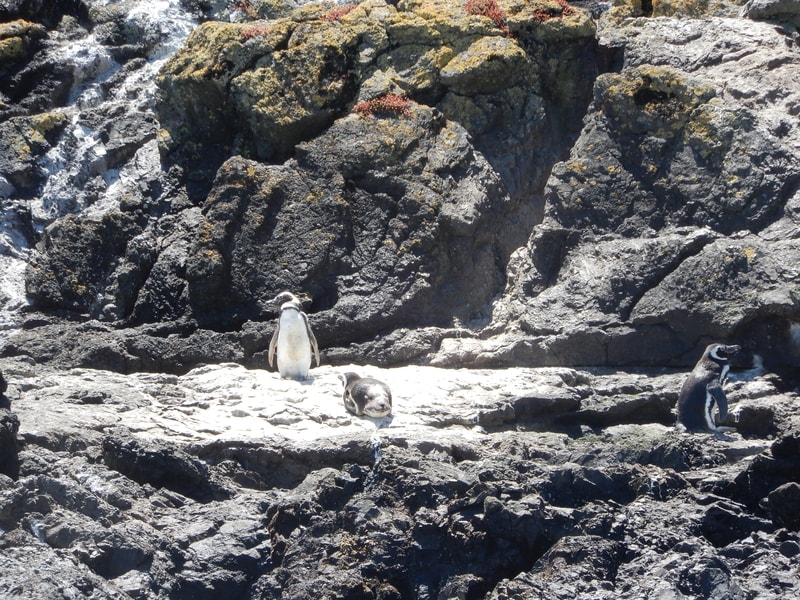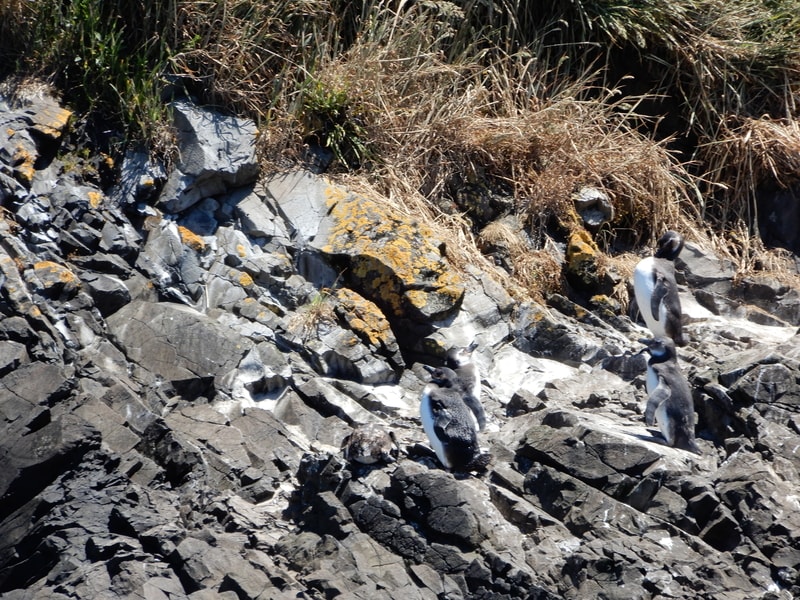 We mainly got to see Magellanic penguins, but also spotted a Humboldt penguin. At some point, our driver even spotted a dolphin, but unfortunately, he was already gone by the time we realised.
Failed attempt to visit Castro
After our penguin boat tour, we drove to the capital of Chiloé: Castro. Chiloé is mainly known for its hundreds of wooden churches. During our road trip across the island, we got to see a couple of very nice ones. Another thing this island is known for is the houses built on poles. Since Castro has both wooden churches and wooden houses built on poles, I felt like it was worth a visit.
Unfortunately, by the time we reached Castro, it was already 5 PM. Google Maps didn't work on the island and the app Maps.me first sent us in the wrong direction, and afterwards made us drive on unpaved roads for more than an hour… We arrived more than 1.5 hours later than planned. This meant we didn't have much time in Castro before we had to start driving back to Puerto Montt.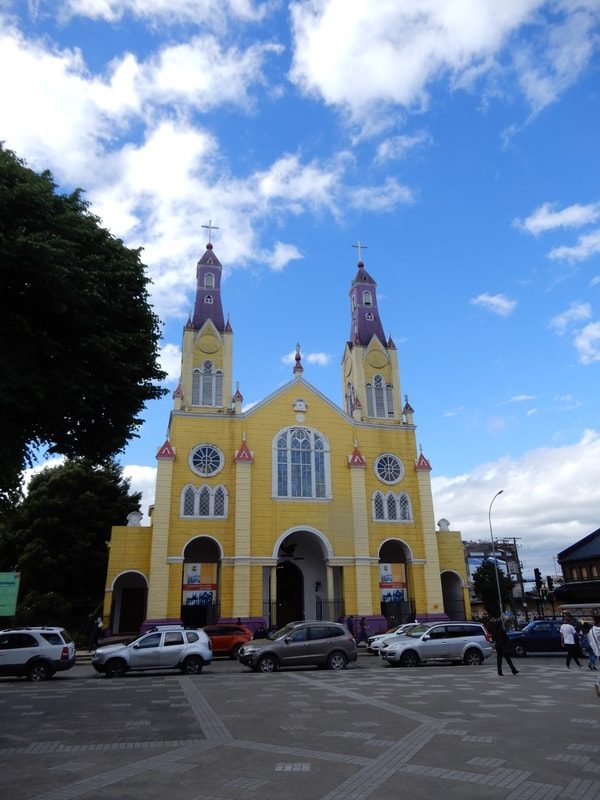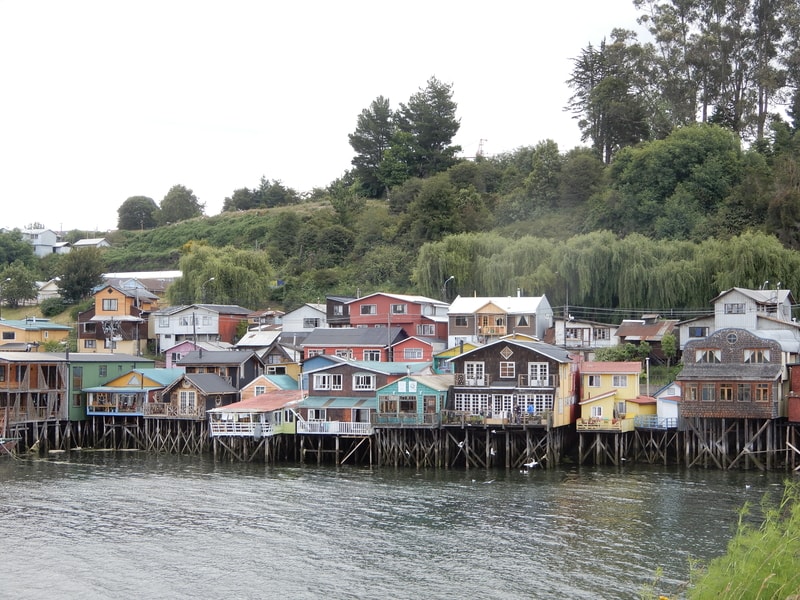 Luckily we got to see some of those nice wooden churches and houses! After a quick stroll and some pictures, it was time to head back since we still had a long drive ahead of us.
Next stop: Torres del Paine
After Puerto Montt, we flew to Punta Arenas, where we stayed 2 days and celebrated New Years with our Airbnb hosts. After Punta Arenas, we took the bus to Puerto Natales: the gateway to Torres del Paine! I will write more about our visit to this wonderful national park in my next blog.