My main goal in Patagonia was hiking the "W" (a 5-day trek) in Torres del Paine. Unfortunately, we only started planning the Patagonia leg of our trip in November. At this point, hiking the "W" with a tour agency was extremely expensive. I'm talking about €1000+ per person! No panic, we could still hike the "W" without a guide, it would just require a bit more organisation.
However, once we started looking into it, we realised that all the hotels/hostels/mountain cabins inside Torres del Paine were booked. Even the campsites were fully booked. There was no way we could do the "W", unless we'd be willing to fork out €1000 pp. We both didn't feel like parting with that much money just for a 5-day hike, so we decided to stick to day hikes inside the park.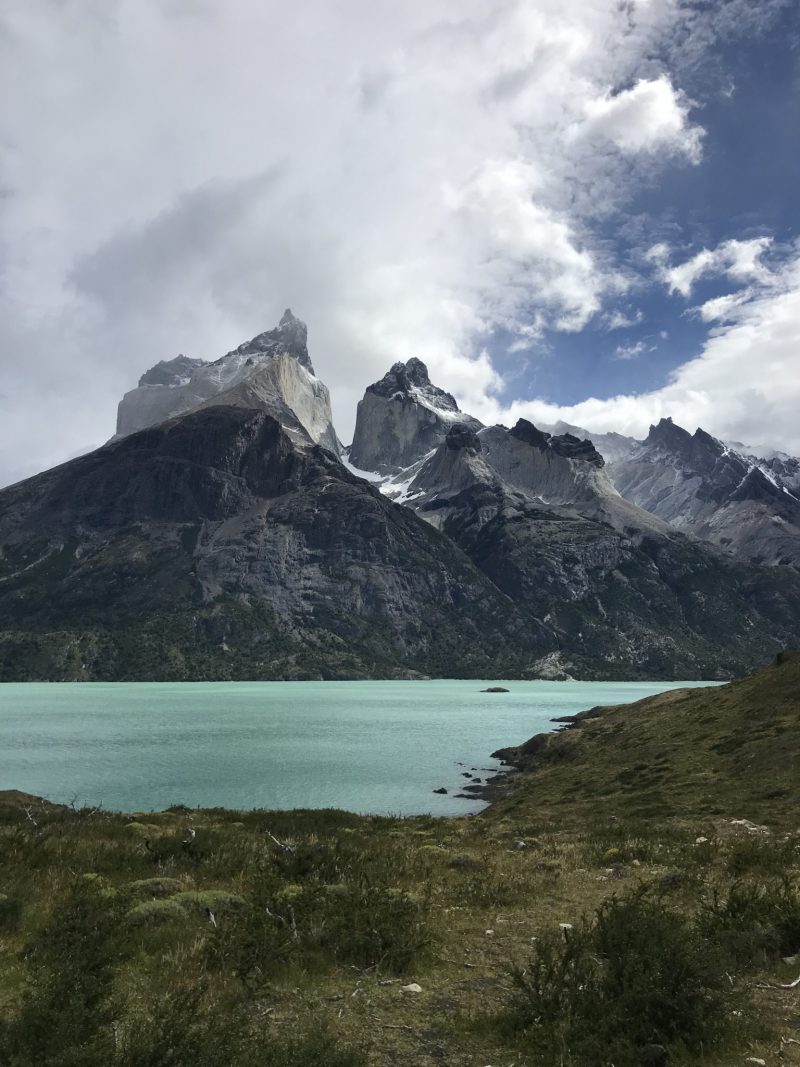 Mirador Cuernos: 7 km round trip / 1.5 hours
Our first hike in the park was the Mirador Cuernos ("Horns"). We took the bus from Puerto Natales and got off at Pudeto (the ferry station). From here it only took us about 1-1.5 hours to get to the Mirador Cuernos.
Once we got off the bus, we had to walk for about 10 minutes towards the parking lot of the Salto Grande (this is indicated). From here on, the hike to mirador Cuernos is very well indicated. The first stop on the way to the mirador is the Salto Grande, a massive waterfall. A lot of people just stop here to admire the waterfall and continue their sightseeing by car. However, we wanted to continue our hike to Mirador Cuernos. From Salto Grande it takes about 1 hour to reach the mirador.
The hike is very well indicated and easily accessible. The trail is mainly flat and doesn't require much effort. During the whole way up to the Mirador Cuernos, you get beautiful and unspoilt views of the Cuernos. We were incredibly lucky with the weather since all mountains were visible. The first time I laid eyes on the Cuernos I literally said the word "wow" out loud. They already look impressive in pictures, but actually, those don't really do them justice.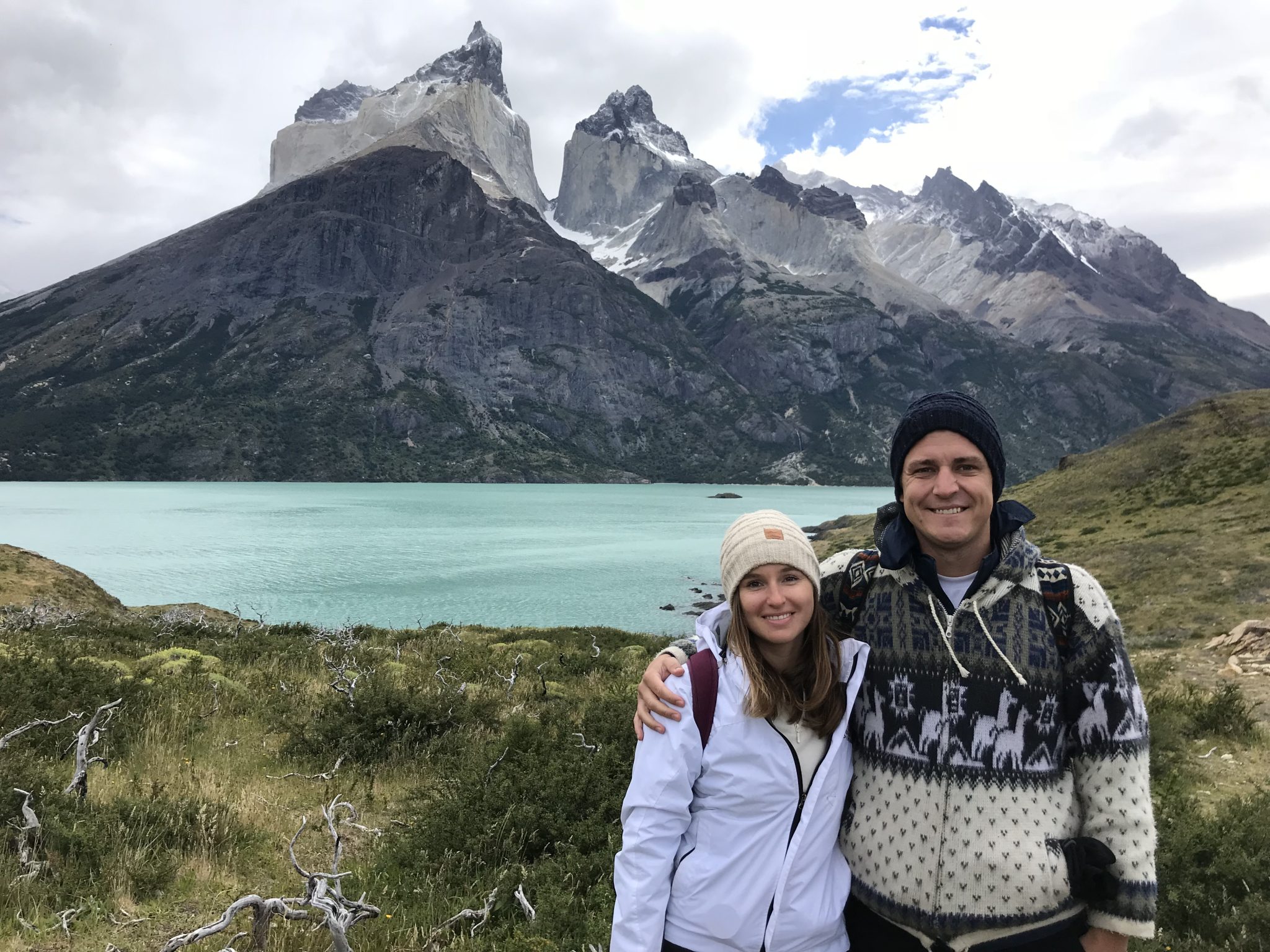 Along the way, you'll walk past beautiful lakes and once you reach the mirador, you'll arrive at a green-blueish lake which makes the scenery even more spectacular. It's an easy hike which gives you such amazing views! I would recommend this hike to anyone visiting Torres del Paine.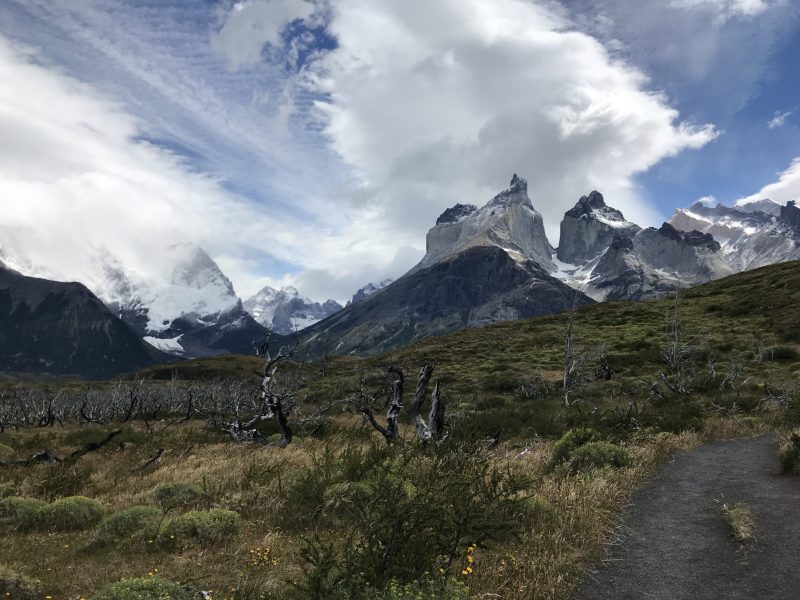 Mirador Condor: 12 km round trip / 3 hours (from Pudeto)
If you visit Torres del Paine by bus, you'll realise there are only 2 buses back to Puerto Natales: at 12.30 or at 19h. Because the 12.30 bus was a bit too early for us, we decided to walk all the way to the Mirador Condor. From Pudeto, we walked along the road until we reached Pehoé. This took us about 1.5 hours (4 km).
From Pehoé you have to walk up a hill from where you get an amazing view over the mountain range and Pehoé hotel. This is where the hike to Mirador Condor starts (at least, the one we took. You can also start from Camping Lago Pehoé).
This hike is a lot more uphill than the Mirador Cuernos, which we could feel in our calves. The trail zigzags up the mountain and the brutal Patagonian winds don't make it any easier. At several points, we both felt like turning back, but since we were so close to the top, we decided to continue. The hike up took us about 45 minutes. Mirador Condor is a beautiful spot because it gives you amazing views, not only on the Cuernos, but also on Pehoé lake.
After having lunch on the summit, we decided it was time to go back. We still had to walk all the way down and walk those 4 km back to Pudeto. The whole trek from Pudeto took us about 3 hours (12 km in total).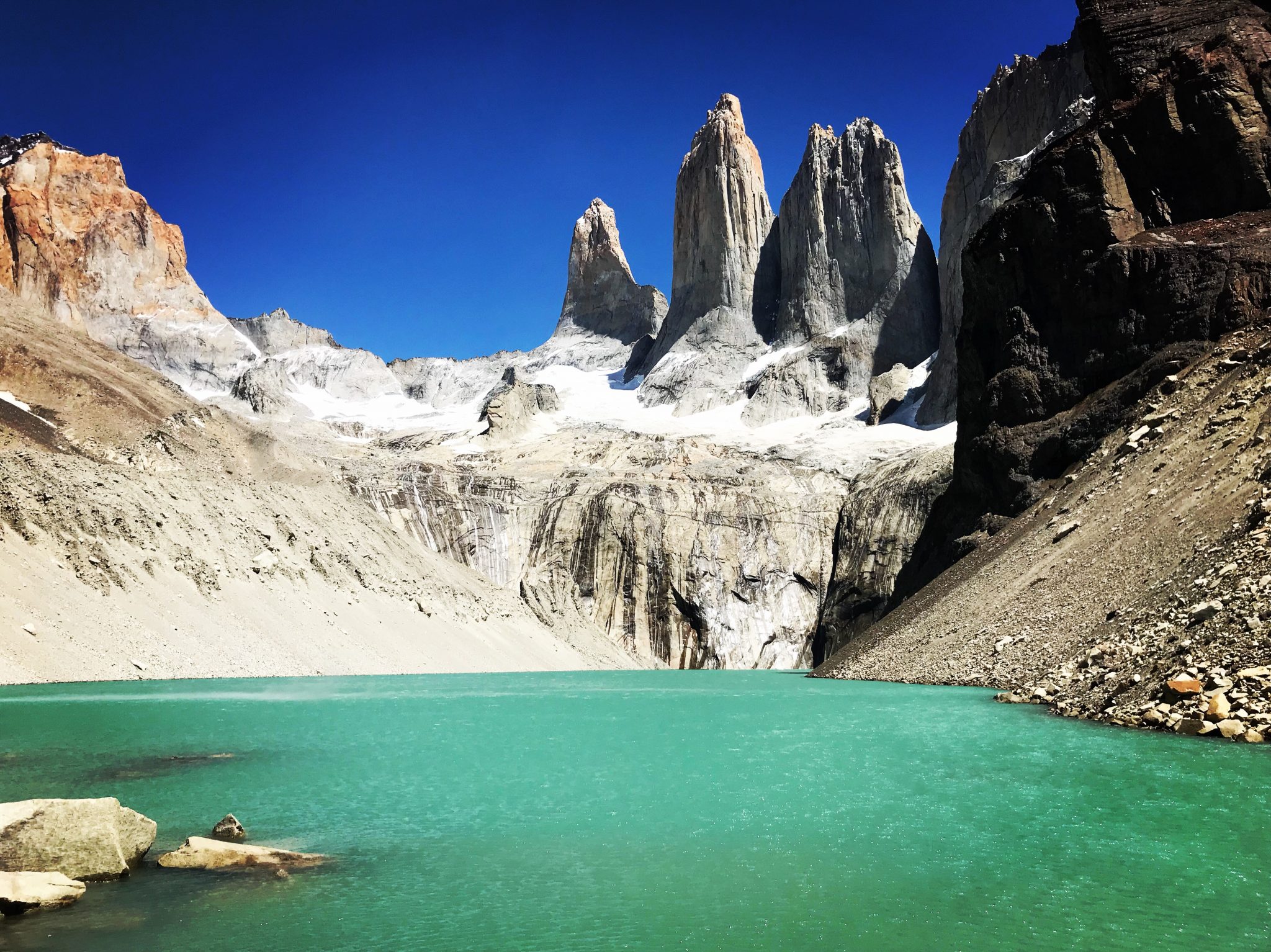 Mirador base las Torres: 8 hours / 18 km
First part of the hike: Hotel las Torres to Refugio Chileno
We saved the best for last: Mirador base las Torres. This hike is actually part of the "W" hike and attracts many people. It's the most popular hiking spot in the whole park. We left Puerto Natales at 7 AM to make sure we'd have enough time to do this 18 km and 8-hour walk. From the Laguna Amarga entrance, we took the shuttle bus (6.000 pesos/€8 round trip) to get to the start of the trail. When you arrive at the visitor centre, you have to fill in a form to let them know you're hiking up to the Mirador Base las Torres.
From here on you have to walk for quite some time, past the Hotel las Torres, to reach the actual start of the trail. Once you've reached the hotel, the trail starts going upwards. At this point, the trail isn't too steep, but once again, the Patagonian winds will make it a lot harder. Whenever there was a blast of wind, we had to stop and brace ourselves.
The first 1.5 – 2 hours of the trail are mainly uphill until you reach the Rifugio Chileno. Here you can use the toilets or buy some more water or snacks. However, it's also possible to fill your bottle with mountain water (just don't drop your phone while doing it, like I did!).
Second part of the hike: refugio Chileno to Mirador base de las Torres
We took a quick break here to eat and drink a bit, before starting the second part of the hike. At this point, we still had to hike 4 km to get to the mirador. For three of those 4 km, you have to walk in the forest. This was the most boring part of the hike, in our opinion. Once you've exited the forest, the real uphill battle starts. The last 1.3 km you have to walk on rocks and boulders to get to the Mirador. This last part is very steep and will hurt your calves quite a lot. But the reward is oh so worth it.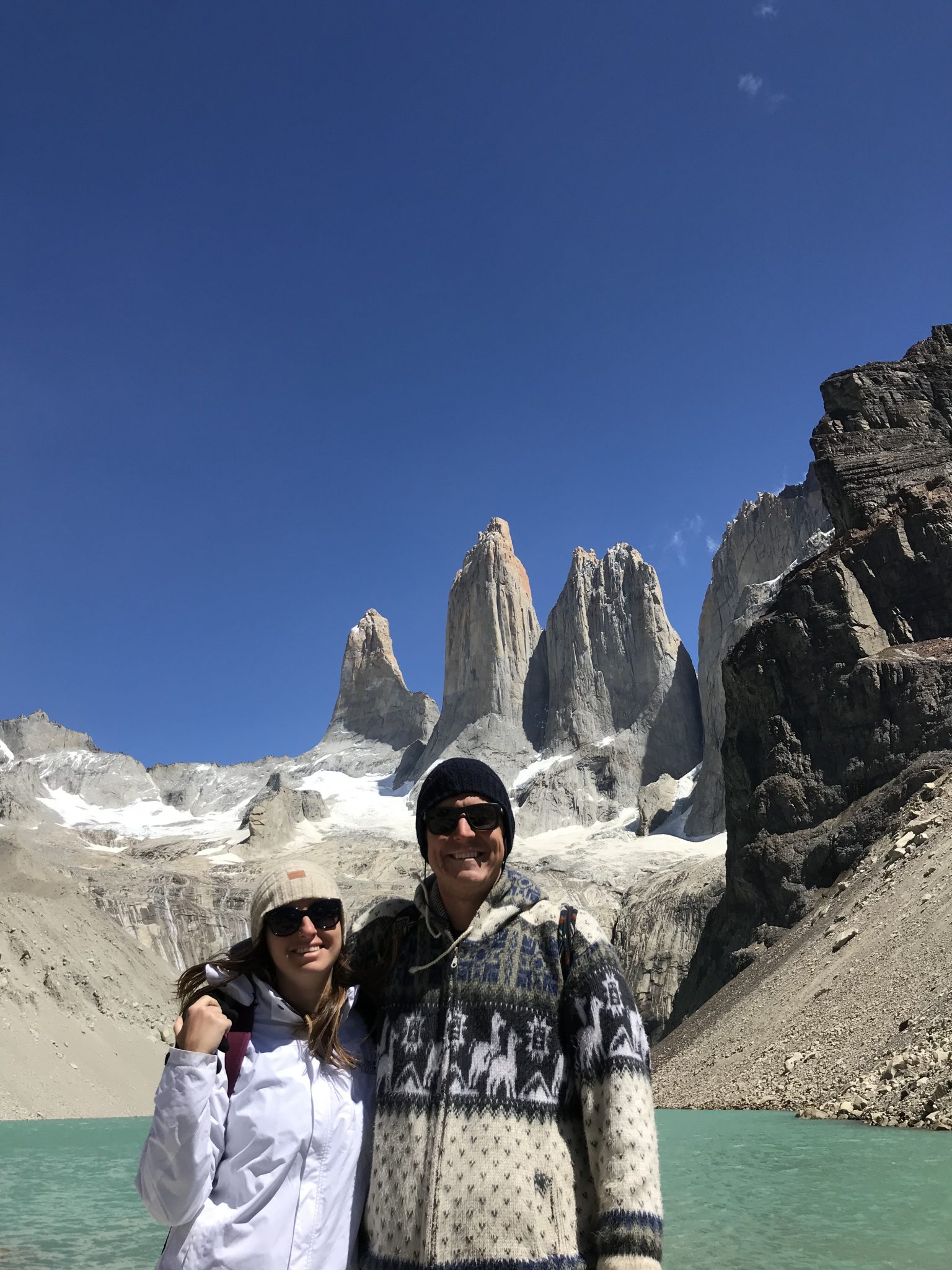 After about 3 hours and 40 minutes of hiking, we reached the Mirador Base las Torres. The three towers really tower over you and are flanked by a gorgeous green-blueish lake. The views are so amazing! We were lucky to have great weather since there were no clouds in the sky. Apparently, those unspoilt views aren't common, so we counted ourselves very lucky.
We stayed at the mirador for almost an hour, taking lots of pictures and having lunch. Afterwards, we had to start our long descent back down. By the time we reached the Hotel las Torres, both our legs were begging to be put out of their misery. We still had to walk that long, flat stretch back until we reached the visitor's centre and shuttle bus station. Luckily, there was a tiny kiosk on the way where we bought some very welcome snacks, which honestly have never tasted better! The whole hike took us about 8 hours (breaks included).
Next stop: Argentinean Patagonia
Initially, I was a bit bummed that we couldn't hike the "W", but with Mirador base las Torres, we at least got a taste of what the hike must be like. I'm very happy with the day hikes we chose to do because they all offered spectacular views. Torres del Paine is heaven for anyone who's a nature lover or an avid hiker.
After Torres del Paine, it was time to leave Chile behind. We stayed here for more than 2 months and saw some amazing things (Easter Island, Patagonia, Valparaiso, just to name a few). The next destination is Argentinian Patagonia. Our first stop is El Calafate where we'll take a boat tour to see the Perito Moreno Glacier. But more about that in my next blog!