Would you like to do the Salkantay Trek to Machu Picchu but you're not quite sure what to expect? No worries, you have come to the right place.
This post is about The Salkantay Trek, and talks about which trek to choose, what company to go for and what to expect.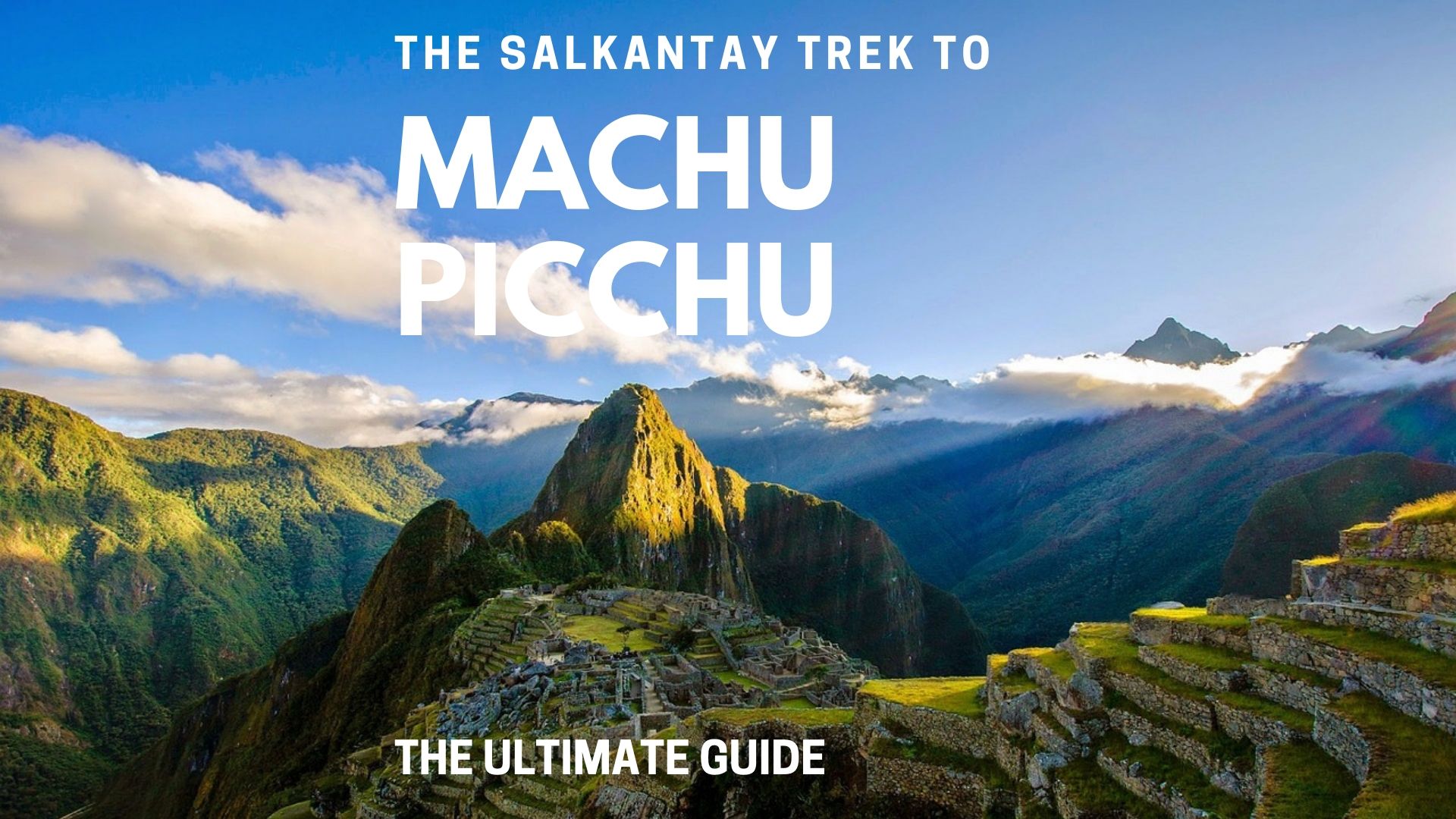 Disclaimer: this post is based on my experience doing the Salkantay Trek with Salkantay Trekking in September 2018
1.

WHAT IS THE SALKANTAY TREK?
If you're like me, and you like hiking, the Salkantay Trek to Machu Picchu is right up your street. There is something about earning your visit to Machu Picchu, instead of just taking the train and bus. Hiking to this new wonder of the world is very rewarding and an amazing experience.
The majority of people opt for the Inca Trail, but the spots for this trek fill up very quickly. There are plenty of alternatives which are as nice, or maybe even nicer. We opted for the Salkantay Trek, which takes you from the snowy Andes mountains, through the Peruvian jungle all the way to Machu Picchu.
The Salkantay Trek is a multiday hike (either 4 or 5 days long) which leaves from Mollepata and finishes in Machu Picchu. You will conquer 72 km in 5 days, climb to 4600 metres altitude (the Salkantay Pass) and descend to Aguas Calientes (the closest town to Machu Picchu).
Your legs will ache and at times you'll wonder why you signed up for this. But on the last day, all your efforts and pain will be worth it: you will see Machu Picchu with your own eyes.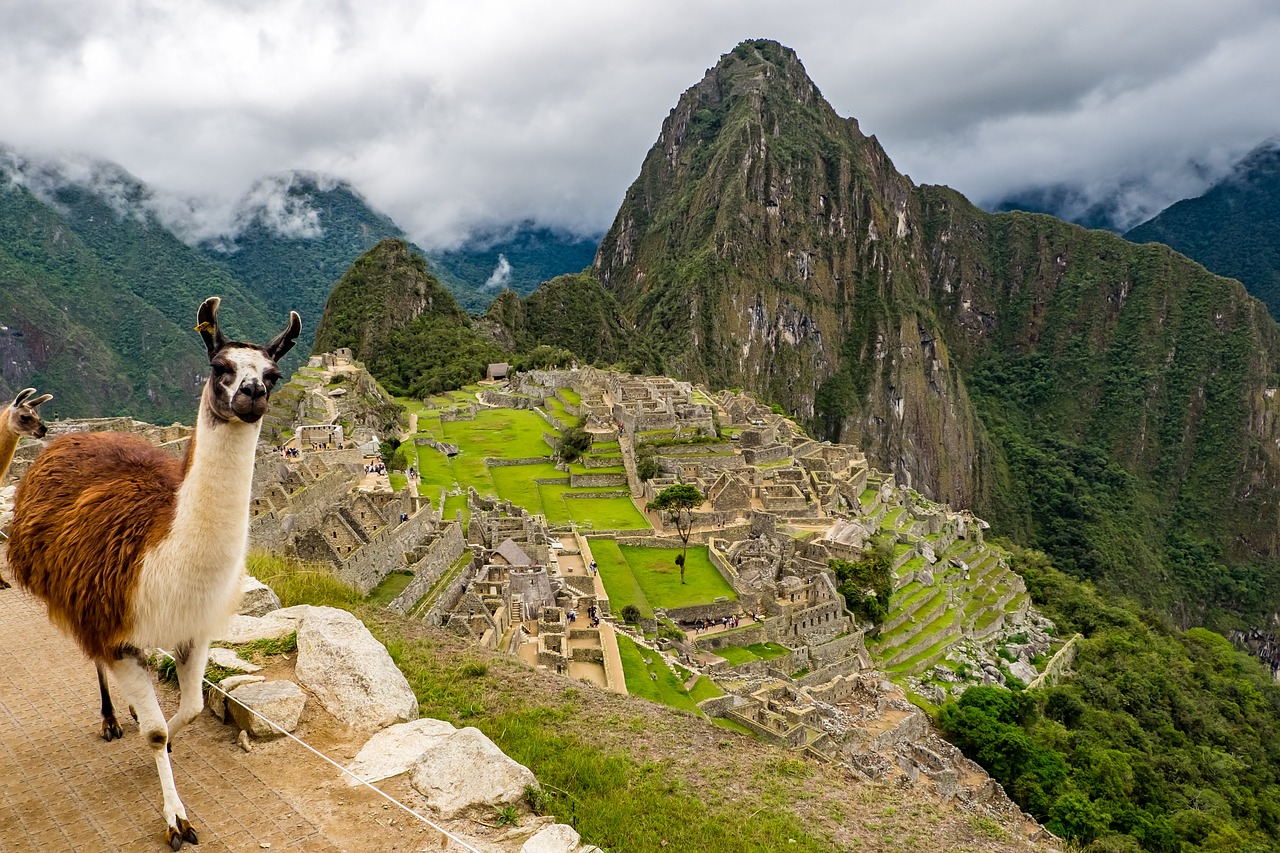 2. 4 DAYS VS. 5 DAYS
Like I said earlier, you can do the Salkantay Trek in either 4 or 5 days. What exactly is the difference between these two?
Does the 4-day trek leave from a different starting point?
No. Both the 4 and the 5-day trek leave from Mollepata. The difference is that during the 4-day trek, you will skip the jungle day (day 3). Instead, you will take the bus to the next starting point.
For me personally, the jungle day can easily be skipped since the jungle part isn't that interesting and day 3 is basically a rest day. During this day you will do 4 hours of hiking, a coffee tour and get a chance to go zip lining or take a dip in the hot springs. It's not a big loss if you skip this day and opt for a 4-day Salkantay Trek.
3. WHICH COMPANY TO CHOOSE?
As you can imagine, there are plenty of companies to choose from.
We opted for Salkantay Trekking. This is considered one of the pricier ones. Since we were celebrating my birthday, and we were going to see Machu Picchu (the one place I've always wanted to go to), we decided to splurge a little bit.
There are plenty of cheaper options available, both online as in Cusco. We booked several months in advance to make sure it didn't sell out, but once we were in Cusco we realised this wasn't necessary. There were plenty of companies offering the Salkantay Trek with departures the following days.
These companies offer the trek at a much lower rate (around 150-200 dollars for 5 days). Do keep in mind that this means the overal quality of the trek won't be as nice. You might be sleeping in tents, the toilet situation might be a bit off, the food might not be as much, etc.
4. HOW MUCH DOES IT COST?
The 5 day/4 night trip with Salkantay Trekking set us back 460 dollars per person. It's obviously not cheap, but this company will make it worth your while!
What did we get for our 460 dollars?
A guide who accompanied us and the rest of our group along the way.
Two cooks, who prepared a three course meal for every meal.
Daily snacks and drinking water.
You don't have to carry your big backpacks yourself. Before you leave, you will be handed a duffle bag which will be carried by donkeys. The only thing you have to carry while hiking is your daypack.
Some of the most amazing accommodation you've ever slept in during a multiday hike. We slept in sky domes, cute jungle huts and hotels. Definitely beats tenting!
Entrance tickets to Machu Picchu
Transport: van to the starting point and train/van back to Cusco
Huayna Picchu entrance ticket
Walking poles
Sleeping bags
5. DAY BY DAY: SALKANTAY TREK ITINERARY
Day -1:
The day before you leave for the Salkantay Trek, you will be asked to meet up at the office for a briefing and to meet your team members. You will also receive your duffle bag so you can pack for the next couple of days. Keep reading for tips about what to pack for the Salkantay Trek.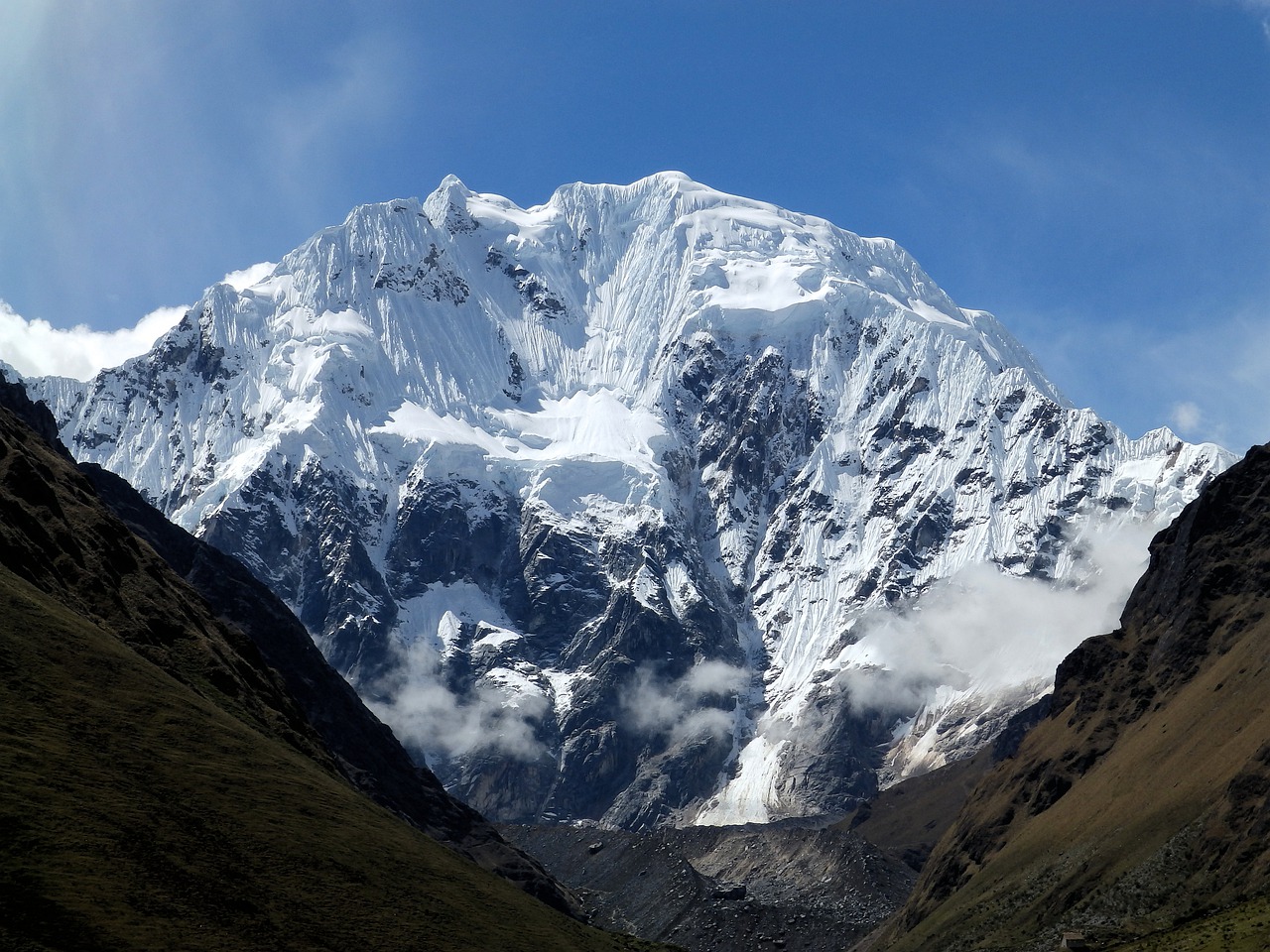 Day 1: Mollepata to Soraypampa (8 km)
Your first day will be an early one. At 4 AM you will meet up at the office, from where you will be picked up and driven to Mollepata. The drive takes about 3 hours and you will stop for some breakfast (not included) along the way.
Once you get to the starting point, your guide will hand you some snacks and walking poles. He/She will give you some more information and will warn you that you might feel the effects of altitude sickness. I sure did…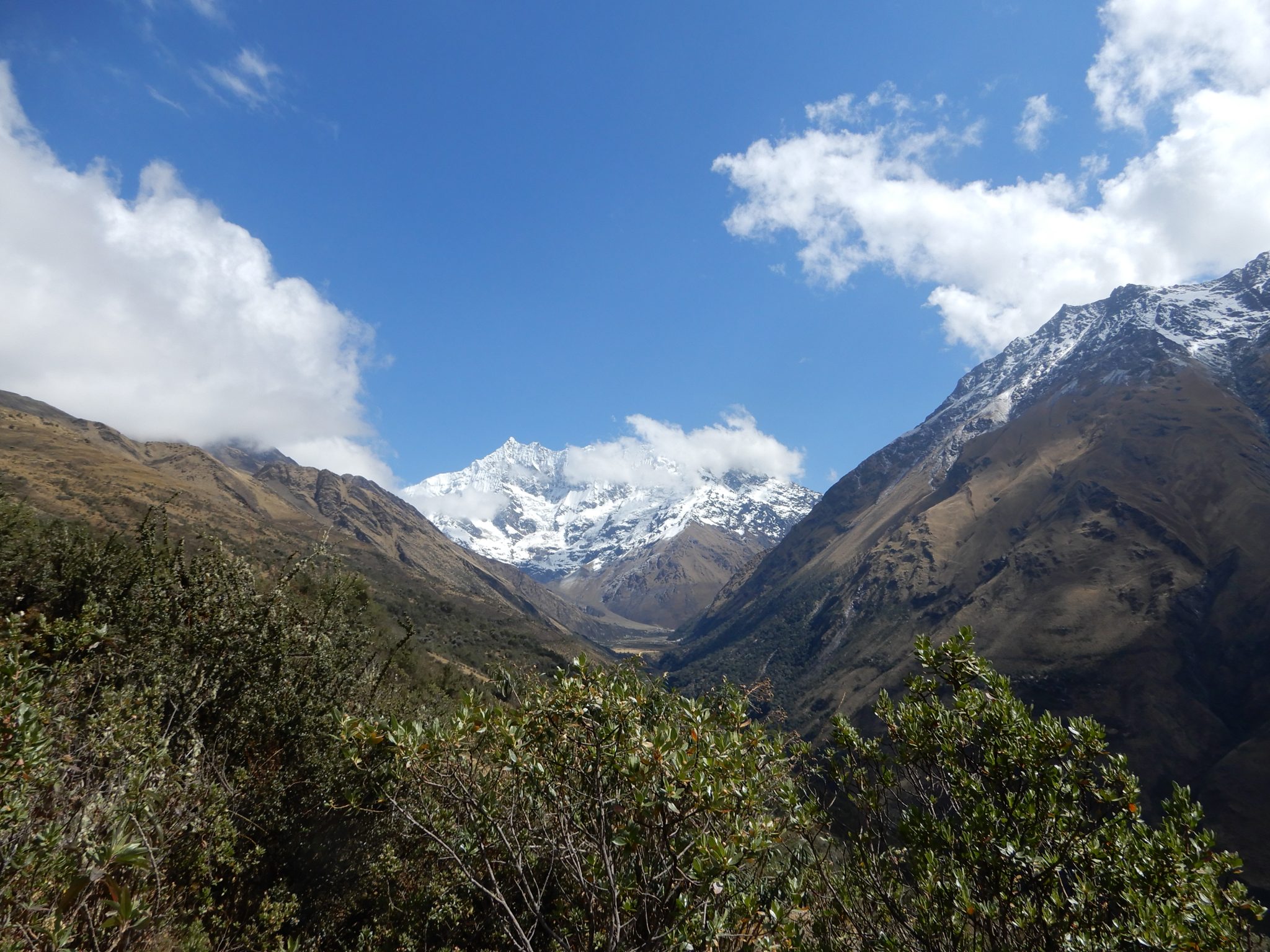 Day 1 is the shortest day of them all: only 8 km and 500 metres dislevel. However, don't be fooled. You are walking at a very high altitude. I was used to hiking in the Alps and did some hiking in the Himalayas as well, but suddenly I was hit with altitude sickness. I felt nauseous within the first 15 minutes. This didn't bode well for the rest of the trek… Luckily our guide gave me and other people who were struggling some coca leaves and he made sure to stop regularly so I could catch my breath.
After 4 hours of walking you will reach your first camp: the sky domes. This was my favourite accommodation of the whole trek. Once you get there, you will get some lunch and some time to relax. You can either choose to stay at the sky domes or start another hike: to Humantay Lake.
Despite feeling bad, I joined the rest of the group to Humantay Lake. Luckily it takes only 1 hour to get from camp 1 to the lake. You will be rewarded with the most gorgeous views: the lake and Salkantay Mountain!
Here you will get some free time and plenty of time to take amazing pictures. Afterwards, it's time to go back to camp, enjoy an amazing dinner and get ready for the hardest day of the Salkantay Trek: day 2.
Day 2: Soraypampa to Chaullay (24 km)
Rise and shine! You will be woken up at 5 AM for some coca tea and breakfast. You will need the massive amounts of food they will serve you because day 2 takes you to the highest point of the trek: 4600 metres. Not only will you climb the Salkantay Pass, you will also hike for 24 kilometres.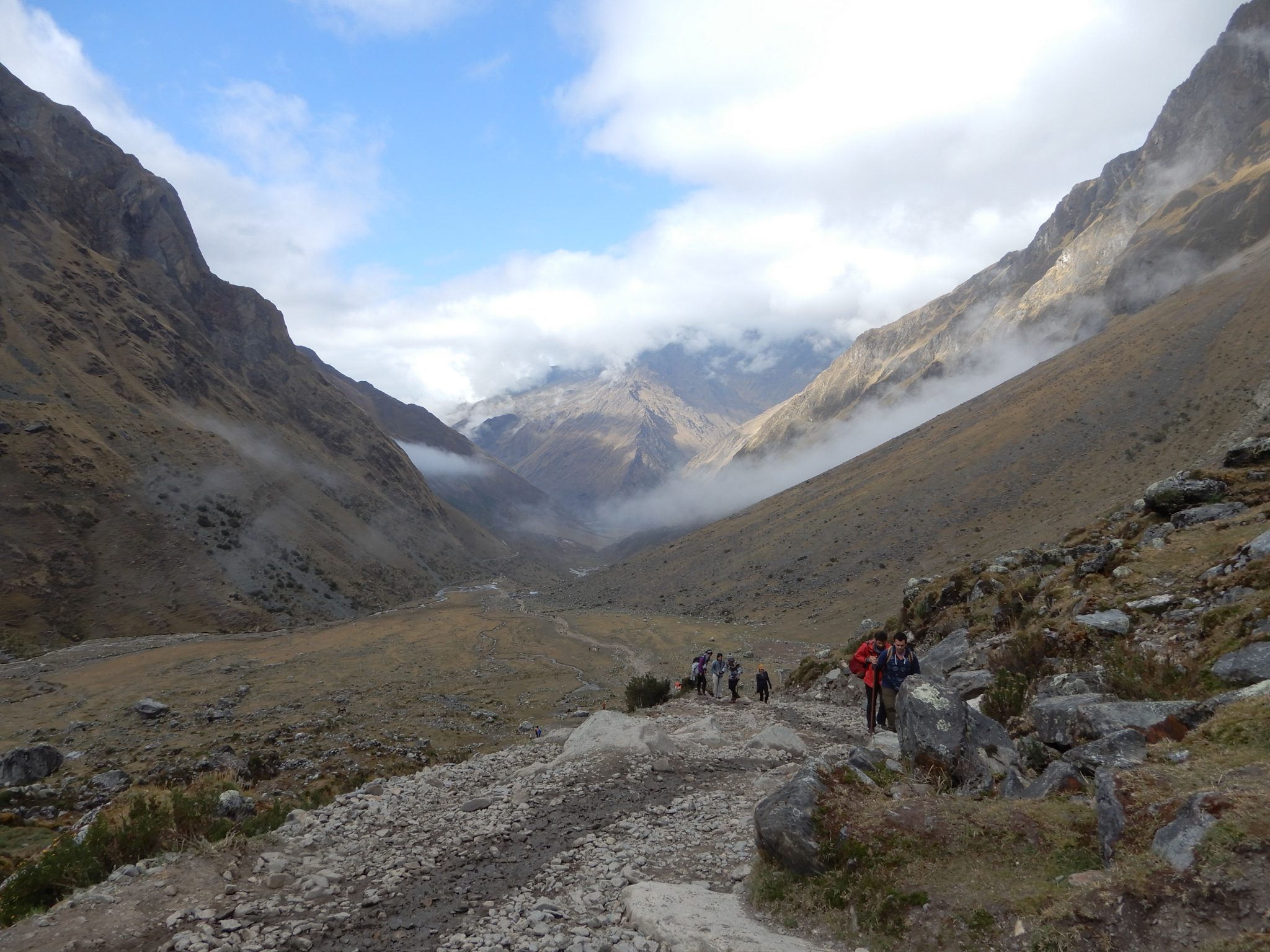 Before starting your day, you will be offered the option of taking a horse up to the pass. However, it feels a lot better if you conquer the Salkantay Pass and the Trail of the Seven Snakes all by yourself!
The start of day 2 isn't too challenging. The trail slowly makes its way up and you have time to adjust to the altitude. However, once you reach the 7 snakes (or also called "The Gringo Killer", a set of switchbacks), you will really feel your legs and you might also feel short of breath. The guide will take his/her time to make sure you get past the Gringo Killer. Now you're already at 4400 metres altitude. Only 200 metres to go to get to the Salkantay Pass!
You will most likely feel the altitude by now and your pace might drop a bit. But no worries, you will get to the Pass! And once you get there, you will be treated to some more coca tea, a sandwich and more snacks.
After about an hour, enough time to relax and take lots of pictures, you will start the descent towards Wayracmachay. Here you will have lunch.
After a tasty lunch, you will descend another 1000 metres until you reach camp 2: the Andean huts. Here, you will get the opportunity to take a shower for 2.50 euro.
Once again you will be treated to a delicious dinner before retreating into your huts.
Day 3: Chaullay to Lucmabamba (13 km)
Day 3 is considered a "resting day". This is also the day you will skip if you decide to do the 4 day Salkantay Trek.
Don't be fooled, however, you will still be walking for 4 hours today. Most of the way to Lucmabamba is downhill or flat, with some uphill stretches in between.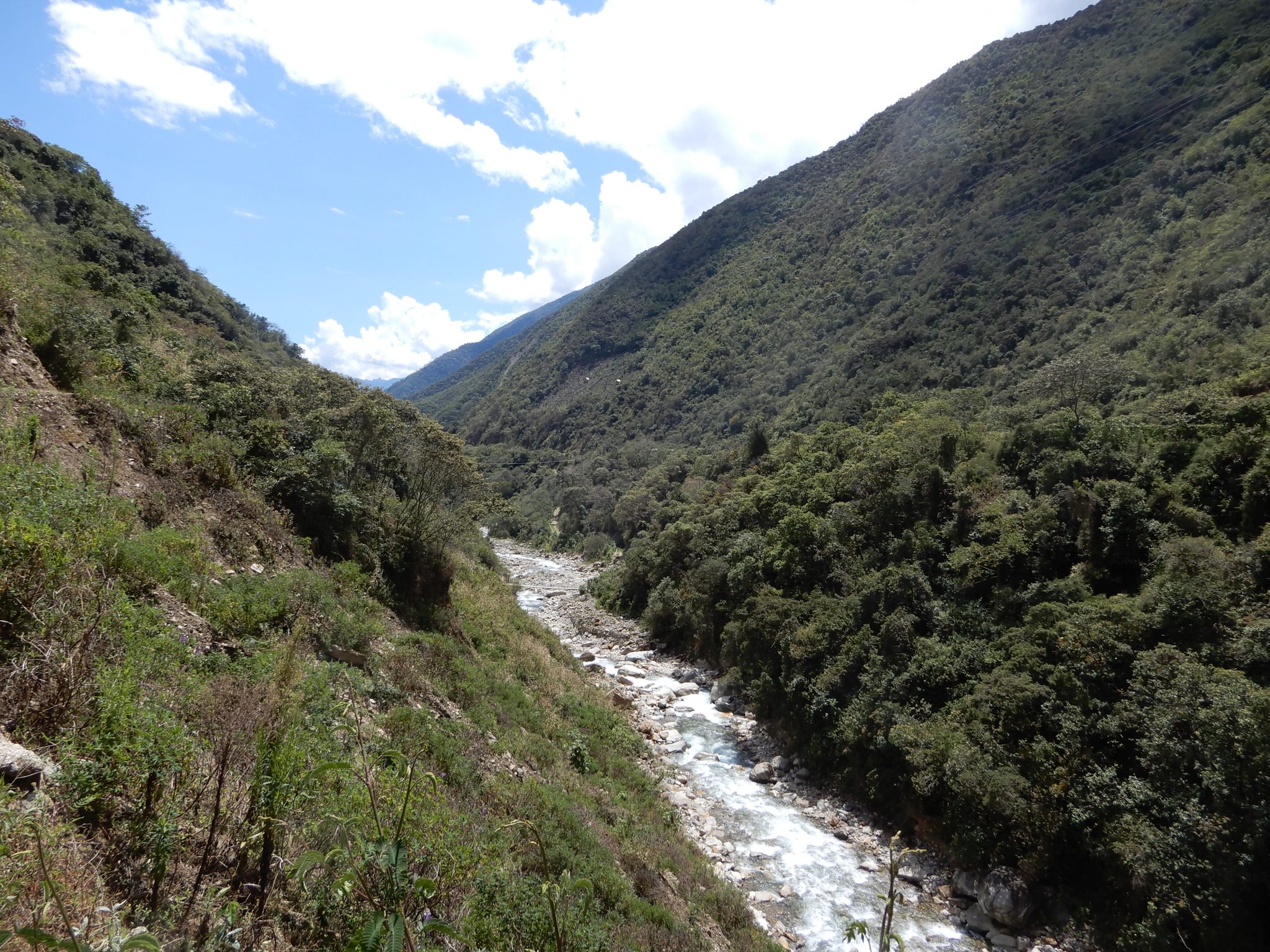 At around 11 AM you the hiking part of the day will already be over.
What will you be doing the rest of the day? Plucking coffee beans to make your own coffee, going ziplining or taking a dip in the hot springs. Your legs will be thankful!
You will spend the night in the jungle domes. You will be very happy to have half a day off because day 4 is another very challenging day…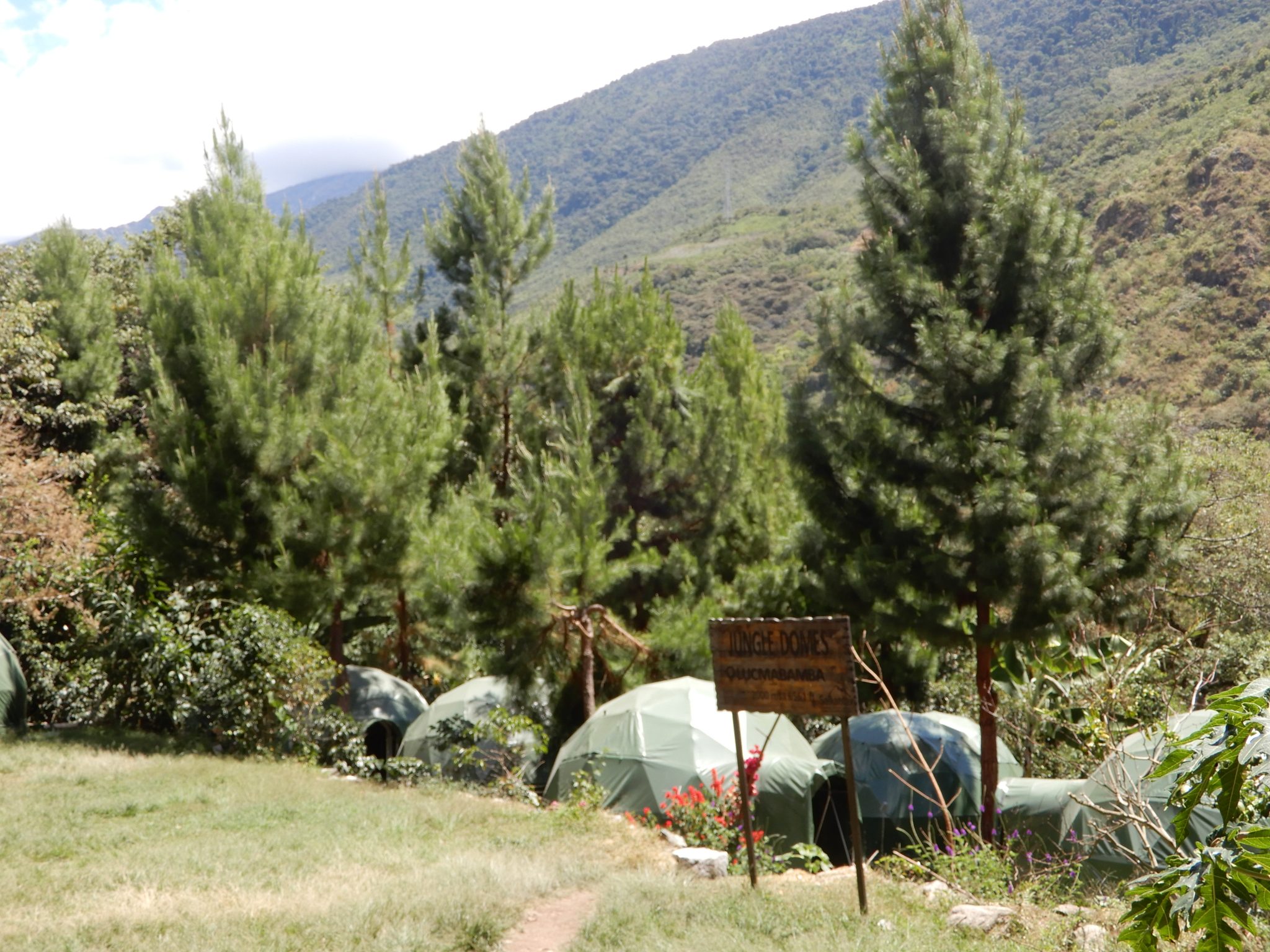 Day 4: Lucmabamba to Aguas Calientes (27 km)
On day 4 you will have to get up even earlier. You will be woken up at 4 AM by the Salkantay Trekking team. But it will be worth it because today you will catch a first glimpse of Machu Picchu!
Day 4 is a very long and tiring day. The first part of the day will be heavy and long: you will hike up 800 metres on a steep hill. After 2h and 40 minutes, you will arrive at the top of the hill from where you'll get to see Machu Picchu!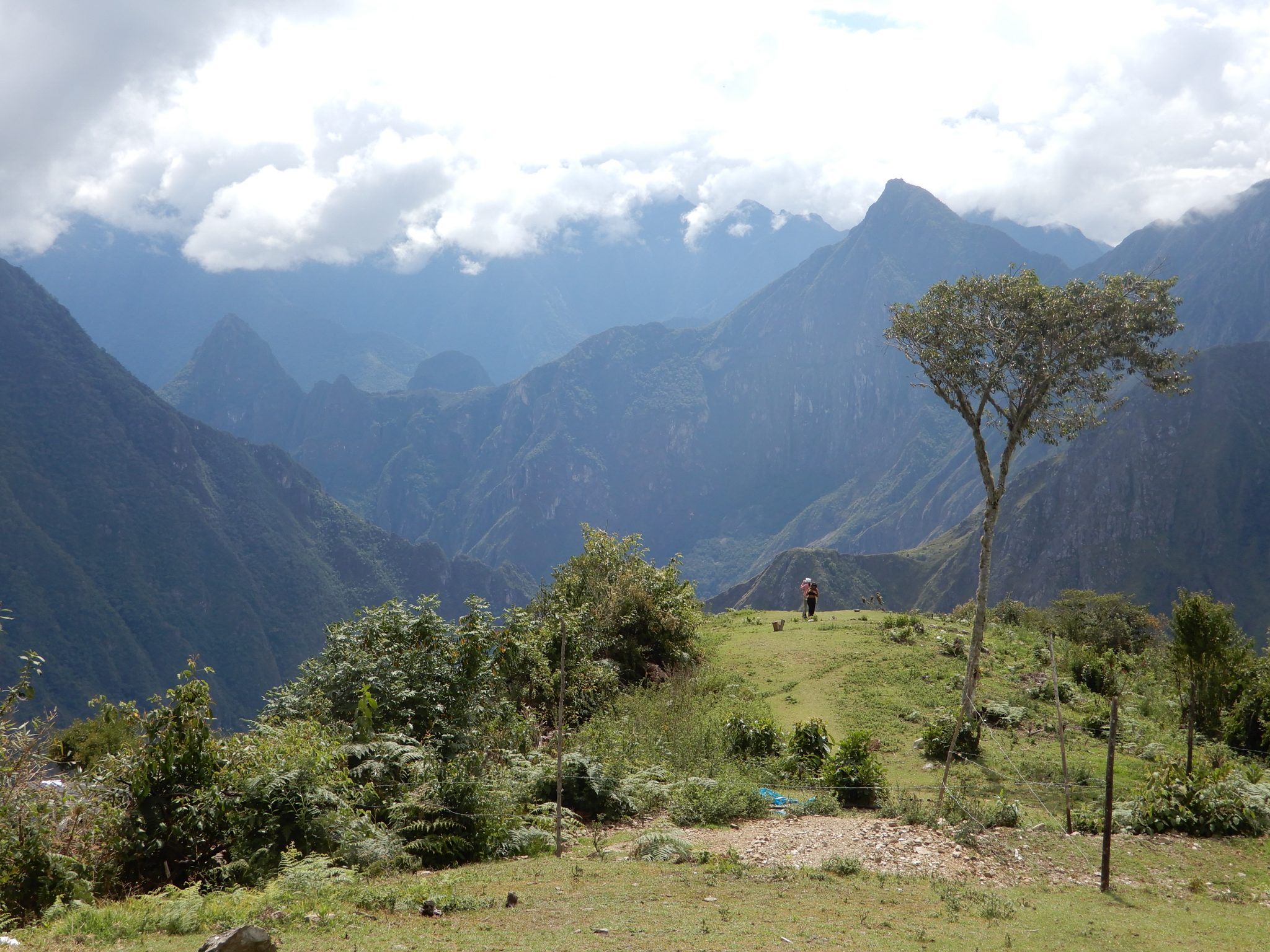 The second part of the day consists of a 1000 metre downhill. Your knees will probably ache, and if you're a bit like me, your feet will be covered in blisters.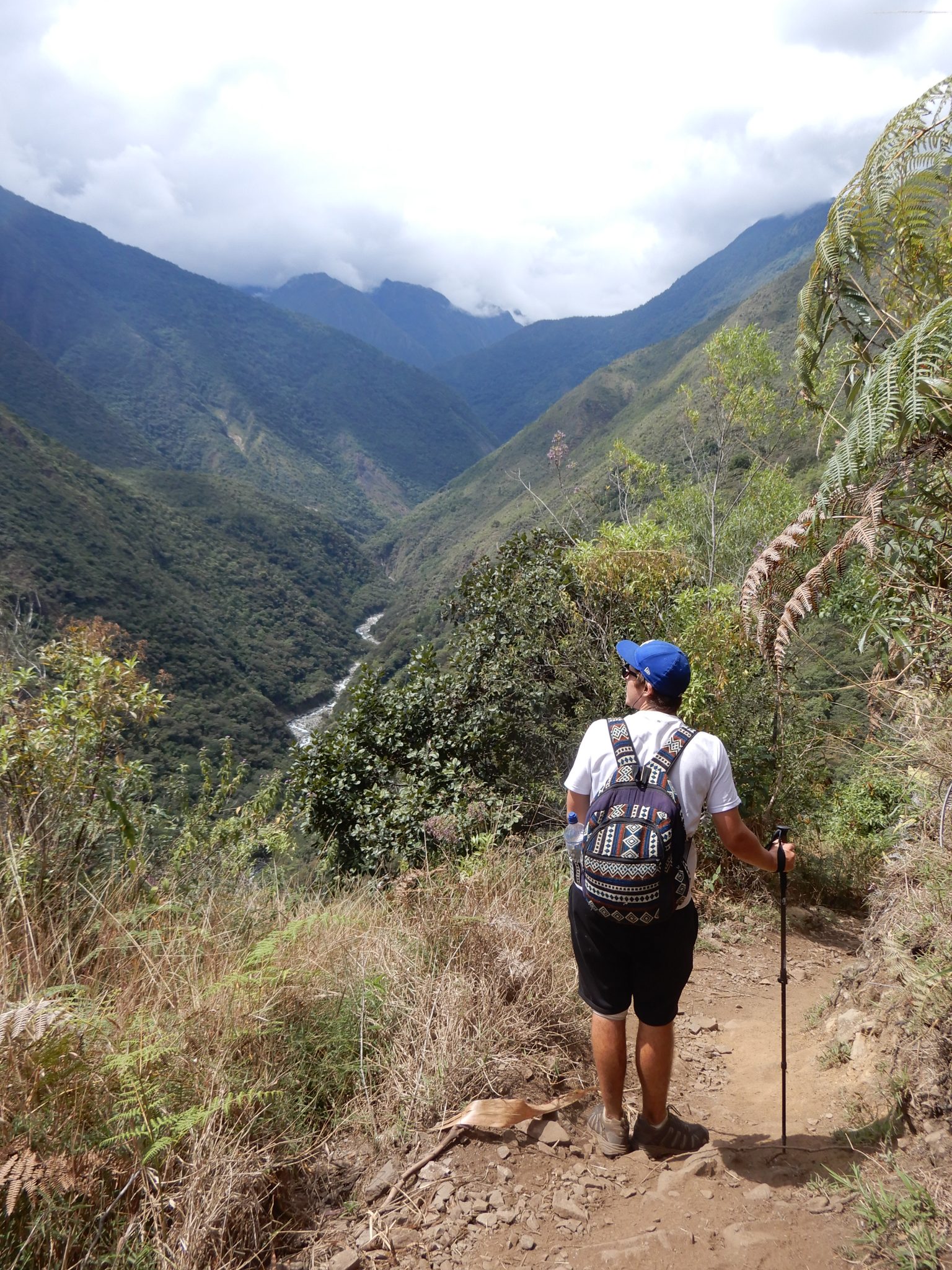 The last part of the day is a 3-hour walk next to the train tracks leading to Aguas Calientes, which will be your "camp" for the day. You can avoid this (boring) part by taking the train for 30 dollars.
In Aguas Calientes you will be staying in a hotel which means you will be able to take a shower! You will also go for a very tasty dinner with your team members and your guide.
Day 5: Machu Picchu & Huayna Picchu/Machu Picchu Mountain
On day 5, your alarm clock will ring at approximately 3.15 AM. You will have to get up this early to make it on time to the gate which will open at 5 AM. At precisely 5 AM the gate will open, and you and hundreds of other people will hike up the last hill to Machu Picchu. You can also skip this part and take the bus up for 12 dollars, if you'd like.
The gates of Machu Picchu open at exactly 6 AM. The hike up takes about 45 min to an hour, and you will be very sweaty and tired.
Once you arrive at the gates, you will meet up with your team members and the time has finally come to enter Machu Picchu!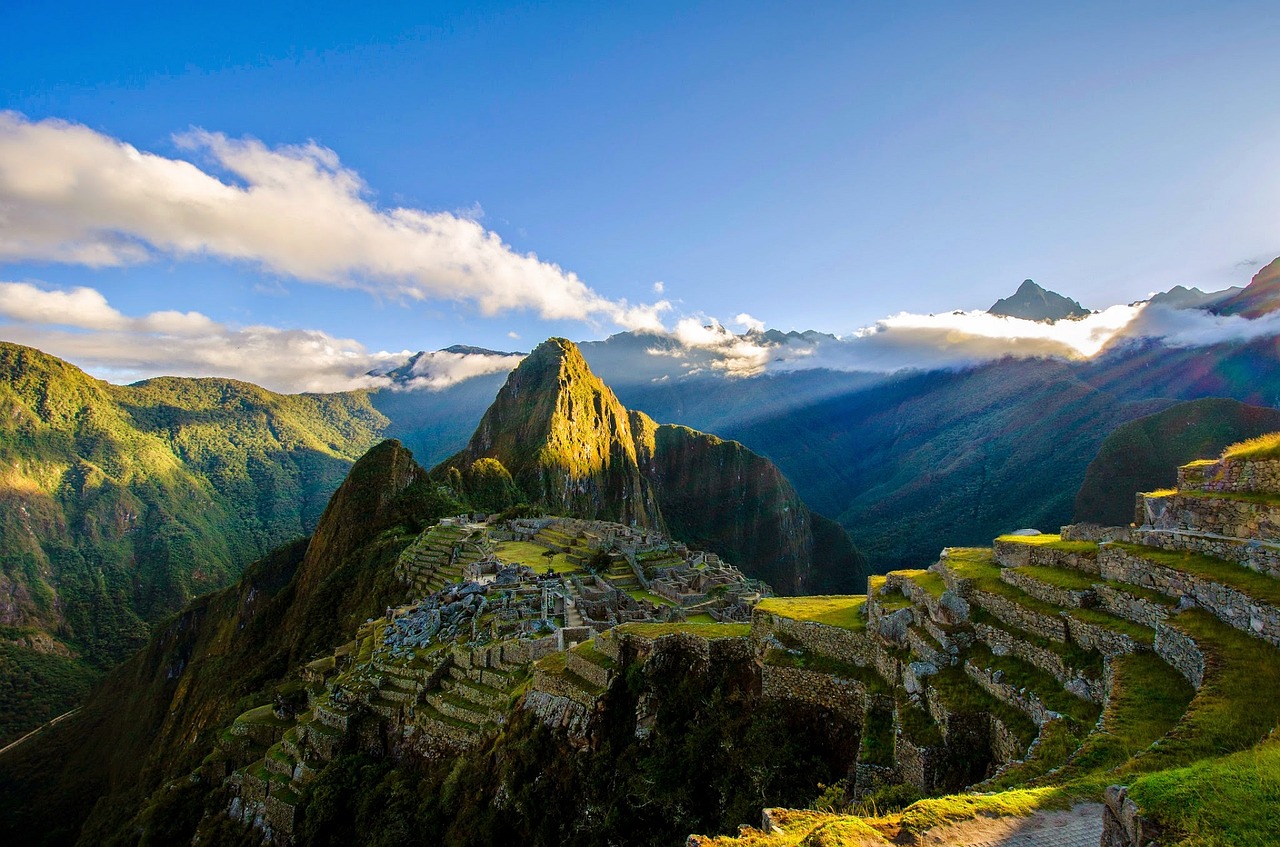 Your guide will take you through the whole site and give you lots of information for about 1-1.5 hours. Afterwards, he/she will make his way down and you will be left on your own. Now you can either hike up Huayna Picchu or Machu Picchu mountain, or you can just explore the park until 1 PM.
The train back to Aguas Calientes will leave at around 4.15 PM. Since the guide has left by this time, you have to make sure to get there by yourself, but luckily it's not too difficult. The guide will give you all the necessary documents and information.
AT 9 PM you will be back at your ho(s)tel in Cusco.
6. HOW TO PREPARE?
Fitness levels:
I get it, hiking for 5 days up to 4600 metres altitude sounds daunting… I totally understand if you feel like you won't be able to do that. However, it's definitely possible to train for the Salkantay Trek.
By the time we did the 5-day trek, we had already been travelling for more than 2 months. We were in pure holiday mode and had definitely indulged in lots of tasty Mexican food and cocktails. It's not like we were in super shape. So what did we do to prepare for the Salkantay Trek?
We started preparing for it about 1 month in advance. We did several (short) hikes in Ecuador and then signed up for the Colca Canyon hike in Arequipa, Peru. This hike is considered one of the best ways to prepare for the Salkantay Trek or the Inca Trail. You can either do the 2 or 3-day trek. We opted for the 2 day trek since that one is more challenging.
We definitely struggled during the Colca Canyon hike, especially the second day. Despite that, it was a very good way to prepare for Salkantay. I would recommend it to anyone!
If you don't have time to add the Colcan Canyon trek, I would advise to go for long walks for several weeks before leaving for Peru. Try to add a couple of jog sessions and make sure to raise your fitness levels.
Altitude sickness:
One of the other things people are a bit scared of, is the altitude. Like I mentioned before, I struggled quite a lot with the altitude on the first day of the Salkantay Trek. There isn't really much you can do to prepare for it except for bringing medication and coca leaves. The coca leaves really helped me conquer those high altitudes. You can easily buy them in local stores in Peru.
7. WHAT TO BRING?
During the multiday hike, your main luggage will be stored in your hotel. If you're changing hotels after you come back from the trip, the company will bring it to the new hotel for you.
You will be handed a duffle bag which will be carried by the donkeys. Make sure to also bring a day pack so you can bring snacks, water and some fresh clothes (t-shirt, socks) with you.
Here's a list of what you should bring on the Salkantay Trek:
Good hiking boots
Hiking clothes: long pants, fleece, jacket, 4-5 t-shirts/tops, underwear, hat, gloves, buff, hiking socks, thermal underwear
Torch
Flip flops
Sleeping bag (can be rented)
Walking poles (can be rented)
Sunglasses
Micro fibre towel
First aid kit: we brought a first aid kit we bought on Amazon, and it was a life saver. I struggled a lot with blisters and I was very happy we brought tons of bandaids!
Sun block / lip balm
Hand sanitizer
Camera + charger/batteries
Power bank(s)
Phone + charger
Passport
8. PRACTICAL INFORMATION
Before leaving for the Salkantay Trek, I was a bit worried about the "toilet situation". I wasn't quite sure what to expect and was honestly dreading that part of the hike.
Luckily, the toilets at the camps are very nice and well maintained. Especially the toilets at the sky dome camp were completely new and very clean. We had some clogged toilets at the jungle camp, but nothing too major. I was very pleasantly surprised, and clearly worried for no reason.
Disclaimer: This could differ for other companies. Since we booked with Salkantay Trekking (which is considered one of the more high end companies), the whole trip had a very high overall standard.
Speaking of bathrooms, I'm sure a lot of people are also wondering how often you get a chance to take a shower:
There are no shower opportunities on day 1 (but then you will have showered in the morning at your hotel before leaving).
You will get a chance to take a shower on day 2 at the Andean hut camp. To use the shower, you have to pay 2.5 euros. When you pay the fee, you have to write down your name on a list. Once the shower is available, your name will be called.
On day 3 there is no opportunity to shower.
On day 4 you will be sleeping in a hotel, so you will have access to a shower.
9. OVERALL COST
Here is a breakdown of the overall cost of the 5 day Salkantay Trek (per person):
Salkantay Trek 5D/4N + Huayna Picchu: 460 euros
Bank fees to withdraw money: +/- 12 euros
Shower on day 2: 2.50 euros
Drinks along the way: 17 euros
Entrance to the Salkantay trail: 2.70 euros
Breakfast on day 1 and lunch & dinner on day 5: 35 euros
Tips for the guides and cook: 40 euros
Total: 569.20 euros per person
If you have any more questions or you feel like I didn't tackle a certain topic, please feel free to leave a comment or reach out!