Chichen Itza is one of the seven modern wonders of the world and is located in the Yucatan Peninsula of Mexico. In July 2018, Simen and I visited this beautiful architectural marvel while travelling through Yucatan and Quintana Roo. Would you also like to visit Chichen Itza but you're not sure how to go about it? Don't worry, I've got you covered!
Disclaimer: the information in this blog is based on my visit to Chichen Itza in July 2018
Guided tour or independent day trip?
First of all, you need to decide whether you'd like to do a guided tour or not. From all over the Quintana Roo and Yucatan provinces, you can take day trips to Chichen Itza. Almost all travel companies offer this day trip, which usually costs around €50 or more. The buses leave early in the morning, which means you arrive at Chichen Itza at around 10 AM.
To be honest, if you'd like to explore Chichen Itza by yourself, a day trip is not a good option. Because all the buses need to drive several hours to get to the World Wonder, you will arrive when most people are already there. The park opens at 8 and is full of tourists by 10 AM.
However, if you're short on time or you don't like organising day trips yourself, an organised guided day trip is definitely a good shout. Whether you're staying in Tulum, Playa del Carmen or Cancun, you will see tons of travel agencies offering this day tour, so it doesn't require much organisation from your part.
We personally aren't big fans of guided tours and decided to visit Chichen Itza ourselves. We arrived at 8. There were maybe a handful people queueing to get in, which meant we got the park almost to ourselves for about 30 minutes to an hour!

Visiting Chichen Itza by yourself
How to get there?
We had been travelling for a little bit already before we headed to Chichen Itza. We left from Cancun, travelled to Valladolid and afterwards made our way to Pisté (2.5 km away from Chichen Itza). Pisté is the closest city to Chichen Itza and offers a handful of hotels and hostels where you can stay the night before.
The main bus company in Mexico is called ADO. You can buy tickets online or in the bus stations. We travelled from Valladolid to Pisté, but you can basically travel to Chichen Itza from any major city in Yucatan or Quintana Roo. The bus drops you off at the entrance of Chichen Itza, from where you can either walk to Pisté or take a taxi. We took a taxi because we were carrying big backpacks. However, be aware that the taxi drivers charge quite a lot for the very short stretch to Pisté.
It is possible to travel to Chichen Itza and back by public transport in one day, but this means you won't be there when the park opens. We preferred to spend the night in Pisté, since we really wanted to see the Wonder of the World first thing in the morning.
Where to stay?
Pisté is a very small city with only a dozen of restaurants and hotels. We booked a room at hotel Posada la Casa de las Lunas for about €30 per night. This was one of the nicest hotels we stayed at during our trip, the rooms were very clean and the pool was amazing as well. The hotel offered luggage storage so we could leave our big backpacks while visiting Chichen Itza.
We took a taxi to get to the entrance of the park. The taxi from Pisté to the park was a lot cheaper than the one we took from Chichen Itza. I think we paid around €3. Because we had spent the night before in Pisté we were among the first to arrive at the entrance and thus got to explore the park in all tranquillity.
As I mentioned before, it's also possible to walk from Pisté to Chichen Itza. The walk takes about 30 minutes. Most of the time you'll be walking along the main road which connects Pisté with the bigger cities. It's almost impossible to get lost because there are several signs pointing you in the right direction.
Entrance fee
Now that you've travelled to Pisté and spent the night here, it's time for the highlight of your visit: Chichen Itza!
Entrance tickets cost €12.50 and give you access to the entire park. Be aware that the park is very big and offers a lot more than just the Castillo (which is the most photographed monument of Chichen Itza). We spent between 3-4 hours just wandering around and exploring the park.
Don't forget to factor in the price for the taxi ride back and forth, which was about €8. You can keep costs to a minimum by walking to the entrance of the park.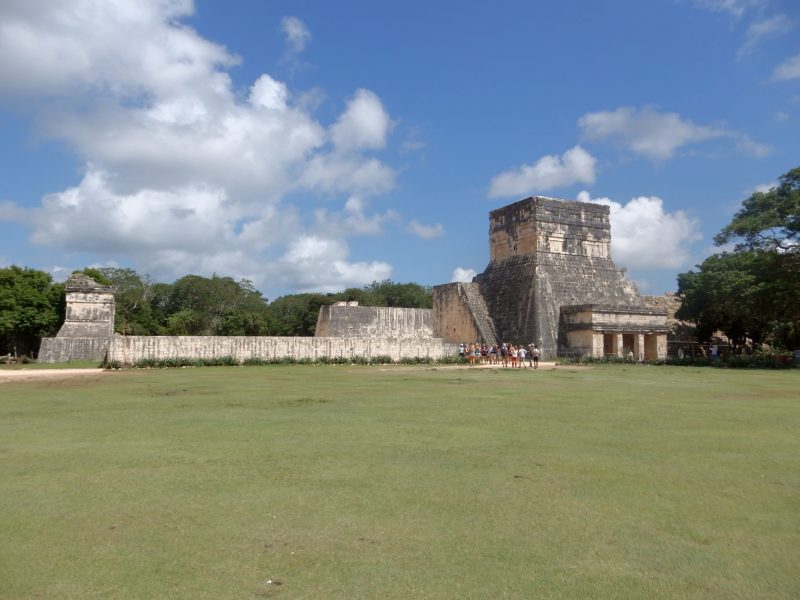 What to bring?
As you can imagine, everything inside the park costs a lot of money. Be prepared and make sure to bring water and snacks, unless you want to pay extortionate prices… Also, if you're visiting Chichen Itza during July or August, make sure you bring lots of sunscreen. The sun is absolutely relentless in July and you can very easily get sunburned.
Also, don't forget your camera, phone or selfie stick. The Castillo is as impressive in real life as it is on Instagram, maybe even more so. It would really suck if you don't manage to get a picture of it!
There are tons of stalls inside the park selling a lot of different souvenirs. The vendors will most likely approach you whenever you walk past their stalls and they can be quite persistent… It's of course nice to get a souvenir from Chichen Itza, but as you can imagine, these are also quite pricey.
Price tag visiting Chichen Itza independently
This is how much we paid to visit Chichen Itza (2 persons):
Bus to Pisté from Valladolid: €7
One night stay in Pisté: €30
Taxi from Chichen Itza to Pisté (optional): €5
Taxi to Chichen Itza (optional): €3
Entrance ticket: €25
In total we paid €36.75 per person to visit Chichen Itza, which is quite a lot cheaper than the guided tours which start at around €50 or more.
If you have any more questions about visiting Chichen Itza, please feel free to leave a comment!