After 30 days in Vietnam, it was time to leave the country (we weren't allowed to stay longer). We took the bus from Ho Chi Minh City to the capital of Cambodia, Phnom Penh. The distance between both cities is about 230 km, so we thought the bus ride wouldn't take too long. Boy, were we wrong… The bus ride (including a border stop) took us 9 hours!
Phnom Penh isn't really the nicest or cosiest capital city we've ever been to. Our first impressions of Cambodia weren't that great (the first thing I saw was a naked man sitting in the middle of the street). It was hectic, dirty and smelly. I was happy we had decided to only take 6 days in Cambodia before moving on to Laos.
The Killing Fields
The reason we were in Phnom Penh to begin with, was to see the Killing Fields. From 1975 to 1978, Cambodia was ruled by the Khmer Rouge who killed more than 2 million people. Most of these killings took place in the Killing Fields. There are several Killing Fields all over Cambodia, but we decided to go to Choeng Ek. This place is now a memorial for the people who fell victim to the Khmer Rouge.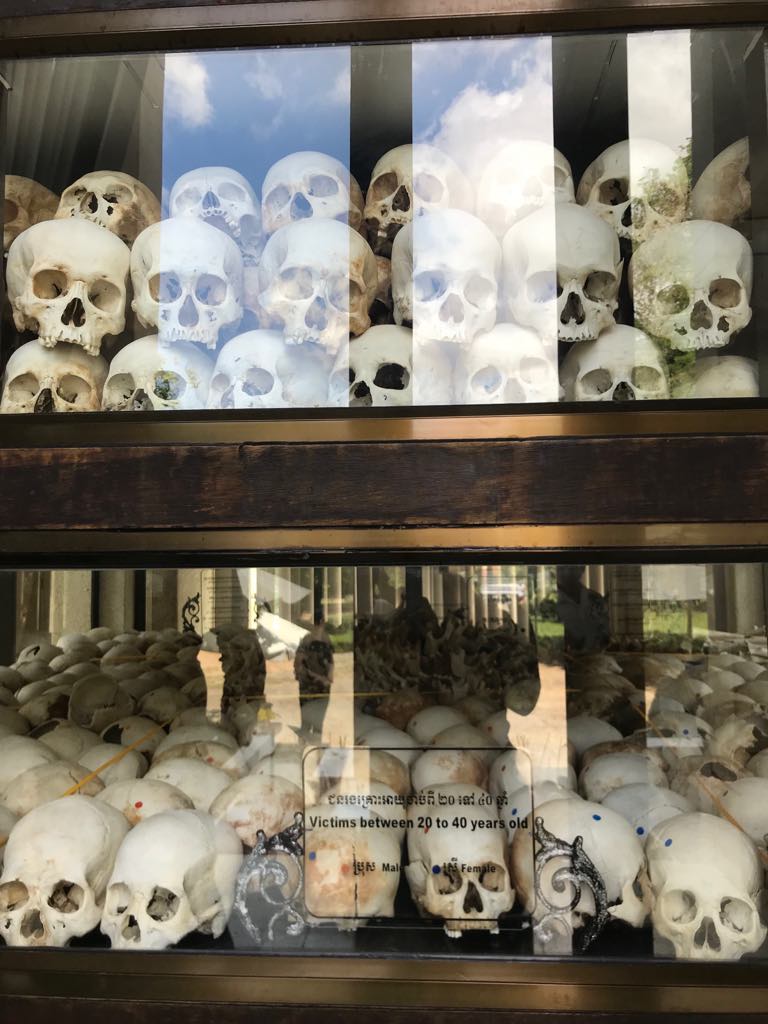 Choeng Ek contains almost 9000 bodies, which you can still see today. Most of them are preserved in the Stupa. There are several mass graves, boxes filled with victim's clothes and shoes. Every three months the people who work at Choeng Ek find new clothes, shoes and bones of more victims.
Walking around there and listening to the audio guide telling the most brutal stories, was very heavy. One of the most difficult things to comprehend at Choeng Ek is the "Killing Tree". Here babies were smashed to death. It's almost impossible to comprehend the extent of the atrocities committed by the Khmer Rouge.
Visiting the Choeng Ek Killing fields was very eye-opening and really makes you question humanity…
Security Prison 21
On our second day in Phnom Penh, we visited the Security Prison 21, right around the corner from our hotel. This was another place where the Khmer Rouge committed horrible acts of violence. In this prison, people were held captive and tortured to death.
The prison is very big, and one of the first things you see when you enter is the 14 graves of the last people who were killed here. When the Khmer Rouge fell in 1978, the place was abandoned. The only people who were left were those 14 victims. To commemorate them and to remind us of the atrocities, their bodies were buried in the courtyard.
In the S21 Prison, you can see pictures of the Khmer Rouge and their victims. Once again, the audio guide tells you the most brutal stories. Some pictures and stories are almost impossible to look at or listen to.
While we were there, an old lady who had lived in the labour camps, walked in. She spoke a bit with us and explained the things we saw in the pictures. It was very sobering to hear about everything that happened in the camps from someone who had lived through the nightmare…
Even though Phnom Penh was a very heavy stop, I felt like it was a necessary stop. In the course of those 2 days, I learnt so much. It's really important to hear about these stories, just to make us aware of what happened and to make sure this never happens again.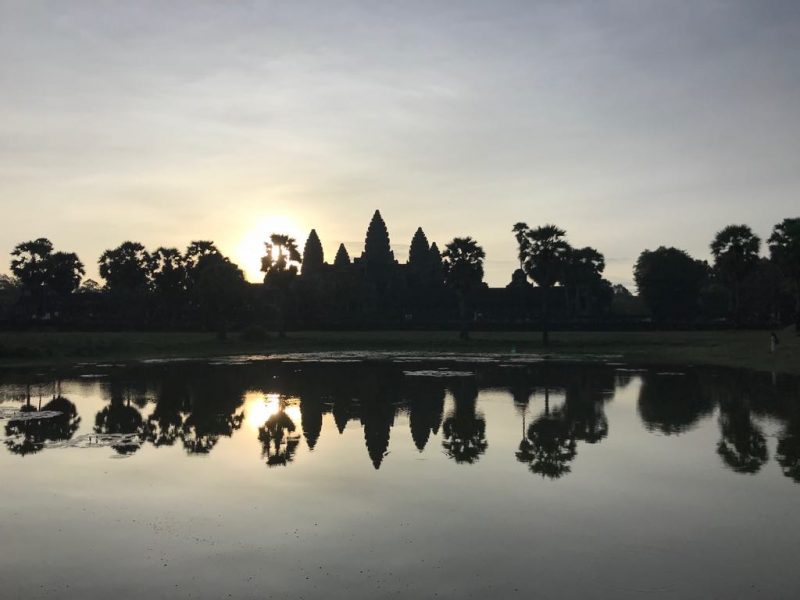 Angkor Wat
Our second stop in Cambodia was a much "happier" one. We flew from Phnom Penh to Siem Reap, where we stayed for four days. We had read online that you have to take at least 3 days to visit Angkor Wat, so we bought a 3-day ticket for 70 dollars each.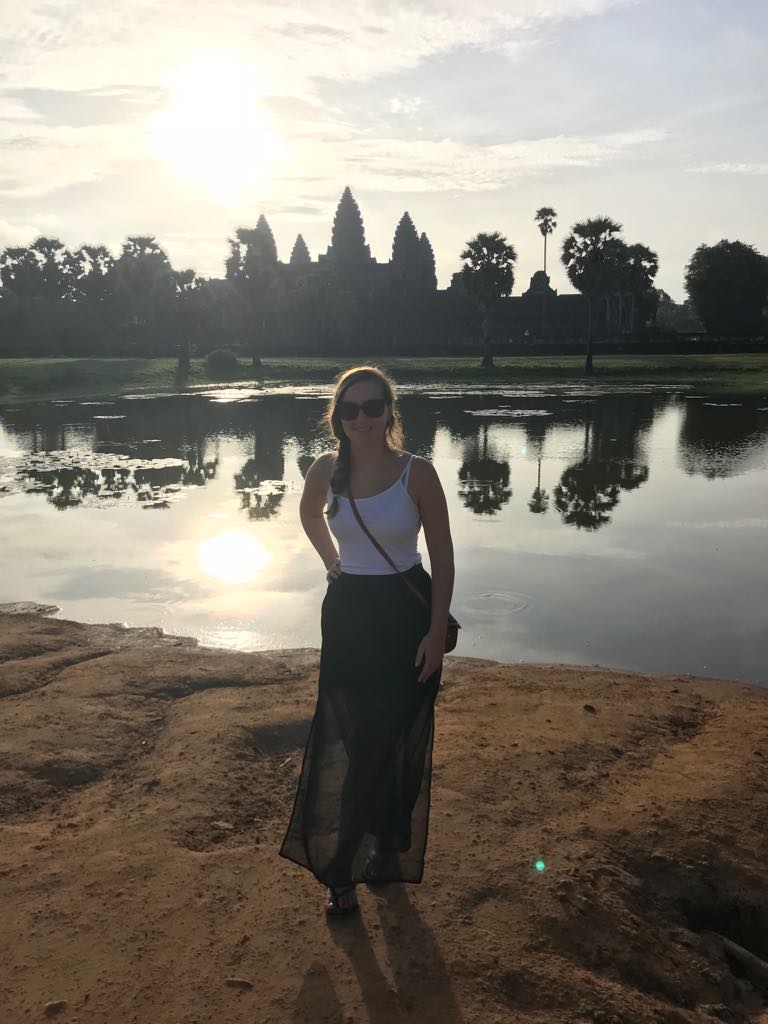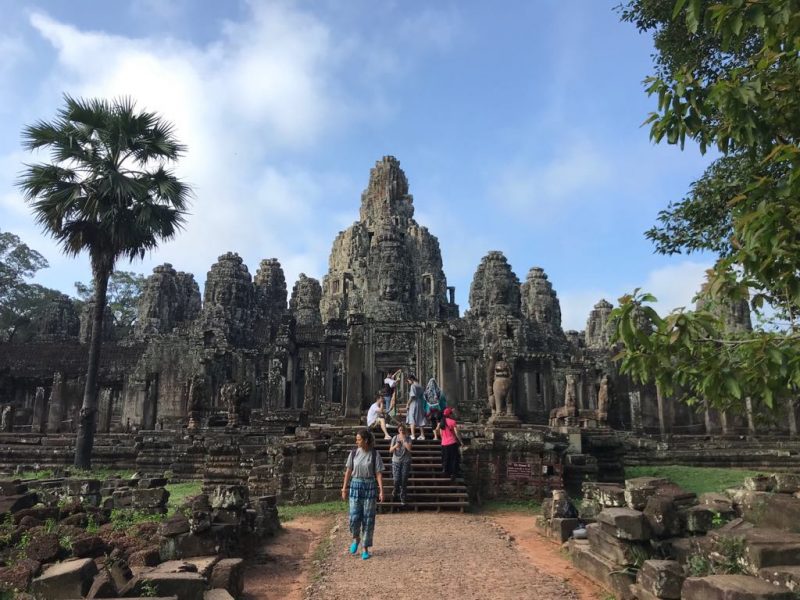 On our first day, we woke up at 4 AM to witness the sunrise at Angkor Wat. Together with hundreds of other people, we stood in front of Angkor Wat while the sun rose. It was a very nice experience!
Afterwards, we explored the temple complex and went back to our Tuk Tuk driver (€20 for one day). He drove us around for half a day, visiting several more temples such as the "Tomb Raider" temple.
Exploring the temples was very interesting, but because it was roasting hot outside and most of the temples kind of looked alike, we were quite happy to be back at our hotel.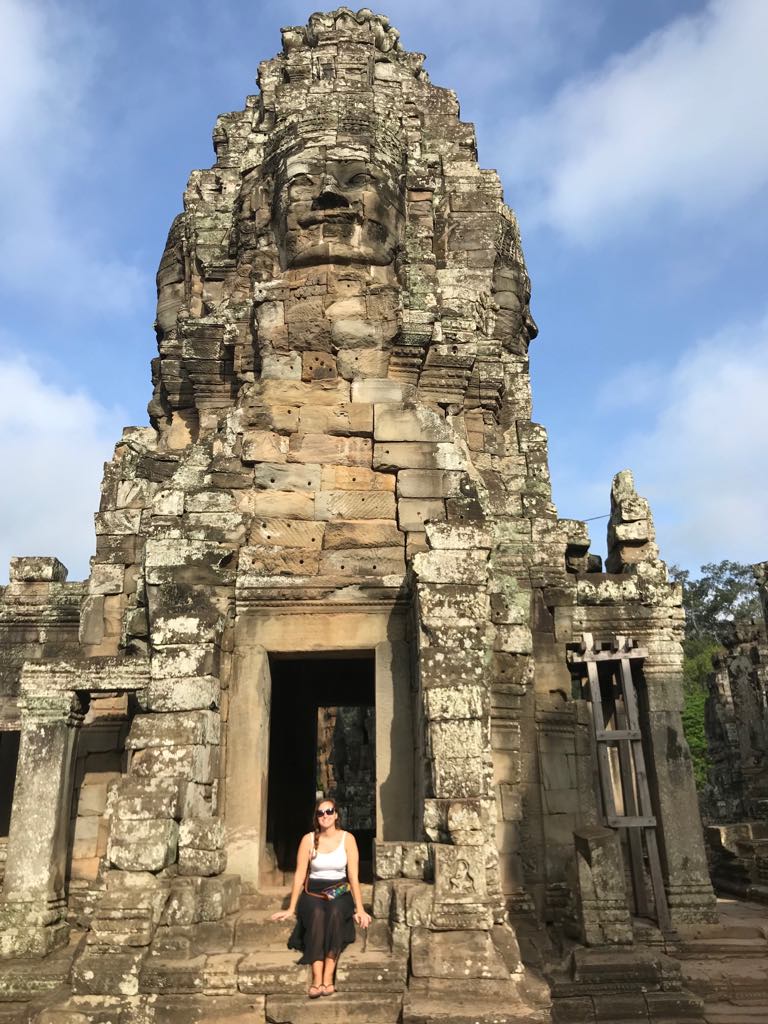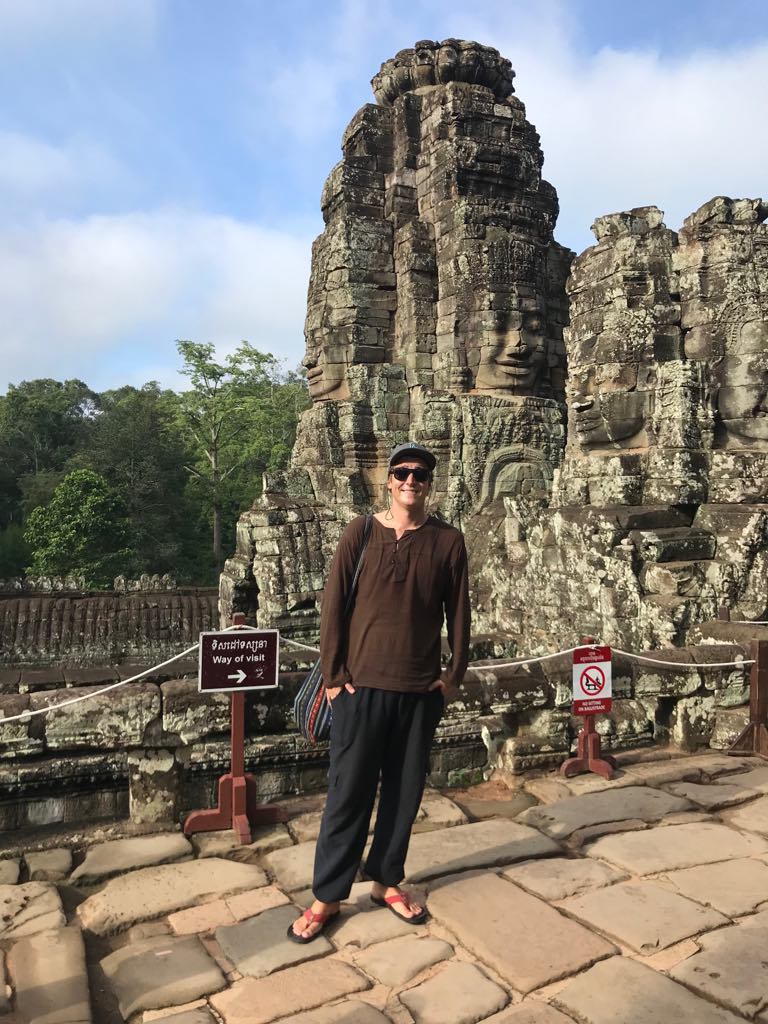 On our second day, we rented the same Tuk Tuk driver to take us to even more temples. We visited several more temples, but we both agreed that the temples we saw the day before were more interesting.
We also agreed that 1 day is definitely to explore Angkor Wat and the other temples. According to us, buying a 3-day pass wasn't necessary, unless you're really into temples and architecture.
Next stop: Laos
After Cambodia, we flew to Luang Prabang in Laos. This was kind of a "surprise" stop since we weren't planning on going there. However, we still have quite some time until our flight back home, so we decided to add both Laos and Malaysia!