After our visit to Halong Bay, we just couldn't get enough and went to the Halong Bay on Land: Ninh Binh. We stayed in a charming village close to Ninh Binh, called Tam Coc because it's easier to get to the tourist attractions from here. Afterwards, we travelled to Ba Na Hills and Hoi An. Read all about it here!
Ninh Binh
Mua Cave
One of the first things we did in Tam Coc was climbing up to the Mua Cave. Mua Cave isn't just a small cave, but it also refers to two hills from where you get an amazing view over the countryside. The hike up only takes about 15-20 minutes, but the high humidity and scorching hot temperatures make it feel a lot longer. Chances are big you'll arrive feeling very sweaty and while catching your breath.
Halfway up the trail goes into two directions, and it's best to take the one on the left. The right trail leads you to the smaller one of the hills. The views are better from the higher hill. Once we got up there, we noticed they had built a big dragon on top of the hill which was really cool. Even though we climbed up on a very cloudy and foggy day, the views were still gorgeous. A must when in Ninh Binh!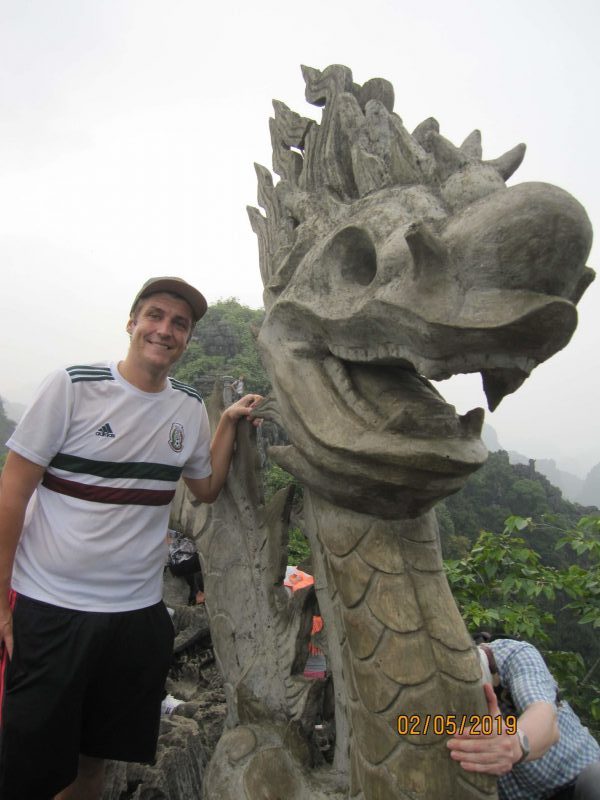 Tran An Boat Tour
The Ninh Binh area is known for boat rides on the river which take you past gorgeous landscapes which make you feel as if you've just ended up in a King Kong or Lara Croft Movie. The most touristic boat ride leaves from Tam Coc centre, but we decided to rent a scooter and drive for about 30 minutes outside of Tam Coc (Trang An). The boat ride here isn't as touristic and is a little bit cheaper. We paid around €8 for a ticket and started queueing.
We ended up sharing our boat with a lovely Slovakian couple. I was under the impression the boats were going to be motorised, but we were joined by a lady who brought her 2 paddles and started peddling. For her, every day is arm day! Because we were five people in 1 small boat, we decided to help her out and peddled along with her.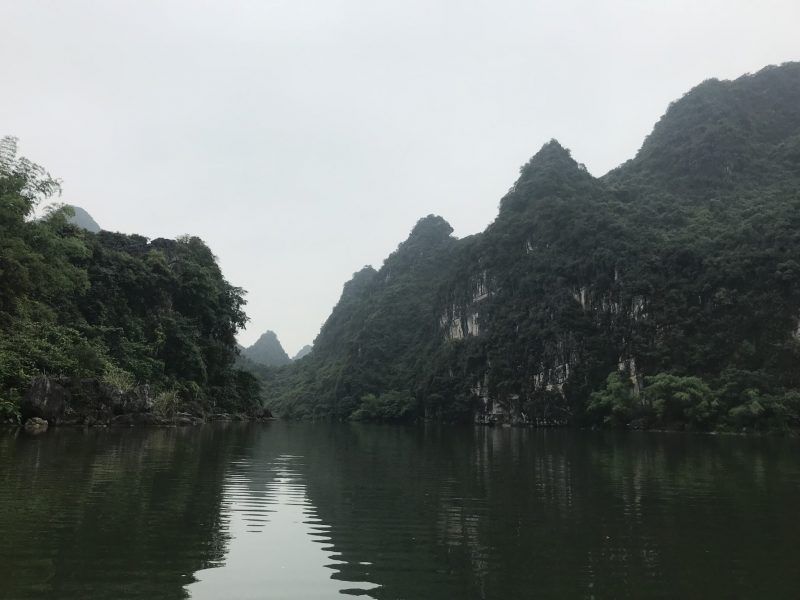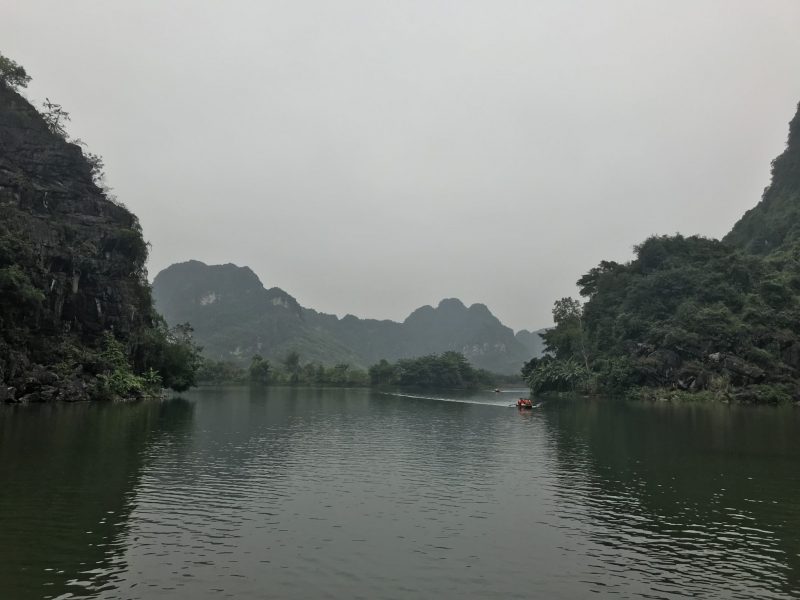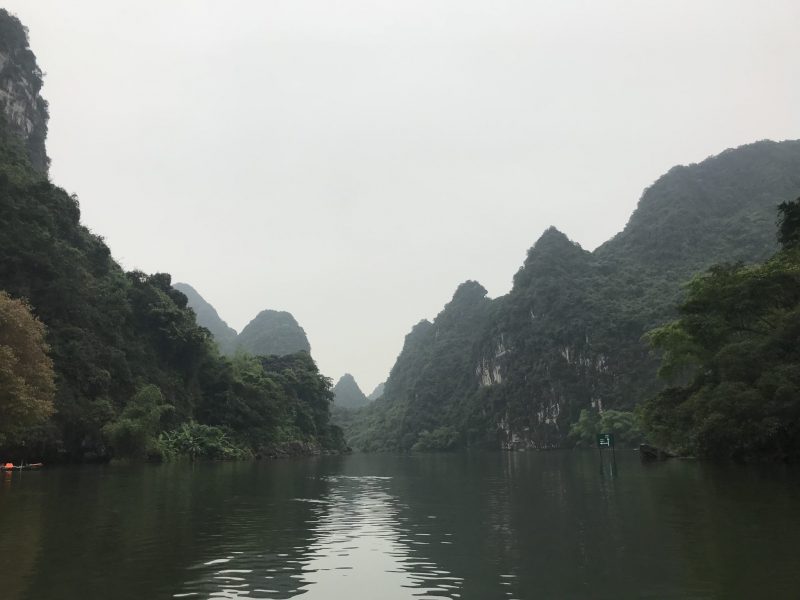 You can choose between 3 different tours, which all take 3 hours. We decided to go for tour 1 which would take us through 11 caves and bring us to 5 pagodas. The other 2 tours don't go to as many caves but bring you to some of the locations where King Kong Skull Island was filmed. The boat ride was super peaceful and the scenery was stunning! However, 3 hours on a small, wooden boat was a little bit long. We probably would've preferred a 2-hour ride if that was possible. Nevertheless, we did love the boat ride and would recommend it to anyone going to Ninh Binh.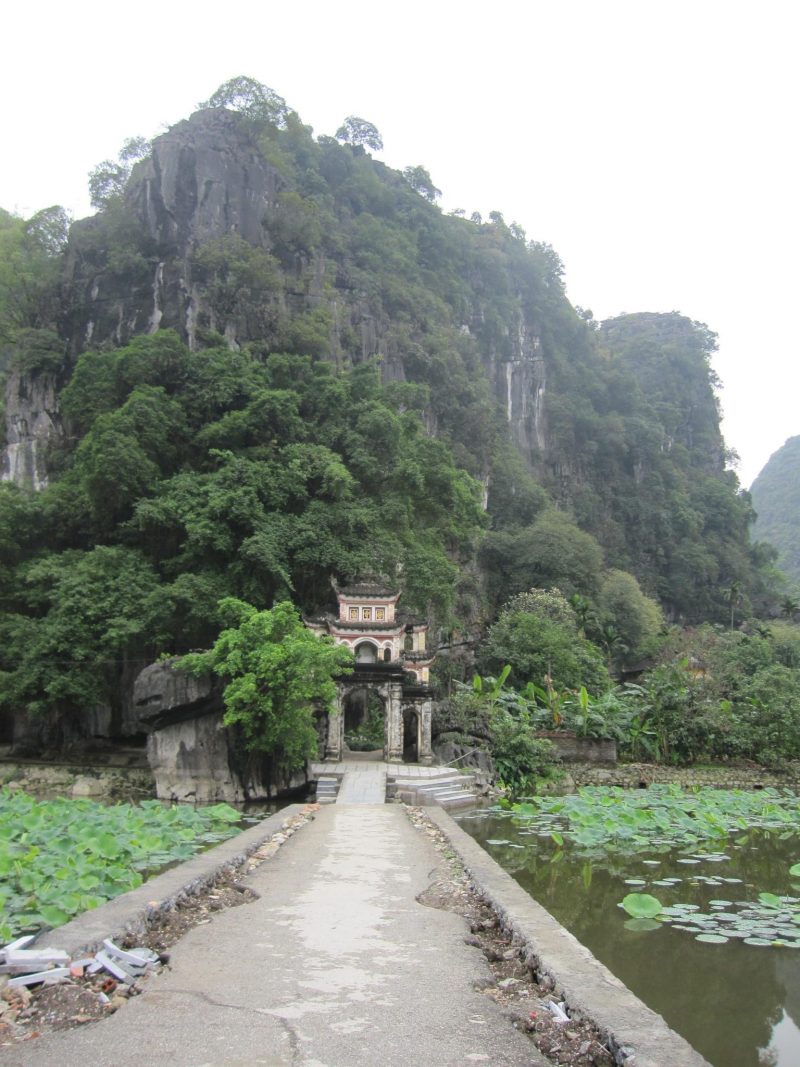 Hoa Lu Pagoda
There are a lot of pagoda's in the Ninh Binh area, but we decided to only go to one: Hoa Lu pagoda. This pagoda is very close to Tam Coc and easily reachable by bike, scooter or car. You don't have to pay to visit the pagoda. The only thing you have to do is pay for parking space. The pagoda isn't particularly big but is still a nice visit.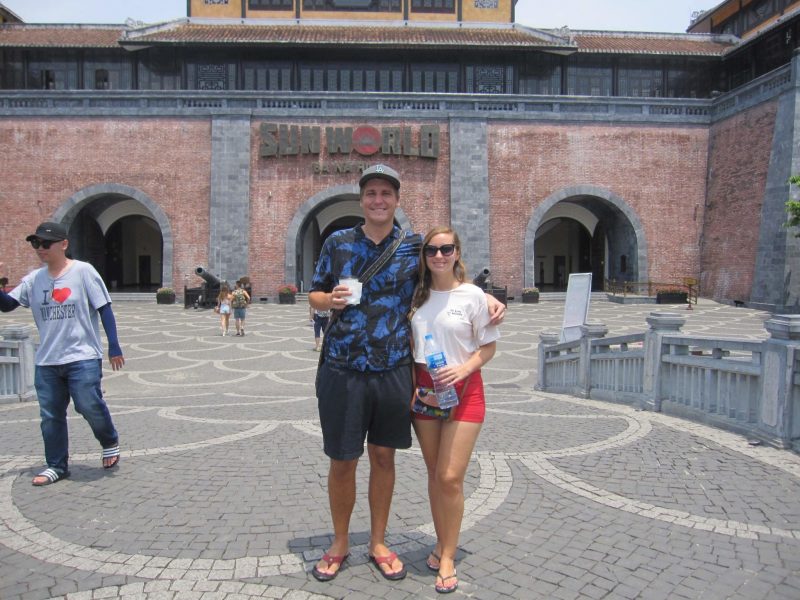 Ba Na Hills
After Ninh Binh, we decided to take the train down to Da Nang. Here we had scheduled 2 nights since we wanted to go to Ba Na Hills. Ba Na Hills is somewhat of a "theme park" located in the Ba Na Hills mountains. The park is based on a typical French Village. It takes about 40 minutes from Da Nang to get there (we paid €28 for a taxi both ways). Entrance tickets are quite expensive (€30 each), but in my opinion, it's worth it.
Golden Hand Bridge
Once you arrive at the park, you get the option to choose between 3 cable cars. The first cable car brings you up to the Golden Hand Bridge, the second one to the giant Buddha statue and the third one up to the French Village. We took the first option and decided to see the Golden Hand Bridge first. We were fully aware of the fact that Ba Na Hills can be very crowded but were still a bit surprised to see the amount of people on the bridge. It doesn't look this busy on Instagram! Nevertheless, it was still very cool to see the hands with our own eyes.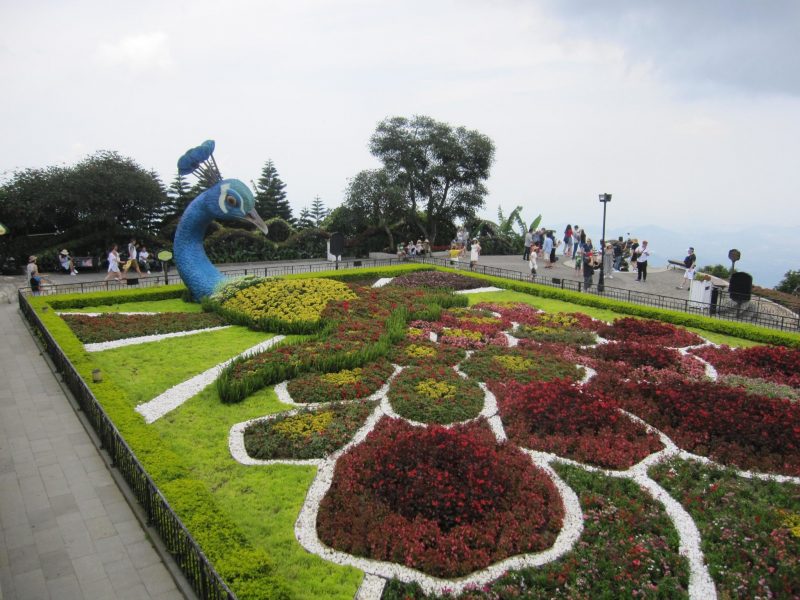 Garden of Love
Afterwards, we walked towards the Garden of Love and the giant Buddha. This part of the park isn't as interesting since it's just garden after garden after garden. We still decided to have a look, but got tired of it quite quickly and decided to take the cable car up to the French Village.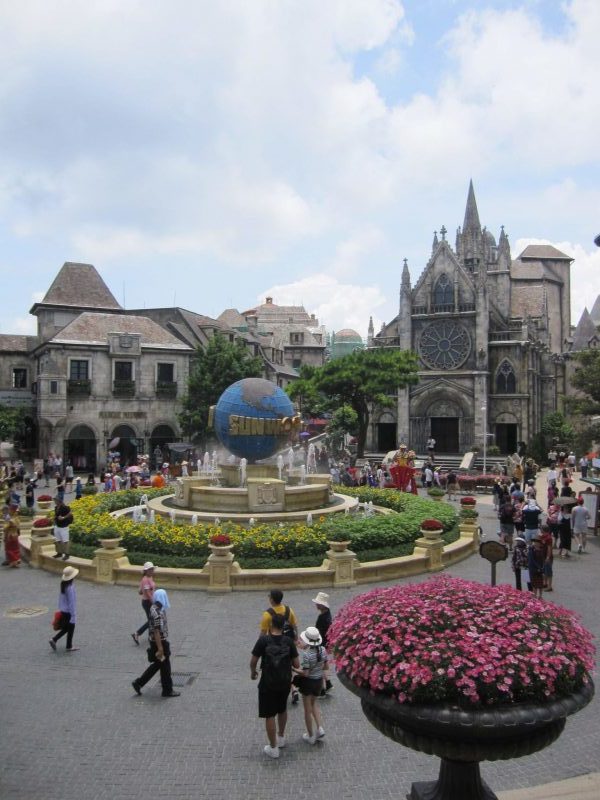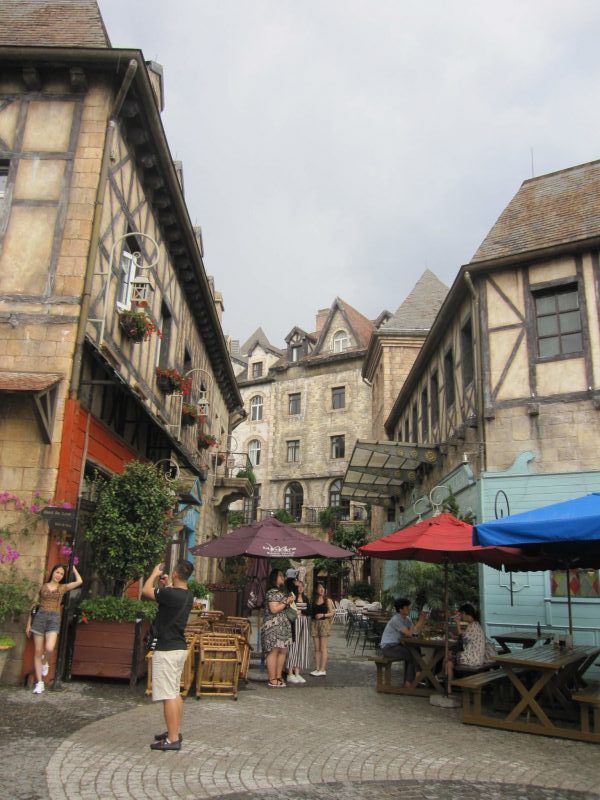 The French Village
Like I mentioned before, this part of the park is modelled after a typical French Village. It was really weird to see something that looked so familiar and reminded me so much of home in the middle of Vietnam! In the French Village, you will not only find tons of restaurants, but also a lot of fun activities and rides. Several luges are going down (which we couldn't take because we got caught in a tropical thunderstorm) and there is a 3-floor theme park inside the village. The theme park isn't that big and doesn't have that many crazy rides, but it's still a very fun way to kill some time. We both loved visiting Ba Na Hills!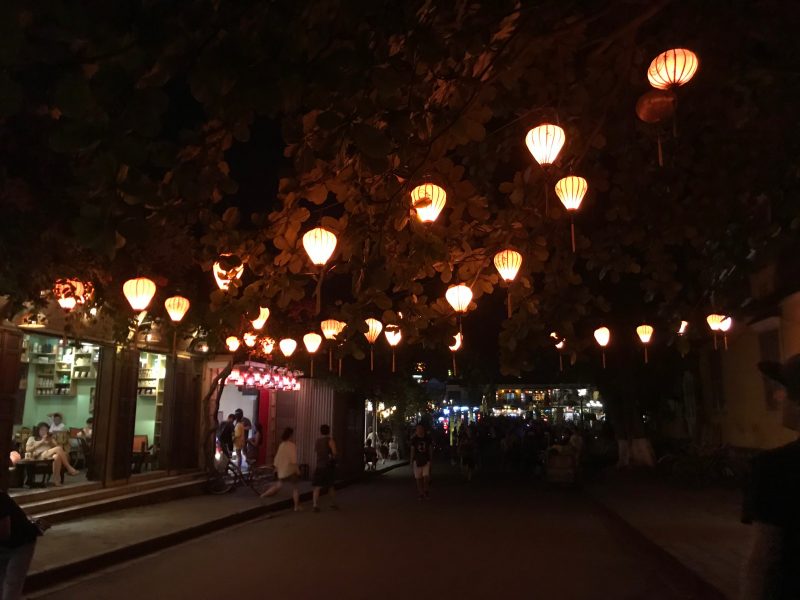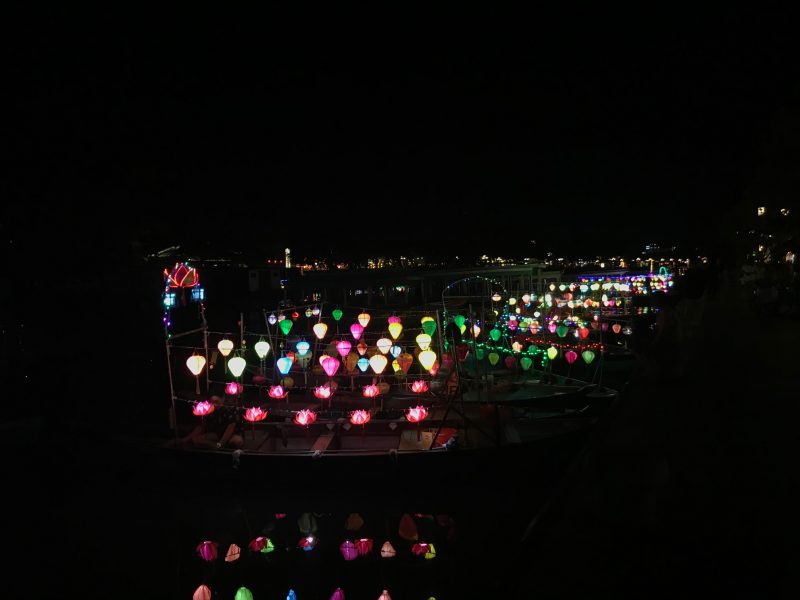 Hoi An
Tailor-made clothes
After our visit to Ba Na Hills, we decided to travel southwards, to Hoi An. This charming city is world renowned for its tailor-making. Simen had his mind set on some tailor-made suits, so already on day 1 in Hoi An, we went to a tailor to pick some suits and do the first fitting. Because it usually takes 4-5 days to get a suit tailor-made (if you want it done properly), we decided to stay in Hoi An for about a week. Simen had to go back several times for more fittings, and in the end, got 2 new amazing suits. I also bought some new outfits and sandals. When in Hoi An, right?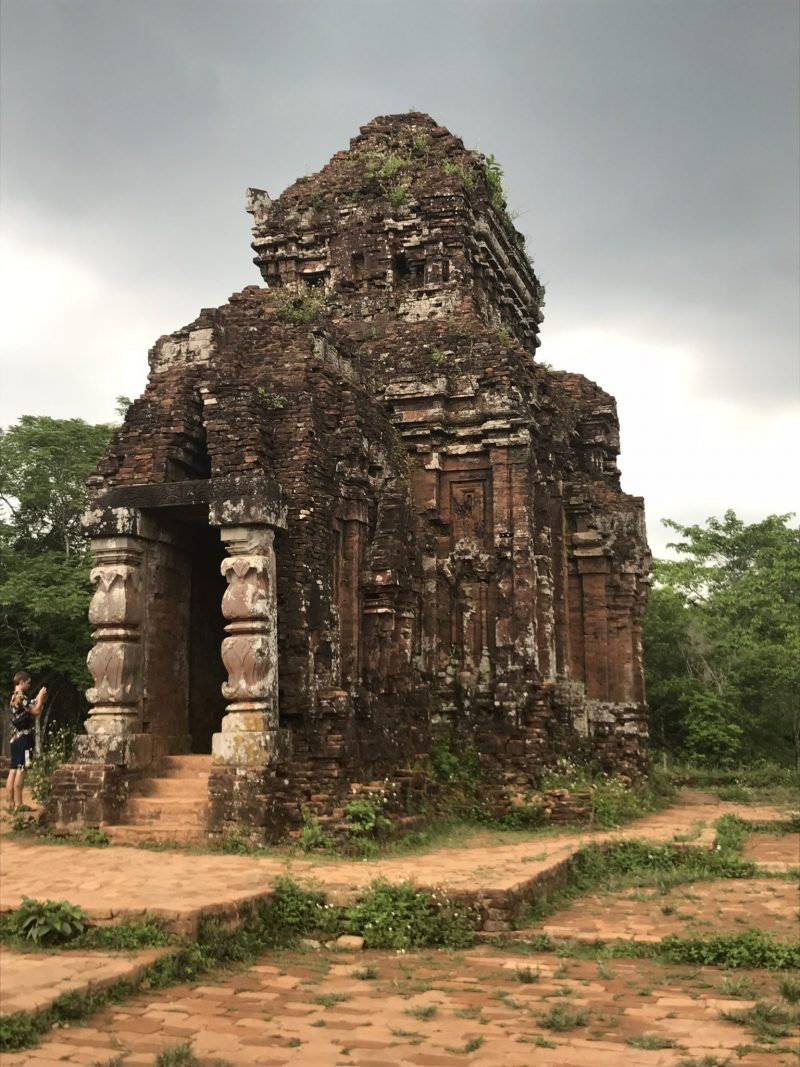 My Son
Hoi An itself is a gorgeous town which is full of colourful lanterns which all light up at night. It's a very enjoyable place to go for an evening stroll. We went to the evening market, the beautiful bridge and generally enjoyed the lively atmosphere of Hoi An. We also went on a day trip to My Son. This is called the "Poor man's Angkor Wat". Since we haven't been to Angkor Wat yet, we couldn't compare, but it did feel a bit like it was a "poor man's something". The temples are about 1-hour drive away from Hoi An and were nice to see, but not all that spectacular. Plus, we got, once again, caught in a tropical rainstorm. Because of this, we didn't spend that much time there and quickly made our way back to the taxi.
In my next blog, I will write about our stay in Da Lat!