On the 25th of April, it was time to say goodbye to Bali and move onto Vietnam! We decided to fly to Hanoi from where travelled to Halong Bay. Afterwards, we started our long journey towards Ho Chi Minh City in the south. Read here about our first couple of days in Vietnam.
Once we arrived in Hanoi we realised that Bali felt a lot more "western" than Vietnam. It is obviously still Asia, but it's more catered for western tourists. For us, Bali was a good way to ease into the Asian way of living.
Hanoi is eclectic, loud (constant honking will do that) and busy. There is a seemingly endless stream of honking cars and scooters zigzagging through the capital city. To a western person, the traffic makes absolutely no sense. Scooters driving on the wrong side of the street… People crossing intersections without even stopping and looking… After 2 weeks in the country, I'm still surprised I haven't even seen one accident. Clearly, the Vietnamese have figured out some kind of system, because traffic moves very smoothly and everything seems to work out just fine.
That feeling of an "attack of the senses" really transported me back to 2016 when I travelled to Nepal, my first Asian country. For Simen, it was the first time ever, and he needed some time to get used to the chaos and loudness. But after only a couple of days, we both felt like Vietnam was a very special and beautiful place.
Exploring Hanoi
On our first day in Vietnam, we decided to keep the sightseeing to a minimum. We only went to 2 highlights in the city: The Temple of the Jade Mountain and the Water Puppet Theatre.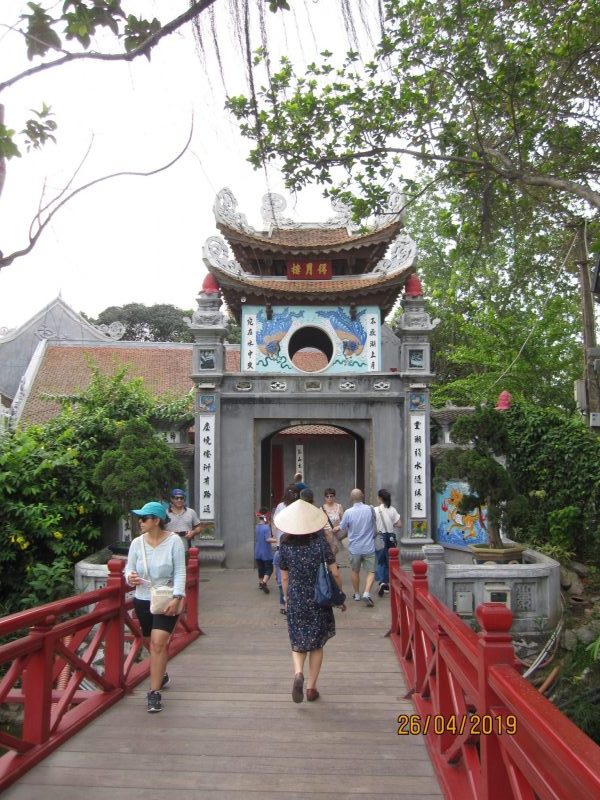 The Temple of the Jade Mountain (Den Ngoc Son)
This temple is located on one of the lakes in Hanoi: Hoan Kiem Lake. It's built on a jade island, which explains the name. We paid €1 to enter the temple. The whole complex is quite small, but it's a nice temple to visit and it barely sets you back any money.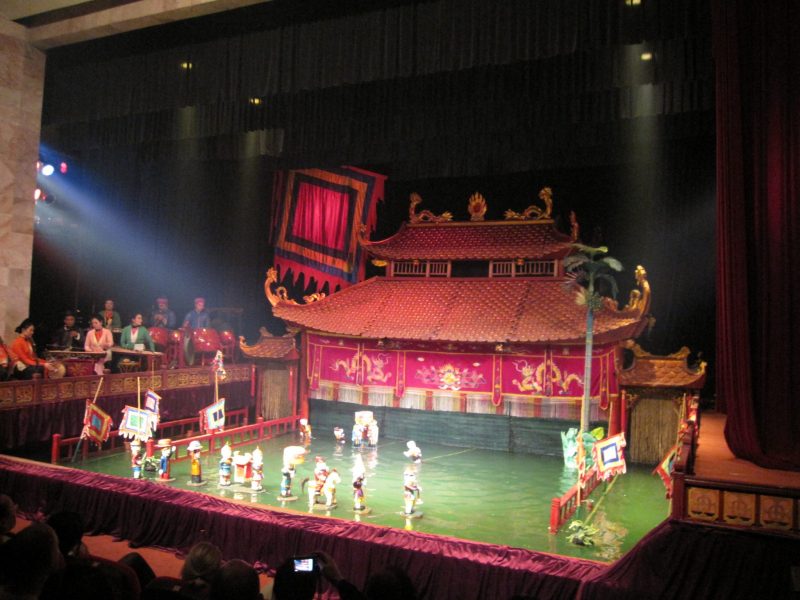 Water Puppet Show
One of the main highlights of Hanoi is the "Water Puppet Show". There are several theatres offering this show. We chose to go to Thang Long Water Puppet theatre, close to the Temple of the Jade Mountain. Water Puppetry dates back to the 11th century, and is very entertaining.
We both didn't have high expectations when we bought our tickets (€4 pp.), however the show was actually really fun! We couldn't understand anything since the actual performance was entirely in Vietnamese, but we still managed to get the gist of it thanks to the puppets. The puppets "told" several different stories, mainly about people working and catching fish. It's very lighthearted and the stories' main purpose is to make the audience laugh. The show lasts 45 minutes, which is a little bit long, but it's definitely a fun activity when you're in Hanoi.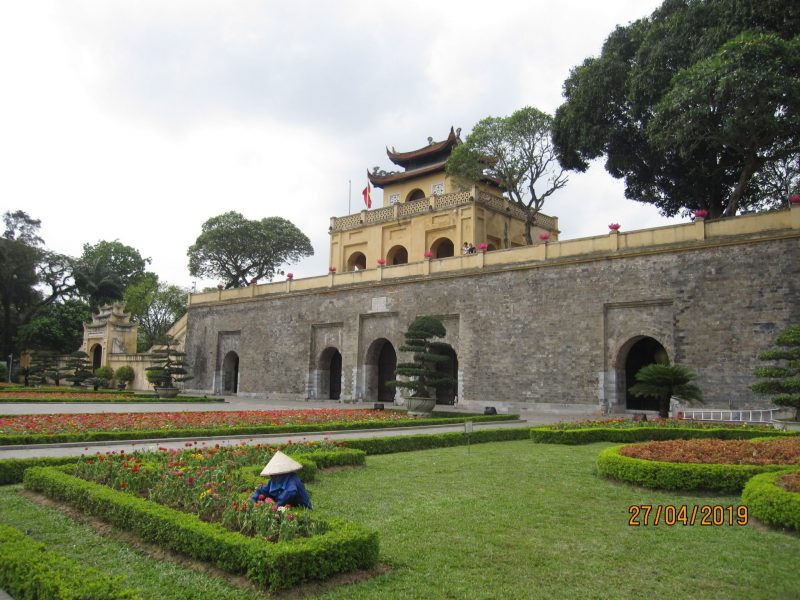 Imperial Citadel of Thang Long
On our second day in Hanoi, we met up with Ricardo, a friend from Malta. Since he had been to Vietnam before, he decided to take us on a sightseeing day through the capital city.
The first major highlight we went to, was the Imperial Citadel of Thang Long, which dates back to the 11th century. Entrance tickets cost about €2. The citadel itself is very beautiful, however, the rest of the complex isn't really that impressive. To be honest, we didn't quite understand why this place was consistently mentioned as one of the "must-sees" in Hanoi. The only reason to visit this place, for me personally, is to see the citadel itself from close by.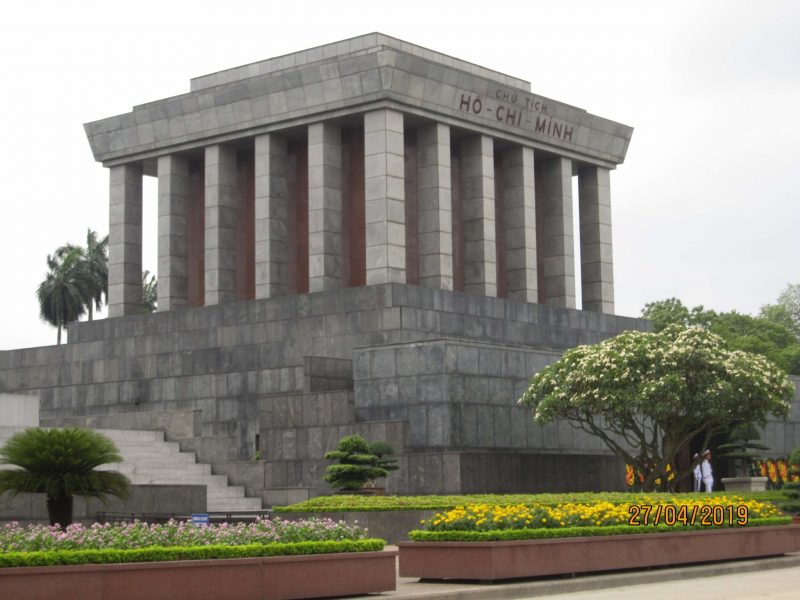 Ho Chi Minh Mausoleum
Afterwards, we headed in the direction of the Ho Chi Minh Mausoleum. Because we visited this place in the afternoon, it was actually closed. We could only admire the building from outside. If you would like to see the actual mausoleum from the inside, you have to make sure to go there before noon.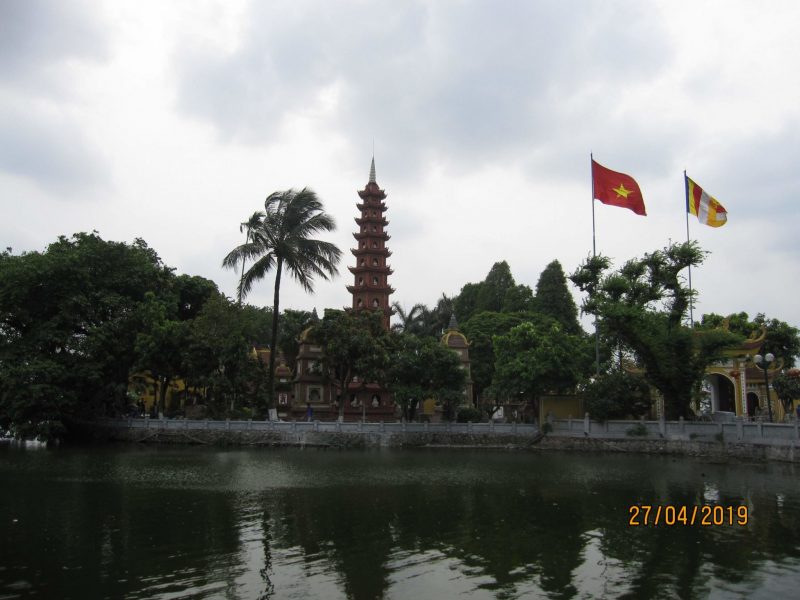 Chua Tran Quoc
The last attraction of the day was the Buddhist temple Chua Tran Quoc. This temple is located on the Ho Tay lake and is free of charge. It's not very big, so you won't spend much time here, but according to me it is definitely worth a visit!
Cruising Ha Long Bay
After our stay in Hanoi, we decided to head west towards Ha Long Bay, a UNESCO World Heritage site. We had done quite a lot of research online about what tour company to choose, but read a lot of conflicting things. The tours looked super nice and luxurious, but the reviews said the boat and the rooms were actually very old and outdated. Some of the agencies, which had a 5 star rating, apparently refused to let people disembark until they gave them a 5 star rating! This led to us not really knowing which companies to trust…
So, we decided to do it the "old-school way" and went to a travel agency in Hanoi. We were met by a very friendly and helpful girl who managed to get us 2 tickets on the Oasis Bay Cruise for €190 pp. We opted for the 3 days/2 nights cruise, assuming this would mean we'd see a bit more of Ha Long Bay.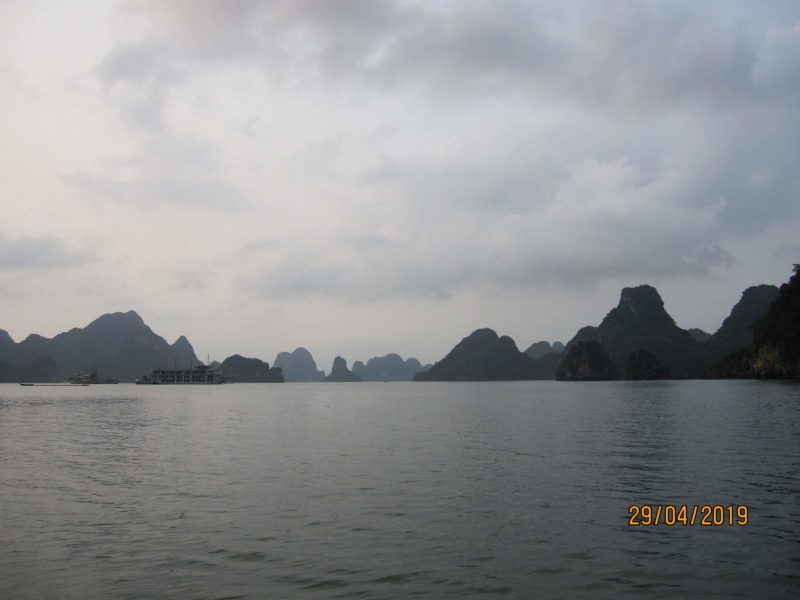 3 days/2 nights with Oasis Bay Cruise
Once we stepped foot on the boat, we realised this boat wasn't one of those outdated ones with deceiving pictures. The boat was very nice and modern and came with a sun-lounger deck and a Jacuzzi. There are definitely worse ways to explore Halong Bay! For every meal (except for breakfast) we were treated to 3 courses (but actually it was 5 because we always got 3 starters). Safe to say we didn't go hungry at all on this boat!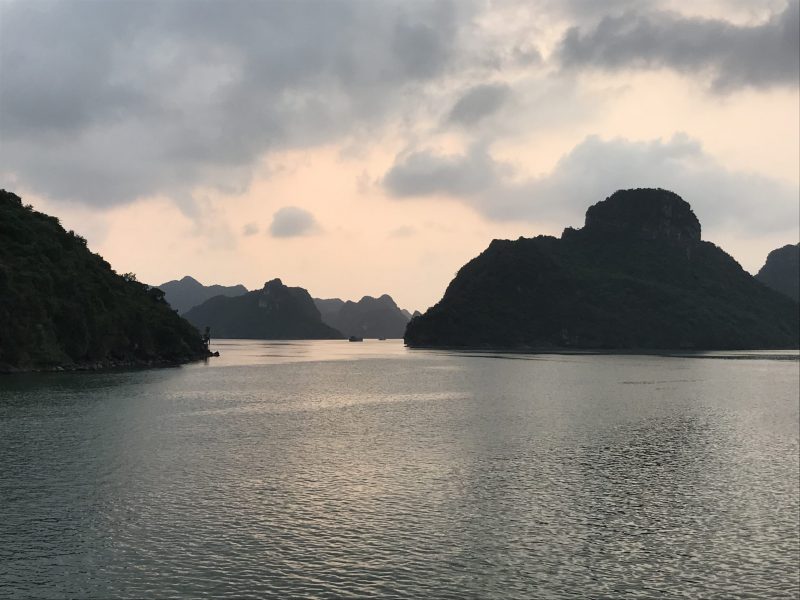 Day 1
On day 1 we enjoyed an amazing lunch on board before leaving for a kayaking trip through Ha Long. The kayaking trip was quite short, it took maybe 30 minutes, but it was still nice to see Ha Long Bay from up close. After the kayaking trip, we got some time to relax in the jacuzzi and on the sundeck before joining a cooking class. Here we learnt how to make fresh spring rolls, which was surprisingly easy. Afterwards it was time for another very big and filling dinner.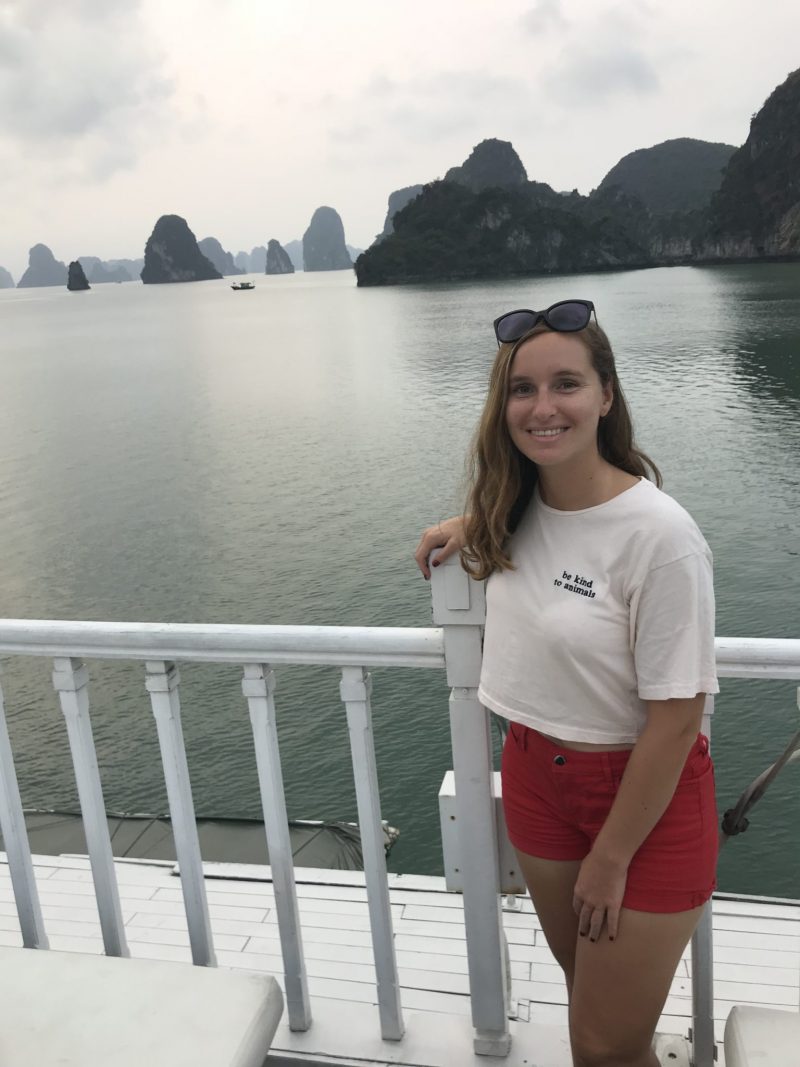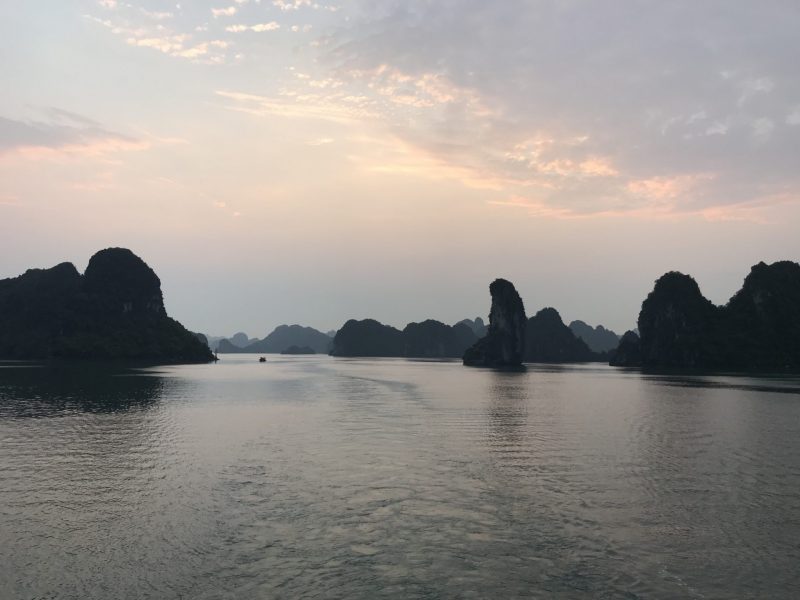 Day 2
On day 2, we were woken up by a very bad thunderstorm. Since we were the only 2 people who had booked 2 nights instead of one, we were supposed to leave on another boat for a day trip. However, because of the horrible weather, our day trip was cancelled and we had to go back to the Oasis Bay Cruise. This meant we drove back to the harbour to pick up new people, and we basically had to repeat our previous day. Since we didn't feel like going on the same kayaking trip twice in two days, we decided to stay in the boat and admire the gorgeous views.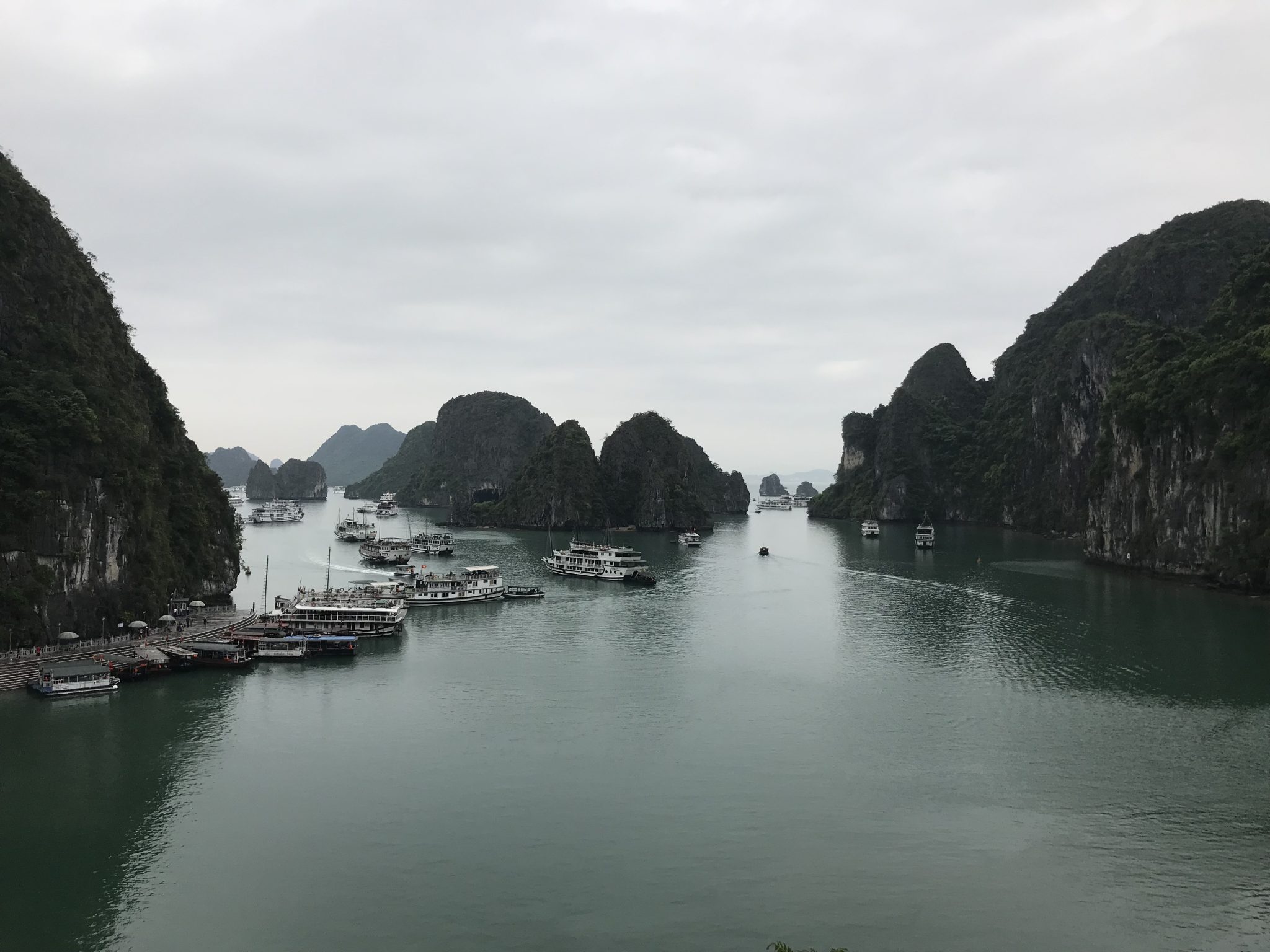 Day 3
On day 3 we went to the Surprise Cave, which is an immense cave in Ha Long Bay. From here you can get Instagram-worthy views! Afterwards we had a buffet brunch and returned back to the harbour.
In my next blog I will write about our stay in Ninh Binh, the Ha Long Bay on land!