After exploring Ubud, we decided to travel to some of Bali's neighbouring islands. The first group of islands we visited were the Gili Islands. We took a 2-hour speed boat from Bali to Gili Air, where we stayed for 3 days. After Gili, we travelled to Nusa Lembongan and Nusa Penida.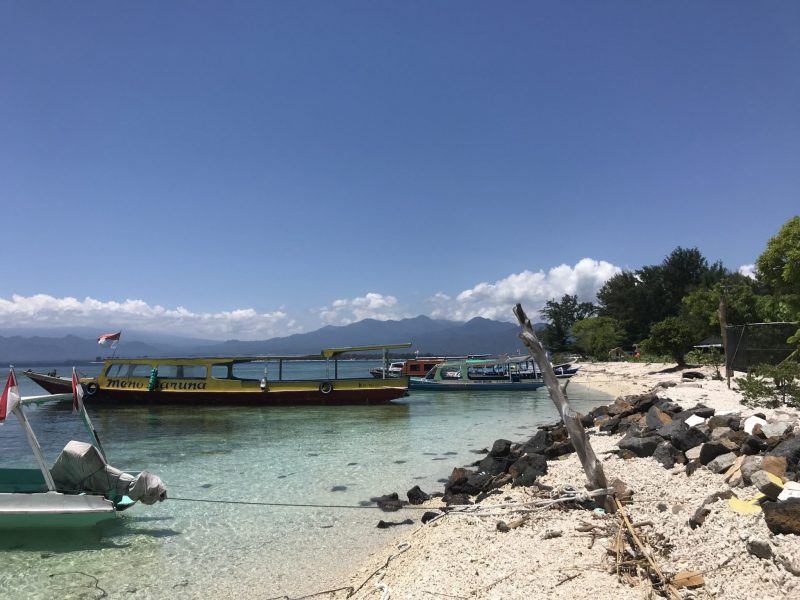 Gili Air
We decided to go to Gili Air and not Gili Trawangan (the most popular Gili Island) because Gili T is known as the "party island" and Gili Air as the "relaxing island". We mainly wanted to relax and unwind and didn't really want to be around too many party people.
Gili Air is a very small island where no car or scooter traffic is allowed. The only means of transportation is horse and carriage and electric motorbikes. This was a welcome change after the hectic traffic of Bali. This also gives Gili Air a very calm and relaxed vibe. It really feels like you've arrived in a tropical paradise. The only downside of Gili Air, for me, was that there are also no dogs allowed on the island! On this island, cats are king.
We stayed in a gorgeous villa, Faris Villas, about 10 minutes away from the beach. This place is relatively new and only opened its doors a couple of months ago (after being partly destroyed by the 2018 earthquake). We would recommend this place to anyone!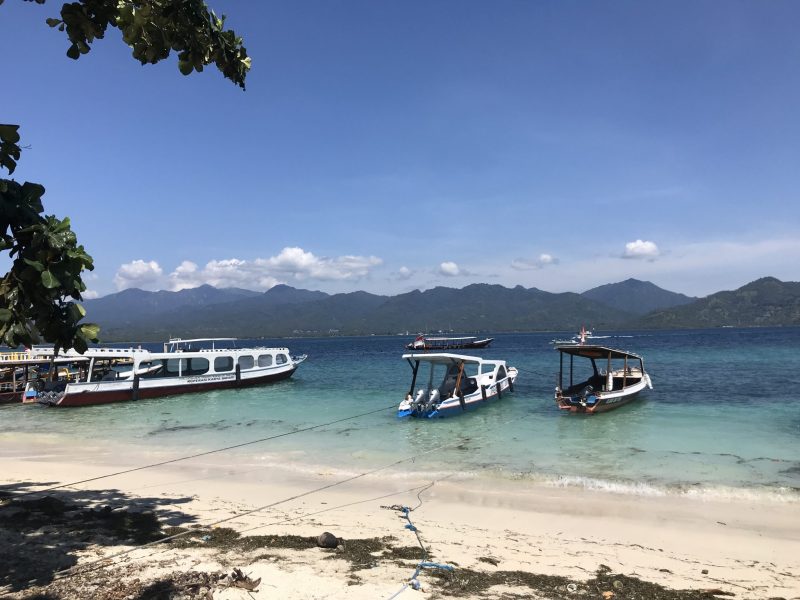 Gorgeous beaches
Most of the time in Gili, we relaxed at the beach. We went to the beach several times and rented snorkelling equipment, to prepare for our snorkelling tour. One of the best things about going to the beach in Gili is that you can use the sunbeds for free, as long as you buy food and drinks.
Snorkelling in Gili is amazing! The first time, we went snorkelling close to the beach and we got to see so many colourful fish. I was already super happy with everything I saw during our first (self-guided) snorkel trip, I had no idea what was waiting for me during our guided snorkelling tour!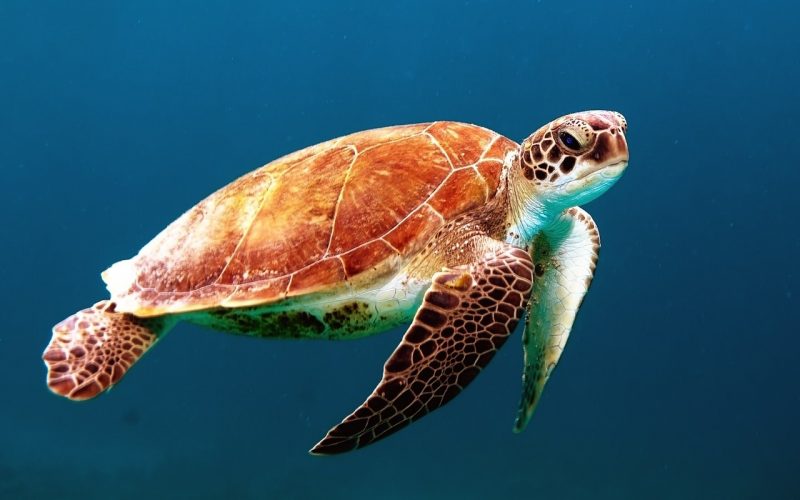 Snorkelling with turtles
The owners of Faris Villas offered to take us on an amazing snorkelling tour throughout the Gili Islands. We went to all 3 Gili Islands: Air, Trawangan and Meno. Our first stop was Gili Trawangan where we'd visit "Turtle Heaven".
What's in a name? Here we spotted about 8 turtles, ranging from baby-sized to human-sized, some of them were even bigger than me! At some point, one of the turtles went up to get some air, and everyone in our group swam alongside the turtle, it was such an amazing experience!
After Turtle Heaven, we stopped several more times to spot gorgeous colourful fish and to visit an underwater statue. We drove to Gili Meno to have lunch before making one more stop and returning to Gili Air.
While Lovisa and I went snorkelling, Simen went diving. He visited the same spots as us and also got to swim with turtles. We both agreed that diving and snorkelling with turtles was one of the highlights of our trip so far!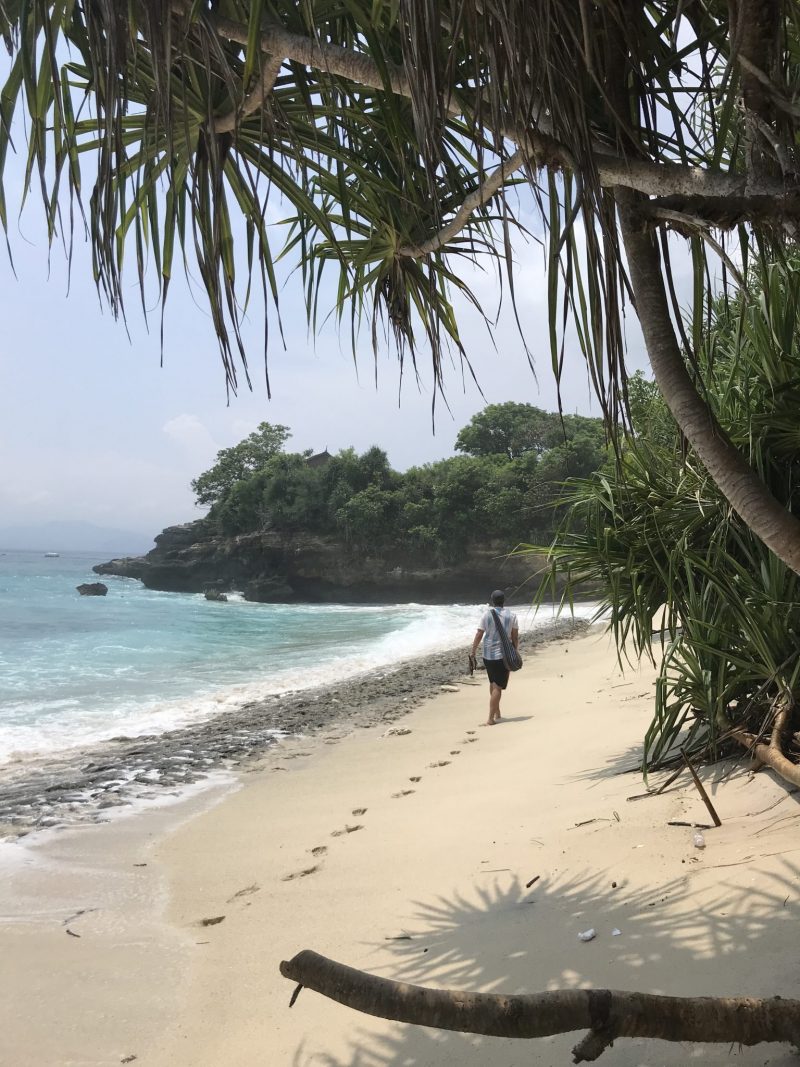 Nusa Lembongan
Our three days in Gili Air flew by and before we knew it, it was time to move on to Nusa Lembongan. This trip took a bit longer, since we had to take a boat to Gili T, and from there to Lembongan (travel time: about 4 hours).
One of the biggest surprises of our stay in Nusa Lembongan was the fact that it was almost impossible to swim. While we spent a lot of time at the beach in Gili, we couldn't really do that in Lembongan. We tried to go to several beaches: Mushroom Beach, Secret Beach (it took us more than an hour to find that one), Sunday Beach, but the high and low tide made it very hard to swim. So, since lying at the beach and swimming wasn't really an option, we decided to go on another snorkelling trip.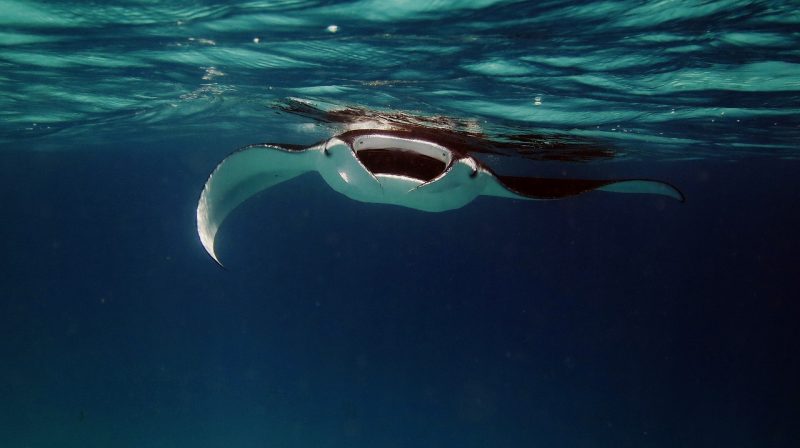 Swimming with manta rays
From the start, it became clear this one wasn't as organised as the one in Gili since the driver/tour guide didn't give us any info and just told us to "JUMP! JUMP!" in the water with almost no preparation. We immediately jumped and started snorkelling in the wild water with very strong currents.
During our first stop, we saw a lot of colourful fish and gorgeous coral reefs. Afterwards, we drove to Crystal Bay in Penida, to see more colourful fish. But the main reason we had signed up for this tour, were the manta rays! To see them, we continued onwards along the coastline of Penida.
When we arrived there, the guide said: "Manta ray, jump!" And within 1 second, Simen was in the water. Everyone else was still getting ready, including myself. "Hurry up, manta is almost gone!", I quickly jumped in as well and spotted the manta before he disappeared. To be honest, I was quite shocked to see how big it was! I met up with Simen who said the manta came swimming straight at him, and he had to back up to not touch him.
After seeing the size of the manta, I decided I wanted to get back on the boat. Simen and one other guy decided to continue the search for the manta's while literally everyone else in our group got on the boat to spot the manta's from a safer distance. After about 20 minutes, Simen and the guy came back, they had only managed to spot one more manta, from very far away. Afterwards, it was time to head back to Lembongan.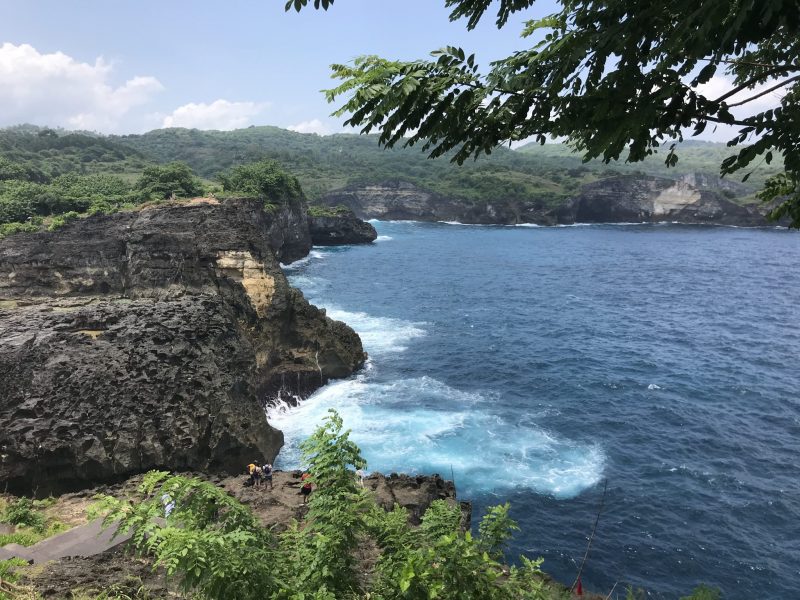 Nusa Penida
One of the last things we did while staying in Lembongan, was going to Nusa Penida. Nusa Penida is the biggest island of the three. To get to Nusa Penida from Lembongan is very easy.
The first thing we did was hitch a ride to the "Yellow Bridge" (there are no taxis on the islands, but there are tons of small vans driving around which are willing to take you with them for a small fee). Here we paid for a return ticket to Penida (€6). After about 30 minutes on the boat, we arrived in Penida where we were immediately approached by a taxi driver. He asked €36 for driving us around the west coast of the island. We had heard that this was a reasonable price, so we immediately decided to go for it. Our plan for the day was to visit Broken Beach, Kelingking beach and Crystal Bay.
Unfortunately, the minute we arrived in Nusa Penida, it started pouring down. During the ride to our first stop, Broken Beach, we were crossing our fingers, hoping the rain would stop. The ride to Broken Beach took more than an hour since the roads in Nusa Penida are in an abominable condition. I'm not even sure they qualify as roads, maybe they did back in the 1920s or so, but not anymore now. Most of the way there, about ¾ of the asphalt is just completely gone. This means that you're in for a very, very bumpy ride if you visit Nusa Penida.
Broken Beach
When we arrived at Broken Beach, the rain had finally stopped. Our driver gave us an umbrella, he clearly didn't trust the weather and sent us on our way. When Simen laid eyes on the herds of people, all exploring Nusa Penida, he immediately sat down in a local bar. "Too many people.", he said as Lovisa and I decided to continue onwards, but not before handing him our umbrella. The rain had stopped and the skies were clear. Spoiler alert: we regretted that decision, a lot.
We walked down the hill past Angel's Billabong and had almost arrived at Broken Beach when it started POURING down. We tried to take shelter underneath some trees but quickly realised the rain was too thick. Not even an improvised umbrella made out of a garbage bag and a sarong, kept us from getting soaking wet. Because it didn't look like it was going to stop anytime soon, we decided to go back to Simen. The small dirt trail had turned into mud, as we climbed back up to the bar where Simen was sitting.
After about an hour, the skies cleared up again and Lovisa and I decided to give it another try. This time we managed to make it to Broken Beach without getting any wetter. Broken Beach is a lovely natural arch, which reminded us a lot of the Azure Window (R.I.P.) in Malta. Here we took an obligatory "Malta Selfie" before going back up to Simen and continuing our sightseeing in Nusa Penida.
Kelingking Beach
When looking for pictures of Nusa Penida on Instagram, chances are big you will see Kelingking beach. I think it's probably the most photographed place on the whole island. This became clear when we arrived at Kelingking Beach lookout, together with hundreds of other people. The minute Simen laid eyes on the queue (yes, queue!) to take pictures of this gorgeous beach, he stopped in his tracks. "You'll find me in one of the bars", he said and he turned around. It was pretty clear Penida wasn't really his cup of tea!
Lovisa and I really wanted to get some nice pictures of Kelingking, so we decided to join the queue. It was very easy to get pictures of the beach, but taking a picture with us in it, was virtually impossible. After a couple of failed attempts, we also gave up and had lunch close by.
Now we still had one more stop: Crystal Bay. However, our driver told us it was about 1h15 away by car. We basically only had 2 hours left to catch the last boat back to Lembongan, so we instructed him to drive us to the harbour and that was the end of our Penida visit. This couldn't have come any sooner for Simen!
Kuta
After our island-hopping, we decided to go back to Bali because we were expecting visitors. Simen's mom and sister were meeting us in Kuta the next day! During their visit, we explored Kuta, visited Nusa Dua and Ubud and had lunch at Kynd in Seminyak (another very popular Instagram spot, it's a plant-based restaurant which makes amazing smoothie bowls and killer nacho's). After a very relaxing week, we had to say our goodbyes again because Lise and Kaja were going back to Norway while Simen and I were preparing for our next destination: Vietnam!