After New Zealand, it was time to travel to the last continent of our year-long trip: Asia. Our first stop in Asia was Bali. We were planning on staying here for almost a month, meeting both our good friend from Malta, Lovisa, and Simen's family. During our first week, we mainly explored Bali island, visiting Seminyak, Canggu and Ubud.
Seminyak
We chose Seminyak as our base for the first couple of days. Here we met Lovisa and celebrated her birthday the day after we met up. It was very nice to catch up after not seeing each other for almost a year!
Seminyak is located on the west coast of Bali, close to the tourist capital of Bali, Kuta. Seminyak is basically a suburb of Kuta, with tons of hotels, restaurants and bars. It's very touristic but not nearly as bad as Kuta. During our first days, we didn't do that much, since both our and Lovisa's luggage didn't make it to Bali. This meant we didn't have access to our clothes and couldn't go to the beach. We spent some time in H&M buying some new clothes, which was a good decision since our luggage arrived more than 24 hours after us!
Seminyak isn't really known for its many highlights. We mainly spent our time checking out some of the beach clubs such as Potato Head, W, etc. Both were very nice places, but quite expensive… We also went to Seminyak Beach to watch the sunset on the beach.
Canggu
Canggu is also located on the west coast, a little north of Seminyak. It's a much more laid back place, which attracts tons of surfers looking for big waves and relaxed vibes. Here we spent some time strolling the streets full of beautiful stores selling tons of nice things (not so touristic, but more high-quality handicrafts and clothes). We also went to the beach and could immediately see why this is a good place for surfing. It wasn't easy staying upright in those wild waves!
We didn't spend that much time in Canggu, but we all agreed this place was much nicer than Seminyak since it's more relaxed. Definitely a good place to stay if you don't want to stay in hectic Kuta or Seminyak.
After 2 full days in touristic Seminyak and Canggu, it was time to move on to a more authentic place: Ubud.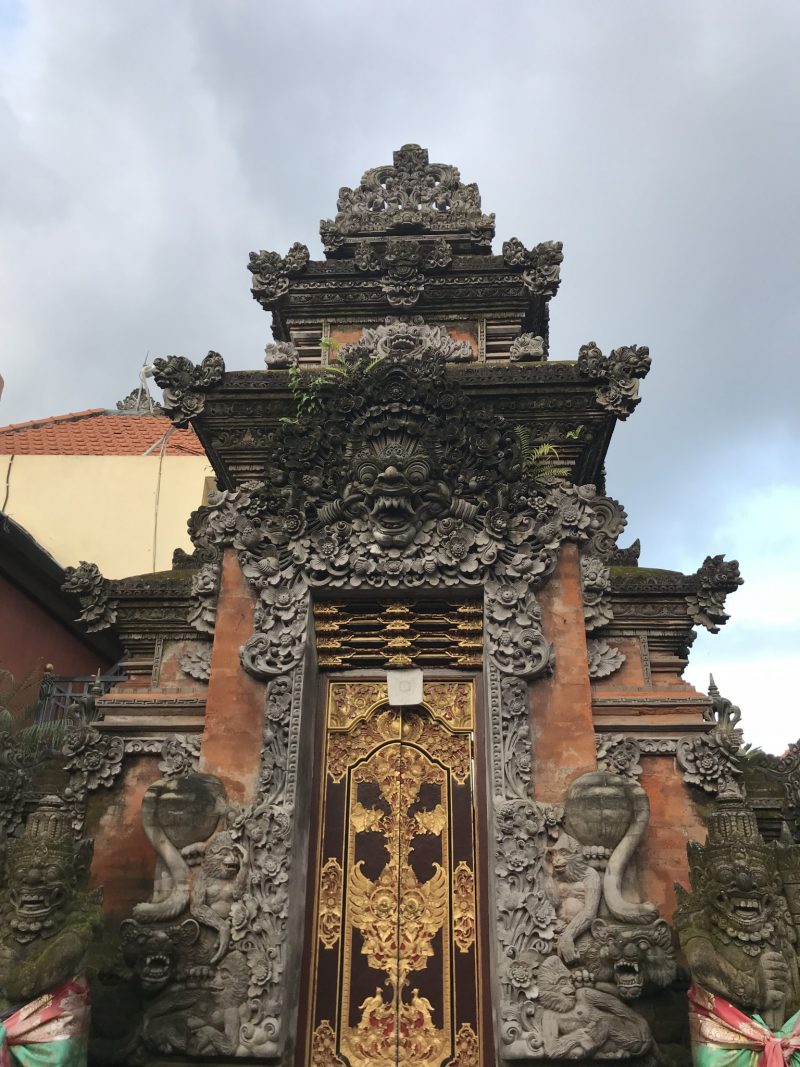 Ubud
Ubud is a town located about 1 hour away from Seminyak and is the gateway to the world renowned rice fields. We stayed here for 3 days, which gave us enough time to cover all of Ubud's highlights. The majority of Bali's highlights are located close to Ubud, which makes it an ideal place to stay for several days.
Ubud Palace and Temple
First of all, we visited the Ubud Palace and Temple, which are free of charge. Both the Palace and the Temple are beautifully constructed buildings, but especially the temple is gorgeous with its surrounding lotus lake. I would definitely recommend making a quick stop at both places when you're in Ubud.
Terrace River Pool Swing
During one of our days in Ubud, we rented a private chauffeur for €36 (half a day). Our main aim of the day was to go to the Terrace River Pool Swing and the Rice Fields. But after some convincing from the driver, we decided to add the Holy Water Temple and the Gunung Kawi Temple.
First stop: Terrace River Pool Swing. This Swing is located close to the Tegalalang Rice Fields. You don't have to pay an entrance fee, but you do have to pay if you want to go for a ride on the swing. You can choose between 3 options: couple swing (€12), extreme swing (€12) or super extreme swing (€15). Of course, Simen chose the last option, while Lovisa and I decided to play it safe and went for the extreme swing. While many people screamed their lungs out, Simen wasn't too impressed with the super extreme swing. When you've jumped out of a plane, nothing is exciting anymore, I guess?
The Terrace River Pool Swing is built in a beautiful location, among the rice fields. If you don't want to take the swing, you can still walk around the rice fields (€3). Definitely worth a stop!
Rice Fields
On to the main reason for visiting Ubud: the Tegalalang Rice Fields. The entrance fee is ridiculously cheap, we only paid €0.60. Once you enter the rice fields they also ask for donations, which maybe takes the price of your visit up to €1. Not too bad right?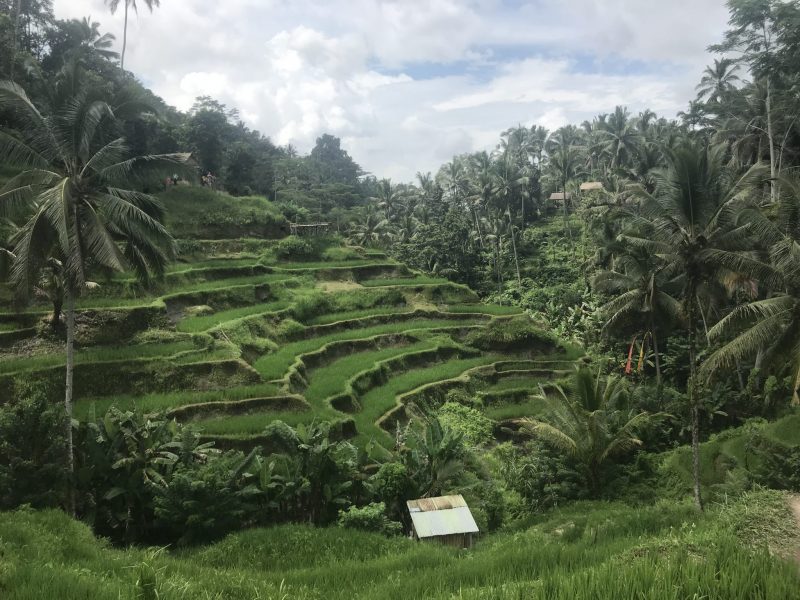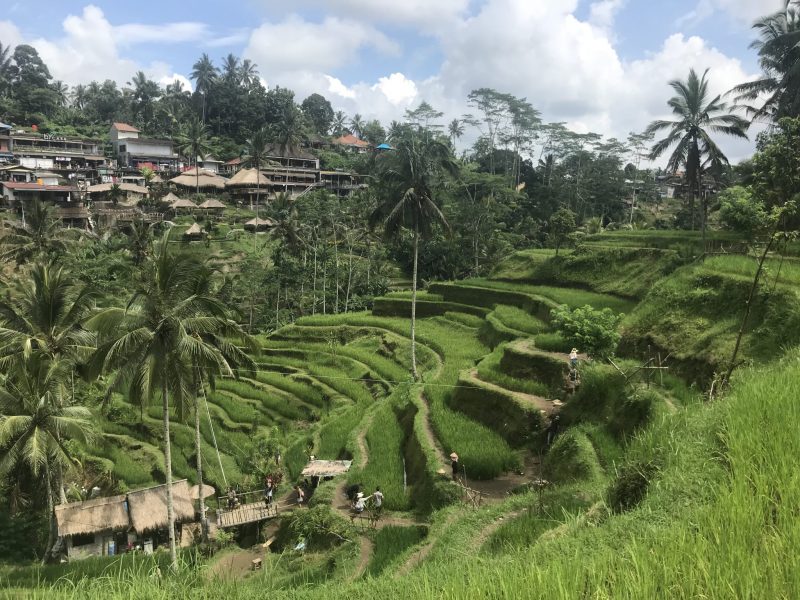 Our taxi driver told us to definitely go for a walk in the rice fields. We followed his advice and walked for about an hour, climbing up and down the gorgeous rice terraces. This place really is as beautiful in real life as it is on Instagram. We all loved it! However, because of the warmth and humidity, we really needed to stop for a drink on the way up. Bali gets extremely warm and humid!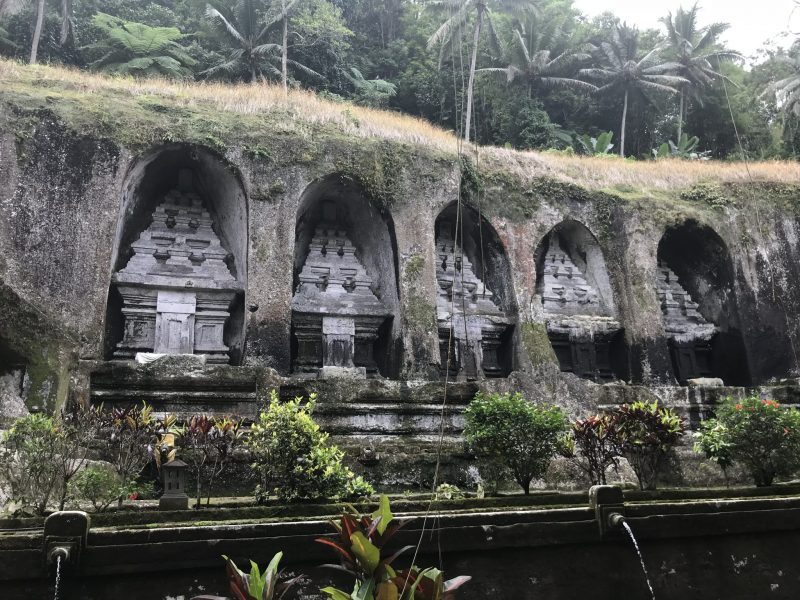 Gunung Kawi Temple
After the rice fields, our driver took us to the Gunung Kawi Temple. This temple dates back to the 11th century and is located close to the Holy Water Temple. In order to get to the temple, you first need to pass by 100 stalls full of people trying to sell you sarongs. We got "bullied" into buying a sarong (even though we already had one), since "we wouldn't be allowed to enter the temple without one". Once we reached the entrance, we noticed there were several sarongs lying there which were free to use. Luckily, we only spent €3 on our sarongs!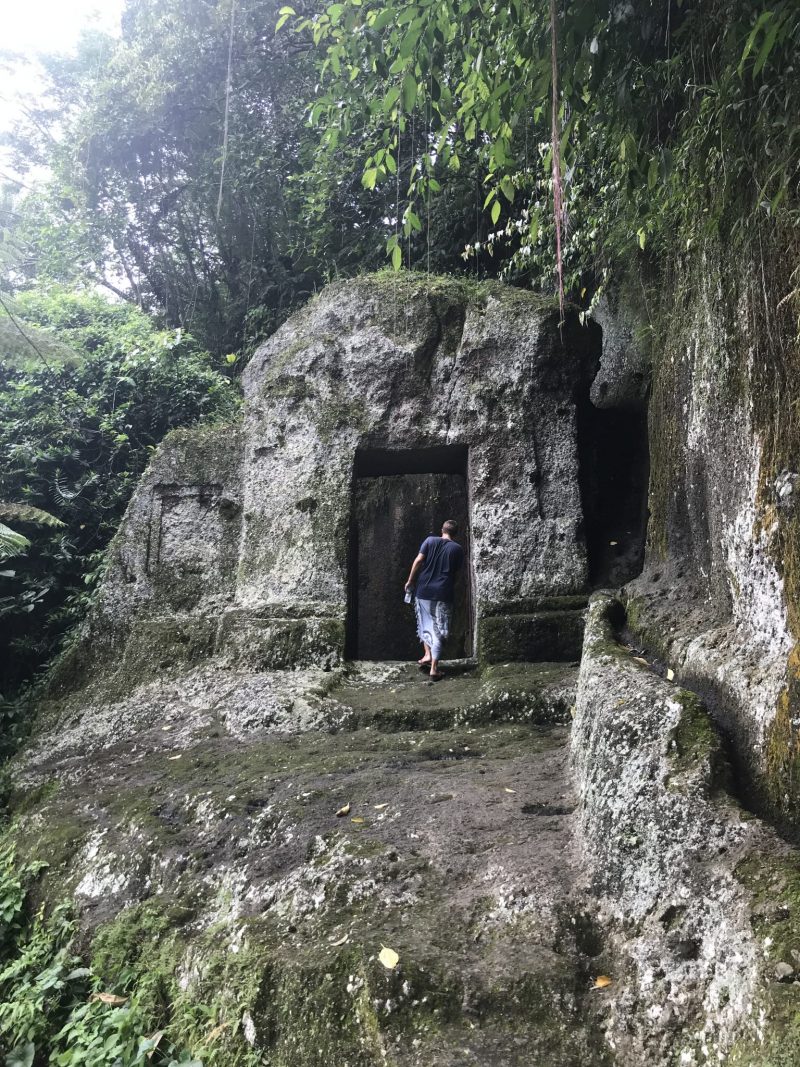 After passing by the stalls, you need to walk down for about 300 steps to get to the actual temple. It's located along the river banks and is a funerary complex dedicated to King Anak Wungsu. It was nice to see this temple, but we wouldn't necessarily call it a must see when in Ubud.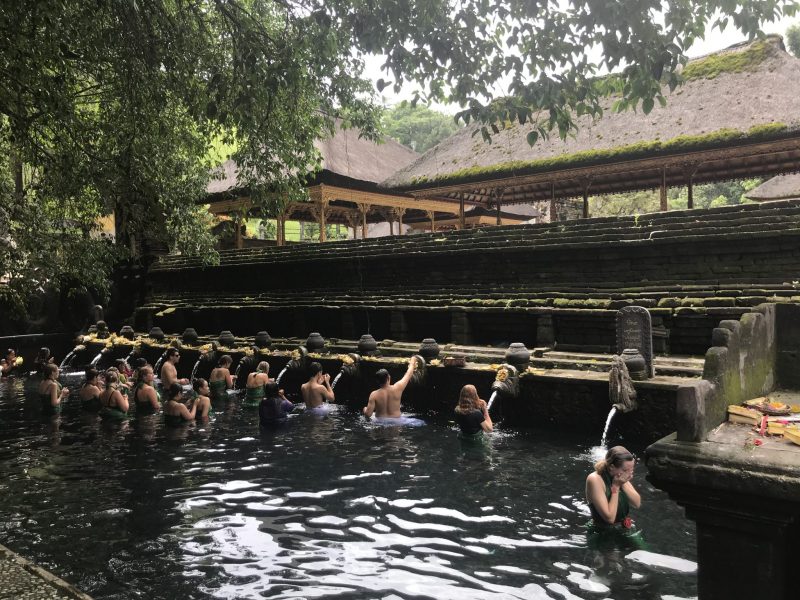 Holy Water Temple
After Gunung Kawi, it was time to go to the Holy Water Temple. This temple rose to fame thanks to Eat, Pray, Love. Here, you can participate in a ritual where you seek spiritual purification. During this ritual, you step inside a big pool with about 13 fountains. Here you pray and bow under the fountains, to spiritually purify yourself. You're supposed to start from the west side and make your way to the easternmost fountain. Since this ritual takes quite some time, none of us decided to do it. A lot of people were taking part in this ritual and there were a lot of queues in the pool.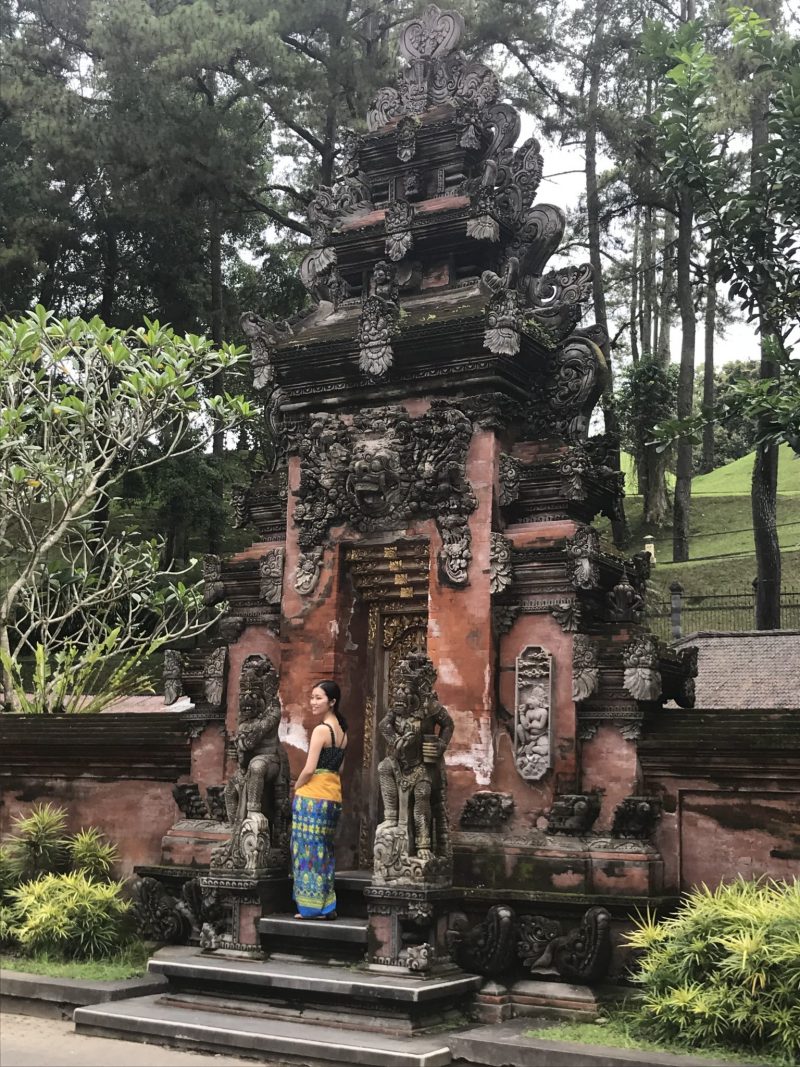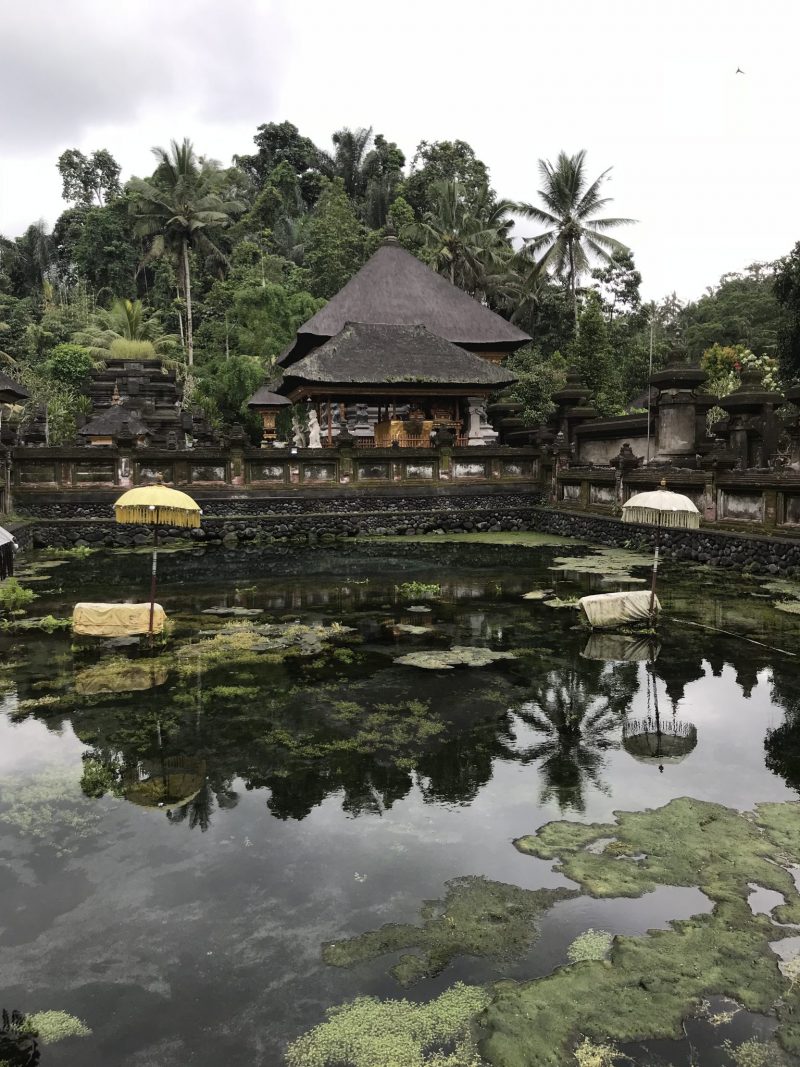 The temple has more to offer than just the baths, you can walk around the other courtyards. We spent some time exploring the temple before heading back to Ubud.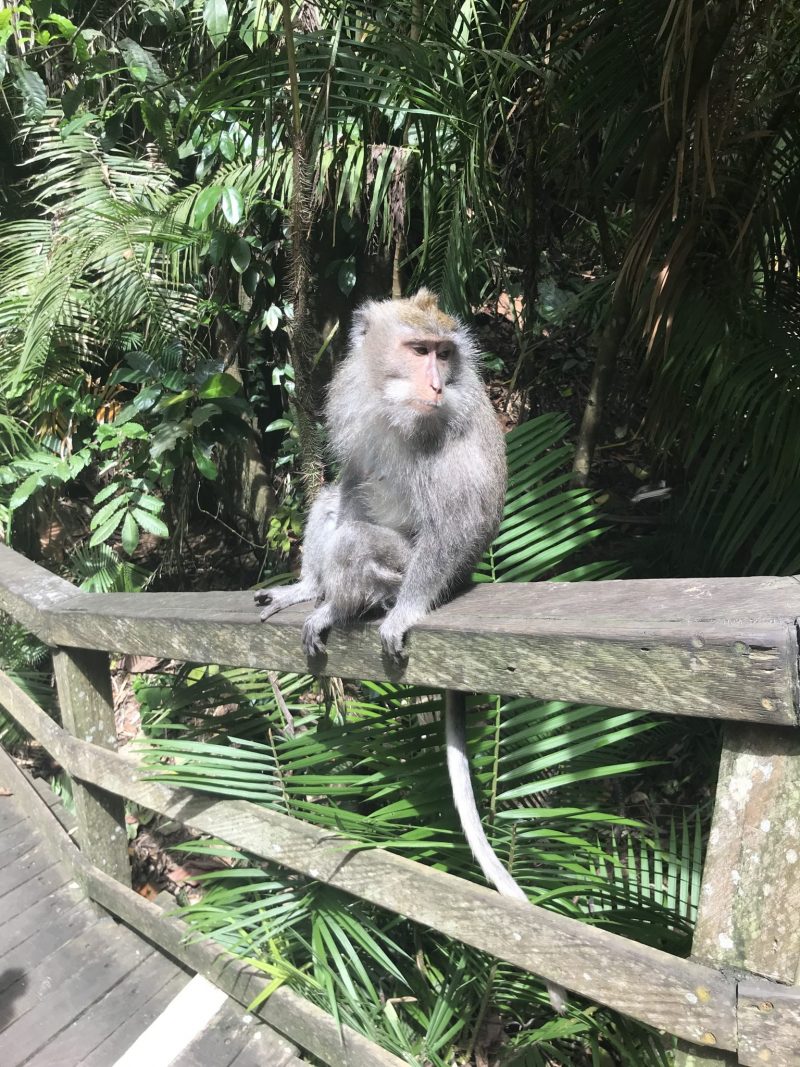 Monkey Forest
The last "must do" on our Ubud-list, was the Monkey Forest. This forest is located about 15 minutes by foot from Ubud centre. We paid about €5 to get in. Before we went, we made sure to leave all our jewelry and shiny things behind in our hotel. We also took off our sunglasses and made sure we weren't carrying anything the monkeys could steal from us. The forest is quite big and it can take up to 2 hours to see the whole thing.
While we were exploring the park, we witnessed several monkeys climbing on people's shoulders (stealing sunglasses, earrings, food and even power banks). I was very happy I came prepared and had nothing the monkeys could try to take away from me. I really enjoyed walking through the forest, admiring the monkeys and their cute babies. Definitely, a must visit when you're in Ubud!
After Ubud, we decided to do some island hopping. We visited the Gili islands and Nusa Lembongan/Penida. Read more about that in my next blog!