After our 2-week visit to Uruguay, we travelled back to Buenos Aires. We spent our last 2 weeks of South America in the Argentinian capital. During these 2 weeks, we managed to see quite a lot of Buenos Aires. In this blog I've collected 6 of our favourite things to do in BA.
La Boca
One of the most iconic and colourful neighbourhoods of Buenos Aires is La Boca. This barrio is home to the Bombonera stadium, Boca Juniors' home turf. As a massive football fan, Simen was dying to check out la Boca and la Bombonera.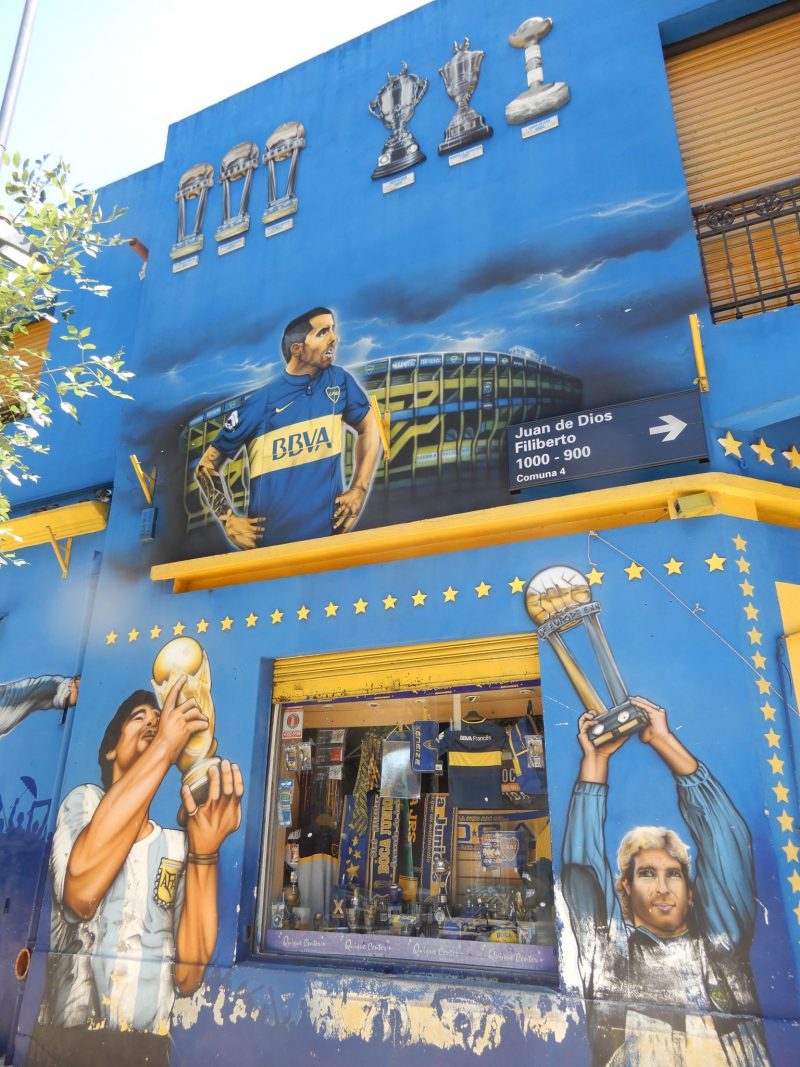 La Bombonera
Our first stop in Boca was, of course, La Bombonera. The closer we got to the stadium, the more blue and yellow houses and decorations we saw. The stadium is also painted in Boca's blue and yellow colours.
You can visit the museum and take a stadium tour for only 10 euros. After seeing the cheap price, even I was up for taking a stadium tour. The tour lasted a whole hour and took us throughout the whole stadium and the visitor's dressing room. If you want to visit Boca's dressing room, you have to pay another 200 pesos (about 5 euros).
During the tour we learnt a lot about the history of Boca Juniors. The team was founded by 3 Italian immigrants who initially decided to play in black and white the kits. However, considering how colourful La Boca is, they felt those colours were a bit misplaced. So they decided to go to the harbour and pick the colours of the first ship they saw. As it happens, this was a Swedish ship, which explains why Boca's colours are now blue and yellow. Even for someone like me, who isn't particularly interested in South American football, the tour was very interesting and entertaining!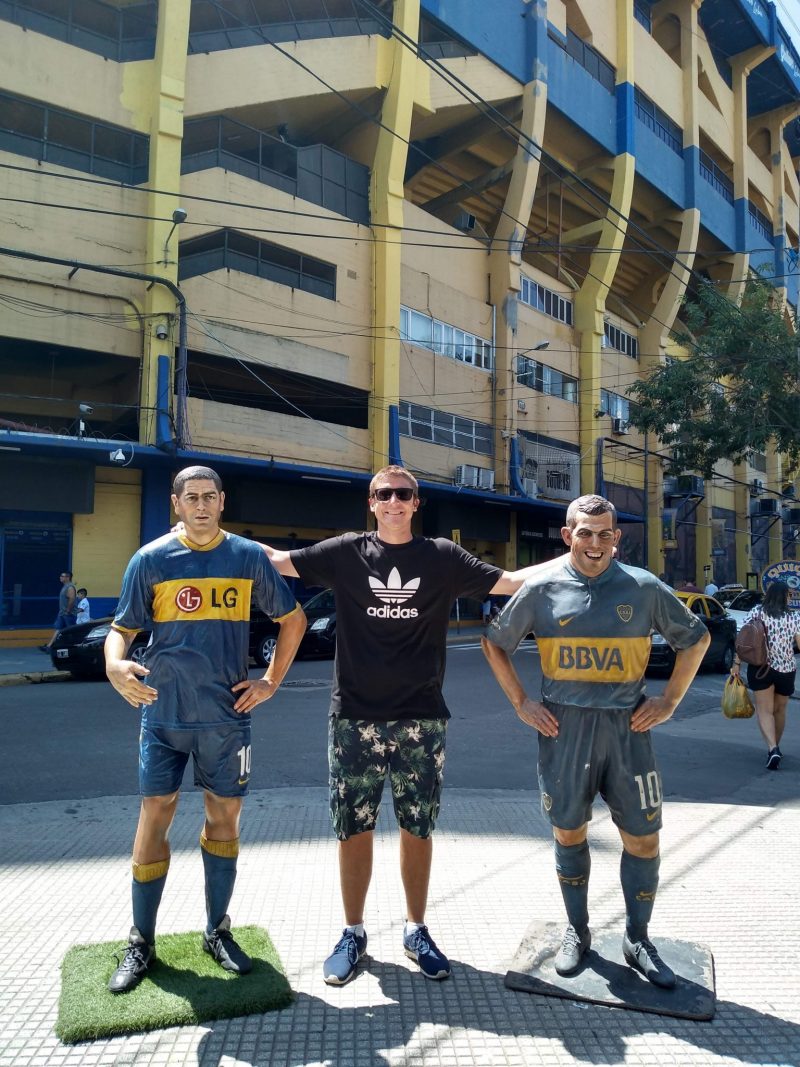 Caminito
Caminito is the most touristic area of La Boca. It's a very small area which only covers a couple of streets, however it's very beautiful and cosy. The streets are full of colourful houses, bars and restaurants. This is probably the area where you'll see the most tourists in Buenos Aires. It's a delight to walk around and admire the beautiful houses and stroll the souvenir shops. However, like I said, it's very touristic. There are tons of people trying to sell things everywhere and it's very difficult to take pictures without any other tourists in it.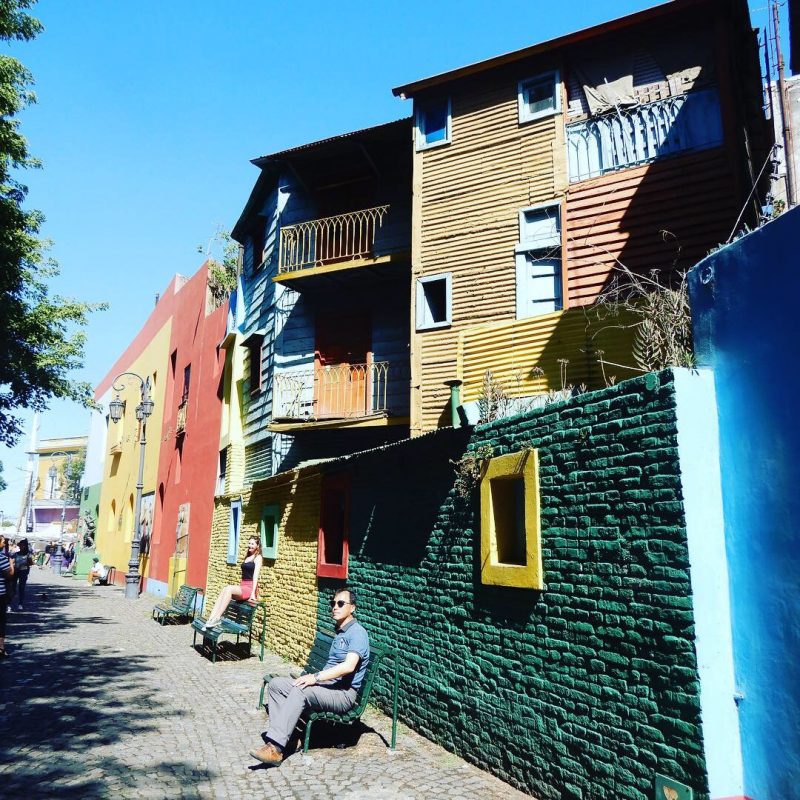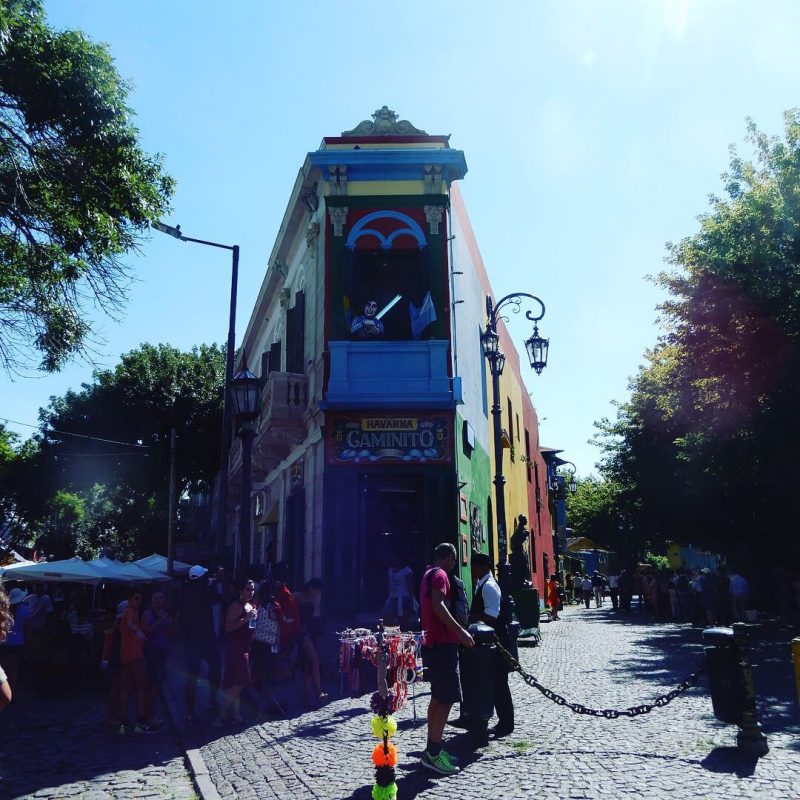 Despite its very touristic feel, it's definitely a must see in Buenos Aires.
Safety instructions
Boca is considered to be a more unsafe neighbourhood. Therefore we planned our visit in the middle of the day and made sure to be back in the safer Palermo neighbourhood after dark. However, it's also important to know that it's best to stay in the touristic areas of La Boca.
Simen had found an interesting restaurant where we could have some parilla for lunch. On the way there, we were stopped and shouted at by a local who very strongly encouraged us to go back to the area of La Bombonera and Caminito. We weren't quite sure why he was shouting, but we both figured it couldn't be anything good. So, we quickly turned back and decided to have lunch elsewhere…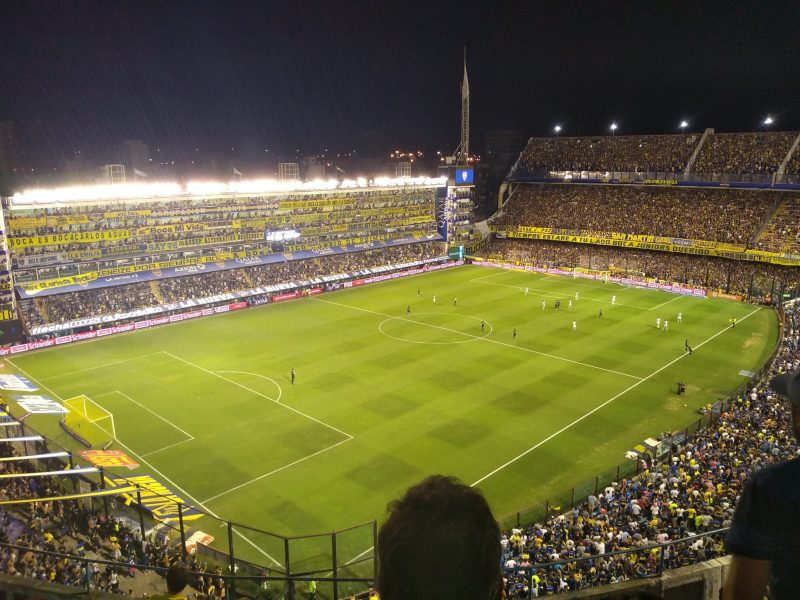 Football game at La Bombonera
Considering that watching a Boca Juniors home game, is on many football fan's bucket list, it comes as no surprise Simen wanted to tick that off his personal bucket list.
After doing lots of research, he found the best travel agency to accompany him to the game. This agency is called Landing Pad and offers several tickets to Boca Juniors and River Plate games. Since Boca is a bit unsafe, like I said before, it's important to go to a game with a travel agency. There are certain rules when it comes to going to the game (don't wear your Boca shirt in certain neighbourhoods, don't wear red/white clothes etc.) and Landing Pad will keep you up to date about all of those.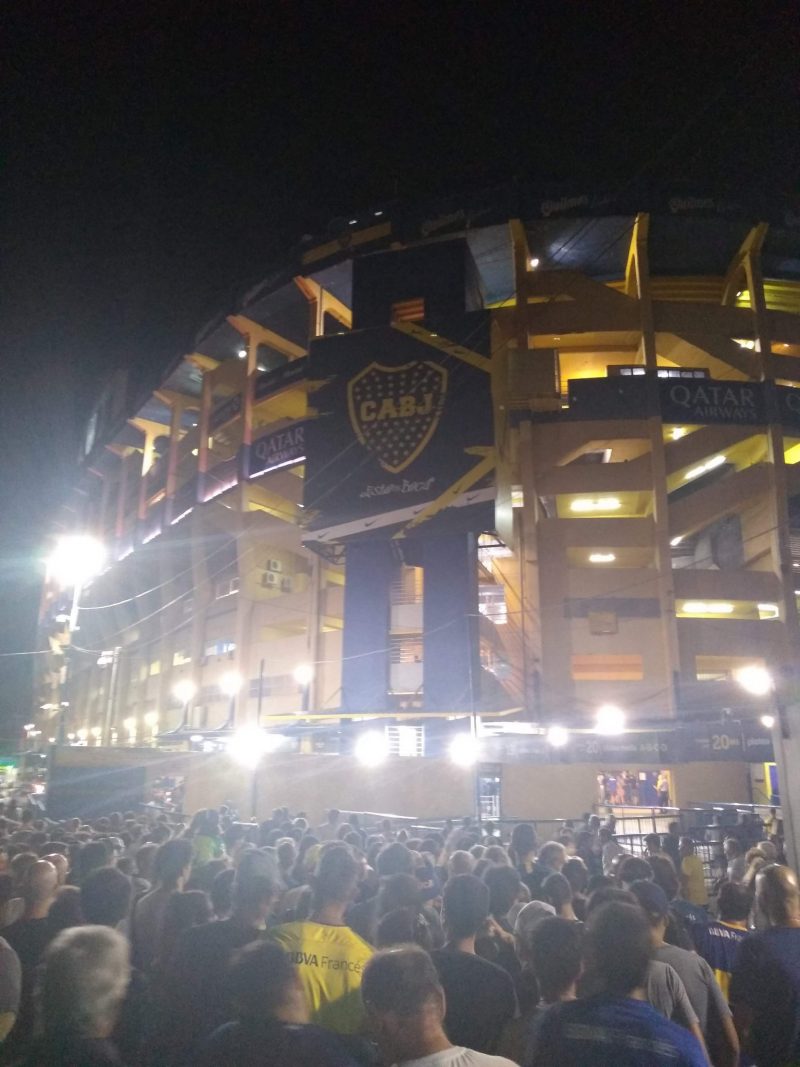 Also, it's apparently extremely hard to get your hands on tickets. A lot of fake tickets are being sold. So if you see a cheapish Boca Juniors ticket, you can be almost 100% sure it's fake. Landing Pad offers tickets from like 150 – 250 euros.
Simen told me the atmosphere in the Bombonera is amazing. People are singing, shouting, jumping, etc. He had an amazing time even though, unfortunately, Boca Juniors lost.
San Telmo Market
San Telmo Market is a market which takes place every Sunday from 10 AM to 4 PM at Plaza Dorrego. It's mainly an antique market, however, the market has expanded over several blocks (in Defensa, starting from Plaza de Mayo) and is full of stalls selling artesanal handcrafts.
Since we're not particularly fans of antiques, we actually enjoyed strolling those handcraft stalls a lot more. It's so cool to see how creative people are and what they can make with their own hands and minds.
There's also a small food market located in Defensa (the street which connects Plaza de Mayo with Plaza Dorrego) where you can buy home made dulce de leche or where you can try bondiola or choripan on the barbecue.
It's a very nice way to spend a Sunday afternoon!
Museum Nacional de Bellas Artes
I was quite surprised when Simen mentioned that the National Museum of Art houses works of Rubens, Van Gogh, Rembrandt, Jackson Pollock, etc. We were both intrigued. Which is surprising, since we hadn't been to one art museum since we left for our trip. But, it sounded like the museum had an amazing collection, and from what we read online, entrance was free!
So, we decided to pay the museum a visit. As expected, due to Argentinian recession the entrance was no longer free (for foreigners). However, it's still very cheap. We paid 150 pesos each (around 1.80 euros) to get in.
The museum has 3 floors full of beautiful paintings, sculptures and artworks. I was very surprised to see that a big part of the ground floor was dedicated to Flemish and Dutch painters. We also saw works by Rodin, Manet, Monet, Kandinsky, etc.
The museum was very interesting and definitely a must if you're into art!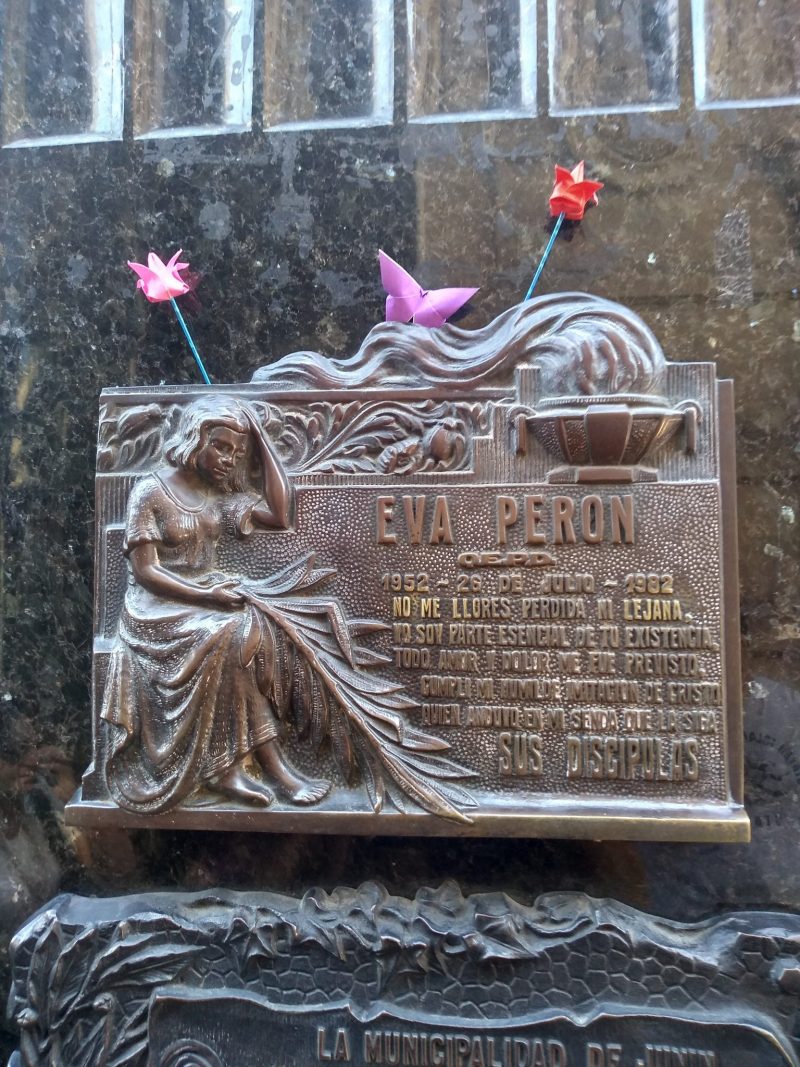 Recoleta Cemetery
I always think it's a bit macabre to have a cemetery as one of your major attractions, however Recoleta Cemetery is definitely a interesting place to visit.
I don't know that much about Argentinian history or its famous people, but in Recoleta Cemetery you can visit the graves of Eva "Evita" Peron, Argentinian presidents and Nobel prize winners.
The cemetery is full of stately and big mausoleums. It is actually considered one of the 10 most beautiful cemeteries in the world.
Japanese Garden
The last couple of days it's been excruciatingly hot in Buenos Aires. To get some shelter from the heat, we decided to go to the Japanese Garden.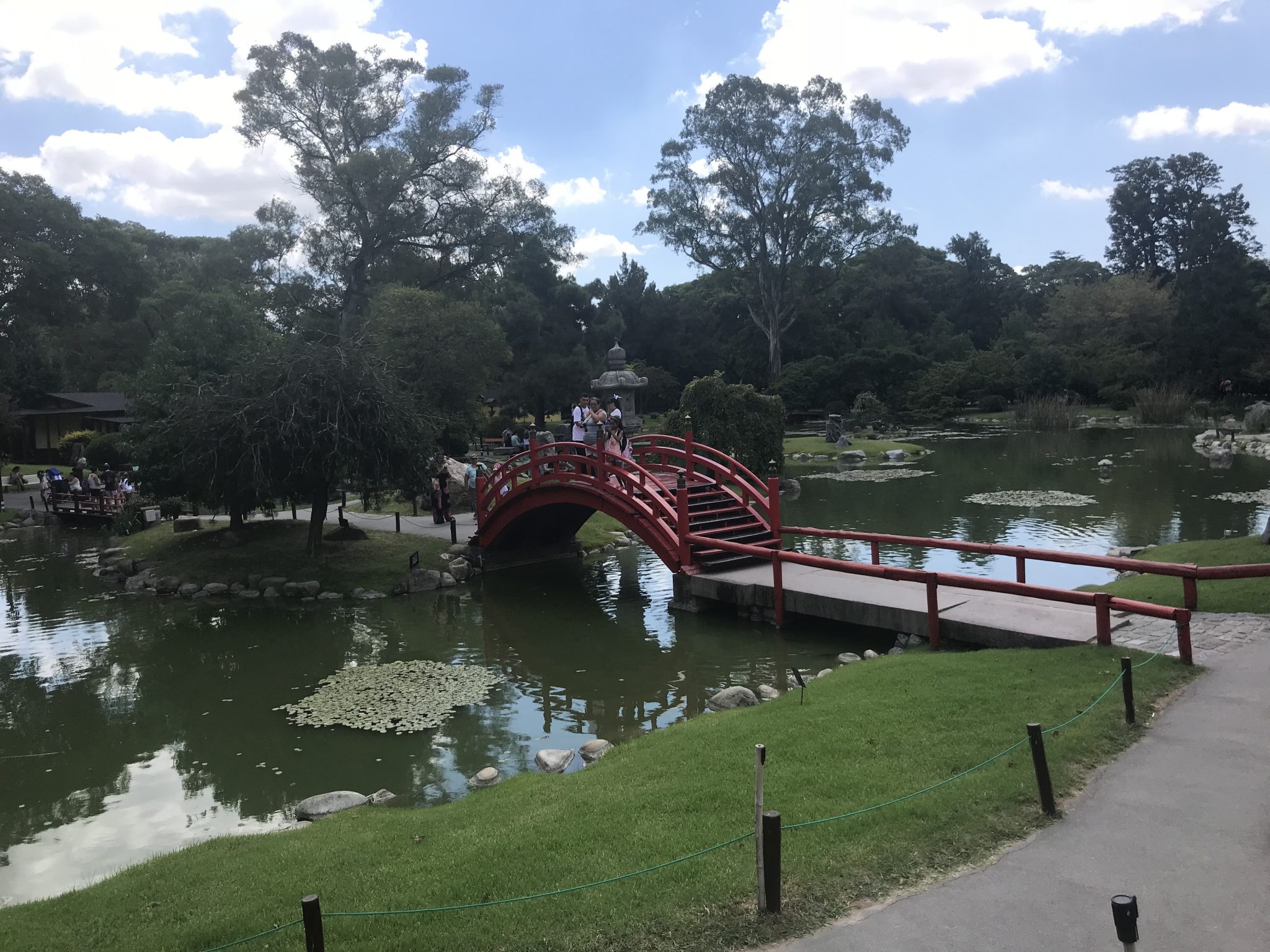 To enter this beautiful garden, we paid 150 pesos (1.80 euros). It looks like a small oasis in the middle of a bustling, hectic city. There are several koi-ponds, red bridges and Torii Gates. We walked around for about an hour, and we both agreed that the gardens felt very peaceful.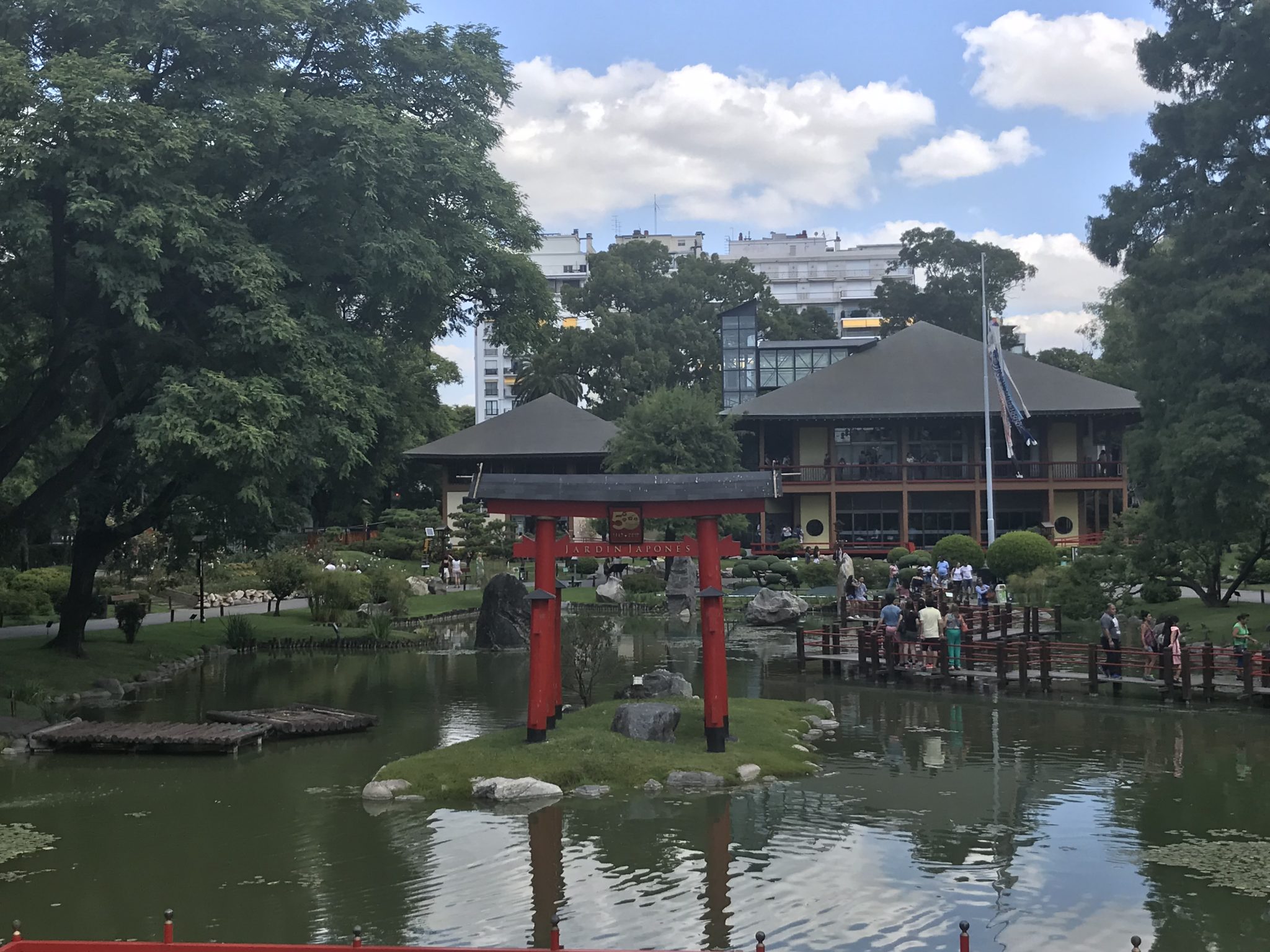 There was also room for some pictures of all of Japan's provinces, which made it clear to us: Japan is rightfully on our bucket list. Maybe it'll be our next big destination after we come back from our trip?
Other nice places to visit in Buenos Aires:
Palermo: this is one of the most modern and safe neighbourhoods of Buenos Aires and is full of cosy bars and restaurants. It's an ideal place to stay when you're in BA.
Recoleta: just like Palermo, it's very modern and safe. You'll find tons of nice restaurants and bars here. This is also a good place to stay.
El Ateneo library: one of the most beautiful libraries I've ever seen. Although its English section is a bit underwhelming, the library itself is spectacular.