After more than 7 months in the Americas, it was finally time to move on to a new continent. We flew from Buenos Aires to Auckland on 24/02. We will be spending 5 weeks in New Zealand, exploring both the North and South Island. Read more about the first week of our New Zealand Road Trip!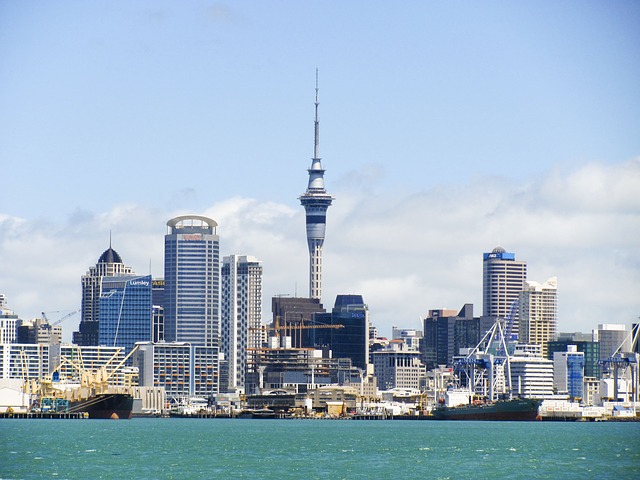 Auckland and Waiheke Island
Our first destination in New Zealand was Auckland. We scheduled 2 days here, which gave us time to explore the city centre and Waiheke Island. Auckland is the biggest city in New Zealand (1.4 million inhabitants, or 1/3rd of the whole population). The city is very modern and full of stores, bars and mainly Asian restaurants. One of the nicest parts of the city is Viaduct Harbour, which is an area located next to the harbour. It's a very nice and upscale area where you can spend some time people watching while enjoying some good food or tasty ice cream.
Because of our massive jet lag (we travelled 16 hours ahead in time), we didn't feel up for exploring much on our first day. After walking around a bit in the harbour area and Viaduct Harbour, we were desperately craving some sleep. We decided to continue sightseeing on our second day. For this day we had planned to go to Waiheke Island.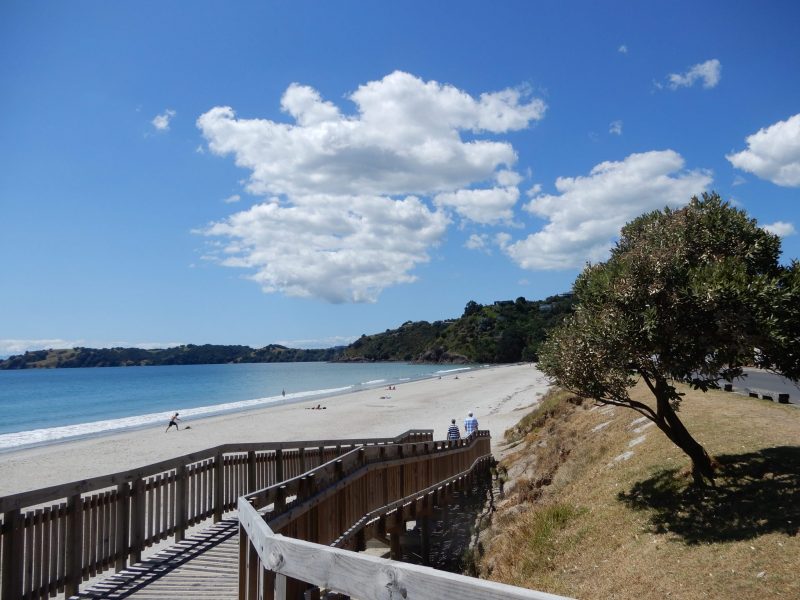 Waiheke Island
The ferries to Waiheke Island leave Auckland Harbour every 20-30 minutes. We paid €40 each for a round trip ticket and the boat ride took 40 minutes. We also had a hop on, hop off tour included in our ticket. When we arrived on the island, we immediately hopped on the bus and were on our way. The hop on, hop off tour takes you through the whole island and has 15 stops. We explored a couple of the small towns on Waiheke Island and also hopped off at the biggest beach (1.8 km) of the island.
Waiheke Island is a gorgeous island. It comes as no surprise the rich and famous of New Zealand have a holiday home on this island. The island is full or rolling hills and boasts some amazing sandy beaches. We also went to the highest point of the island, Batch Distillery, from where you get amazing views over the island and you get to see Auckland in the background.
Rotorua
After a 2-day stop in Auckland, we drove south towards Rotorua. This town is known for its volcanic activity. Here we had planned to visit the Wai-O-Tapu Volcanic Valley. Rotorua is a charming city with about 55.000 inhabitants, located on the shore of Lake Rotorua. Due to the volcanic activity, the city actually has a very "pleasant", rotten egg smell! The closer you go to the lake, the more hot springs you'll find. This also means that the rotten egg smell is even more present there.
Thursday Night Market
As luck would have it, we arrived in Rotorua on a Thursday. Every Thursday, all Rotorua inhabitants gather at the Thursday Night Market. This market is rather small but offers tons of small stalls selling amazingly tasty food. You can find all kind of cuisines here, Thai, Indian, Japanese, Greek, Turkish, Mexican, Argentinian, etc. And the best thing is, most food stalls only charge about 10-12 dollars per meal! It's an ideal way to keep the costs low in expensive New Zealand.
Wai-O-Tapu Thermal Wonderland
The next day, we drove to Wai-O-Tapu Volcanic Valley. This valley is located about 25 minutes south of Rotorua. We paid €19 to enter the park. We made sure to arrive at around 9.30 because the Lady Knox geyser erupts every day at exactly 10.15. As you can probably imagine, this isn't a natural phenomenon. Every morning at around 10.14, the park rangers add some soap to the geyser which causes it to erupt. It was cool to see, but the fact that it was artificially erupting made it a bit less impressive.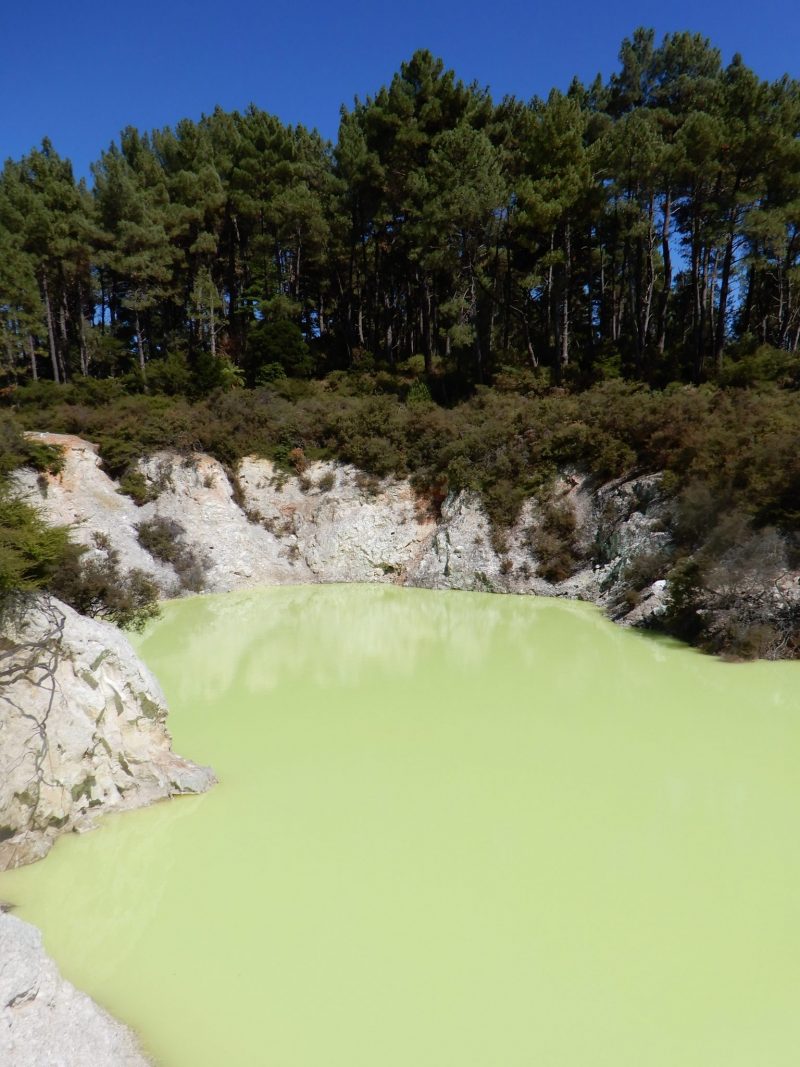 Afterwards, we decided to explore the park. There are 3 loops in the park which take about 90 minutes in total. The first loop is the most entertaining one since it passes by some very beautiful natural phenomenons. I especially liked the "Artist's Palette", "Champagne Pool" and the green water pond.
Hobbiton
The next stop of our New Zealand Road Trip was a visit to Middle Earth. As a big Lord of the Rings fan, I couldn't go to New Zealand without seeing one of the film locations. We opted to go for the Hobbiton Movie set tour, for €50 p.p.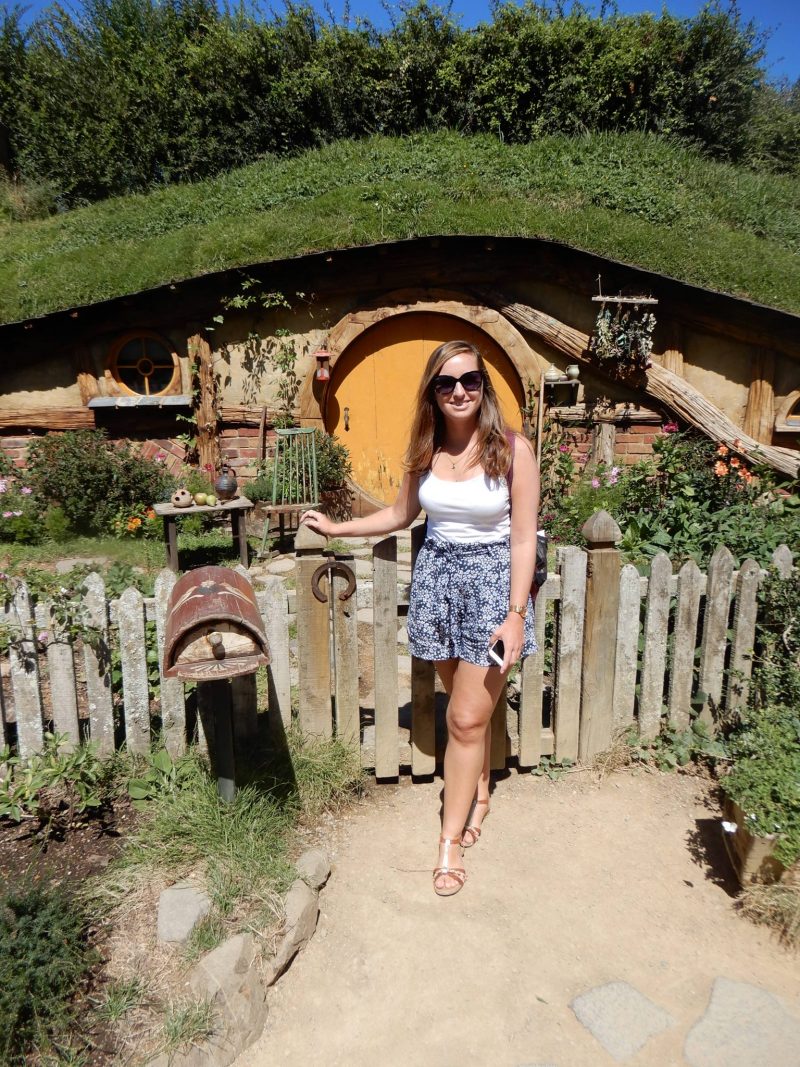 The tour lasted 2 hours and took us to the beautiful town of Hobbiton. This movie set was actually broken down and removed after they finished filming LOTR, but was rebuilt for the Hobbit movies. After they finished filming those, they decided to keep the movie set up and make it available for the public. We got to walk around Hobbiton and see tons of very cute hobbit houses, including Frodo & Bilbo's House and Sam's house!
I really loved the tour, it was so great to walk around the Shire in real life and just see where several scenes were filmed. The hobbit houses are also adorable and I have to admit I googled "how to build a hobbit house" after the tour!
Once the tour was finished we were invited to go to the Green Dragon, where we got a complimentary drink. It's obviously a pretty expensive tour, but it was really worth it! Even for someone like Simen, who doesn't particularly care for Lord of the Rings, it was a very nice experience.
Bridal Veil Falls
After our quick visit to the Shire, we drove towards Hamilton. Here we visited the Hamilton Gardens, which were very nice and are free to enter. Afterwards, we made our way to the Bridal Veil Falls close to the coastal town of Raglan.
The Bridal Veil Falls are very easy to access. It only takes about 10 minutes to get to the top of the waterfall and another 10 to get to the bottom. The waterfall is 55 metres high and is very beautiful! It was a very short stop, but definitely worth it.

Waitomo Caves
We rounded the first week of our New Zealand Road Trip off in Waitomo. Here Simen and I opted for 2 different activities: I chose to do the Waitomo Cave boat ride to see glowworms and Simen went black water rafting.
Waitomo Caves Tour
The Waitomo Cave tour costs €32 and takes 45 minutes. I was under the impression it was a boat ride (it's being sold as such), but it was mainly a guided walk through the cave. My group was pretty big, close to about 40 people, which meant it took a while to walk through the cave. We spent a lot of time waiting and not seeing that much. During the first part of the tour, the guide mainly talked about the cave itself.
Only during the last 15 minutes, he explained a bit more about the glowworms. Afterwards, we had to wait for another 10 minutes before we were allowed to get on the boat. I was very happy to finally start the boat ride but was very disappointed to see the boat ride only took 2 minutes. We drove through only 1 cave, with millions of glow worms, and afterwards the tour was finished. The price of the tour felt very steep compared to what you get in return… I was also not allowed to take any pictures in the cave but was offered the possibility to buy the picture they had taken of me in front of a green screen before the start of the tour.
Black Water Rafting
Simen, on the other hand, wasn't disappointed with his black water rafting tour at all. He paid quite a bit more than me (€90), but he was very happy with his experience. Black water rafting is not really rafting per se, it's more tubing down a river in a cave. The whole experience took 3 hours while they explored the caves at 65 metres depth. On the way they also spotted a couple of glow worms, but not that many. If you want to see glow worms, black water rafting isn't the best option. If you enjoy adrenaline, it's definitely something for you!
Read my next blog "New Zealand Road Trip: Week 2" here.