In 2014 one of my biggest traveling dreams came true: visiting the United States. I had always been fascinated by this country and I couldn't wait until I could go there myself. I spent 5 weeks driving around the country with my dad and made memories I will never forget. This is by far still my favorite holiday ever. We decided to go to the West coast and drive around California, Nevada, Utah and Arizona. And everyone knows, you can't visit those states without visiting the mighty Grand Canyon!
And boy did we visit it! We drove from Grand Canyon village to see the South rim, to the North Rim and on the way to Las Vegas we made a 2.5 hour detour to visit the West Rim.
Maybe you're thinking about going to the Grand Canyon as well, but you're not sure which rim to visit? Below I will give you some more information about the different rims to make your decision hopefully a bit easier!
South Rim of the Grand Canyon
Based on my personal experiences, the South Rim is the most visited side of the Grand Canyon. We saw tons of other tourists here; admiring the grandeur of this wonder of nature. There were a lot of stops where you could overlook the canyon (but can you really overlook it if it's that big?), and there were tons of different hotels where you could spend the night. My dad and I didn't book any hotel and opted for setting up our tent on one of the campsites.
This side of the Grand Canyon is easily accessible from a lot of major cities, so that might also explain why we saw a lot more tourists here. On this side you will also find a lot of visitor centers and there are plenty of options for several activities. This seems to be the more touristy side of the canyon.
So if you like visiting a place that is bustling with activity, has tons of options for accommodation and lots of activities, this is probably your best shout.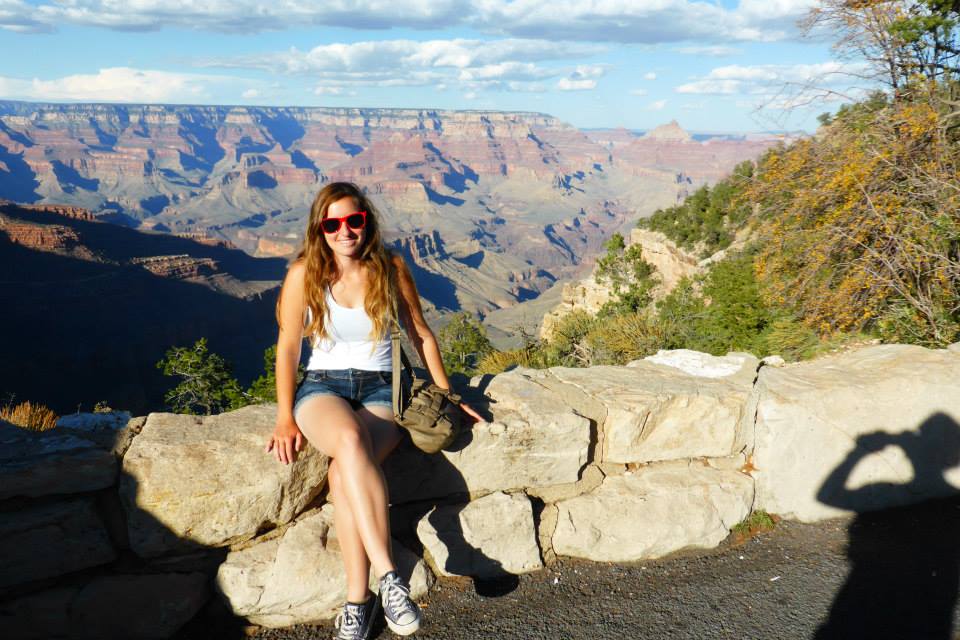 North Rim
While driving to the North Rim, I already realized this side was much calmer. We didn't see as many cars or people. The drive up was also incredibly beautiful, with amazing landscapes and wildlife. Once we arrived at the visitors center, we still hadn't encountered many people. It almost felt as if we were completely alone. When we admired the view from Bright Angel Point, we were accompanied by maybe a dozen other people. It never felt crowded, there were also no queues or anything. It was really nice to get the place almost to ourselves.
After that we hopped into the car to drive towards Angels Window. Once again, I feel like repeating myself, there were barely any tourists there. If you'd like to visit the magnificent Grand Canyon in all peace and quiet, then the North Rim is definitely for you.
West Rim/Skywalk
I will be honest with you, visiting the West Rim and the Skywalk was the biggest disappointment of my entire trip. It started off with the price of the entrance tickets. For two people we paid close to 150 dollars just to be able to enter the area and walk on the Skywalk. We were a bit taken aback by the expensive prices, but we figured it would most likely be worth the money. Only, it wasn't really.
We had to put all our belongings in a locker. This included our camera and phone; we were not even allowed to take pictures ourselves! Since we already paid a lot of money, I had kind of assumed we could take our own pictures. When you walk on the Skywalk, a professional photographer will walk with you and take several photos which you can later buy for 10 dollars a picture. I ended up buying one picture just to have a souvenir. The Skywalk itself wasn't that spectacular either, so I ended up being quite disappointed with my West Rim experience. I also felt like the views at the North and South rim were much more spectacular and impressive. The canyon wasn't as deep at the West Rim as it was at the other rims. I would really not advise anyone to make the 2.5 hour detour from Las Vegas to the Skywalk, it's just not worth it. You're much better off at both the South and the North Rim!