After 4 days in Quito, we decided it was time to go to Cotopaxi National Park. We got picked up by the Wanderbus at 6 AM to travel towards Cotopaxi. About 2.5 hours after we left, we finally arrived at the national park.
We were unfortunately very unlucky with the weather, because it was extremely foggy and impossible to see anything. We basically should've been able to see Cotopaxi Volcano from the moment we entered the park, but we couldn't see any further than 2 metres in front of us. The bus drove us to Laguna de Limpiopungo where we went on a 1 hour hike together with our guide and fellow travellers.
The minute we stepped off the bus we were almost blown away by the fierce wind. Luckily, we had brought our hats, gloves and thermal underwear, which Simen decided to put on in front of everyone else (while it was about 5 degrees outside!). The hike around the lake was quite nice, and sometimes we got to see a glimpse of the majestic Cotopaxi Volcano. It was also a nice opportunity to get to get to know the people in our group. After the short hike, the bus dropped us off at our hotel (Hotel Rondador, we'd definitely recommend it!).
Hike to Cotopaxi refuge
Hotel Rondador was very nice and super cosy. It was a bit cold inside, but they provided us with a small heater which heated up the room in no time. The next day we decided to hike to the refuge, or Cotopaxi base camp at 4800 metres. Because you can't enter the park without a guide, we organised a guided trek to the refuge for 30 dollars per person. Simen was a bit worried about altitude sickness, because he had been struggling in Quito. Since the refuge is located 2000 metres higher than Quito, he decided to take his precautions.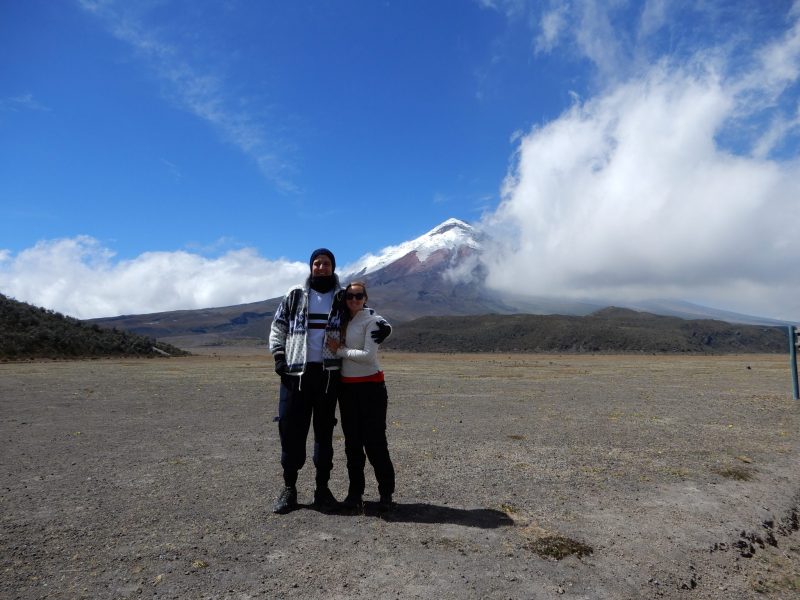 However, it wasn't Simen who suffered from the altitude, but me. We drove with a jeep to about 4400 metres altitude, from where we'd start the 1 hour trek to the refuge. Once we stepped out of the car, we once again were almost blown away by the wind. It was actually quite uncomfortable to walk, and the wind made it really hard to breathe. But we were here now, and we had paid for it, so we decided to go through with the hike.
The easiest trail to the refuge is the zig-zag trail. A lot of people opt to go for the trail that goes straight to the refuge, but this is extremely steep and makes the hike at this altitude even harder. It took us about 55 minutes to reach the refuge, and I have to admit, I was very happy to finally arrive. Inside I had to sit down for a bit because I felt dizzy and lightheaded. The guide wanted to take us even higher, to 5000 metres, but because I wasn't feeling well, we decided to hike back down. Once I was at a lower altitude, I immediately started feeling better again, luckily!
Hike to Quilotoa Lake
On Friday we got picked up by the Wanderbus. Much to our surprise we were the only two people on the bus! We basically got our own private guide and bus, which was really cool. The first stop on the way to Quilotoa was a small town called Pujili. Here we visited the local market and tasted lots of interesting things such as cow's intestines and weird fruits. Later that day we also tried guinea pig for the first time, which we both didn't like that much… It was extremely chewy and we wouldn't order it again. Also, our guide told us it's an Ecuadorian delicacy and it costs about 20 dollars! Definitely not worth it…
After that final stop, we drove straight to Quilotoa. Here the guide suggested to walk down to the water (about 400 metres dislevel, 40 min down and about 1-1.5 hours up). Quilotoa used to be a volcano which exploded and then filled with water. When you get down to the water, you can still smell the sulphur. The hike itself wasn't very comfortable, the trail is very slippery and we both weren't wearing the right shoes.
The surroundings, however, were very nice. The lake and the surrounding hills are very impressive! The hike back up was even harder, lot's of people had to take breaks to catch their breath. The trail is relentless and extremely steep. We both were very happy to be back at the starting point! It was time for the guide to leave for Banos, so we said our goodbyes after she brought us to our hostel.

"Cosy and warm" hostel in Quilotoa
Speaking of which, the hostel was the worst one of the trip so far. I had found the hostel on Booking for 40 dollars per night, which is actually very expensive for Ecuadorian standards. Because we couldn't find many other hostels in Quilotoa, we decided to go for this one. Boy, did we regret that… The minute we stepped inside, we realised the hostel wasn't heated in any way. The owner of the hostel showed us our room, and our hearts dropped. There were cracks in the window… There was no toilet seat, no shower curtain and it was quite dirty. Did we really pay 40 dollars per night for this?
We decided to make the best of it and closed the curtains and stacked our packing cubes in front of them to make sure the wind wouldn't blow inside. The curtain however, moved constantly, so we knew it was going to get very cold at night. We put on our hats, gloves, thermal underwear and got under the 4 blankets. We both realised this was unacceptable, and asked if they had any kind of heater. Of course they didn't have one… Simen didn't want to sleep in this room, so he complained and we got a new room. This one didn't have a window at all, but at least this meant there wasn't going to be a draft inside… However, it was still very cold inside. It was about 6 degrees and we slept with our thermal underwear, hat, gloves and warm socks on.
And it managed to get even worse…
Both breakfast and dinner were included in the price, which, we thought, would make up for the horrible room. Once again we were wrong. Breakfast was basically old and dry bread with scrambled eggs and dinner was soup and rice with extremely dry chicken (every single day). You get the picture, we weren't happy at all with our hostel…
What made matters even worse was that there seemed to be no warm water either! The owner of the hostel told us she just had to switch on the warm water for us to enjoy a warm shower and to heat up a bit. "Warm water" basically meant: not even lukewarm water which lasted for only 2 minutes. Honestly, we wouldn't recommend anyone to go to Hostal Conejito in Quilotoa! We were freezing for 3 days and couldn't even take a shower to warm up…
Hike around Quilotoa lake
The main reason for going to Quilotoa was to hike around the lake (which takes in between 4-5 hours). On Sunday we decided to go for it. It was, once again, very windy, so we made sure we left well prepared. The start of the hike was very nice. You're basically constantly walking on the crest of the mountains surrounding the lake, which gives you amazing views. On the way we met an American woman called Jolene (never happened to me before!) who lived in Oslo for 20 years! What are the odds?


About halfway through the hike, Simen started to feel unwell… Every time we had to climb, he felt nauseous, dizzy and could barely move. He had a serious case of altitude sickness. Every 5 minutes we had to sit down and rest, to make sure he was okay to continue walking. The only cure for altitude disease is going to a lower altitude, but unfortunately, we had to hike to the highest point before we could do that. At some point it looked like he was going to faint… I really started to worry I'd have to call an ambulance or a helicopter to come and pick us up.


Through a lot of willpower, lots of breaks and pep talks we managed to finish the hike in 5 hours. The minute we were walking on flat surface, Simen felt a lot better. We have a 5 day hike coming up in Peru (to Machu Picchu), so we have to make sure we're very well prepared for that. We've already decided we're going to go to Cusco several days in advance so we both have enough time to acclimatize and get used to the altitude.
Next stop: Banos
After 3 days in Quilotoa, and that dreadful, dreadful hostal, we were both very happy to get on the Wanderbus to Banos. We're going to stay here for the next 4 days. Banos is known as adventure paradise, because it's the ideal spot to go rafting, ziplining, canyoning, etc.
I will keep you posted about our adventures in Banos!