Today's blog was written by one of my friends, founder of www.fitmetlien.com. Lien loves running, cooking and traveling, which are also the three main topics of her blog. It's a very fun to read and interesting blog! So if you speak Dutch you should definitely go check it out!
Dear readers of Jolene's travelblog: before I tell you a bit more about Canada, I would like to introduce myself first. My name is Lien Robberechts. I met Jolene while we were both studying journalism in Antwerp back in 2013. I love traveling, long-distance running and cooking. Last summer I went to Canada to do exactly those three things: train for a marathon (and hiking) and eat a lot of very tasty food. In this blog post I would like to take you to the beautiful Sunshine coast.
Vancouver
Our trip started in Vancouver after a flight of a 9 hours (we left from Schiphol in Amsterdam). Once we arrived, we immediately explored one of the hotspots if you're into nature, adventure and going for long walks: Stanly park. Stanly park is a public park located in Vancouver Harbour and English Bay. The park is amazing, but be aware of the fact that it takes you about 2 hours to run around it (20 kilometers). Everything in Canada is bigger, more impressive and vaster than us Europeans are used to. So take your time to stroll through the massive park whilst checking out the totems, hummingbirds and racoons and enjoying the views over the almost seemingly endless ocean. If running for 2 hours sounds a bit too long to you, you can always choose to explore the park by bike.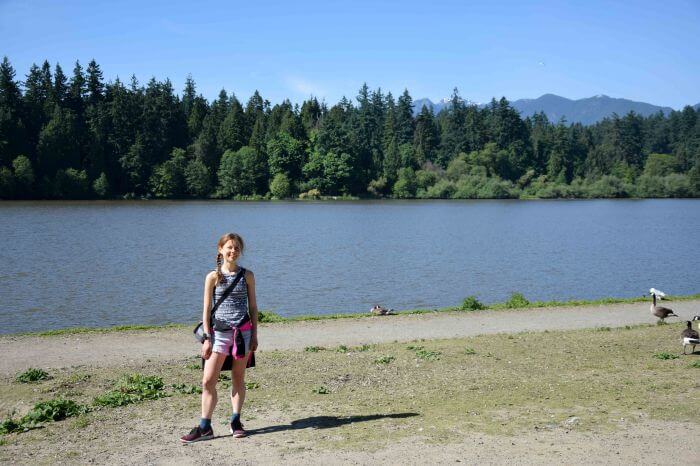 Looking for a nice breakfast spot in Vancouver? I would definitely recommend Cora Breakfast and lunch. We discovered this Canadian chain restaurant on our first day because we wanted to have an early breakfast close by our hotel (1368 Robson St, Vancouver): North-American portions, lots of fresh fruit and delicious pancakes… You will be spoilt for choice and the friendly waiters and waitresses fill up your coffee regularly. It was just AMAZING!
After Vancouver, we made our way over to Squamish and Whistler: this meant we were going inland. If you're taking the same route as us, don't forget to go to the Capilano Suspension Bridge. Here you get amazing views, unless you're afraid of heights of course! It's a Canadian style theme park: there are no rollercoasters, but you can take a walk on the wild side by hiking the footbridges which tower 33 meters above the forest floor. Some of them are even made out of glass! The food here is very tasty, which is also important of course! When you go to a theme park in Europe you can only choose between different kinds of fastfood. This is, however, not the case in Canada. We enjoyed grilled salmon straight off the barbecue, homemade 'dirty fries' and a quinoa salad!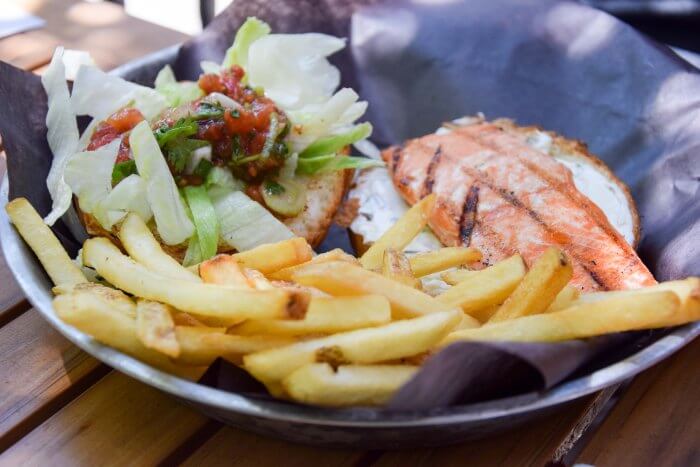 Grouse mountain and Whistler
Grouse Mountain is located a couple of kilometers away from the Capilano Suspension Bridge. The view is amazing, but as someone who regularly runs marathons I would like to add that the hike isn't for everyone. You have to hike for 2.9 kilometers while conquering a 900 meter dislevel. Hike at your own risk. Interesting fact: you can take the saying "the only way is up" quite literally since once you started making your way up, you can only go down by taking the cable car because of loose rocks. In other words: once you started making your way up, you have to power through until the bitter end.
There are plenty of opportunities for hiking in Whistler, but it's not very convenient to find a hotel or bed and breakfast here. Therefore, we stayed at the Mountain Retreat Hotel in Squamish, a hotel I would definitely recommend! The rooms were very spacious, Walmart was close by, we could swim in the lovely pool… And restaurant Timberwolf, located next door, serves tasty food in Canadian portions (as in: extra large), which I noticed when I ordered the eggs benedict and got a massive portion!
I ran my first 24k here: the surroundings were breathtaking, but be aware of bears! Squamish is the home of grizzly bears, known for being more aggressive than brown bears.
I would like to give you a tip if you're planning on running in the Canadian forests. Carry some coins in your camelbak or jacket. You can of course also decide to start singing, but this isn't very beneficial for your breathing (and in my case, for your ears).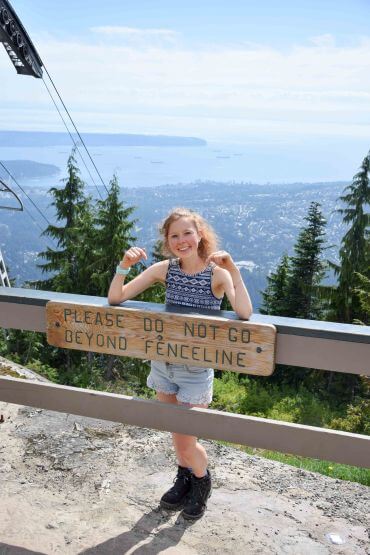 Whistler
Whistler is not only an amazing area if you love skiing, but you can also go on beautiful hikes here. You can find lots of information in the tourist information center. Here you can choose a hike based on your level of expertise and experience. We opted for the Little and Big Burn since, unlike other hikes, the track wasn't covered in snow. The hike took about 2 hours and was quite steep at times, but the views were so worth it! Afterwards we took the chairlift to Blackbomb Mountain where we enjoyed a lovely and tasty Thai meal. Once again, you couldn't find any fastfood here. You could however enjoy decent and substantial hiker food. Afterwards we took the peak-to-peak gondola (WHAT A VIEW!) and took the cable car back down.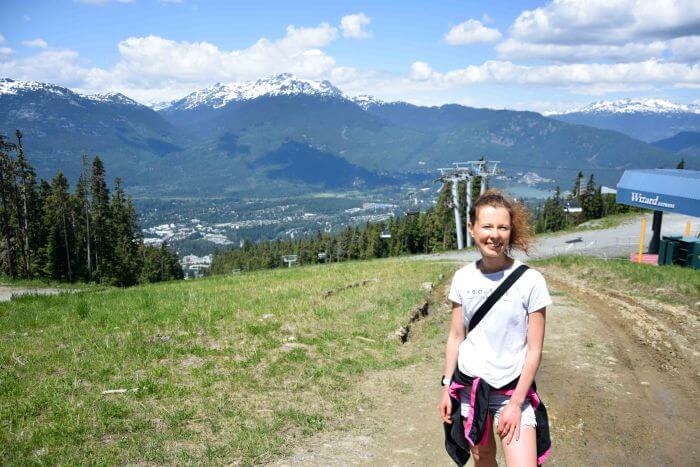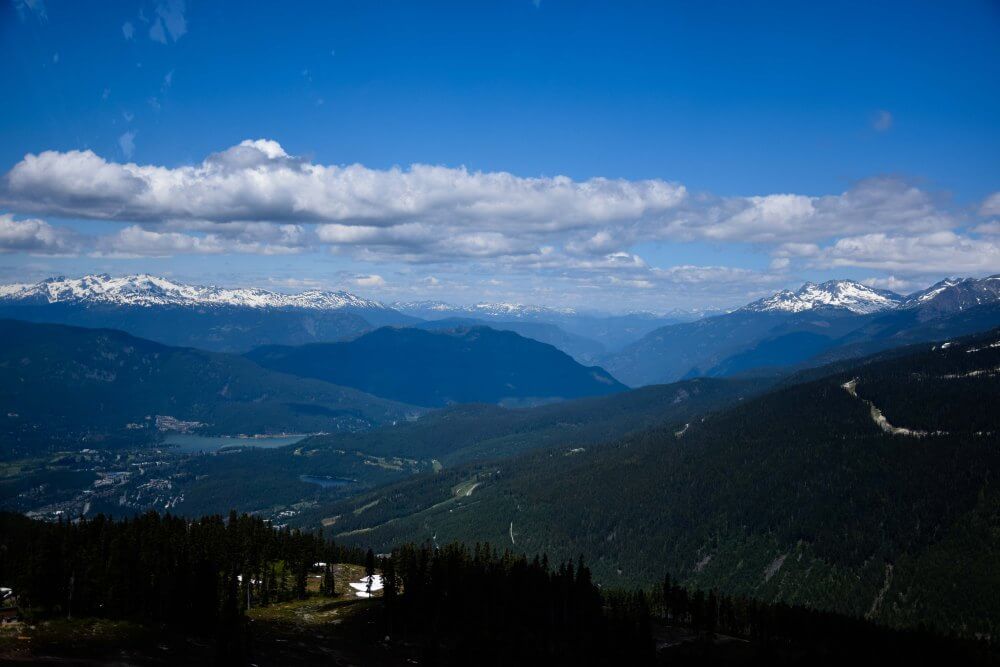 Sunshine coast
We returned via Vancouver to take the ferry to go in the direction of the Sunshine Coast. Here we stayed at the Madeira Park Bed & Breakfast, my personal favorite of the trip (5175 Wesjac Road Madeira Park, BC). The rooms come with a jacuzzi and have the most amazing view ever: a bay full of small boats bobbing up and down on the piercing blue water, and at night a thousand stars light up the sky. The hosts were SO kind and passionate. They served us a delicious 3 course breakfast. I would definitely recommend this Bed & Breakfast to anyone!
While I was here, I did quite a lot of runs. During one of my runs, I made my way over to Pender hill. This is a hike which is not very well known among tourists. This meant that it was very calm when I made it to the top of the hill! It is also the perfect spot to shoot beautiful Instagram pictures: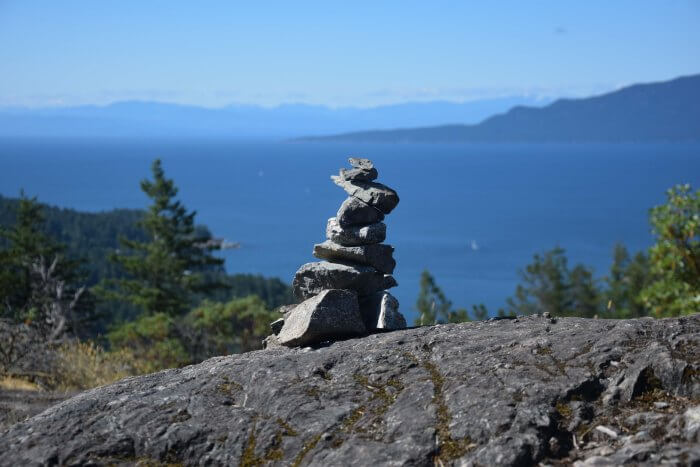 The Sunshine Coast is also the perfect location for whale watching. I booked this trip with Ocean Ecoventures in Belgium. It was the most expensive activity of the trip (it cost 94 euros), but it was so worth it. I deliberately chose to go there with a small group of people (only 12 people), instead of opting for another company which sails out with 10 boats. The boat itself was also very stable, which is perfect if you tend to get seasick. Moreover, they invest a part of the money you pay in maintaining the natural habitat of the animals. Personally, I'd rather spend my money on this than on e.g. 10 key chains to prove I love Canada.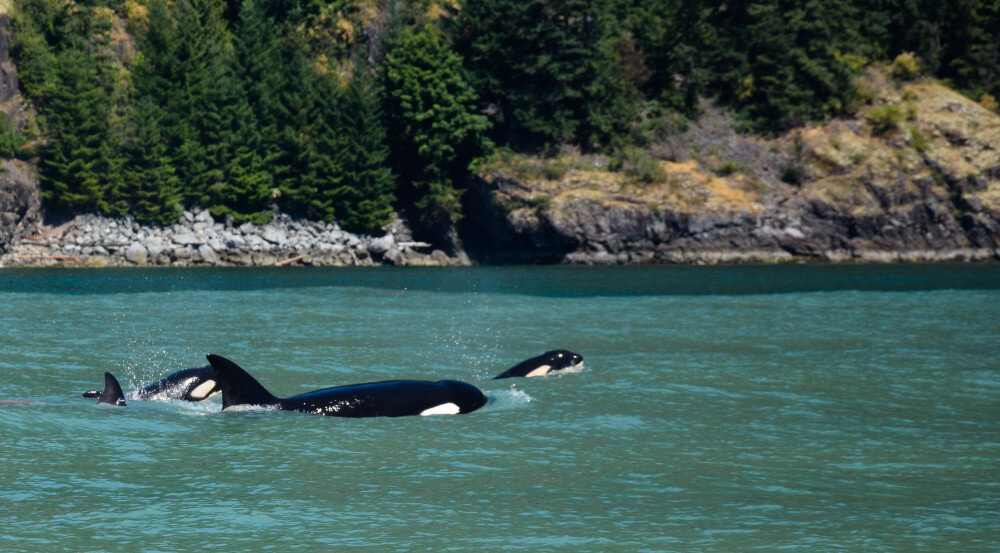 Foodwise, I can't really recommend much except for the Grasshopper Pub. The hosts of our B&B told us to try it out because the food is very tasty and fresh. The staff of the pub is very friendly, and the location is superb (12671 Sunshine Coast Hwy, Madeira Park, British Columbia V0N 2H1, Canada). The food was delicious, although I wouldn't have minded a bigger portion, which doesn't surprise anyone anymore!
Time for another tip: in Canada it's expected you always pay a tip of at least 20%. So do take this into account when you're eating out.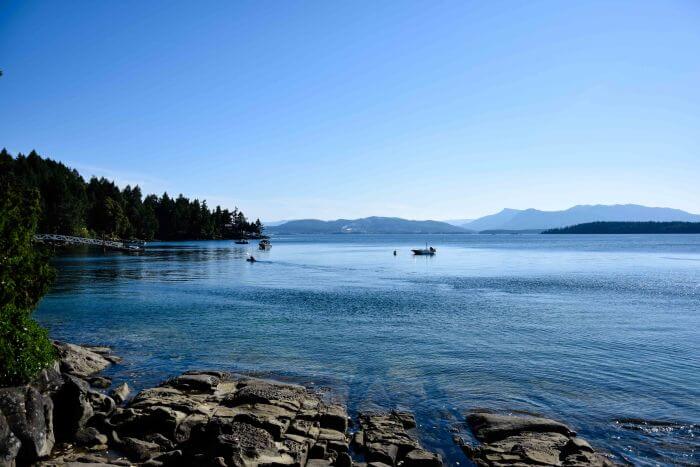 After this trip, we made our way over to Vancouver Island and Salt Spring Island for a wedding. This blog post, however, is already more than 1000 words long so it's time to round off! Would you like to know more about the rest of the trip? Or are you interested in other tasty restaurants or good running spots? Feel free to leave a comment!