Exactly one year ago I was exploring the 'roof of the world', Nepal. As I already mentioned earlier, there are a couple of things you should know before going there. In this article I may have painted a rather negative picture of the country, but that was only because I wasn't quite prepared for what was waiting for me. Today I would like to tell you a bit more about what you can visit and do in Kathmandu; because despite the high noise and smog levels, I really enjoyed my time there.
Durbar Square
Durbar Square is probably one of the most known highlights of the capital of Nepal. This massive square is located in the heart of Kathmandu. Unfortunately, after the massive earthquake of 2015, a lot of century-old temples and buildings on Durbar Square were left damaged. This became quite clear when I was walking around on Durbar Square since lots of temples hadn't been rebuilt yet.
However, despite the damage Durbar Square should definitely be high up on your list. You can visit or admire 50 different temples which were built in between the 16th and the 18th century. Before entering the square, all foreign citizens will be asked to buy an entrance ticket which costs 1000 rupees, or about €10. Even though the entrance fee is quite expensive (for Nepalese standards), Durbar Square is definitely worth a visit. Here you'll find temples in which some of the old Nepalese kings resided. The ones I liked the best were: Taleju (the biggest temple), Jagannath, Kal Bhairav, Swet-Bhairav, Kaandasthamp and Nautale Durbar. Luckily, all these temples are within walking distance and you can visit them in just a couple of hours.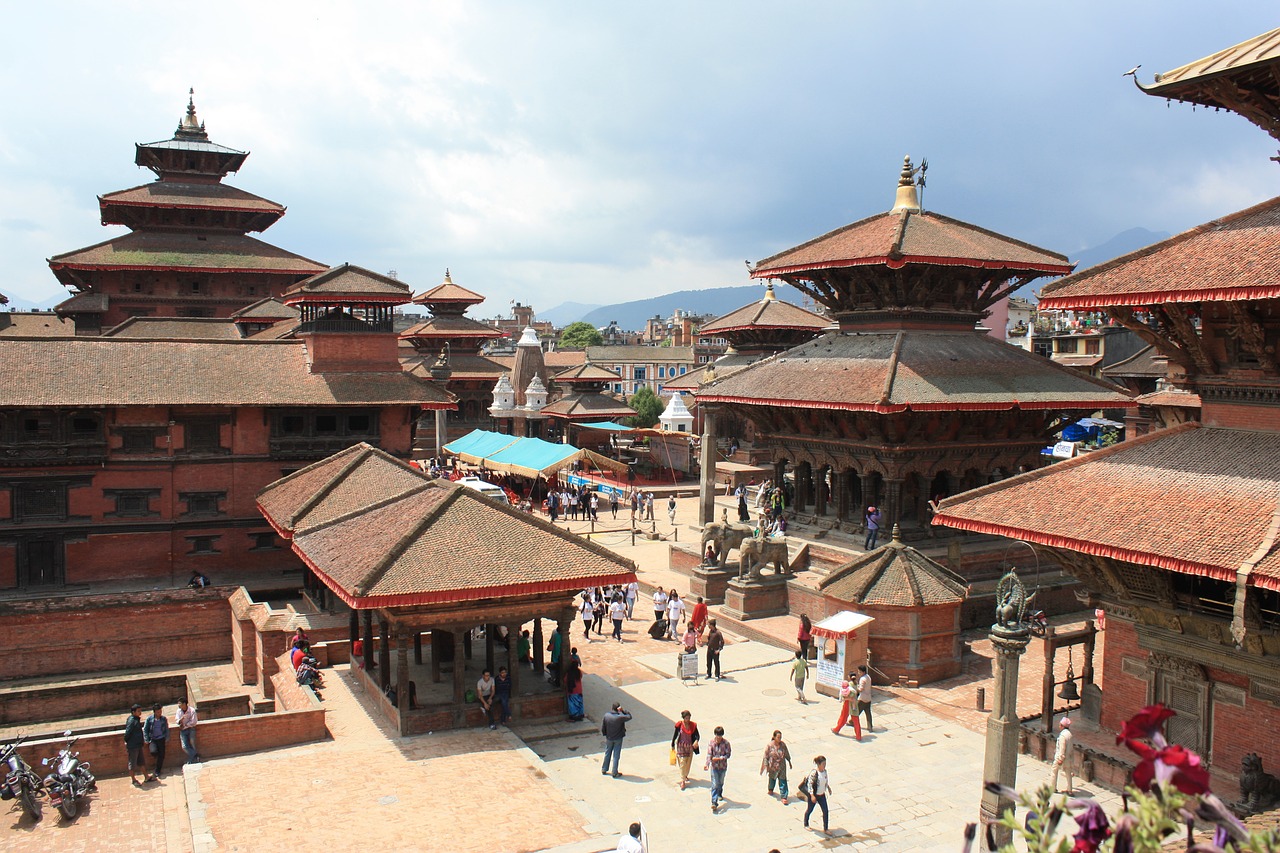 Swayambhunath (Monkey Temple)
Swayambhunath Temple is located on top of a hill, 3 km west of Kathmandu city center. You can reach this hill in two ways: you can either take a cab which will drive you all the way to the top, or you can choose to climb 356 steps. I decided to go for the last option. Once you arrive at the foot of the hill, you will understand why this temple is also called the "Monkey Temple". While making your way up, you will be accompanied by hundreds of monkeys!
Don't underestimate the climb to the top. When I visited Swayambhunath, humidity levels were at 90% which caused me to sweat like never before. However, once you arrive at the top you will be rewarded with an amazing view all over Kathmandu. You will see hundreds of thousands of small houses all seemingly attached to each other. You'll spot the beautiful hills surrounding the capital. It will be so worth the effort!
The Swayambunath Stupa is the oldest one in its kind and was already built in the 5th century! Take your time to walk around the massive Stupa, stroll on the surrounding square and admire the other small temples which are also located on top of this hill. Definitely one of the highlights of Kathmandu!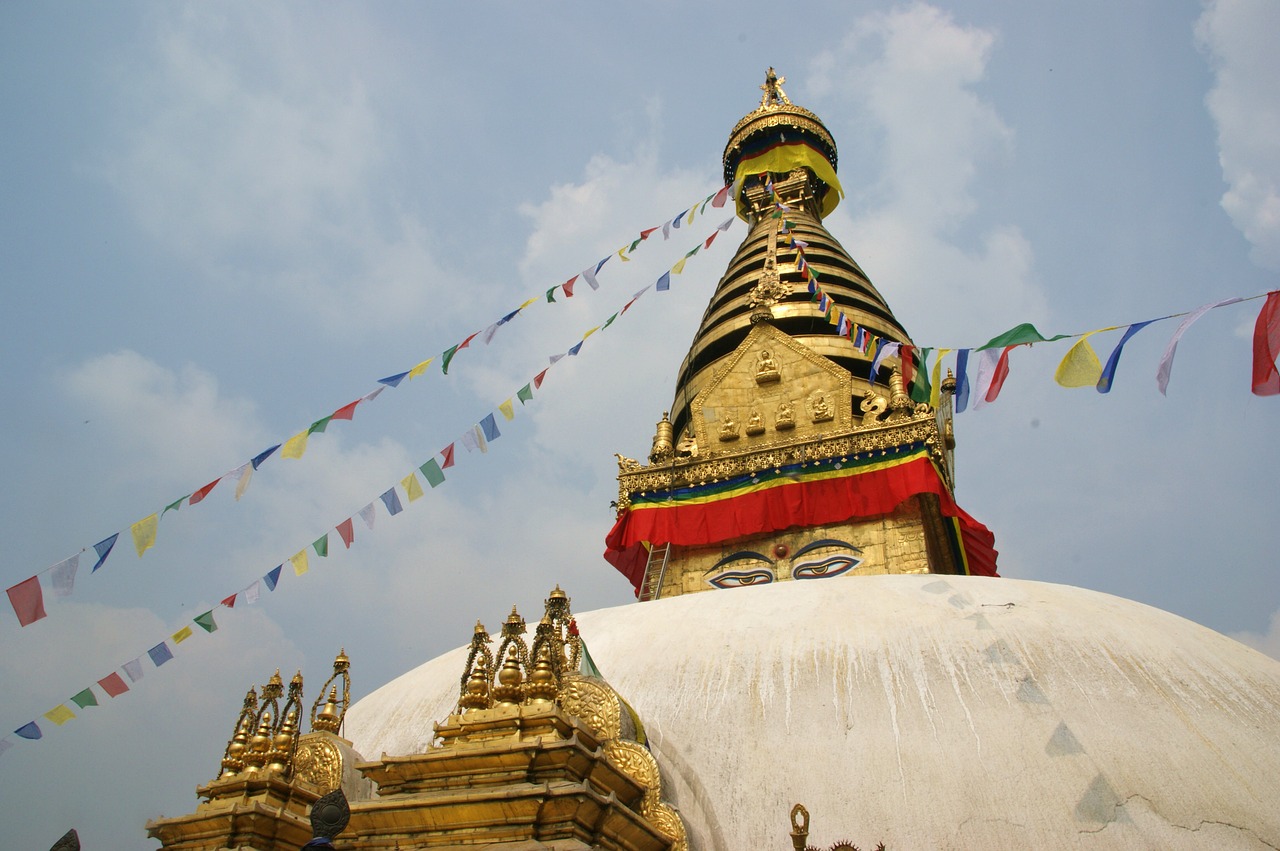 Pashupatinath
The Pashupatinath complex is located on both sides of the Bagmati river and consists of a staggering 518 temples. The Pashupatinath temple is one of the most holy temples of Hinduism. Hindus spend the last weeks of their lives in this temple and are cremated on the river banks. According to Hinduism, people who die in the Pashupatinath temple will be reborn as humans, regardless of their karma or the way they have lived their lives. The last journey Nepalese Hindus make is one that takes them from the Bagmati River to the Ganges, the holy river.
As a tourist, it is basically impossible not to witness these cremations. Before going to Nepal I had heard about the cremations taking place here, and I actually didn't want to see them. However, since they are taking place on the river banks, it's hard not to accidentally witness one. Even though I didn't want to see one, in hindsight I am actually happy I did. It was very impressive to see how Nepali people deal with death. It is so different compared to Europe. A Nepali man also told us that wives used to be cremated alive with their deceased husband! Luckily, that is no longer the case now.
Unfortunately, if you're not a Hindu, you cannot enter the biggest temple of the complex. However, since you can visit and admire hundreds of other temples at Pashupatinath, this should also be on your to-do list. Tickets also cost 1000 rupees.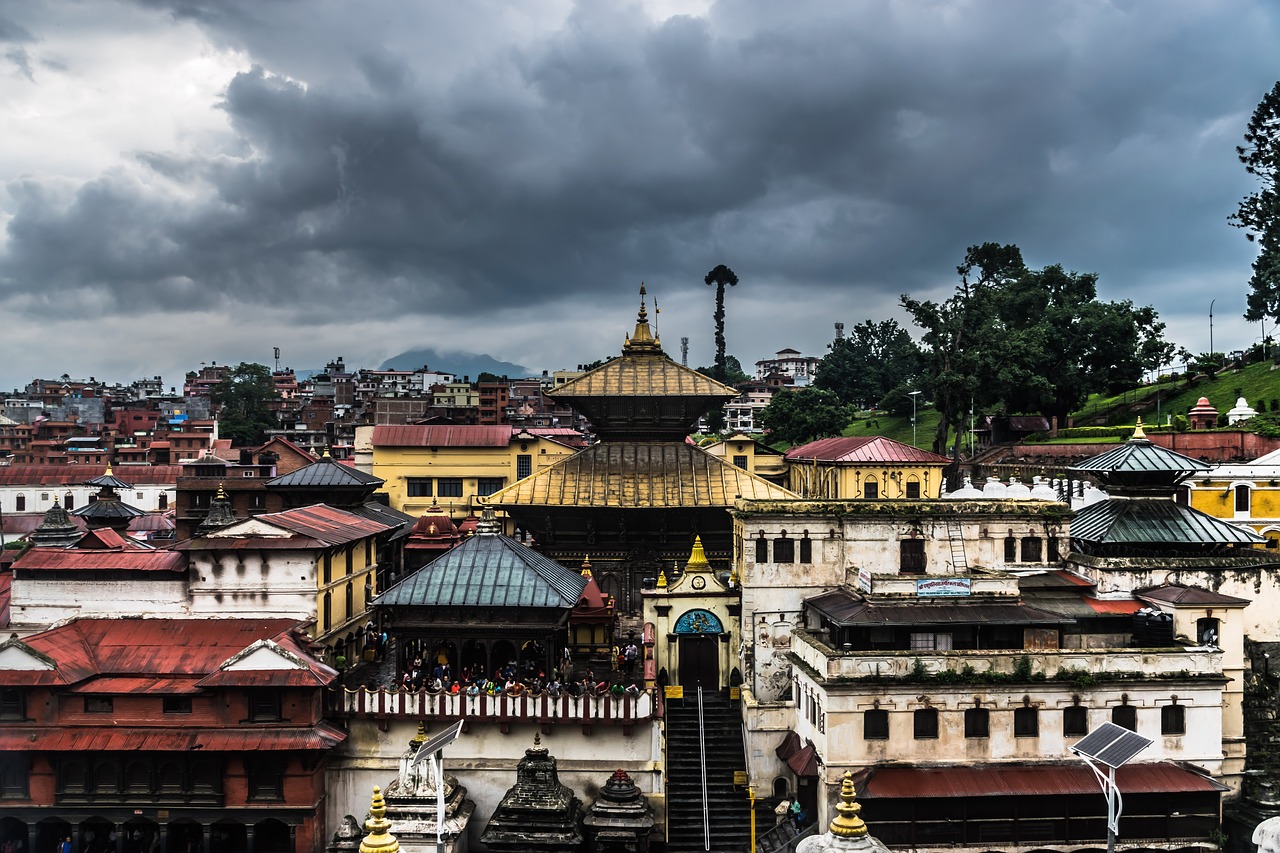 Boudhanath
The temples and stupas of Durbar Square and Swayambhunath are not the only temples worth visiting. Boudhanath temple should also be high on your list. This temple is located 6.5 km from Durbar Square. I would recommend taking a taxi there because we tried to walk there, relying on Google Maps and ended up getting completely lost.
The Stupa is one of the biggest in the whole world and is surrounded by tons of nice souvenir shops and restaurants. For me, visiting Boudhanath was one of the best experiences in all of Kathmandu. At the time, they were still in the process of restoring the Stupa. However, even if I couldn't see the Stupa in all its glory, it still looked incredibly impressive.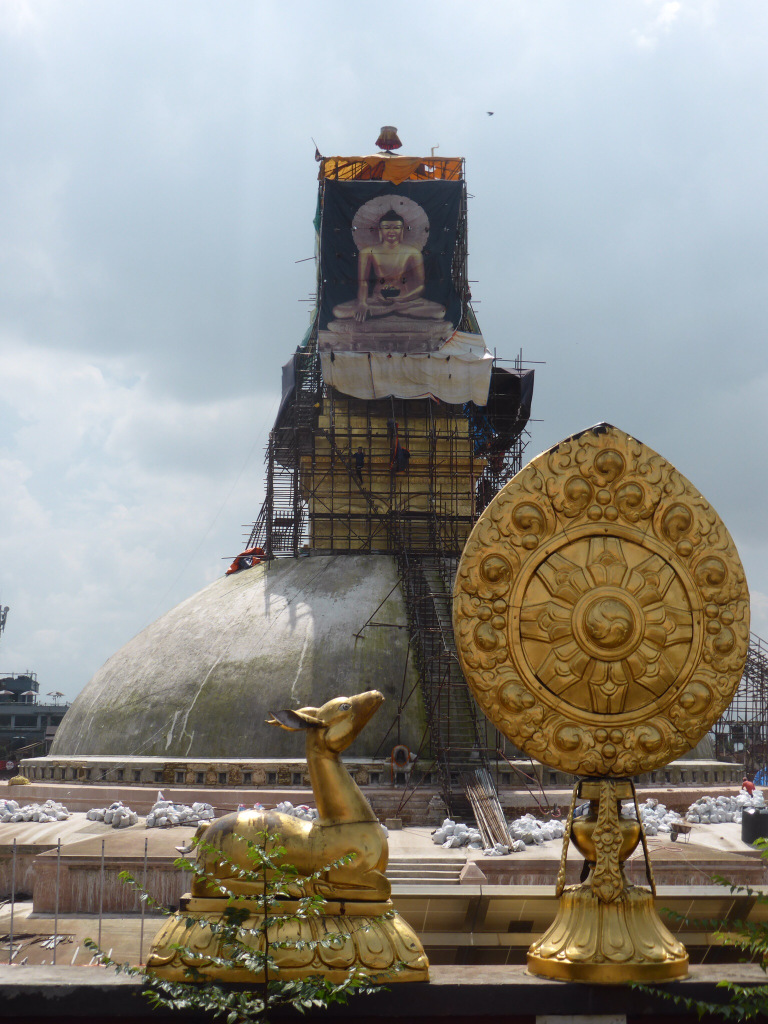 Thamel
Thamel is a touristy neighborhood about 1.5 km from Durbar Square. A lot of tourists choose to reside in this area because it feels a bit more "Western". You can find hundreds of shops selling Nepalese clothes, souvenirs and hiking equipment. If you're a bit scared to try out Nepalese food, you should head to Thamel because several Italian restaurants are located here. Stroll through the windy streets of Thamel and you'll bump into book shops, cozy bars and cafes where you can enjoy a very tasty continental breakfast. If you want to book activities or excursions, this is also the place to be. Several travel agencies are located in Thamel.
However, you will still notice you're walking in Nepal, and not in a Western country. Hundreds of cars will constantly pass you by on unpaved roads, while several cows sleep on these same roads. It is a sight you will not see in Europe, but it definitely has its charm!
Garden of Dreams
As I already mentioned earlier, Kathmandu is a very loud and noisy city. However, there are some places you can go to if you feel like you need to flee from the chaos. Garden of Dreams is the perfect spot to go to when you need a little break. This beautiful garden is located in Thamel. Entrance tickets cost 200 rupees (about €2).
The garden will feel like an oasis of peace and quiet. You can sit down on one of the benches, stroll through the garden or have a drink in the cafe which is located within the garden.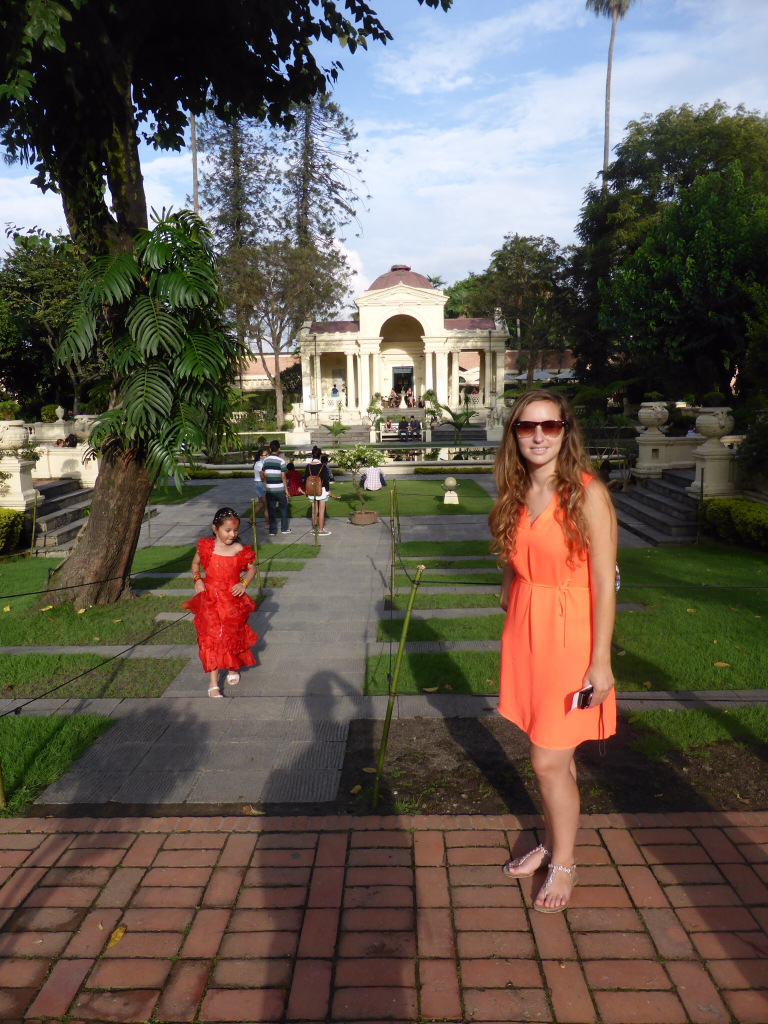 Everest Mountain Flight
Another thing you can do in Kathmandu, is taking the Everest Mountain Flight. Spotting the highest mountain of the planet has to be one of the biggest dreams of anyone who decides to go to Nepal. We, however, were very unlucky. We had underestimated the monsoon season. The weather was never good enough for us to take the Everest Mountain Flight.
This flight leaves from the International Airport of Kathmandu and is operated by Buddha Air. The whole flight takes about 1 hour, and will give you the chance to see Mount Everest with your own eyes. This, of course, comes at a price. Tickets for this flight cost about 190 dollars per person.
If you have visited Kathmandu and feel like I left out something, please feel free to leave a comment!