Six years ago, I moved to the capital of the Italian province Emilia-Romagna: Bologna. Even though other Italian cities like Rome, Venice and Florence are a lot more popular than Bologna, this beautiful city has so much to offer that it can't be overlooked.
La rossa, la grassa, la dotta
Through the centuries, Bologna has been given several nicknames. It is now mostly known as "la rossa, la grassa, la dotta", or "the red one, the fat one and the wise one". When visiting this city, it will become almost immediately clear why these nicknames are being used to describe Bologna.
One of the first things you notice when arriving in Bologna, is the beautiful red color of the city. The inhabitants of Bologna are known for being more left-wing voters, which is also why it's called "la rossa". "La grassa" refers to the fact that the city can be described as the "belly of Italy". You can indulge in tons of delicious food and various delicacies such as mortadella, tortellini and ragù alla Bolognese. While strolling through the streets of the old center of Bologna, you'll see lots of small shops which sell these tasty delicacies. You won't go hungry in Bologna!
Bologna's last nickname, "la dotta", refers to the fact that the oldest university in the world was founded here. The Università di Bologna dates back to 1088 and takes pride in the fact that Copernicus, Petrarca and Erasmus were once students here.
Medieval culture on Piazza Maggiore
Bologna is the ideal city if you want to go for a short getaway. Book a 3-day city trip and explore the many streets of this beautiful city. It might not be as magical as Venice, nor does it have as many highlights as Rome; but this city has so much to offer.
When walking on Piazza Maggiore, you'll feel like you're stepping back into the Middle Ages. This square is surrounded by stately and beautiful buildings which were all built during the Middle Ages. Palazzo del Podestà was already constructed in 1200 and is one of the oldest buildings on Piazza Maggiore. In front of this palace, you can find the Basilica of St. Petronio. Almost 700 years after the first stone of this church was laid, the Basilica of St. Petronio still remains unfinished. The reason for this, is that Pope Pius IV could not stand the fact that the inhabitants of Bologna wanted to build a church that was bigger than the Basilica of St. Peter in Vatican City. Even though the church is left unfinished, it is definitely worth a visit.
Another interesting highlight that you can find on Piazza Maggiore is the fountain of Neptune. Earlier this year, Facebook censored a picture of the fountain because it was "too explicit". Take a look at the fountain yourself, and you'll realize why a lot of people chuckle when laying eyes on it.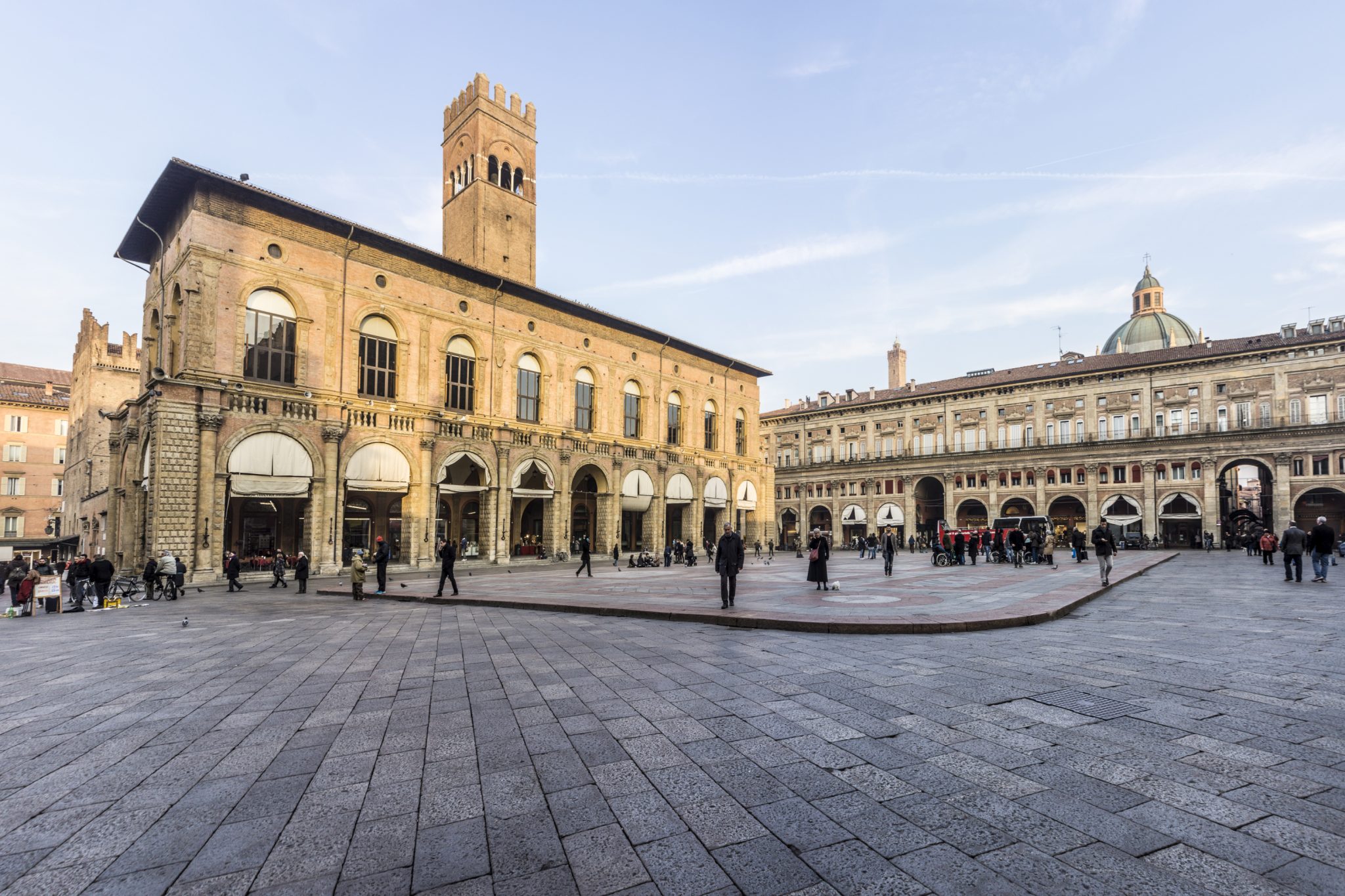 Piazza Santo Stefano
The whole city basically bathes in a medieval atmosphere. You will also realize this when arriving at Piazzo Santo Stefano, east of Piazza Maggiore. Several antique markets and cultural events are held on this square. When I studied in Bologna, international students would gather in front of the church to catch up and have a drink. The Basilica of Santo Stefano consists of several churches which were all founded in the early Middle Ages. Some of these churches, such as Basilica del Sepolcro and Basilica dei protomartiri San Vitale e Sant'Agricola, date back to the fourth and fifth century. When entering this beautiful complex, you will feel like you've traveled back in time. If you're a big fan of ice cream, just like me, you should stop by Cremeria Sette Chiese, where you can try out some of the best ice cream of the city.
Culinary Walhalla and shopping paradise
In case you're traveling to Bologna to do some shopping, you won't be disappointed. The most famous brands are located in the Via dell'Indipendenza. The more luxurious and exclusive brands such as Armani and Michael Kors can be found close to Via Farini. You'll constantly bump into cool shops and boutiques. One of the most cosy areas of the city is the Quadrilatero, which is situated in between Piazza Maggiore and the two towers. This is the place to be if you want to discover the culinary side of Bologna. In this neighborhood you'll find hundreds of shops which sell local products. If you're looking for fresh Bolognese products, look no further. Here, you'll also find a lot of trattorie or osterie where you can taste some delicious food.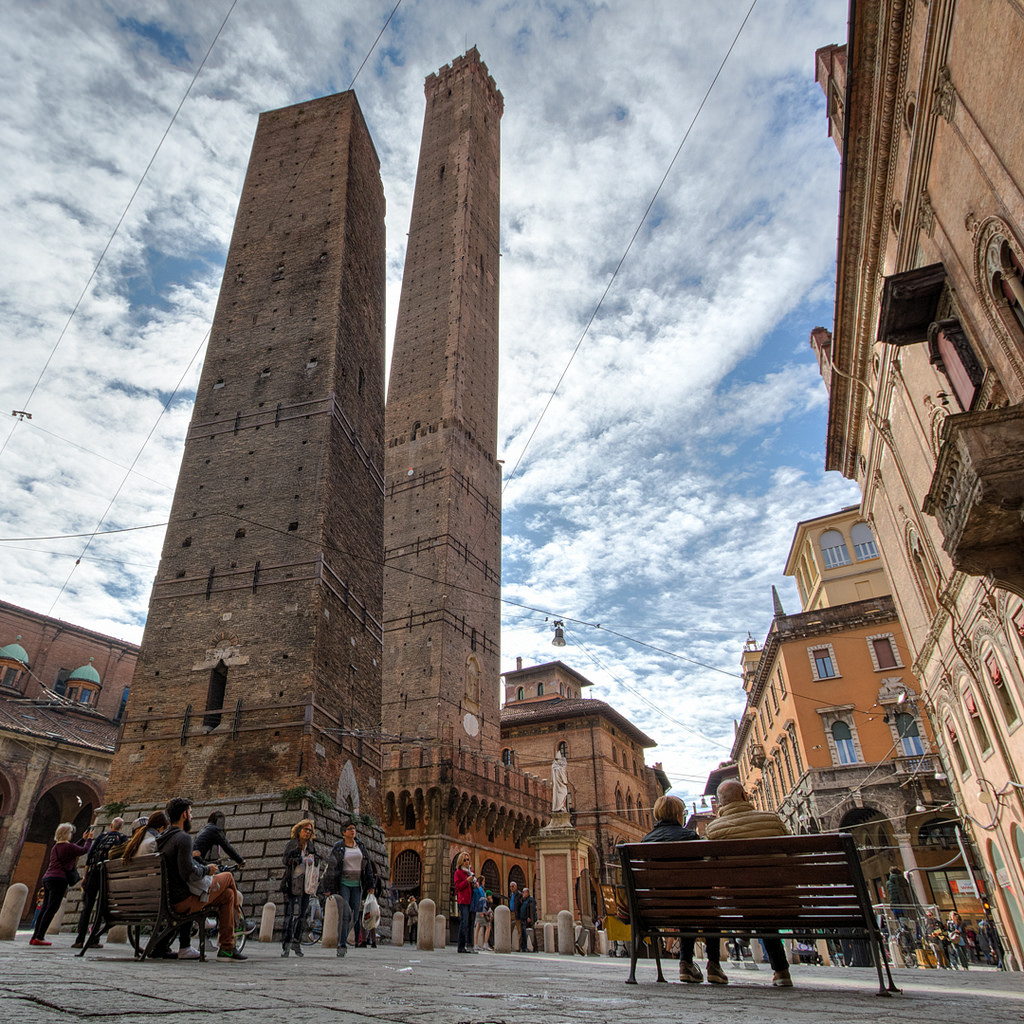 The Two Towers
Next to this culinary neighborhood, you can find the two towers. These skewed towers characterize the skyline of Bologna and were built in the middle ages by the nobility. They wanted to show to all the other families how rich and prestigious they were. By the end of the 12th century, a staggering 100 towers were built in Bologna. Today only 20 of those remain. The biggest of the two towers dates back to the beginning of the 12th century and is called "Torre degli Asinelli". If you fancy climbing almost 500 stairs, you'll be rewarded with an amazing view over Bologna and its surroundings. You can get tickets for only €3, so unless you're afraid of heights, you don't have any excuse not to go and take a look. Unfortunately, you cannot visit the Garisenda tower.
If all this physical activity has made you very hungry, I'd suggest going to Gelateria Gianni. This gelateria is located at the bottom of the Garisenda Tower and is known for producing the best ice cream in the whole city. I know what I'm talking about, Gelateria Gianni was my favorite ice cream place when I lived in Bologna.
Fare l'aperitivo
As I mentioned earlier, the oldest university in the world is located in Bologna. "La dotta" is also a very lively student city. In 2015-2016 more than 80.000 students enrolled at the Università di Bologna. And everyone knows, where there are students, there is a lively atmosphere. The student neighborhood is situated around Via Zamboni and Piazza Giuseppe Verdi. Here you can find lots of cafes and restaurants which are very budget friendly. I would advise you to try out "l'aperitivo". When studying in Bologna, this was one of my favorite activities. I would make my way over to Caffè Zamboni, order a cocktail for €8 and enjoy the unlimited buffet! As you can imagine, this concept is extremely popular, so I would advise you to arrive early to make sure you get a table. If you only go over to Caffè Zamboni at eight PM, chances are big you won't be able to find a table anymore.
Santuario della Beata Vergine di San Luca
In case you want to do some physical activity after eating tons of pasta, tortellini and ice cream; I would advise you to visit the santuario di San Luca. This basilica is located 3 kilometers outside of Bologna city center, and can be reached by foot in about one hour. In order to get there, you have to mount 666 steps under beautiful arcades. While making your way to the top, you'll be rewarded with stunning views on the city. However, you'll only get the most amazing view once you've arrived at the basilica. I would recommend walking to the basilica and having a pick nick once you're there. Also take your time to stroll around a bit and to visit the sanctuary.
In case you don't feel like climbing stairs for three kilometers, you can also opt to take a bus or a tourist train. The train leaves from Piazza Maggiore and takes you to the top of the hill.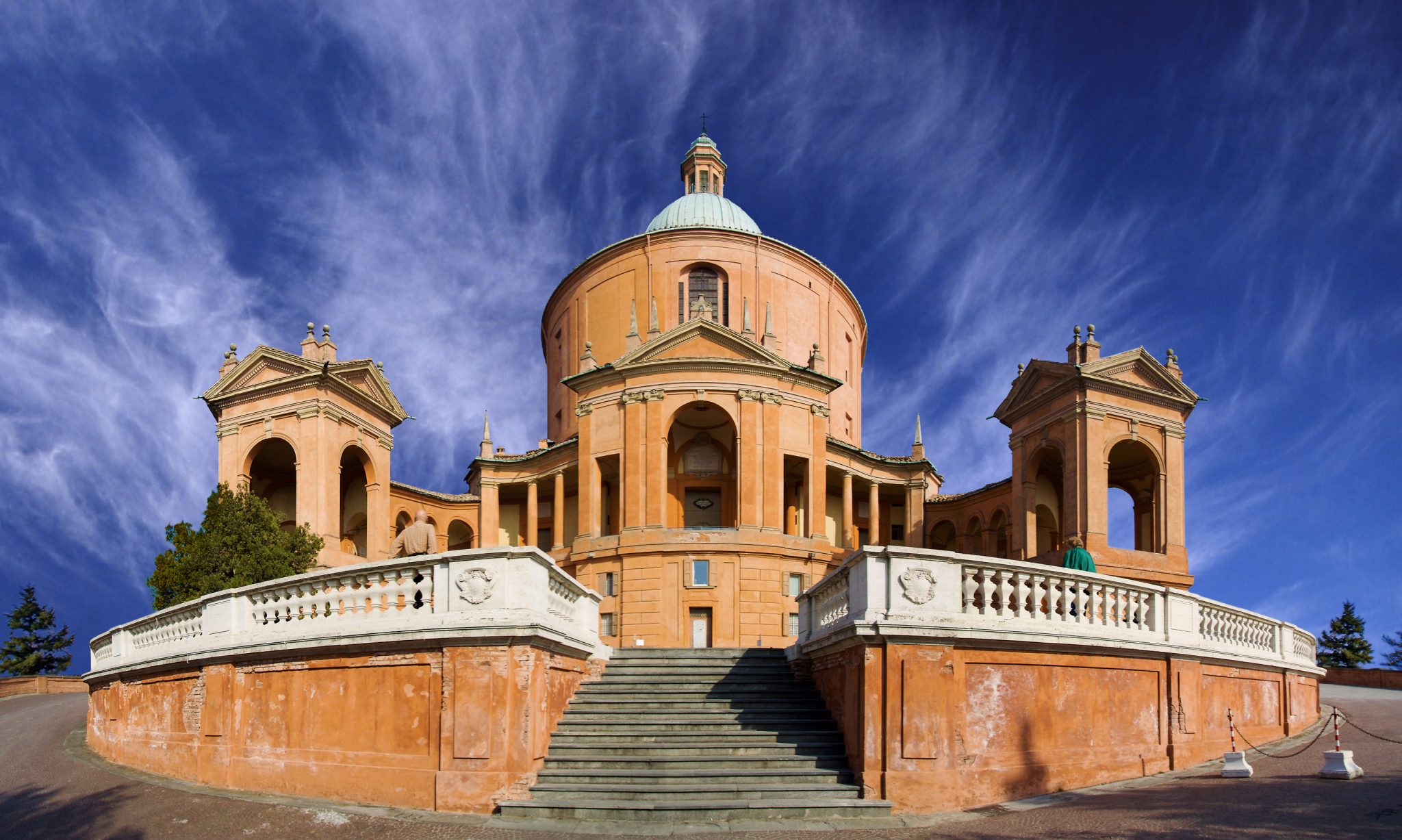 My tips for visiting Bologna:
Visit the anatomical theater in the Archiginnasio
Stop by Gelateria Gianni or Cremeria Sette Chiese to try out delicious ice cream
Make your way to Caffè Zamboni and try out the aperitivo
Go to Caffè Piccolo e Sublime for drinks
Go dancing in Tresor or Lo Chalet
Visit the weekly market on Piazza dell'8 Agosto, every Friday to Sunday
Taste the local delicacies such as tortellini, mortadella or ragù alla bolognese