In 2014, I traveled to the US for 5 weeks (see: Which side of the Grand Canyon is the best). I had often associated the US with the beautiful landscapes of the old Western movies. I couldn't wait to see these desolate landscapes with my own eyes. What better place to do that than Monument Valley?
Monument Valley by bike
We were staying in Mexican Hat, Utah since we couldn't find any campsite or available motel in the nearest town to Monument Valley, Kayenta in Arizona. Luckily, it only took us 25 minutes to drive from Mexican Hat to the entrance of Monument Valley. Since it is a Navajo Tribal Park, you cannot enter the park with a National Park Pass. You have to pay 20 dollars per car to be able to drive through this wonderful Valley.
My dad and I had rented a car, but decided to park it next to the road since the loop got a bit too rocky and unpaved for our liking. We had 2 bikes in the back of the trunk and decided we'd explore the rest of the park by bike. This turned out to be one of the best decisions we made during our 5 week trip!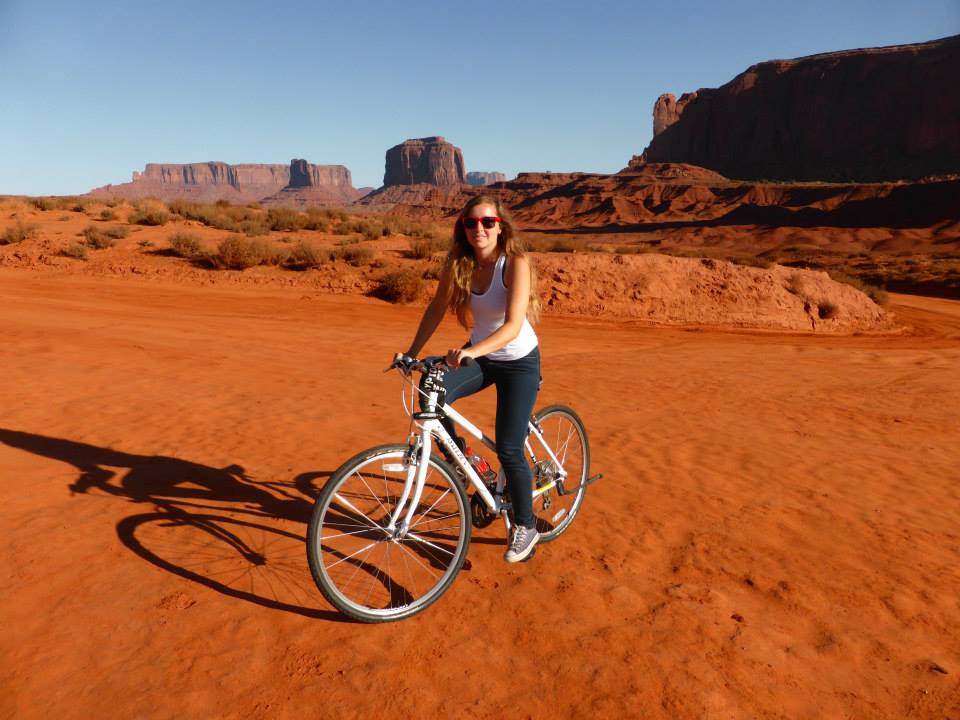 More time to soak in the views
Most people take their cars to drive through Monument Valley, a trip that takes about an hour (give or take). With our bikes, it took us probably twice as long, but we got a much better look at the amazing mountains and wonders of nature! We had time to look around and marvel at all the wonderful things we were seeing. Monument Valley is amazing place to drive around, since there is always something beautiful to look at. Not once were we bored during this 27-kilometer-long loop.
Road is well indicated and safe
We could easily park our bikes without disturbing anyone else, and take our time to walk around and enjoy the view. The road is marked very well. When we were riding through the park, there weren't that many cars, so we never felt unsafe. We even got applause from several cars that drove by us! Some of them even shouted encouraging words at us. Obviously, biking through Monument Valley is something that isn't done very often.
But why wouldn't you explore Monument Valley by bike? You'll experience the Park in a completely different way, you'll remember so much more about your trip and you'll see a lot more things than you would see from behind the windows of your car!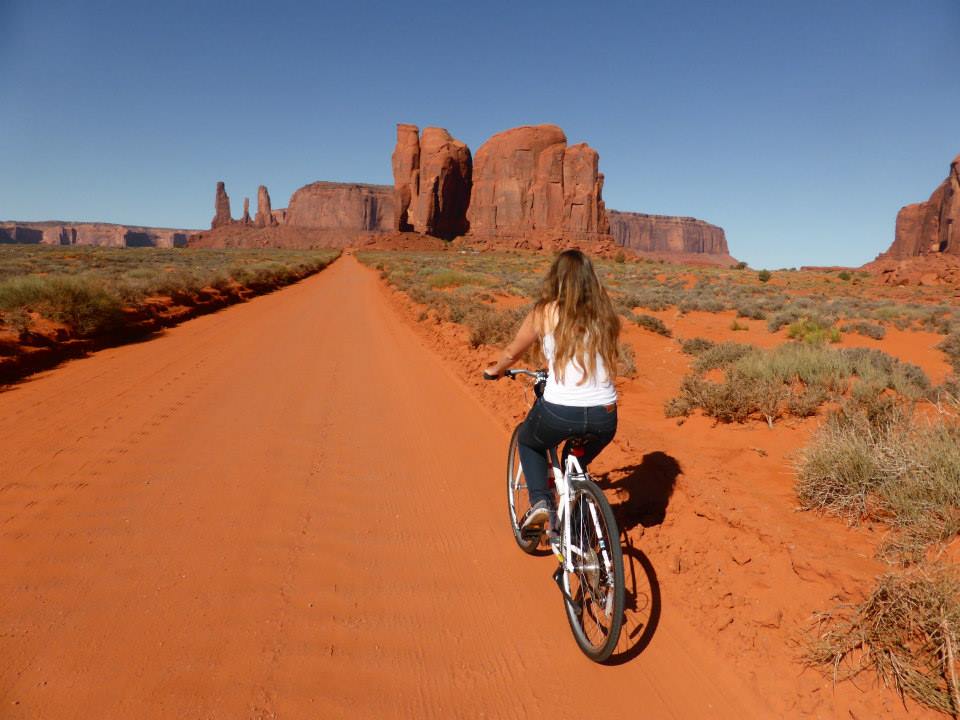 Bring a bike or book a tour
I would advise you to bring a bike if possible. You can rent mountain bikes in Moab, Utah before making your way over to Monument Valley. This way you get to explore the park all by yourself.
If you prefer doing it with a guide, you can also book a mountain bike trip with Dreamride Mountain Bike Tours. Either way, you will not be disappointed by your decision to explore Monument Valley by bike!
Would you consider visiting Monument Valley by bike? Why/why not? Please feel free to leave a comment!