Preikestolen, or Pulpit Rock, is probably the most famous hike in Norway. Last July, I spent 2 weeks in this beautiful country and I felt like my visit wasn't complete without seeing Preikestolen. Therefore, we made our way to Stavanger; from where you can take a ferry over to Tau. From this small village it takes about 25 minutes to get to the Preikestolen parking lot.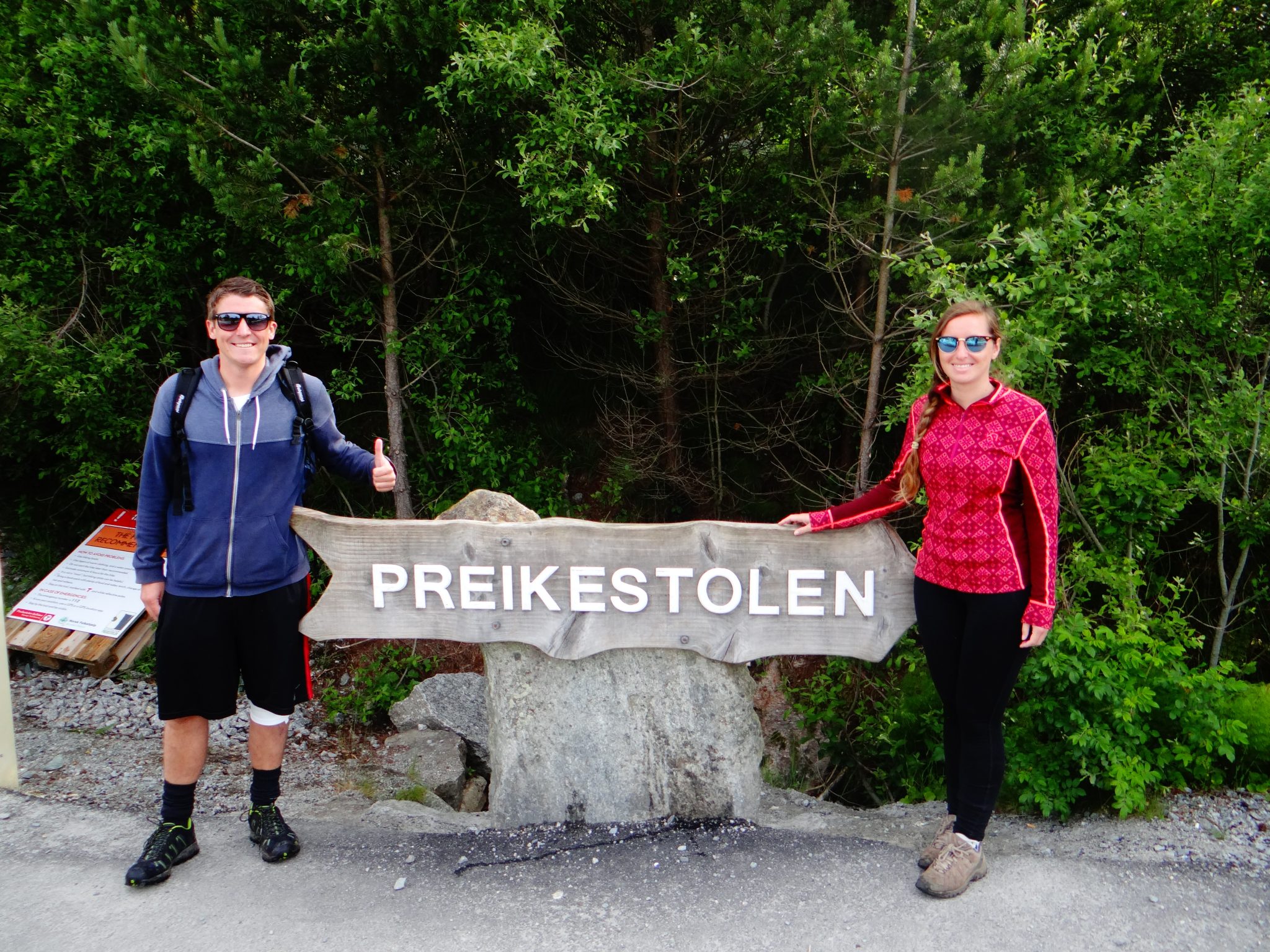 Prepare for massive crowds
Hiking Preikestolen is not difficult or tiring at all, unlike hiking Trolltunga. On average it takes about 2 hours to get to Pulpit Rock, but we managed to do it in about 90 minutes (excluding 2 short breaks). Since it's a very easy hike, you should be prepared for massive crowds up top. The whole hike you will be accompanied by hundreds of other people. It will be difficult to get the place to yourself.
Get there early
You might think you don't have to arrive early when the ascent only takes 2 hours, but I would advise you to start the hike early. We left at 9 AM and had to share Pulpit Rock with about a hundred other people. We thought it was already getting quite crowded, but we didn't realize that a lot of people started the hike right before or after lunch. While we were walking down, hundreds of people were still making their way up. At some point they even had to queue! So, if you don't like hiking with tons of other people around, I would suggest you leave as early as possible.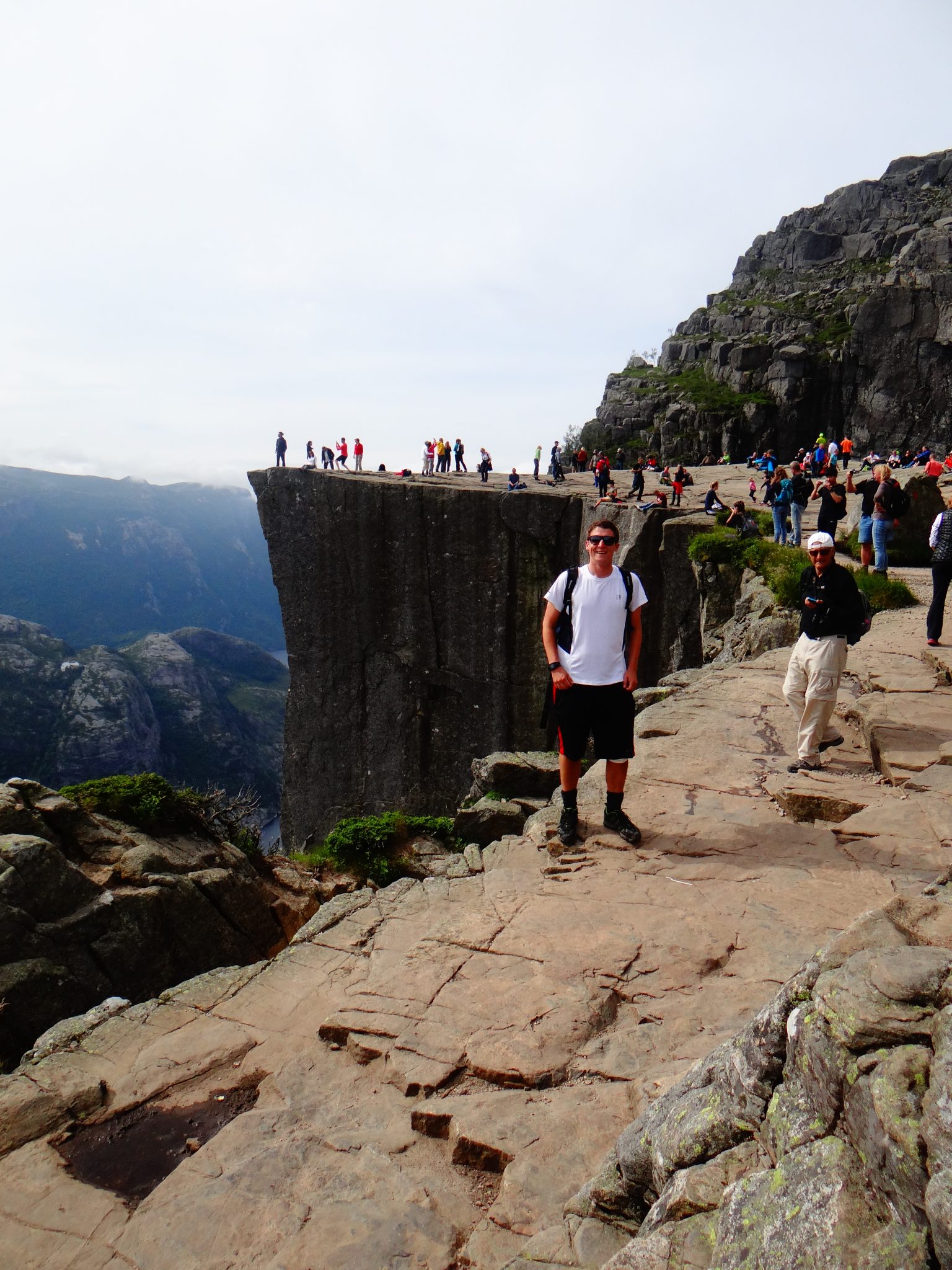 Easy and accessible hike
Just like Trolltunga, the start of the hike is quite steep. We noticed a lot of people almost running up the hill, only to have to stop to catch their breath a couple of minutes later. There is no rush, since you will reach Pulpit Rock in less than 2 hours from your departure. After the steepish start, the terrain flattens out, so you definitely have the opportunity to relax your muscles a little bit.
The terrain does get a bit steeper later on in the hike, but it never gets too difficult. I wouldn't say you need to be in very good shape to hike Preikestolen. It's perfectly accessible for kids and also older people.
Wear workout clothes
For this hike, you don't have to stack up your backpack with tons of food and drinks, nor do you need to wear the newest gear. Just wear some good hiking boots, bring a fleece and a couple of snacks. Of course there were a lot of people wearing their Sunday clothes, we even saw one older guy hiking in his suede suit! I would, however, advise you to wear workout clothes and good shoes. The terrain is still quite hard and rocky, and I can't imagine your newest Stan Smiths providing you enough support.
Unlike hiking Trolltunga, you won't find that many rivers or waterfalls where you can fill up your bottle. So do make sure you bring enough water with you.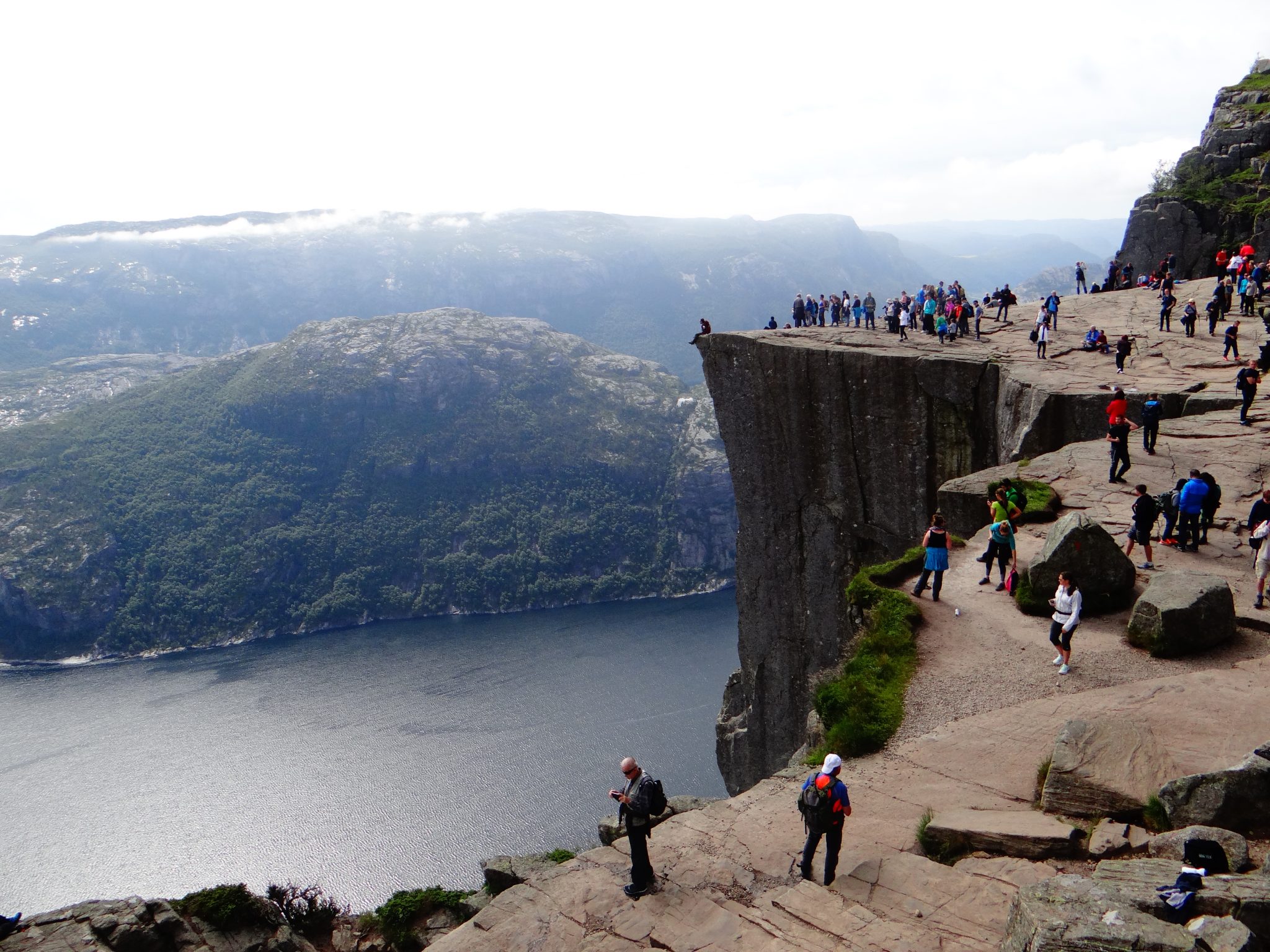 Respect the queues
Once we arrived at Preikestolen, we had to share this amazing place with about a hundred other people. In order to get a cool shot of you standing or sitting at the end of the rock, you need to wait in line. Some people, however, didn't respect the queue which led to some frustrations. So in case you would like to get a cool picture taken, check first if people are queuing. If so, please respect this and patiently wait in line. You will have plenty of time to get a once in a lifetime picture!

Have you ever hiked Preikestolen? What was your experience like?