This is part 2 of my trip to Nepal 2016-series. Click here to read the first part.
Every Nepali has something to offer
Yesterday morning, we immediately made our way over to Durbar Square. This time we could walk around without feeling suffocated. Every 10 meters, however, we were stopped by Nepalese people who wanted to sell us all kinds of things.
"Sir, sir, do you want to buy a bracelet?"
"Sir, sir, do you need a guide? I am a very good guide, I don't want any money. I'll just show you around and then afterwards you can give me something!"
We're not used to being constantly approached like that, but unfortunately we can't hide that we're tourists. They see us coming from miles away, approach us and even continue following us after we've declined their offers. When we entered the square only us tourists had to buy entrance tickets. The Nepali can just enter for free.
Durbar Square is still damaged by the earthquake
Durbar Square is filled with temples which were built between the 12th and 18th century. The square is very impressive, but it was also sad to see how many buildings, temples and stupas had been damaged by the 2015 earthquake. Certain temples were partly damaged; some of their pagodas had collapsed. Others had disappeared completely. Visiting this square also showed us how poor Nepal really is. A lot of the partly damaged buildings still hadn't been reconstructed. Bricks were just lying on the ground; it didn't look as if they were going to be rebuilt anytime soon. Regardless of the damages, Durbar Square is still worth a visit, especially the courtyards were very beautiful.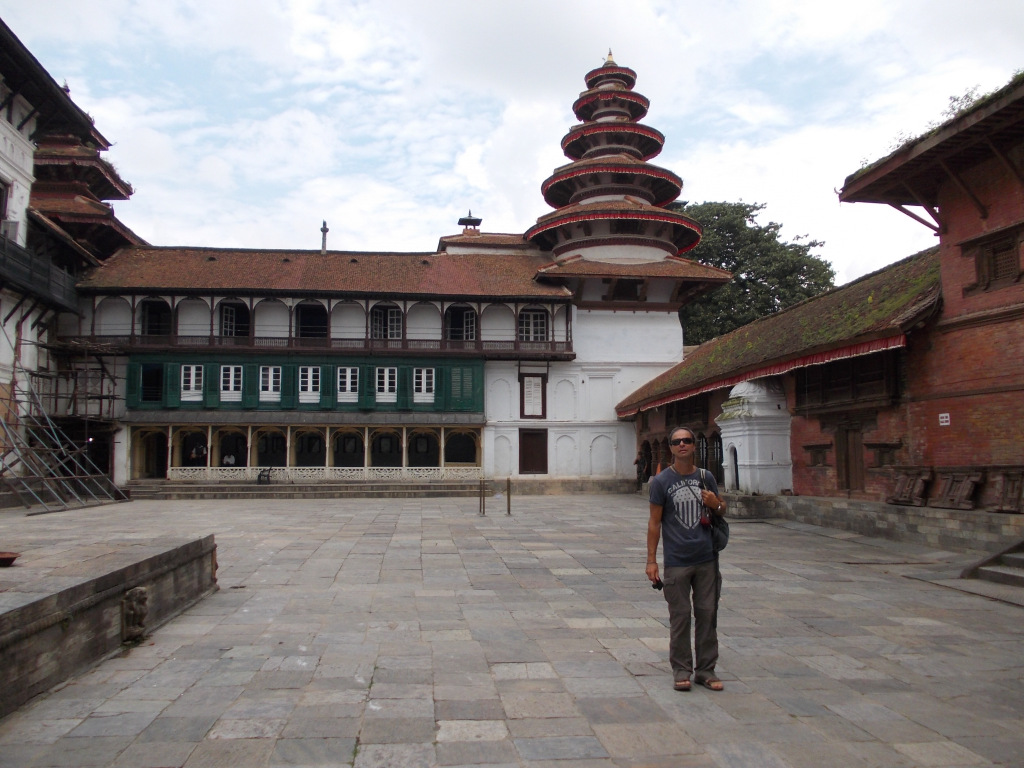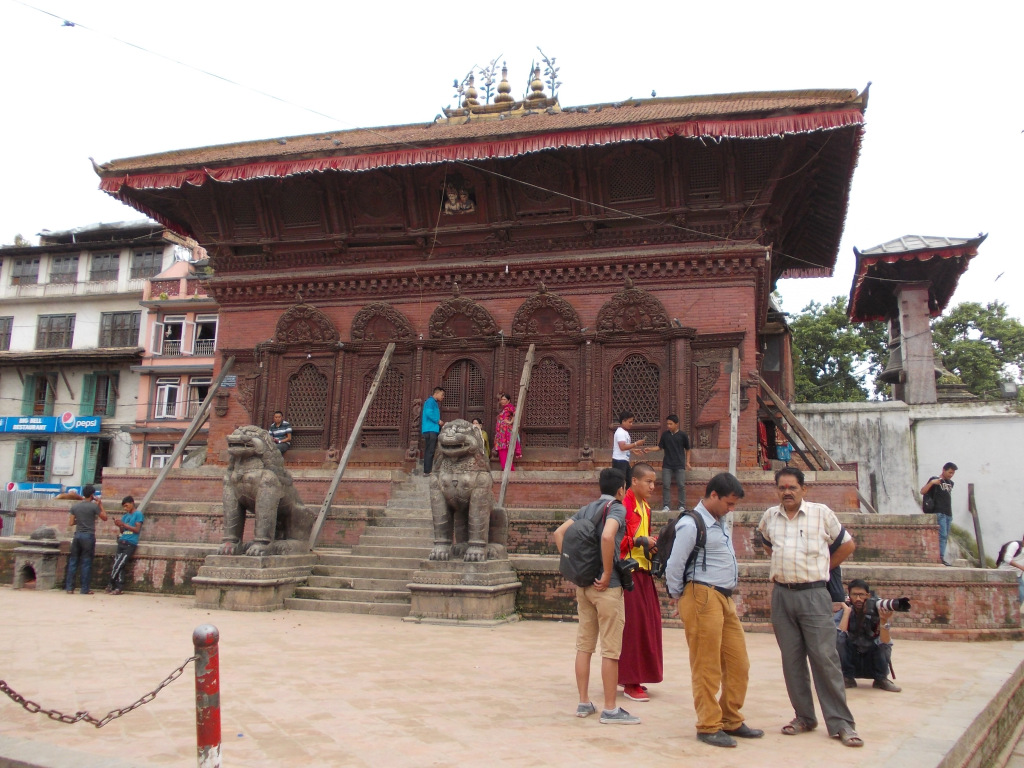 Kathmandu, the city of a thousand smells
Afterwards, we decided to go to the Monkey Temple (or also known as Swayambhunath). To get there, we had to walk through the narrow alleys and backstreets of Kathmandu. This way we got to see with our own eyes how most Nepali people live. There are hundreds of thousands of houses in this city which are all built very closely together (even worse than in Malta), and which are usually in a pretty bad state. It also doesn't always smell that nice here, which we noticed when we walked past some sort of stable which was full of animal cadavers. Tasty… We quickly walked past the stable and continued our way to the Monkey Temple.
Incredible views from Swayambhunath
Once we arrived at the bottom of the Temple, we immediately realized why they call it the Monkey Temple. Hundreds of monkeys live on the steps that lead towards the Temple. In the meantime, humidity levels had reached about 100%, which became very clear when we had climbed half of the stairs towards the stupa. Sweat was dripping down our faces and I even had to stop for a little while to catch my breath. The steps reached 60° , needless to say the climb up towards the temple was quite heavy. However, once we arrived at the top of the hill, we were rewarded with an impressive view all over Kathmandu and its surrounding hills. The stupa itself was also incredibly impressive and beautiful, as you can see on the pictures.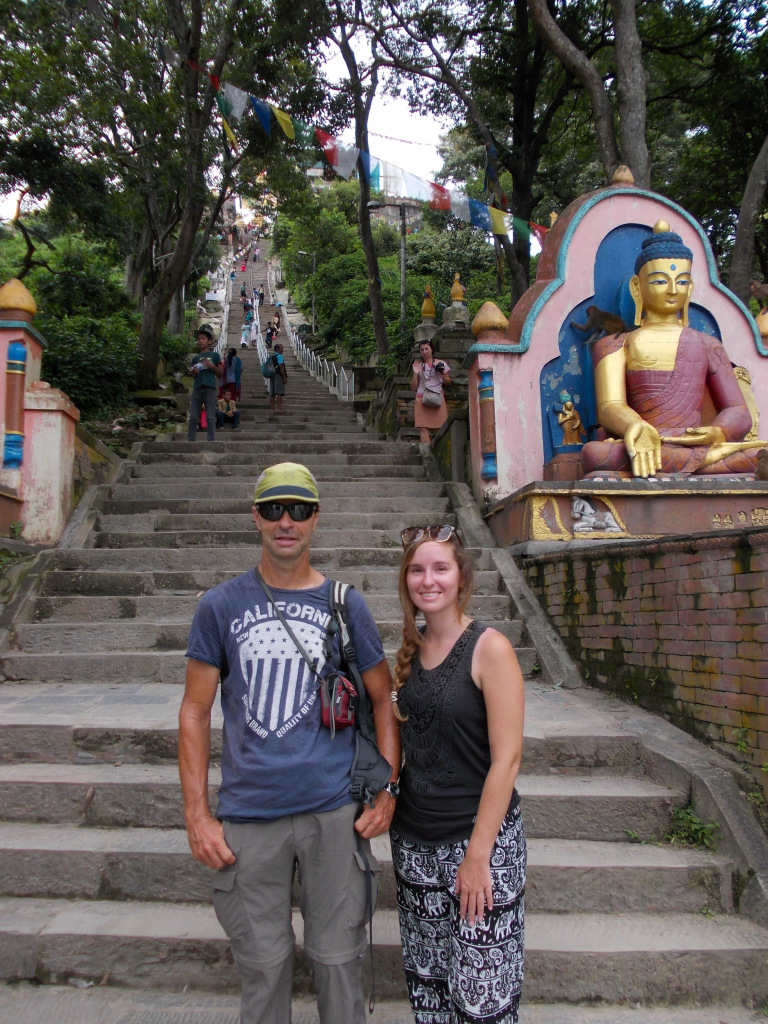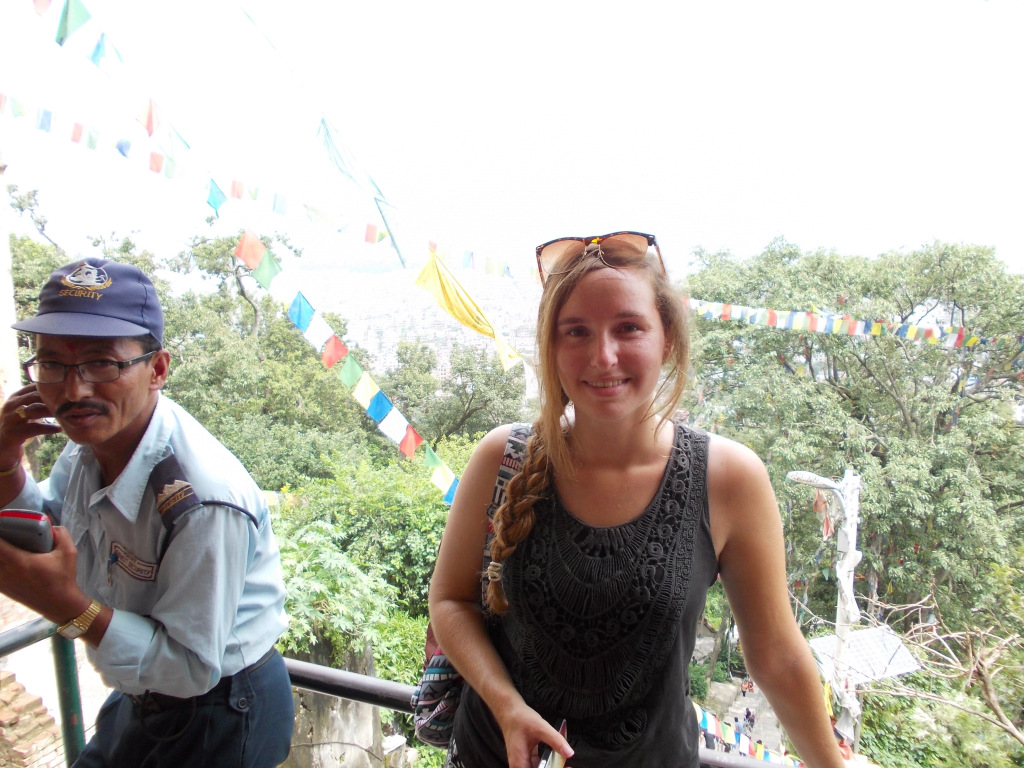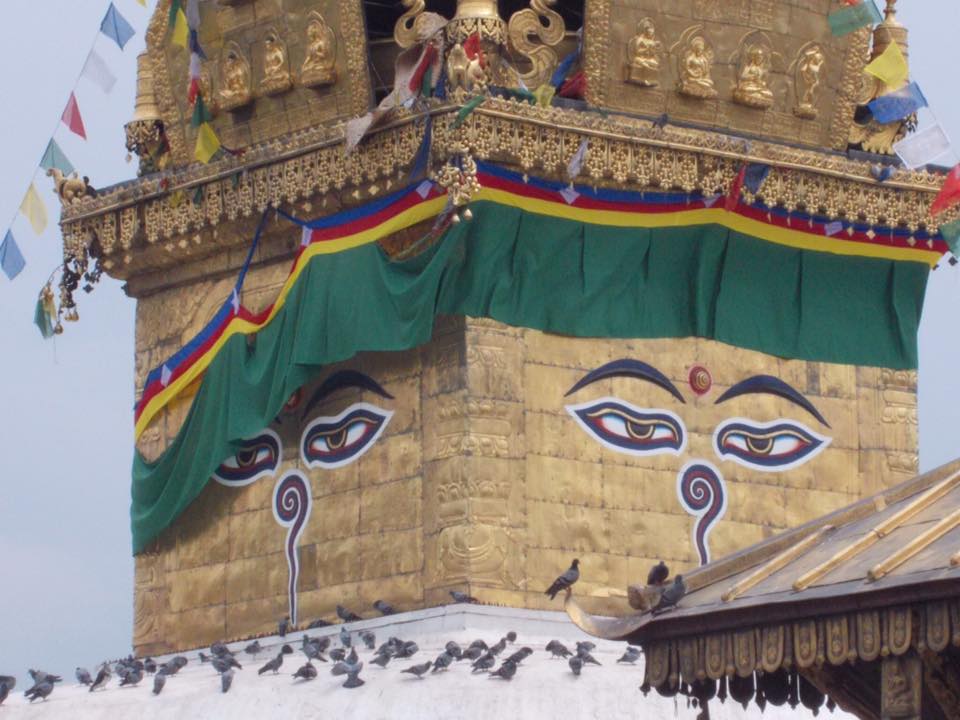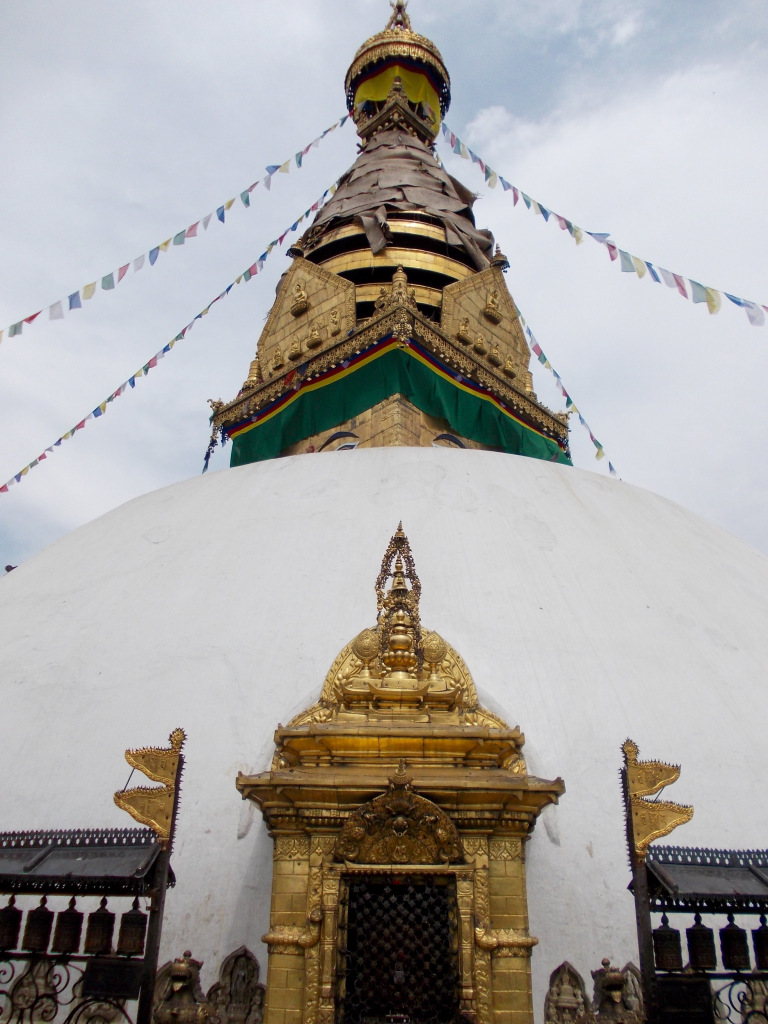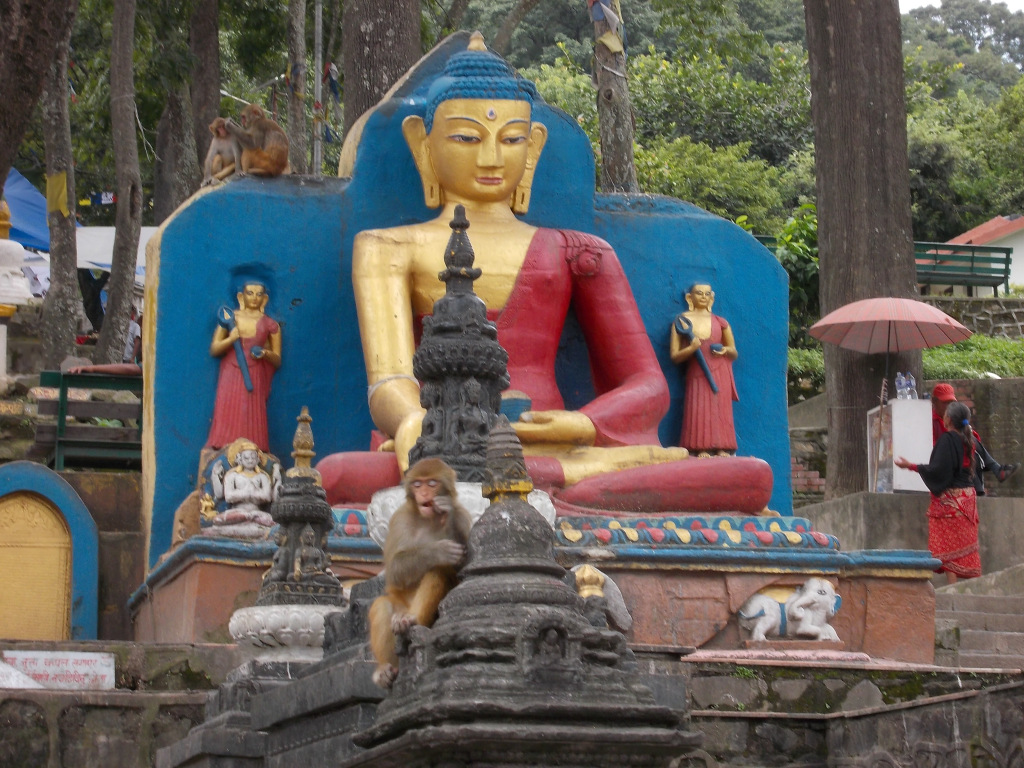 Haggling is an art not everyone masters
During the descent, we realized it would be impossible to find our way back to Durbar Square. Suddenly, a taxi driver walked over to us and offered to drive us there for 600 rupees.
Because we had been ripped off several times yesterday, dad said: "We've already been ripped off too much!"
We wanted to leave until the man lowered his price to 400 rupees. Dad, however, still didn't want to accept it. The man kept on insisting, but dad refused again and said: "I'll give you 1000 rupees, not a cent more!" Both the taxi driver and I were staring at him in disbelief. "Do you mean 1000 cents?" The man asked.
Dad impatiently said: "No, 1000 rupees!". The taxi driver looked even more lost, while I tried to explain that 400 was less than 1000. Finally, dad realized his mistake and quickly accepted the offer of 400 rupees!