Last May I got the chance to travel to Portugal for the wedding of a good friend of mine. Not only did this mean I would experience first-hand what a Portuguese wedding is like, but it also gave me the perfect excuse to explore a country I had never been to before. Even though it was a short stay, only four days, I enjoyed every single second of it. So if you're planning on going to Portugal for a short city break, you should definitely consider doing this:
Enjoy the views from the Castelo de São Jorge
I only had a couple of hours to explore Lisbon, which meant I didn't get to see all the major highlights of the capital. Luckily, I had a personal guide with me who could show me the most interesting spots. In case you're really short on time to visit Lisbon, I would recommend going to the medieval castle that towers over the city. The Castelo de São Jorge is located on the highest hill of the city and can be reached by foot, bus or tram. Tickets cost €8.5 and not only give you access to this beautiful castle, but also to the 11 towers. This is one of the best spots to get an amazing view over the city, the Tagus and the ponte de 25 abril. So, in case you're looking for a viewpoint, you should definitely visit this castle. You will feel like stepping into a time-machine since the foundations of this Castelo go back to the start of the Christian era.

Follow in the footsteps of Vasco da Gama
The traditional pastry of Portugal is called pasteis de nata. This egg pastry is sold everywhere, but according to my guide, you can find the best ones in Pasteis de belém, close to Mosteiro dos Jerónimos. The pasteis de nata are constantly made throughout the day because of its popularity, so expect queues when you visit this bakery/cafe. You should eat the pastry when it's still warm and crispy. Not only can you enjoy these tasty treats in this neighbourhood, you can also visit some other interesting highlights of Lisbon such as the Mosteiro dos Jerónimos, Padrão dos Descobrimentos and de Torre de Belém.
The monastery was most likely built in the honor of Vasco da Gama after he discovered India. The  Padrão dos Descobrimentos was constructed to commemorate and thank the explorers of the 15th and 16th century. Every person who was involved in these discoveries is depicted on this 52-meter tall monument. All the way in the front of the monument, you can spot Prince Henry the Navigator. This monument, just like the Torre de Belém, is located on the river bank of the Tagus.
The Torre de Belém was also built in honor of the explorers. It was constructed in the early 16th century to thank Vasco da Gama and to accentuate the grandeur and importance of Portugal during the era of exploration. The Torre de Belém and the Mosteiro dos Jerónimos are part of Unesco World Heritage. If you buy a combo ticket you can visit both of these very interesting monuments for only €12.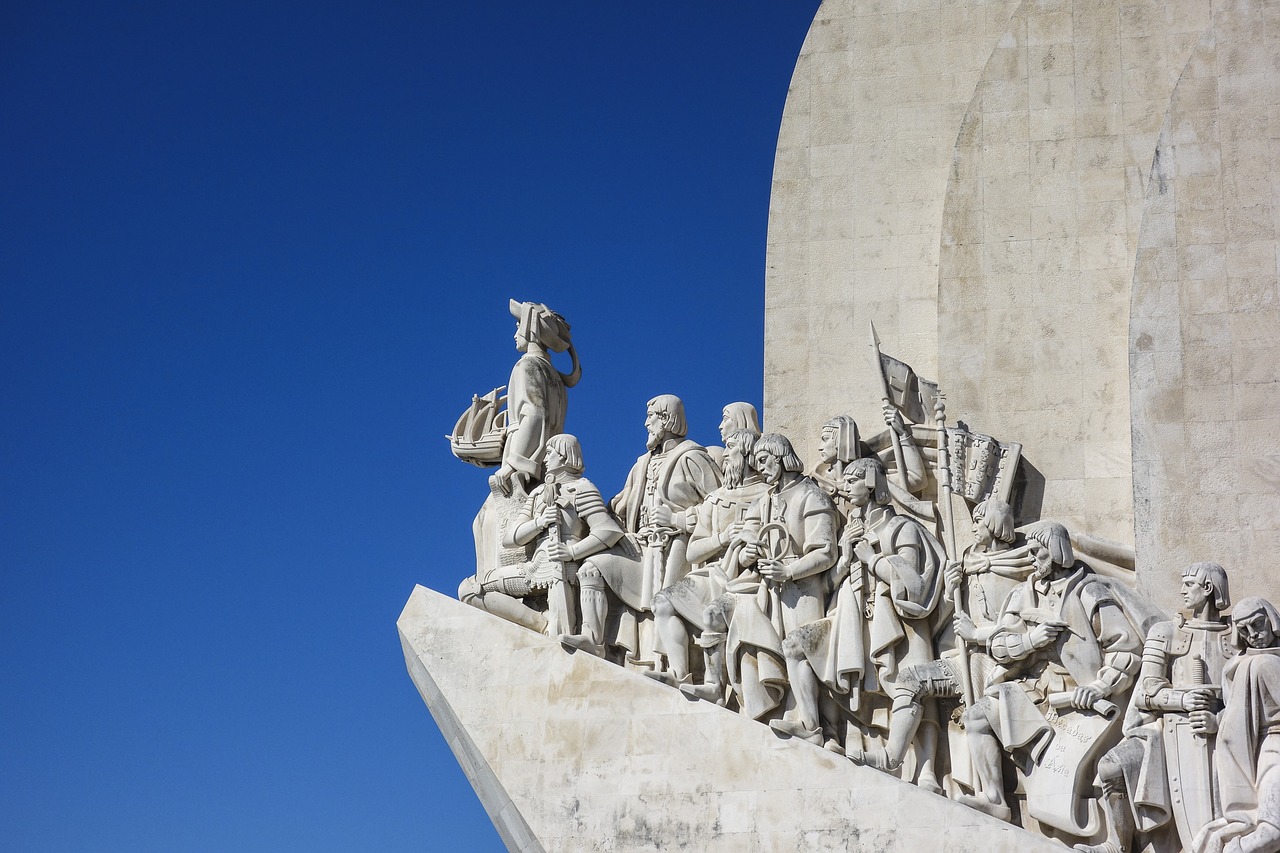 Drink Ginja in the medieval town of  Óbidos 
The picturesque town of  Óbidos is located an hour away from Lisbon. Throughout Portuguese history, a lot of crown princes gave this town to their princesses as part of their dowry. Therefore, you will find a lot of churches in this small town. On top of the hill you will spot a beautiful medieval castle that looks over the cute, white houses that are decorated with yellow, red or blue lines.This town is basically a highlight in itself, thanks to its narrow and crooked streets which lead you to more and more white houses.
One of the traditional drinks of  Óbidos is ginja. While walking around in the small streets, you will see several stalls that sell this traditional drink. You can try out this liqueur made of sour cherries for only €1. It's nicely presented in a chocolate cup which you can eat after drinking the ginja. Definitely a must when visiting Óbidos!
In case you would like to spend some more time in this charming town, you can explore it by walking on the medieval walls which encircle all of Óbidos. Here you will get a beautiful view on Óbidos and its amazing surroundings.
Eat delicious seafood in Nazaré 
This town is known as a surfers paradise, since the biggest wave ever (a staggering 23 meters high) was surfed here in 2011. Nazaré is heaven for everyone who loves swimming or surfing. The beach is several kilometers long, so it comes as no surprise that hundreds and hundreds of tourists make their way to this city every summer.
Nazaré constist of two parts: the city by the coast, and the city on top of a 318 meter high rock. You can reach O Sitio by taking a cable car which will bring you from one part of the city to the other. Here you can find several stalls which sell delicious seafood. The fishermen are dressed in traditional fishers clothes; for women this means they wear kneelong stockings and seven skirts on top of each other. From O Sitio you will get a beautiful view on the coastline of Portugal. This is definitely a spot where you can take a lot of nice pictures.
Not only do you get to enjoy beautiful nature in Nazaré, you can also eat very tasty food here. Just like every city that is located by the coast, you can find a lot of fish restaurants here. You can choose to order a platter of seafood which is served in a miniature boat. A must for everyone who loves seafood!
Visit the monasteries in Alcobaça and Batalha 
From north to south you can find tons of beautiful monasteries in Portugal. My personal guide took me to two very impressive monasteries in the cities of Alcobaça and Batalha. These cities are located about 100 kilometers up north of Lisbon and attract millions of visitors every year.
The monastery of Alcobaça was founded in 1178. It was the first gotic building in the history of Portugal and is now part of the Unesco World Heritage list. It is seen as one of the seven wonders of the country and dominates the town square. All over Portugal, everyone associates this monastery with the story of Pedro and Ines.
Pedro I was king of Portugal from 1357 to 1367 and was forced to marry a Spanish princess. However, he fell in love with her lady-in-waiting, Ines de Castro. His love was reciprocated and the two had 4 children together. Pedro's father, Alfonso, however, was not happy about this at all. In order to solve this problem, he ordered Ines to be murdered. Pedro excavated Ines's body and buried her in a beautiful tomb, which can be found inside this monastery. He also built a tomb for himself, which looks out on Ines's tomb. That way they would be able to look each other in the eyes when Judgement Day comes.
The monastery of Batalha is also worth a visit. It was built in 1386 after the Portuguese defeated the Spaniards during the battle of Aljubarrota. This monastery is also part of the seven wonders of Portugal and is on the Unesco World heritage list. Inside, you can admire beautiful mosaics and the graves of several Portuguese kings and princess.
Explore the oldest university of Portugal 
Coimbra is located 2 hours away from Lisbon and is the proud owner of the oldest university of the country which was already founded in 1290. Today Coimbra boasts a lively atmosphere thanks to the thousands of students who live and study here. These students gather at the Universidade de Coimbra, a beautiful square which is surrounded by century-old buildings. I would definitely recommend visiting this university square since you get an amazing view on the Mondego river and the Santa Clara area. Thanks to Coimbra's strategical location, on top of a hill, you get a very wide view over the city and its surroundings.
In Coimbra you can walk through a lot of narrow and steep streets where you can enjoy some good food and listen to fado. I decided to go to Passeite for lunch, a Portuguese restaurant at the bottom of the hill. Here you can try out several Portuguese dishes and you can learn more about Portuguese traditions.
Learn more about Portugal and its colonies
Since I was only staying in Portugal for four days, I didn't have much time to visit the rest of the country. Therefore I decided to go to Portugal de Pequenitos. This park can be described as a "mini-Portugal", which is interesting for people of all ages. It costs about €10 to visit this park, which takes you on a journey through all the countries that were discovered by the Portuguese, such as Brazil, the Azores and Madeira. You also get to spot miniature versions of several Portuguese highlights; this way you get a better view of all the amazing sights Portugal has to offer.
Ines de Castro was murdered in Coimbra. Legend has it that after her death a fountain was made out of her tears, called fonte das lagrimas. Even today, 600 years after she died, the stones of the fountain still have a bright red color. People say that Ines's blood has stained these rocks. You can visit the fonte das lagrimas in Quinta das Lagrimas, which is located in the Santa Clara district.