After a smooth flight and a six hour wait in Istanbul, we finally arrived in Kathmandu. Our day couldn't have started any better… It was raining cats and dogs. That looked promising… After queuing for about an hour we finally received our Nepalese visum. Our adventure was finally going to start! The taxi driver brought us to our hotel in the touristy neighbourhood of Thamel, where we will stay for the next 3 days.
Nice walk-in shower
After casting a first look at the hotel room, we realized the photos online clearly had painted a very romantic picture of our room. It didn't look as modern in real life, and the pictures didn't show that the bathroom comes with a walk-in shower. Literally. When you shower, the water basically floods the whole bathroom and goes down the drain next to the toilet. That means that if I have to go to the toilet in the morning after dad has showered, I'm literally standing in his shower water… If you want to read more about 5 things I didn't expect to encounter in Nepal, you should definitely read this post!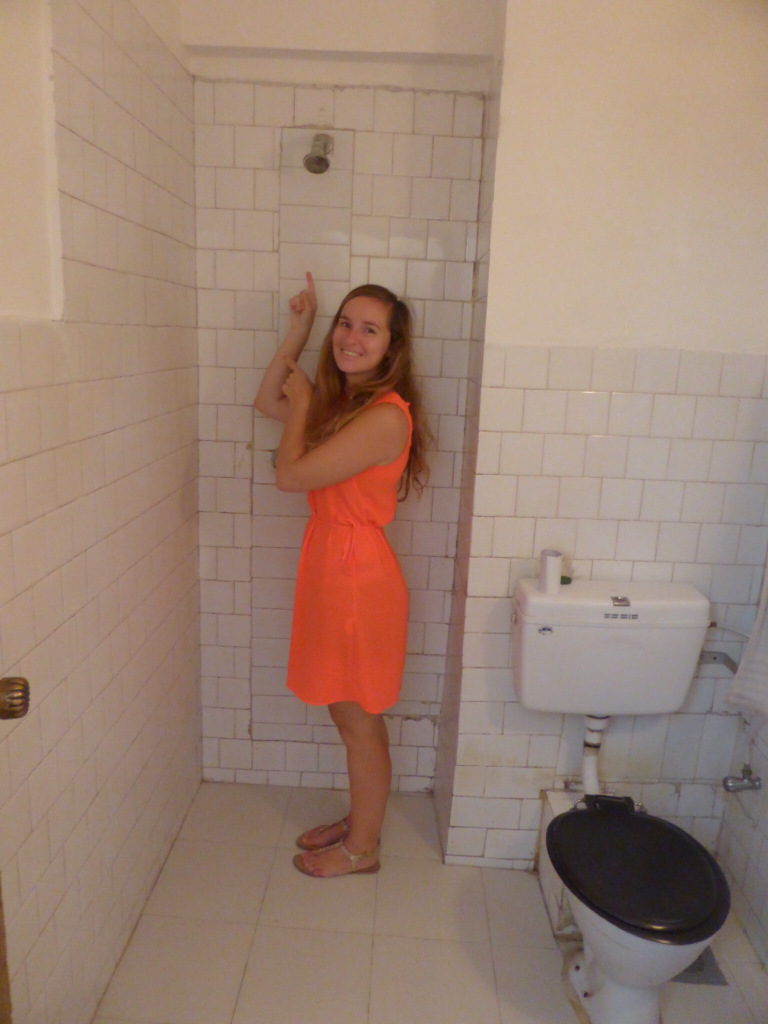 Kathmandu, an attack on all your senses
After a "short" nap of about 3 hours, we decided to explore the city. From the first minute we were bombarded by mysterious scents and by a crazy amount of noise… Cars were honking constantly, people were shouting at you. Hundreds and hundreds of shopkeepers were trying to sell us things. The city is full of small little shops which sell food, clothes or souvenirs!
You have to watch out constantly. You will feel like you need eyes everywhere, just to make sure none of the many cars or scooters run you over. There is only one rule in Kathmandu: everything on wheels has right of way. Unlike us, the Nepalese people aren't bothered by all of this, they just stroll through the streets of Kathmandu as if it's nothing. Thousands of people were making their way towards Durbar Square because the Women's festival was taking place there. Walking around in Kathmandu almost feels like an attack on all your senses.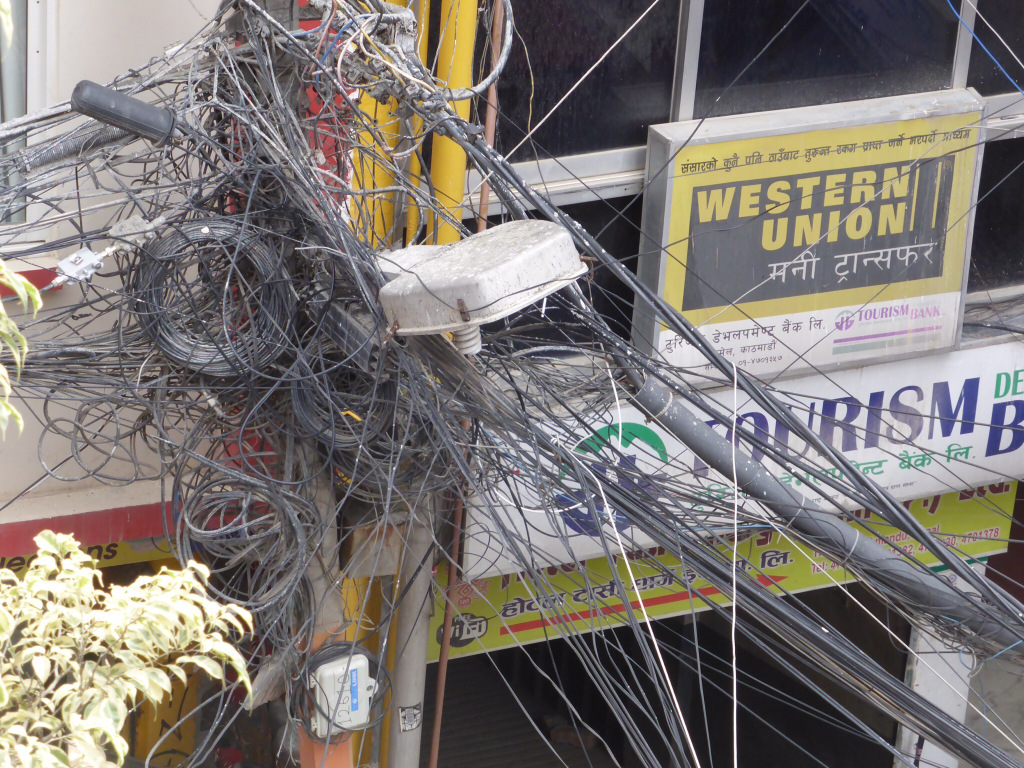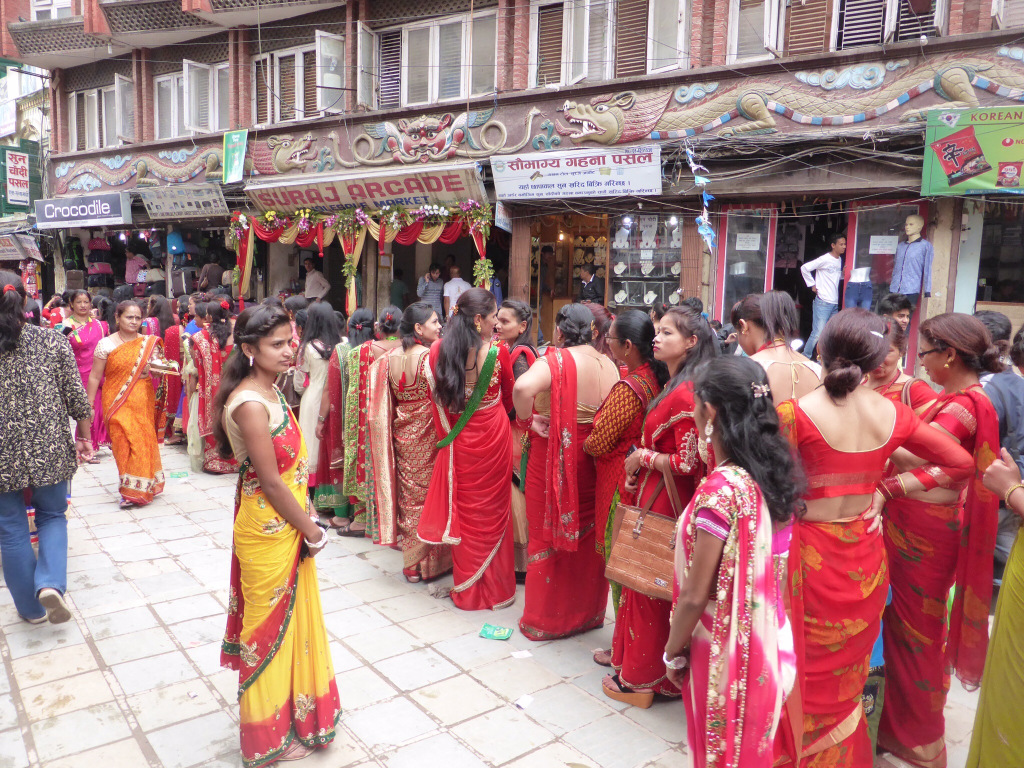 The obligatory rip-off
We had planned to visit Durbar Square and the Monkey Temple. While walking over there, we met a Nepalese student who really wanted to show us around in his city. Dad didn't entirely trust it and asked him if he wanted to get paid for it. "No no, I don't want any money for it, I just like to talk and meet new people".
We decide to take the risk and go for it. We followed our personal guide through the windy and quite dirty streets of Kathmandu until it became clear he did want to receive some kind of compensation for his efforts. He asked us if we could buy him some food. We agreed, expecting him to buy a sandwich or a small meal. He brought us to a tiny supermarket to "buy rice".
Once we arrived there, rice suddenly turned into milk, eggs, flour, etc. We realized he was trying to make us pay for his monthly groceries! We wanted to give him some money, but were not up for giving him almost a yearly Nepalese salary, so we went on our way and explored the city by ourselves.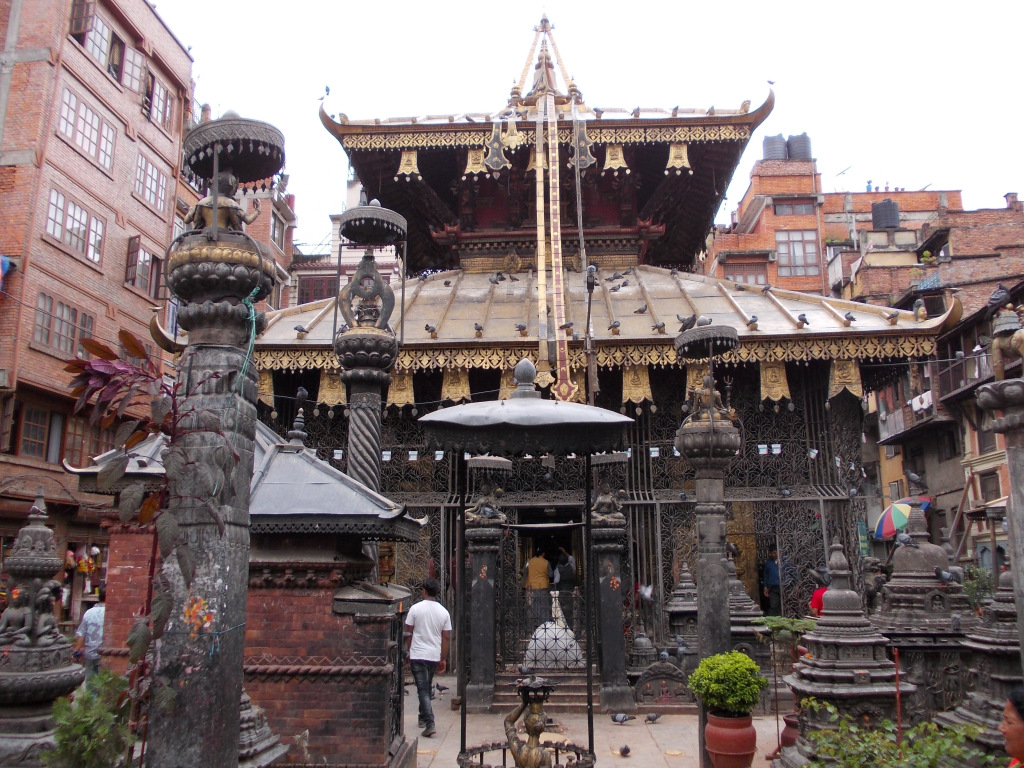 Women's festival
We arrived at Durbar Square where all the women had gathered for the festival. They were all wearing beautiful red dresses. The married women prayed for their husbands in the temple, while the single ladies prayed in order to find a husband soon. The whole square was filled with hundreds, maybe thousands of people, and it soon became too crowded for us. We decided that we would come back the next day to explore Durbar Square in all peace and quiet.
Since there were thousands of people on Durbar Square we couldn't quite orient ourselves and it didn't take long before we were completely lost in the small and crooked streets. Since they don't seem to have any street signs or signs that lead to major attractions in Nepal, we had no idea how to get back to our hotel. By sheer luck we ended up somewhere we had been before and managed to find our way back to the hotel. On the way there, we spotted the beautiful Kathe Simbu stupa.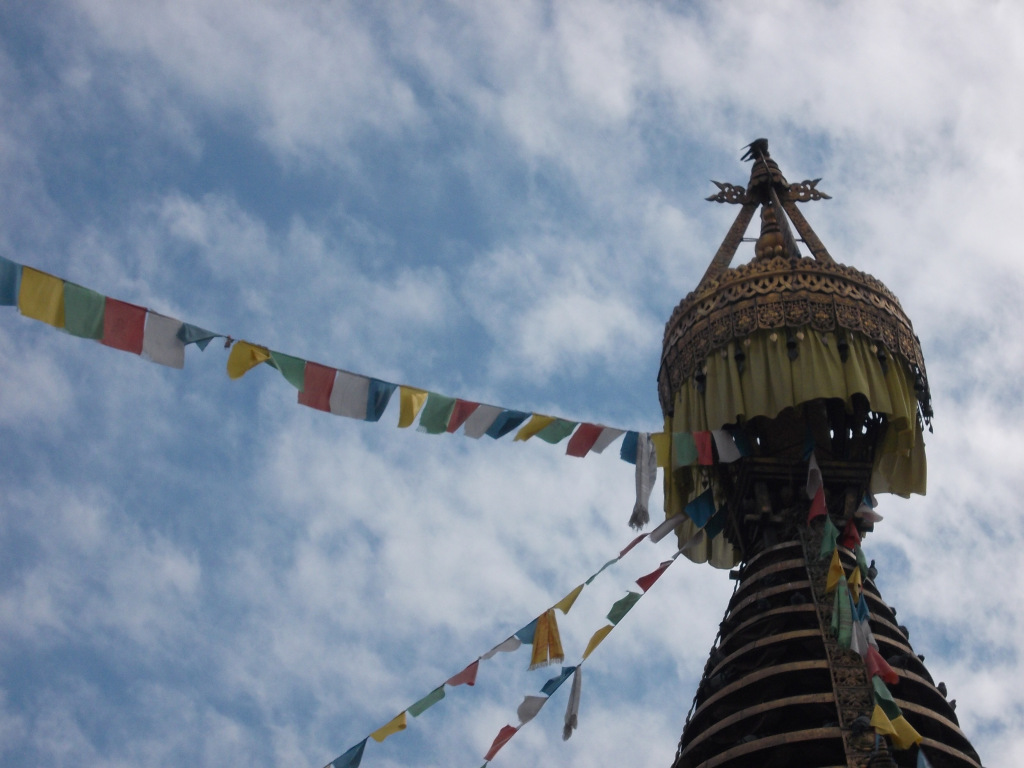 Garden of Dreams
We decided to make a small detour to go to the Garden of Dreams, which is an oasis of quietness and relaxation in the middle of Kathmandu. It was nice to escape the chaos of the city for a little bit. We only paid 200 rupees per person to enter this beautiful garden. Tomorrow we're going back to Durbar Square and we'll try to visit the Monkey Temple!