In my last blog post I wrote about our eventful last day in Valladolid. Little did we know our first day in Tulum was going to turn out even more eventful…
Theft on the ADO express
On Sunday we took the bus from Mérida to Tulum (4 hours, €16 p.p.). We arrived in Tulum around 5 PM and immediately met this very nice American girl who was travelling on her own. We decided to go for dinner and drinks with her, oblivious to what had happened on the ADO bus just a couple of hours earlier.
We only realised something had happened the next morning when Simen couldn't find his backup wallet anymore. He was convinced he had somehow lost it himself, until I checked my backup wallet and realised the lock was torn off. We immediately realised Simen didn't lose his wallet by accident. When I opened mine, I noticed the money I had left in the wallet was missing.
We had been robbed travelling with the most renown Mexican bus company. We had left our luggage in the hands of one of ADO's employees who put it in the bus for us (we saw this with our own eyes). What we think happened is, that someone stole our money/wallet while the bus took a 10 minute break in Valladolid.
ADO wasn't helpful at all…
Once we realised what had happened, we informed the manager of the hostel who came to the bus station with us to translate. She already warned us that most likely nothing would come of it, but we still wanted to try. Of course she was right because ADO refused all responsibility… They also didn't want to give us a form for our insurance to prove the money had been stolen… ADO clearly doesn't care much about customer service. We contemplated going to the police station, but the manager of the hostel told us that chances were small there would be someone who spoke English. She also said that we'd lose hours waiting and we realised we probably wouldn't get anything out of it so we decided not to go.
As you can imagine, our first day in Tulum didn't really start off great. We decided to not do much that day and mainly stayed in the city centre.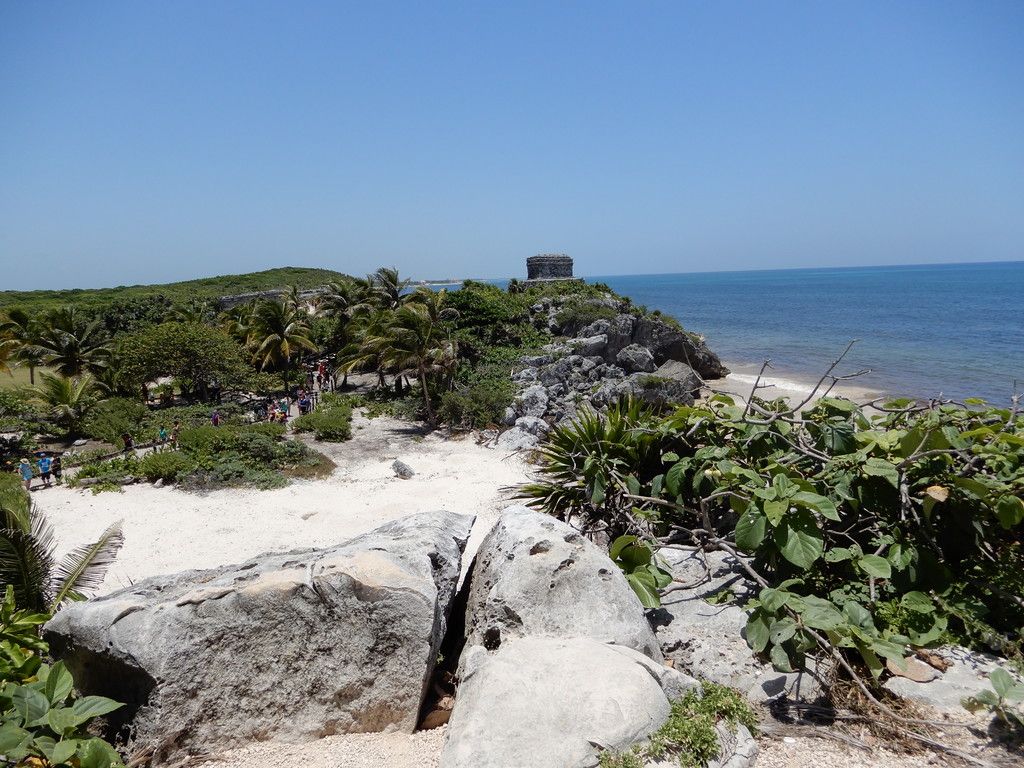 A visit to the Tulum ruins
We both didn't want this setback to ruin our stay in Tulum, so the next day we decided to rent bikes and made our way over to the Tulum ruins (only 15 min away from the city centre). Tulum is a very bike friendly place and you can rent bikes on basically every block. We managed to get a bike for 2 days for €9. After spending at least €12 on entrance fees in Ek Balam, Chichen Itza en Uxmal, we were very pleasantly surprised to see the entrance ticket only cost us €3.50!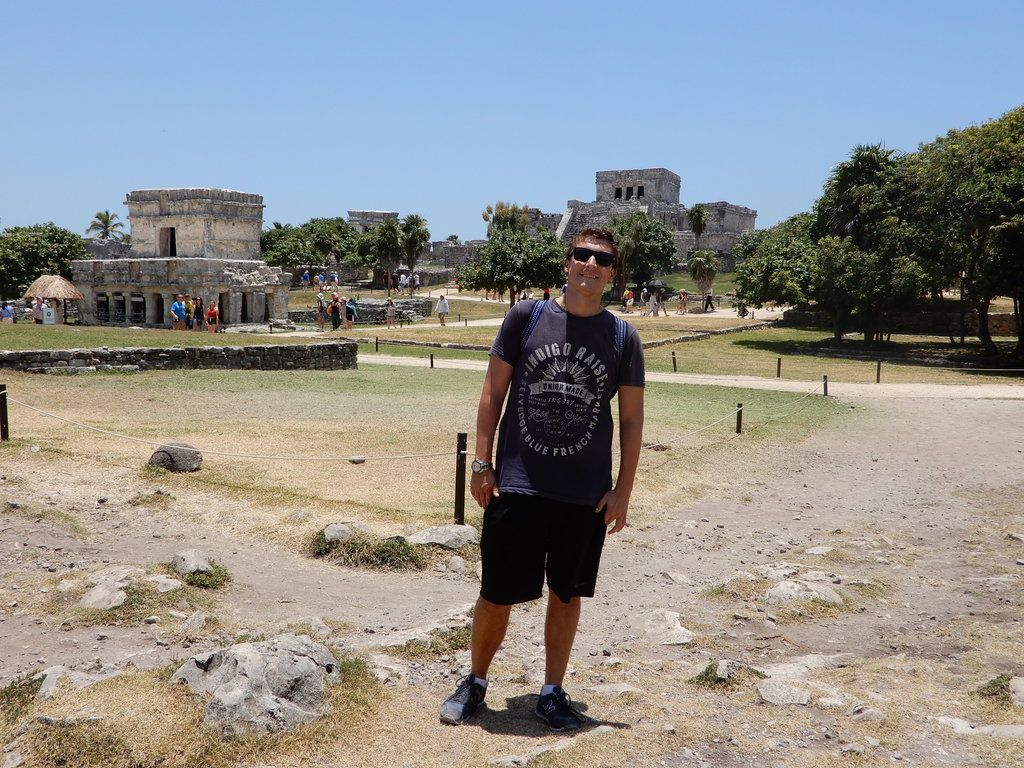 I thought the ruins were very nice; for Simen, however, they looked exactly the same as the other 4 sites we visited. "It's just stones again", so that basically concludes our visits to the Mayan ruins!
Fancy and cosy hotel area
After the ruins, we biked to the hotel area of Tulum. This is basically one big street full of super fancy hotels and very cosy bars. Everything is decorated with tons of lights and candles, which creates it a very nice and cosy vibe. Unfortunately, this was also the most expensive area of Tulum. We already noticed downtown Tulum was more expensive than inland Yucatan/Quintana Roo, but the prices in the hotel area were probably even twice as high. So we decided to only sit down for a couple of drinks, until the waiter told us we could use the pool for free! The rest of the afternoon, we basically spent swimming and tanning.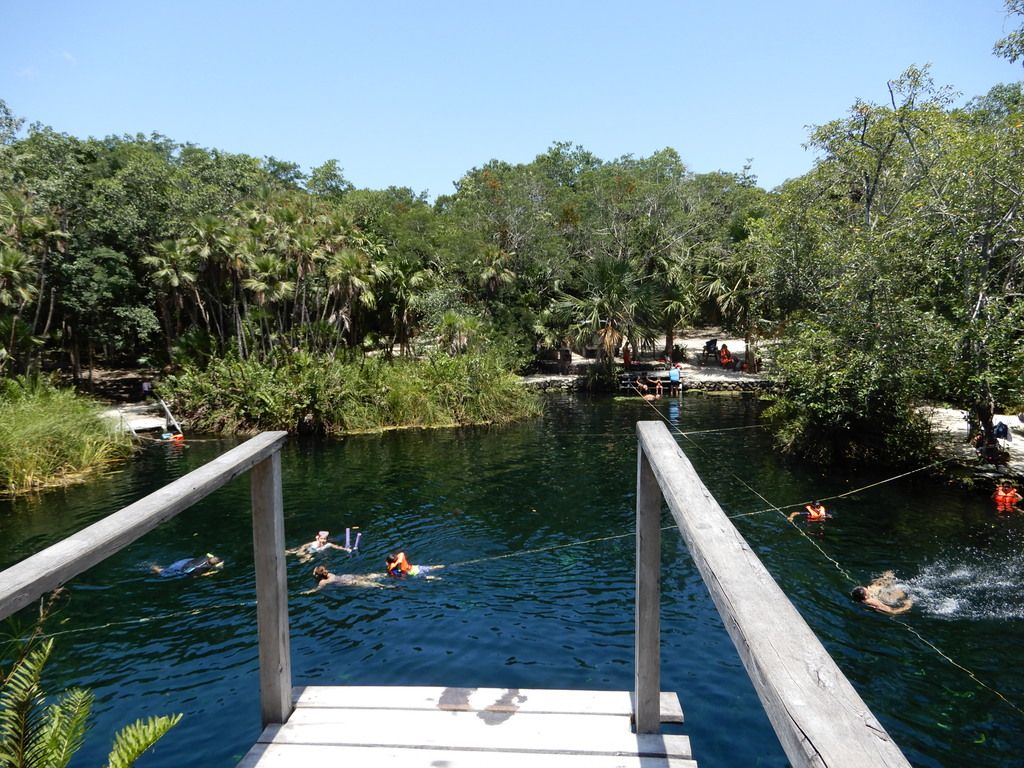 Even more cenotes
Yesterday we decided to spend most of the day swimming in several cenotes close by Tulum. We've noticed that there are basically 2 things to do in Yucatan/Quitana Roo, other than exploring the cities: swim in cenotes or visit Mayan ruins. This can get a bit boring in the long run. However, considering how hot it is here, it was actually really nice to swim most of the afternoon.
In the evening we met up with Simen's friend Benjamin and his girlfriend who happened to be in Tulum as well. We had a really nice time catching up and are looking forward to hearing more about their trip to Cuba!
Weekend trip to Cozumel
In the meantime we have left Tulum and are now staying in Cozumel for the next four days. Cozumel is an island off the coast of Playa del Carmen and is known as one of the best diving spots in the world. However, the weather forecast isn't that great so we're not sure we will manage to do much here…
Hasta luego!