One of my good friends told me she browsed through my entire blog looking for interesting hikes in Malta, but couldn't find anything… I hadn't written about any hikes in Malta yet, but thanks to my friend I decided to change that. If you've been following my blog, you might know I'm quite fond of hiking. I've hiked Trolltunga and Pulpit Rock in Norway, done the Poon Hill trek in Nepal and been on countless hikes in the French and Italian Alps. So, it comes as no surprise that I also enjoy hiking in Malta! Today I'd like to present you my favorite hikes in Malta.
Is Malta a hiker's paradise?
Malta isn't really known as a hiker's haven. To be honest, the country isn't quite adapted yet to people who enjoy going on hikes. The trails aren't always that easy to follow, and they are basically never indicated. I only started hiking in Malta after I stumbled upon a very practical book called "The Malta Coastal Walk". The hikes in this book are described in a lot of detail, which makes it basically impossible to get lost, even if there are no signs along the way. So, keep that in mind before heading out on a hike in Malta.

Mellieha Bay to Cirkewwa
This was one of the first hikes I did in Malta. Mellieha Bay is mostly know for its nice sandy beach, but it's also the departure point of this hike. When you start the hike, you are surrounded by hotels and buildings, but you will quickly make your way to nature, following a narrow hiking path along the coastline. It's a very picturesque hike with gorgeous views all over Mellieha Bay and the city of Mellieha. Along the way you will run into a beautiful Chapel, a fort and an impressive cave (called Coral Lagoon). After the Coral Lagoon, you'll pass by Armier Bay on your way to Cirkewwa. During this part of the hike you'll get amazing views over both Comino and Gozo. As you will pass by several beaches and bays, you will get plenty of options to go to the bathroom or buy refreshments. The whole hike takes between 4-5 hours.
Summary
Start of the hike: Mellieha Bay (bus stop: Mellieha Bay Beach Bus Stop, buses: 222 – from Sliema, 41, 42 -from Valletta).
End of the hike: Cirkewwa Ferry Terminal
Duration: 4-5 hours
Length: 11 km



Marsascala to Marsaxlokk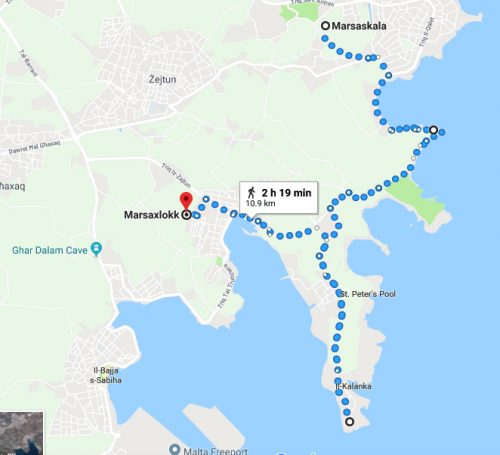 Another hike I really liked was the Marsascala to Marsaxlokk hike. If you've ever been to Malta before, chances are big you've heard of Marsaxlokk. This small village is known for its fish market, which takes place every Sunday. Usually the place is crowded with tourists who enjoy strolling past the stalls selling fresh fish, clothes and all kind of gadgets. This hike will take you from the coastal town of Marsascala, past some amazing cliffs, to Marsaxlokk. On the way you will pass by beautiful spots such as St. Thomas Bay and, of course, St. Peter's Pool!
I loved this hike because it showed me a part of Malta I hadn't seen before: less touristic areas with cliffs towering over the azure blue water. This is, before you arrive at St. Peter's Pool where you will spot tourists no matter what time of the year. However, you should definitely include this stop in your hike. It's a gorgeous spot, which is great for swimming and who knows you might even spot Malta's very own swimming dog!
Summary
Start of the hike: Marsascala (bus stop: Marsaskala – continue walking to bus stop Bajja), buses: 13A, 13, 14, 15, 16 + 92, 93 – Sliema, 92, 93 – Valletta)
End of the hike: Marsaxlokk
Duration: 2 hours (or 6-7 hours if you decide to continue hiking to Birzebbuga).
Length: 11 km (or 15 if you go to Birzebbuga)
Golden Bay to Bahrija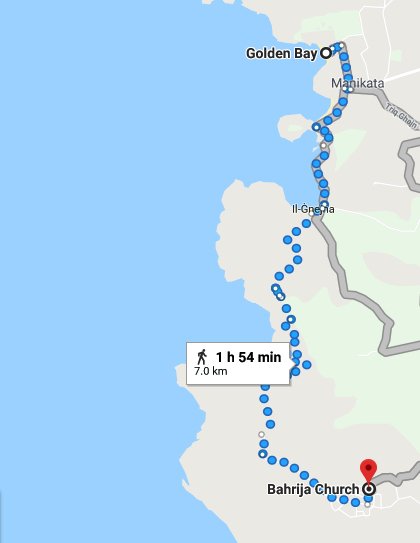 Last year, Simen and I decided to hike from Golden Bay to Bahrija without the use of the book I mentioned above. Simen had told me about this beautiful bay called Fomm ir-Rih (take a look at the picture below and see for yourself), which I really wanted to see.
When looking at the map, I realized Fomm ir-Rih was quite close to Golden Bay. So I managed to convince Simen to go on a hike to see this beautiful bay with my own eyes. I hadn't been on that many hikes yet in Malta and had forgotten about the fact that the hikes are not indicated, as I mentioned above. There are no signs, colors or any kind of indication along the way. When we started our hike in Golden Bay, everything still went okay. We managed to make our way to Ghajn Tuffieha and Gnejna Bay quite easily (here you can still spot hiking trails).
One wrong turn led to an unexpected swim
However, after Gnejna Bay we made a capital mistake: we decided to follow the coastline. Be aware that the right track to Fomm ir-Rih does NOT follow the coastline, it goes inland. However, since I didn't have the book yet, we decided to follow another hiking trail which seemed quite well indicated (for Maltese standards). We followed the trail until it suddenly ended out of nowhere and we were on top of a high hill with no idea how to get down to the water. We didn't realize we weren't following the right track, so we kept on looking for indications of a potential trails.
This led us down the hill, but now we were faced with another obstacle: there was no way we could reach Fomm ir-Rih. Luckily, we knew where Fomm ir-Rih was located, and realized it was only one bay away, but it was impossible to walk there. We were now standing in front of a small bay, with rocks towering over us on our left, and water on our right. We realized we would have to swim part of the way. So, we took of our shoes, carried our backpacks over our heads and waded through the water until we could climb on the rocks again. It was definitely an adventure, but I wouldn't advise anyone to do the same. Despite this small mishap, the hike was still very nice. Just make sure you follow the right road.
Note to self and everyone else: after Gnejna Bay make sure you walk inland, do not follow the coastline!
Summary
Start of the hike: Golden Bay (bus stop: Ghajn Tuffieha Bus Terminal, buses: 225 – Sliema, 44 – Valletta)
End of the hike: Bahrija
Duration: 2 hours
Length: 7 km



Victoria Lines
The Victoria lines were built by the British in 1897 (in honor of Queen Victoria). These walls cross the island from west coast to east coast. Since this hike isn't included in the Malta Coastal Walk book, I decided to do some Googling before we left. However, once again I was faced with the fact that hikes and trails in Malta are never indicated. It took us more than an hour to get on the right track after we left from Bahrija (our starting point, you can also start from Pembroke and hike from east to west). It's not that easy to spot the actual road so make sure you have very clear instructions with you (unlike me).
The best part of the hike for me was from the Dwejra Lines to Mosta. Here you get to see some of Malta's most amazing nature! I managed to snap this shot along the way:
Hiking the Victoria Lines takes quite some time, so I would advise leaving early in the morning. We decided to call it a day in Mosta (since we lost an hour at the beginning of the hike), but I heard from friends that the hike is beautiful from start to finish!
Summary
Start of the hike: Rabat (bus stop: Lellux, buses: 14 + 52 + 109 – Sliema, 51, 52, 61, 62 + 109 – Valletta)
End of the hike: Pembroke
Duration: 5 hours
Length: 12 km
Have you done any hikes in Malta? What was your favourite? Please feel free to leave a comment below!