The 8th of March 2017 was basically a day of national mourning in Malta. The biggest attraction of the Maltese Islands, the Azure Window, fell victim to the forces of nature. Luckily, the beautiful island of Gozo still has plenty to offer, even without the impressive Azure Window. Today I would like to introduce some of the most beautiful attractions in Gozo.
How to reach Gozo?
Gozo is the most northern island of the Maltese islands. Because public transport in Malta is quite time-consuming, I would advise you to rent a car. The best option is to rent a car in Malta and drive up to the ferry station in Cirkewwa.
If you still prefer to take the bus, you have to be aware of the fact that it takes quite a long time to get there. From Valletta (bus X1) the bus takes about 1 hour and from Sliema (bus 222) about 1.5 hours. The ferry only takes about 20 minutes and brings you to Gozo quite quickly. However, all the buses in Gozo depart from the capital Victoria, which means that whenever you want to go somewhere, you first have to go back to Victoria to change buses. This means you most likely won't be able to see/do much in Gozo if you're pressed for time. Also, bear in mind that not all places are accessible by bus.
Another option is taking the "Hop-on, hop-off" buses to explore the island.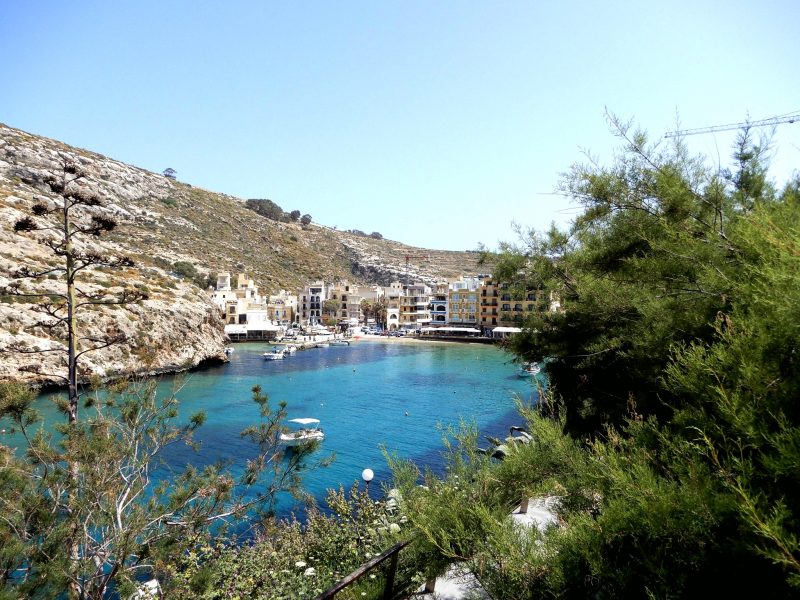 Xlendi
Xlendi is a small coastal town in Western Gozo, which kind of reminded me a bit of the beautiful Italian coastal towns you can find in Liguria. Thanks to the gorgeous houses which are situated next to the beautiful azure water, Xlendi immediately gives you a holiday vibe. It's a very small town but it's extremely cosy and has a couple of tourists shops and some very good restaurants. My favorite is "Boat House" which serves amazing duck and steak!
Xlendi is also home to a couple of cool caves. You can easily reach one of them on foot from restaurants Ta Karolina and Stone Crab. Here you'll spot the start of a hiking trail which brings you to a small cave.
Wied il-Ghasri
Wied il-Ghasri is located in the north of the island. This beautiful creek with cyan colored water is still a quite unknown spot in Gozo. Although during summer a lot of Maltese people come here to picnic and swim. It's also a very popular diving spot thanks to the gorgeous caves surrounding the creek. So even though it's still considered a "hidden gem", it's basically impossible to get Wied il-Ghasri to yourself.
Tal-Mixta Cave
This cave is located in Nadur and gives you a spectacular view on the red sand of Ramla Bay. However, it's not that easy to find. You aren't able to get there by bus, so I'd suggest visiting this cave when you have access to a car. To get there, you have to drive from Nadur to Ramla Bay and take a right, right before the descent to Ramla Bay. After following a lot of winding roads, you will arrive at a farm where the road ends. From here you only have to walk a couple of meters until the entrance of the cave (which is like a small tunnel leading down to the cave).



San Blas
San Blas beach is also located in Nadur. It's not that easy to reach since we've tried to go there twice and only succeeded once. The first time we found the beach very easily, but the second time our GPS sent us down some very questionable roads. Some of the roads in Gozo are really not made for modern traffic. After the GPS directed us to an extremely windy and narrow road of about 50 percent, we decided to call it a day and not head to San Blas after all.
However, San Blas is a beautiful hidden beach which you have to see when you're in Gozo. Bear in mind that you can't drive down to the actual beach since the road is extremely steep. If you're not in good shape or don't feel comfortable walking down the hill, you can use the shuttle service which drives up and down for only €1.
Victoria
Of course I also had to include the capital of Gozo in this list: Victoria. The city is located on top of a hill which gives you very beautiful views all over the island (go to the Citadella for the best views). It's easily accessible by bus (you can take a bus from the ferry station to Mgarr which takes you straight to Victoria). Stroll down the narrow and winding roads of the city center and visit the Citadella (a must!), while you're here.
Of course there are more beautiful places and attractions in Gozo, but I decided to share the ones I like the most. What were your favorite attractions in Gozo? Please feel free to leave a comment below!