Happy Easter everyone! I decided to make the most of the long weekend and headed to one of the most beautiful towns in Italy: Taormina. Because we had already been to Taormina twice before, we decided it was time to pay Castelmola a visit. Castelmola has been classified as "one of the most beautiful villages of Sicily", and boy that is not an understatement! 

Where is Castelmola located?
Castelmola is a small village with only about 1100 inhabitants. It is located on top of a hill that towers over Taormina and the Ionian sea and has spectacular views on Mount Etna. The bus ride to the village is also very spectacular and makes you really admire the skills of the Sicilian bus drivers. From Taormina there is a bus that drives up to Castelmola every 45 minutes. You can take the bus from the bus terminal in Taormina or from the bus stop in front of the city entrance, Porta Messina. A round trip ticket only costs 3 euros! If you prefer to take the bus to Castelmola and walk down, then this will cost you 1.90 euros. The bus ride only takes about 15 minutes and gives you the opportunity to admire the amazing surroundings of Taormina and Castelmola.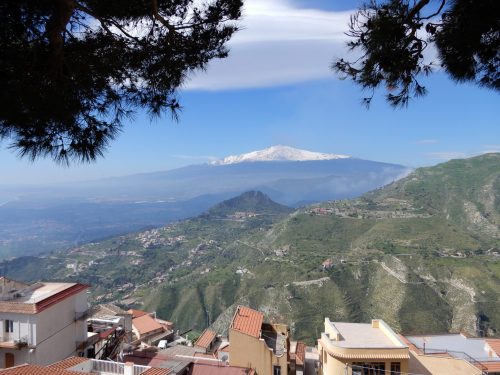 Bird's eye view from the castle
As the name of the town already suggests, Castelmola is the proud owner of a castle. This castle was built by the Normans and can still be visited today. However, don't expect a proper castle. At the moment there are only ruins left. This doesn't ruin your visit to Castelmola at all, because from up top you get an amazing view over Taormina, the Ionian sea and Mount Etna. You will get a spectacular view from all sides of the castle, and you won't know where to look first. The way to the castle is clearly indicated when you arrive at Castelmola. It takes about 5 – 10 minutes to hike up the steps to the castle. You can't visit this cosy village without paying the castello a visit.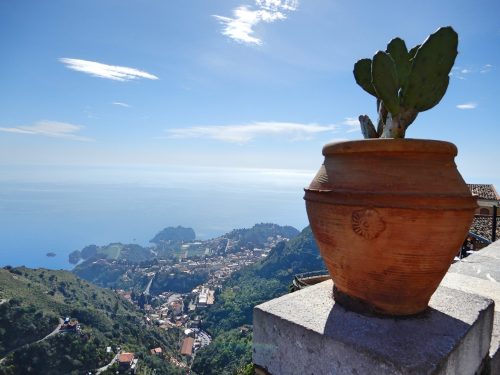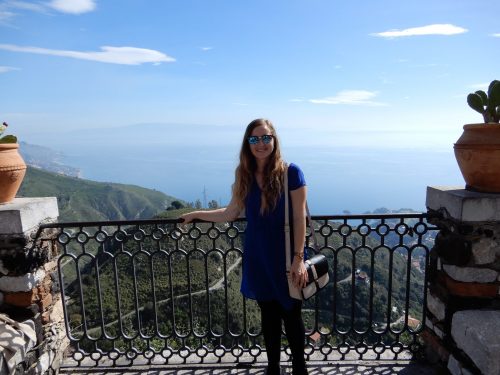 Small and cosy streets
One of the things I really like about Italy is that most of their towns and villages consist of very narrow and cosy streets. Castelmola may be a very small town (you won't need more than 2 – 3 hours to wander around), but it has such a charming feel to it. While you explore the cosy streets, you will bump into charming cafés and bars while every once in a while you catch a glimpse of Mount Etna or the sea. What more can you want?
Bar Turrisi
One of the most remarkable bars of the village is Bar Turrisi, located on Via Pio IX. Because of its, er, interesting decoration, tourists from all over the world head to Bar Turrisi. Don't be surprised when you see lots of people snapping pictures of literally everything in the bar: the chairs, remarkable statues, interesting wallpaper in the bathrooms, etc. Do you want to know why? Head there and see for yourself (or you can of course always do a quick Google search…). The bartender was extremely nice and let us try out some almond wine and Sicilian granita. 10 out of 10 for hospitality and creativity!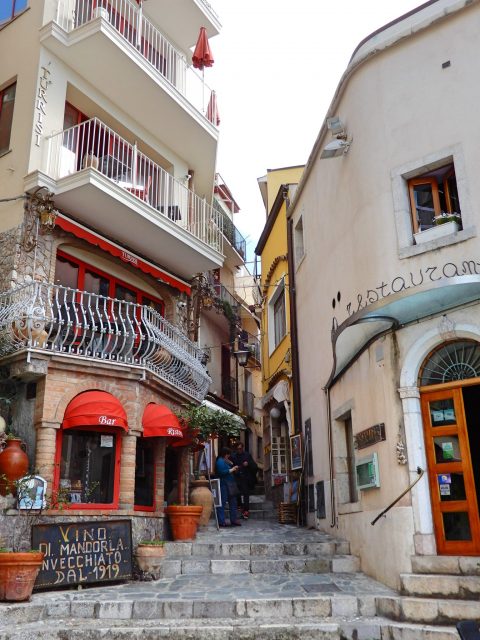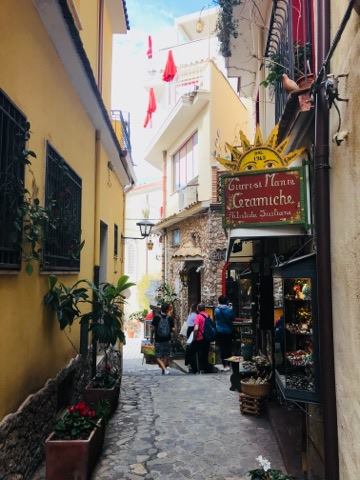 Because the village is so small, you don't need much time to see all of the town. We spent about 2 hours in this cosy village, wandering the streets and enjoying the spectacular views. Castelmola is a must for anyone who's visiting Taormina or Messina. I can't believe it took me 3 visits to Taormina before discovering this hidden gem!